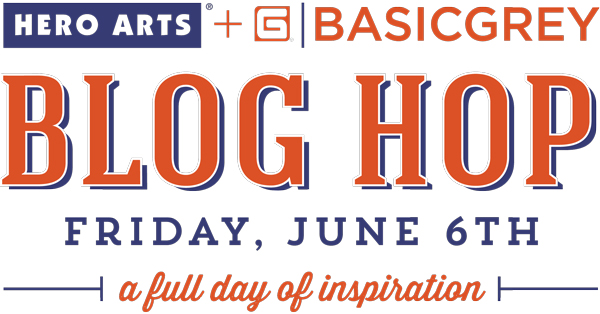 Hello hello and welcome to my stop on the Hero Arts // BasicGrey Grand Bazaar blog hop! I am so happy to be hopping along today — love any chance to play with my BasicGrey stamps + stencils. If you've been following along, you will have arrived here from Melissa Phillips' blog. If you encounter any broken links or would like to start at the beginning just head on over to Hero Arts.
I have a bunch of cards to share with you today – both card cards and pocket scrapbooking cards, so let's hop to it. :)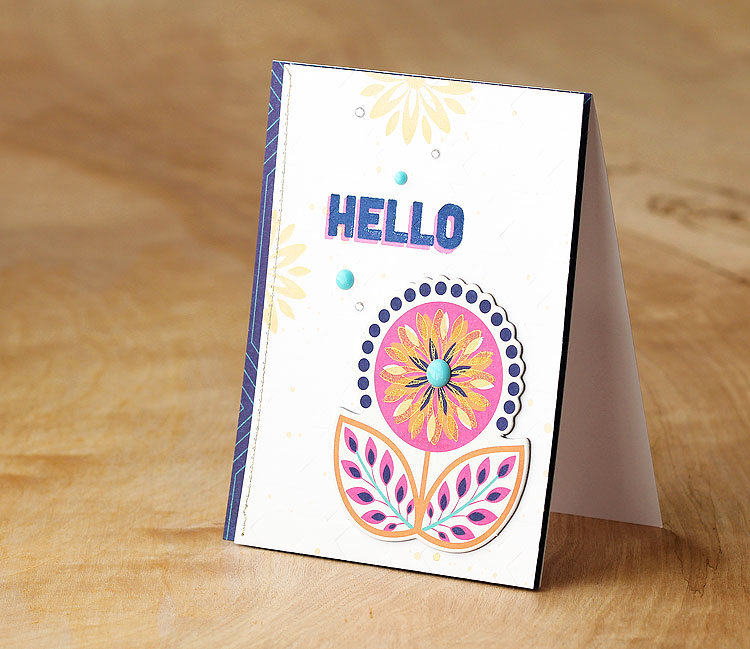 This first card is on the clean and simple side with a few little touches and gold accents to make it special. I've been on a real gold kick lately and I don't see any signs of it letting up.
First I stamped the flower chipboard embellishment with the matching stamp from the Small Things set in gold ink. I thought about using embossing powder, but I liked the shimmer of the ink so I left it naked. ha! :)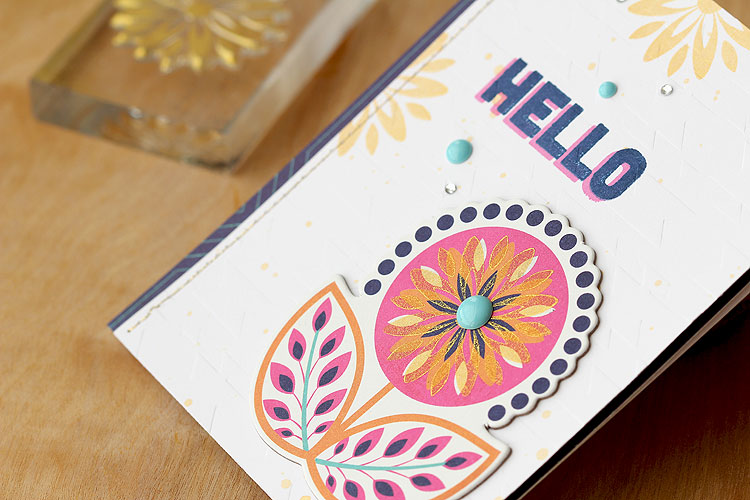 Then I stamped HELLO twice to make a drop shadow — love doing this with bold stamps. (I was reminded of it when I saw the embellishment that's on the next card. Inspiration *is* everywhere.) First I stamped it in ultra pink, and then I stamped it again over top in navy.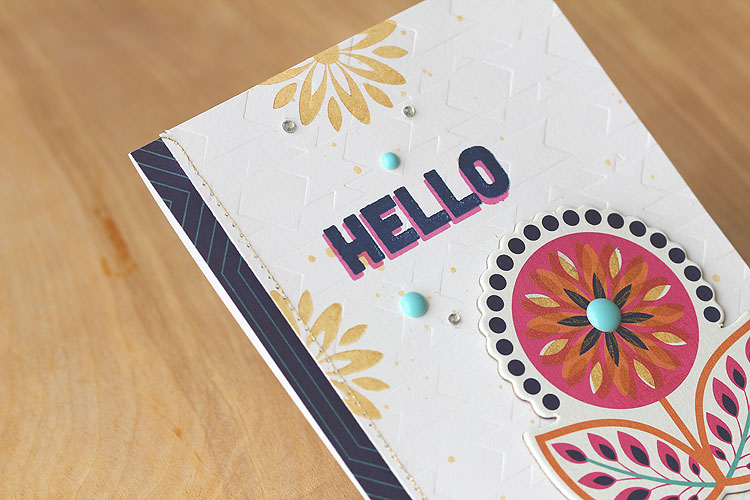 Then I stamped some more flowers in gold. Gotta have 3, you know. Next I embossed it using the Quilt Motif stencil. Love getting more from my supplies this way! To do this, just add a layer of felt as a shim. So the sandwhich looks like: bottom base plate, second plate, felt, the paper you want to emboss, stencil, top plate. I really like doing this when I have text because it doesn't distort it as much as a true embossing folder would.
To finish off the card I splattered on some gold mist, then trimmed a bit from the left side. I added some stitching, too. Then I added a strip of paper to my base card, then adhered the finished piece with foam dots. Then I added some enamel dots and gems and that was that.
Hello There
Now for my next card! This one is anything but clean + simple :)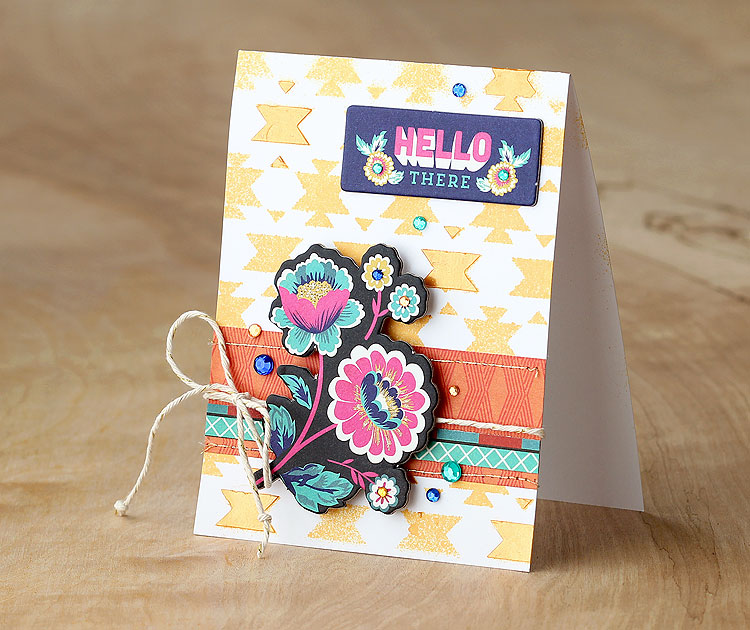 I started out by placing that same Quilt Motif stencil on my base card and then misting it with butter bar.  Then after it was dry, I repositioned the cleaned stencil back in the same spot and added some gold embossing paste here and there.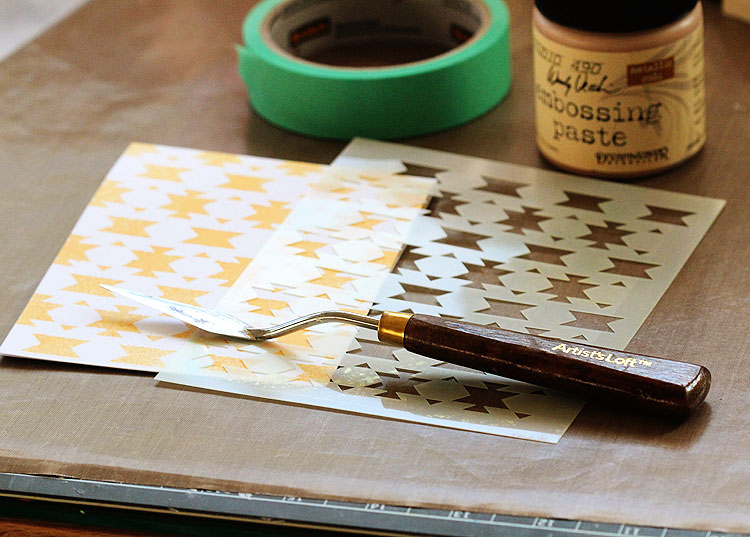 If you've never used gold embossing paste you should really give it a try! I'm addicted to it now. Oh and don't be surprised if it doesn't look all that great when you first put it on. The magic happens as it dries.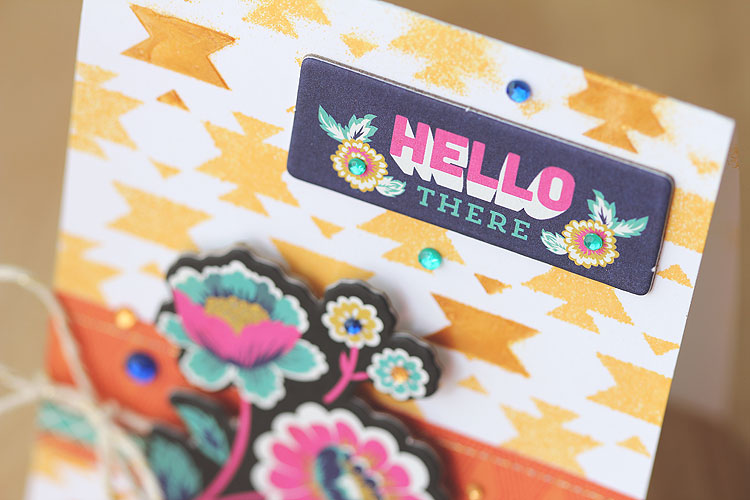 I just had to add some gold to the flower centers with a brush pen. Love.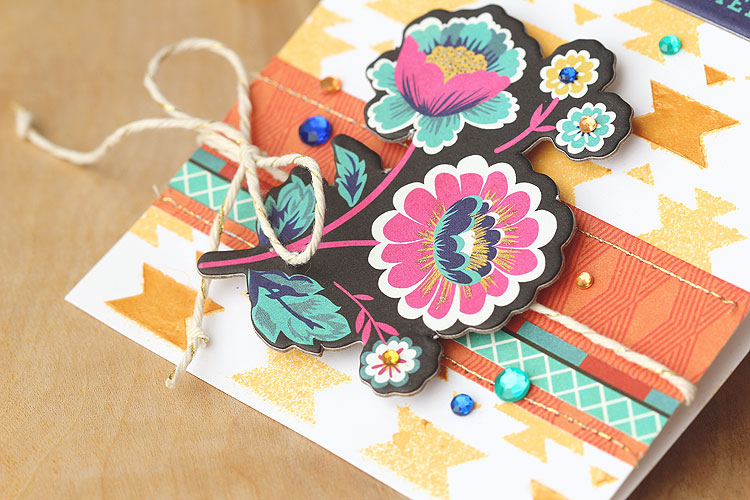 Oh and! I couldn't resist stamping a strip of orange with the Diamond Background using that ultra pink ink again.
This is the Good Stuff
Sometimes when I first sit down to use new supplies I like to just play and have fun, without anything particular in mind. That's what I did this time. I used some of the pieces for the cards above, but I still had a bunch left. Just couldn't let these pretties go to waste!
I turned a scrap that I had misted with gold and butter bar sprays into a pocket scrapbooking card, after cutting it out with this die cut. This die cut comes in handy, big time. It's great for positioning things. I also stamped a bunch of the "this is the good stuff" arrow because I just know I'll use a bunch of 'em.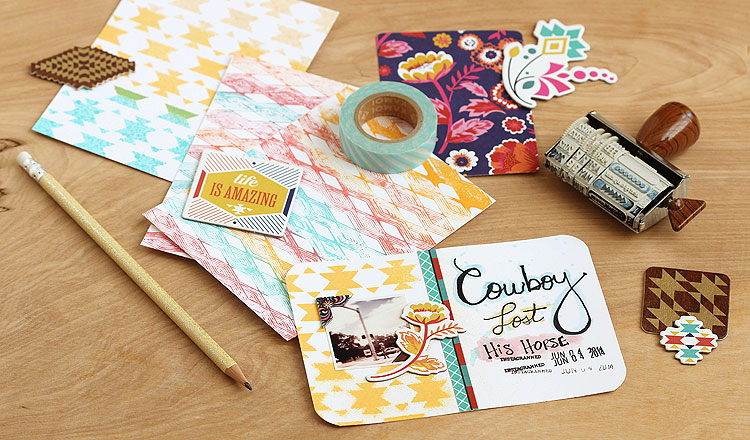 Then I went ahead and made a 4×6 card on an extra piece of Quit Motif stenciled paper. I saw this dude strutting down the street yesterday on my way back from the dentist — that's Austin, TX for ya! First thing that popped into my brain was "cowboy lost his horse" — I even texted it to my dad, lol! So I wrote that on there and then did a little watercoloring. (I gotta practice my writing some more, but I'm getting better.) Sharp-eyed readers may notice that the strip of paper that's on card is a scrap leftover from the "Hello There" card.
Small things become great. Yes. Yes they do.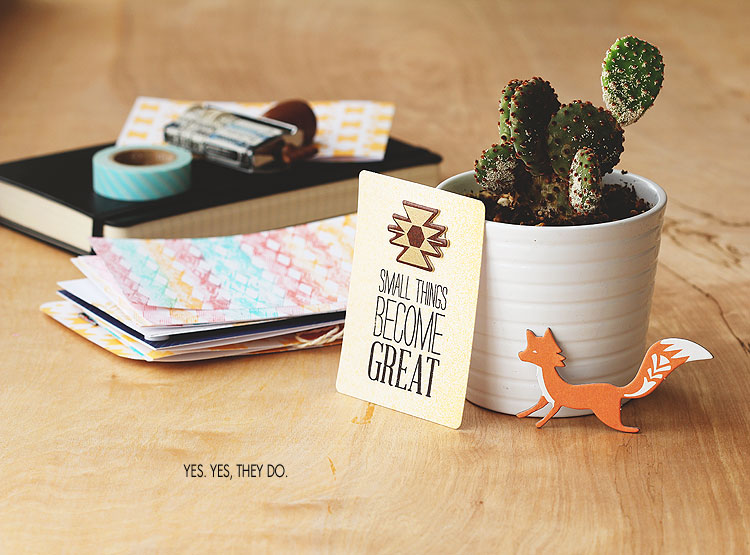 Can't wait to use the rest of the pieces, I like to keep them all together in a ziplock bag for the next time I get to play. And that's it for me. For now. :)
Giveaway
Now then, how about a giveaway!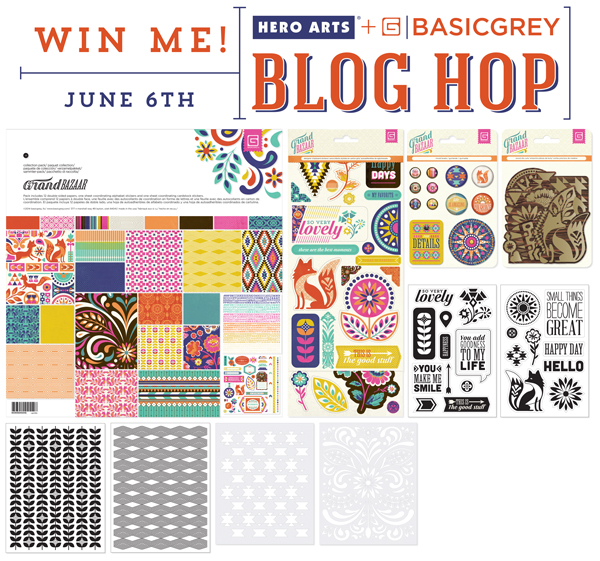 Hero Arts and BasicGrey will be giving away two Grand Bazaar prize packs — including paper, embellishments, clear and cling stamps, and stencils. The two winners will be randomly selected from all comments received on the participating designers' blogs. (Like this one!) Comments must be received by 11:59pm PST on Wednesday, June 11. The more comments you leave along the hop, the more chances you have to win! Woo!
10% off SALE!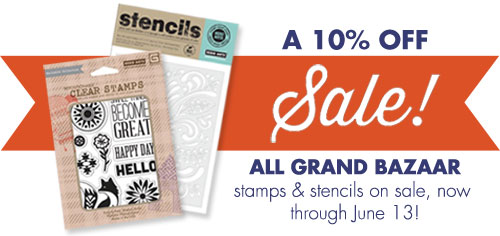 Yep, you read that right! Save 10% on all Hero Arts // BasicGrey stamps + stencils right here in the Hero Arts shop. Thought I'd link ya up to make it easier to shop. :)
In case ya didn't know, orders placed in the Hero Arts shop are filled by local stamp stores/online stores. Love that!
Keep on Hoppin'
Now on with the hop! Your next stop is Audrey Pettit – just wait until you see what she's made! Love. Don't forget to leave her a comment, too.
Thanks so much for joining me today! Huge mega thanks to BasicGrey for sending me the awesome Grand Bazaar papers and embellishments to play with, and to Hero Arts for the stamps. xx