Hi there! Welcome to my little stop on the Mama Elephant / Operation Write Home blog hop! I'm so happy you're here! If you've been hopping along, you'll have arrived here from Nichol's blog. If you're just now joining us or you encounter a broken link, head on back to the start of the hop at Mama Elephant.

This hop is near and dear to me as some of my favorite crafty chicas are together in one event! Kryssi and Angela from Mama Elephant are just the best. And Sandy from Operation Write Home has the biggest heart full of positive energy. All three of them are super mega talented. I'm so happy to call them friends! And there are so many other amazingly talented chicas hopping today too. Love you all!
So if you've never heard of Operation Write Home — in a nutshell: cardmakers send cards to Sandy and her crew, then she organizes them and sends them on to the troops serving overseas so that they can write home to family and friends. Such a great cause! Check out the guidelines if you'd like to participate.
In My Heart
Here's the set that we are using today — it's called In My Heart and I think it's beyond adorable! Even better? Mama Elephant will be donating 20% of retail profits from In My Heart stamp set sales to Operation Write Home from June 15th to July 31st. So awesome.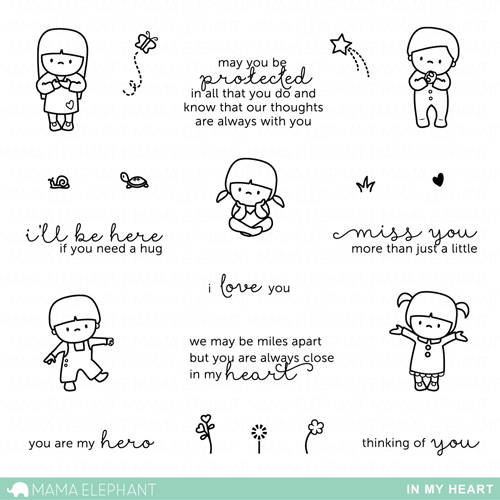 Adorable, right?
All those cute kiddos. (So that soldiers can write home to their families.)
The sweet messages.
The tiny snail.
That turtle! Awwwwwww…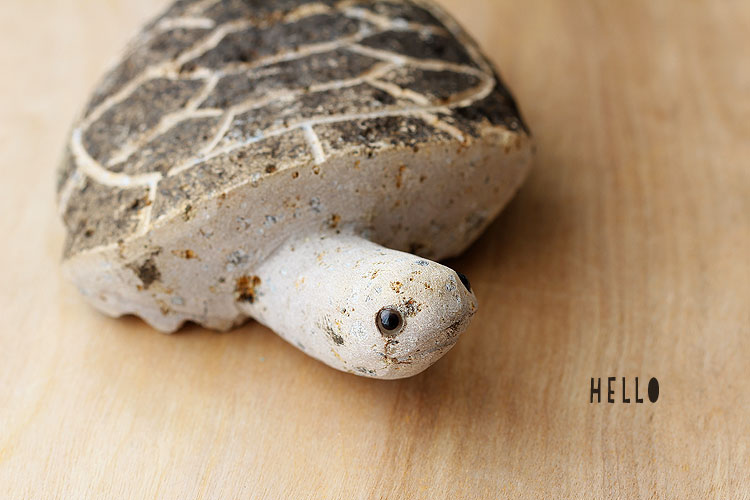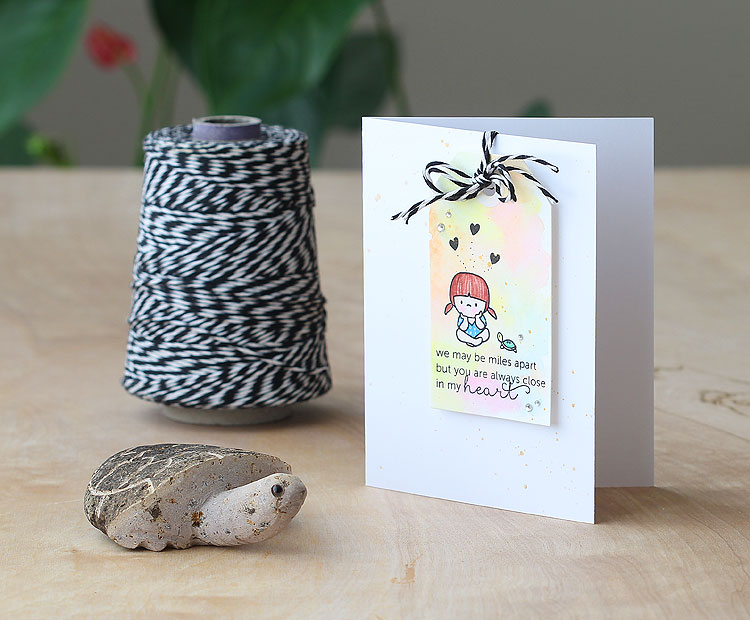 Of course, I had to use that turtle. And the little girl that's sitting — I used to wear pigtails just like that. So I had to color her to look like me! :)
Watercolor Background
I started out by making a watercolor background. To do this, I pre-wet the area around the girl and the turtle, then dabbed in color from my trusty Mister Huey's Watercolor set. This set has such great colors, including white and skin tone too.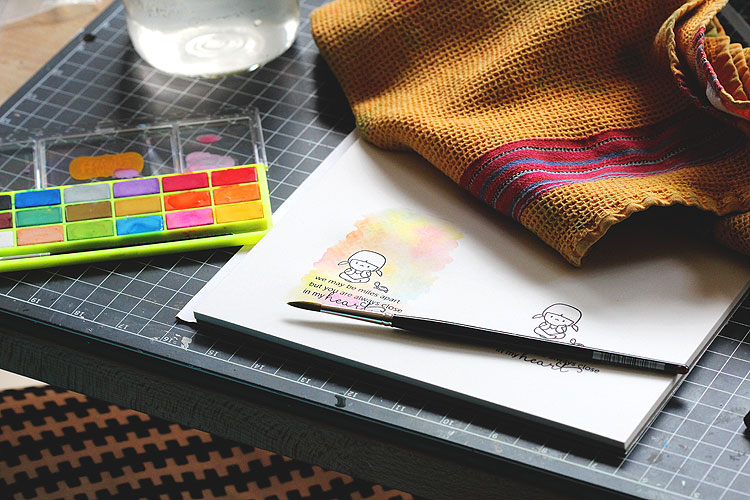 I waited (impatiently) for it to dry, then I went back in and colored the girl and the turtle. You gotta wait for it to dry, otherwise the colors will all run together and make a mess.
It's the Little Things
At first I just colored her dress solid blue and her hair solid brown. Then I waited (very impatiently) for it to dry and I went back in and added the polka dots to her dress with white and to her hair with the same brown.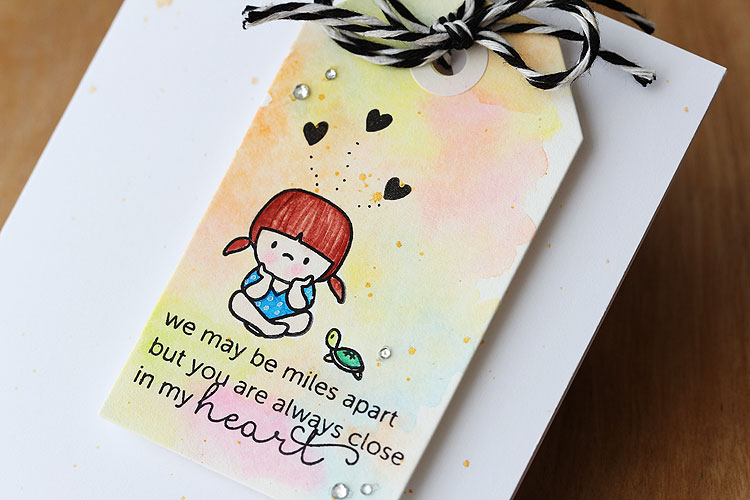 My brush was just damp and had lotsa color — going back over dried images like this is an easy way to add detail when watercoloring. Here's an "after" shot so you can see!
Tie it On
Next I die cut the piece into a tag shape, then punched a hole in a white card base and tied the tag on with twine.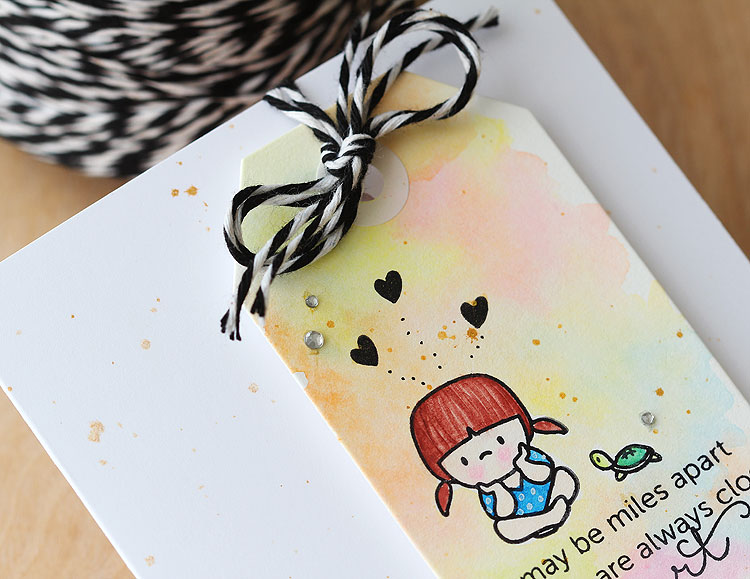 I got a monster skien of black and white twine on Christmas clearance at Anthropologie years ago, but I've listed some similar twine in the supplies. :)
Go for the Gold
I thought it needed a "little something", so I grabbed my Hero Arts gold metallic spray and made some splats. But first I covered up the girl and the turtle — didn't want them to get a splat in the eye or anything like that!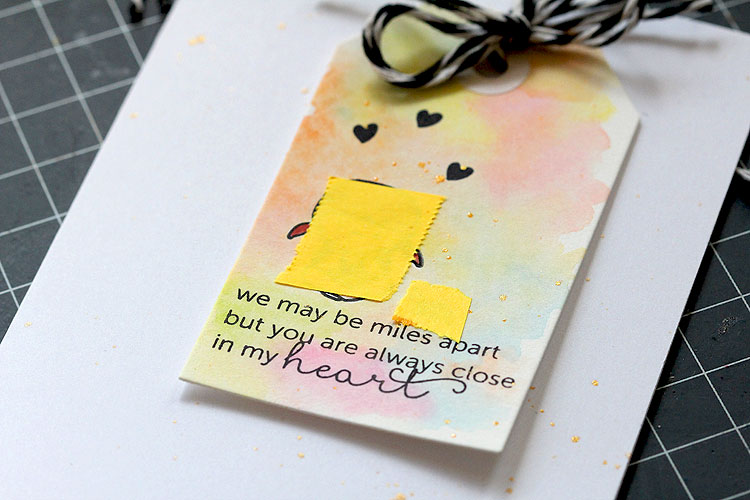 Also! Just wanted to mention that the shimmer spray passes the "rub off test" — as in it doesn't rub off when you rub it against a sweater or your fingers. This is important because we don't want to have any glittery, sparkly things to get on soldier's uniforms and endanger them — check out Sandy's guidelines here for more.
Another guideline is to not make a card too bulky — so I thought these tiny gems would be just the thing. They especially go with the small size of the cute turtle. :)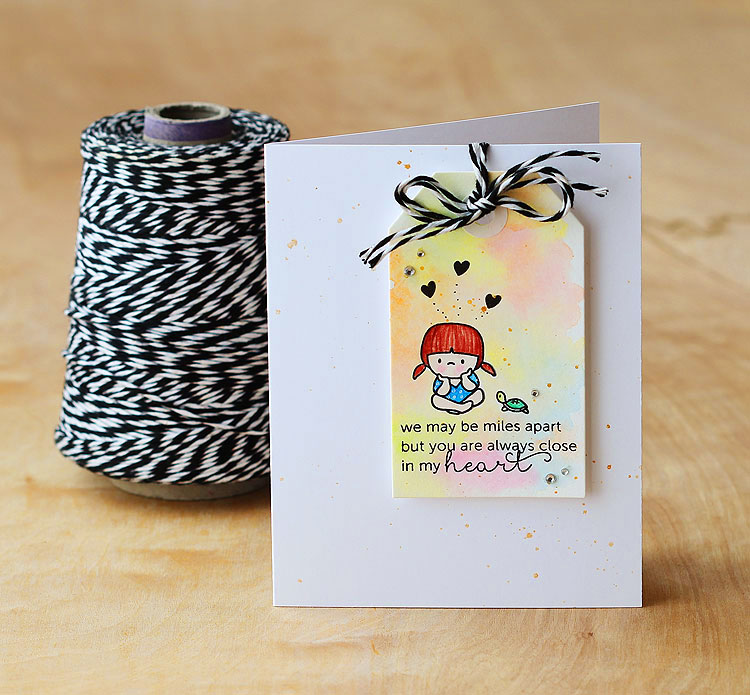 And that was that!
Hop On
Your next stop on the hop is Elena's blog — I can't wait to see what she's made!
Thanks so much for joining me today, and for Mama Elephant for having me, and for making these darling stamps — and for being so generous. WOO!
Also, if you'd like to make some cards and put them to a good cause please check out Operation Write Home! Sandy makes some hilarious videos too. Did I mention that she's also a Copic marker genius? Oh yes. :)
Supplies