Hi! Guess what? Mama Elephant is turning TWO and we're having a 3-day stampede with lotsa good stuff for YOU! Just check it out:
If you've been hopping along with us already, you'll have arrived here via the amazing Laura Basson's blog. (I can't wait to see what she's made!) If you encounter a broken link or you are just joining us you can head on back to Mama Elephant. Now, on with my card!
Meet Me Under the Mistletoe
See that cute little penguin? Well he's part of the new Arctic Friends set! Mama Elephant sent me the set + the matching dies — thanks Mama E! I had a blast — an arctic blast — making this card: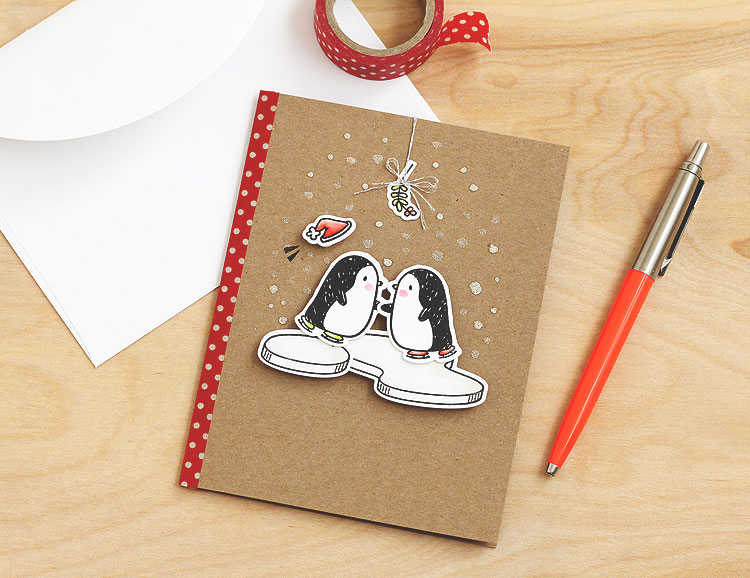 It was super easy to make, thanks to those matching dies! I just stamped everything with black ink and then watercolored it with Mister Huey's watercolors. Then I die cut everything out, all at once.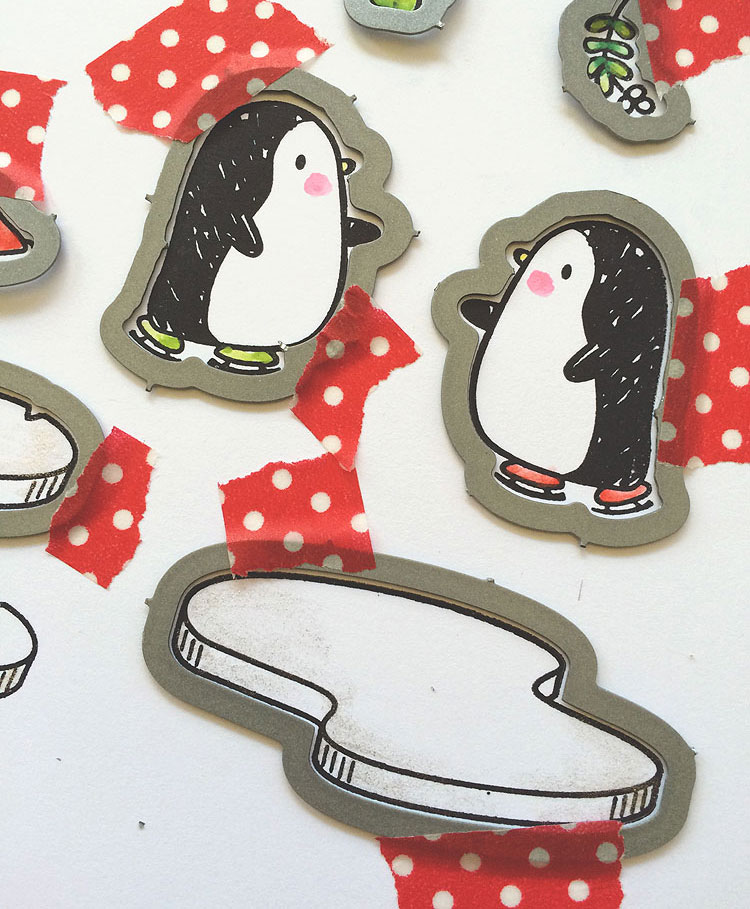 Sometimes I forget that you can cut everything out all at once like this, and then I feel like an idiot for running little things through the machine one at a time, ha! But this time I remembered. :)
It might be a little hard to see, but I added touches of clear wink of stella on the icebergs, the mistletoe, and the Santa hat. Love how it adds that little something without being too much.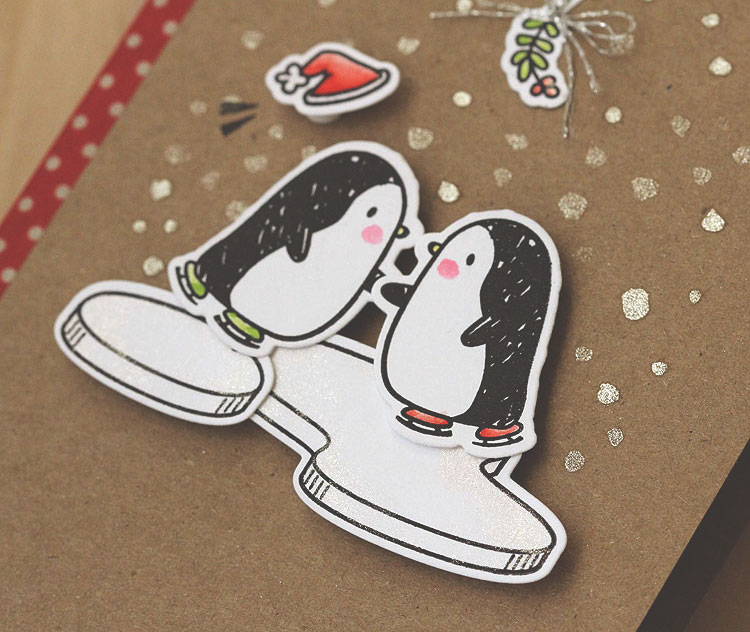 Next I positioned everything on the card to see how it would go. But I didn't adhere anything just yet. I started with the mistletoe, positioning it in the center, then I adhered it in place and sewed it with silver metallic thread and tied a bow, like so!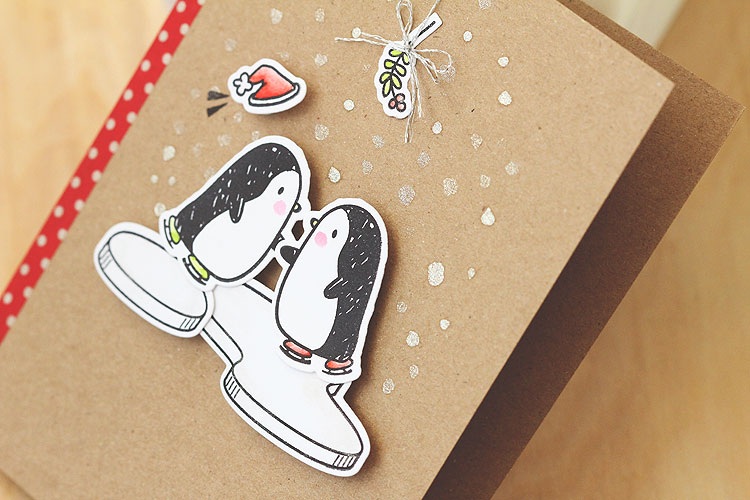 After that I grabbed my clear wink of stella pen and made a little blizzard all around the penguins. Doesn't it look cool on kraft paper?
Next I added the penguins and the hat. (Love that hat!)
After those were all in place I stamped the little dashes to make it look like the hat was flying through the air. I'll admit that I was giggling the whole time I was stamping this. :)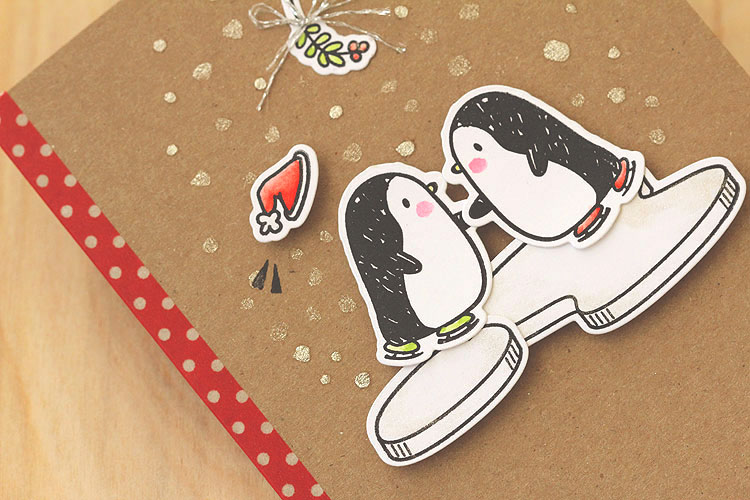 I finished off the card front with a little polka dot red washi. Just because I happened to have it on my desk from holding the dies in place when I did the cutting. I'd never have thought of it otherwise — too funny right?
Then it was on to the inside! I had an extra iceberg and a present that I couldn't let go to waste: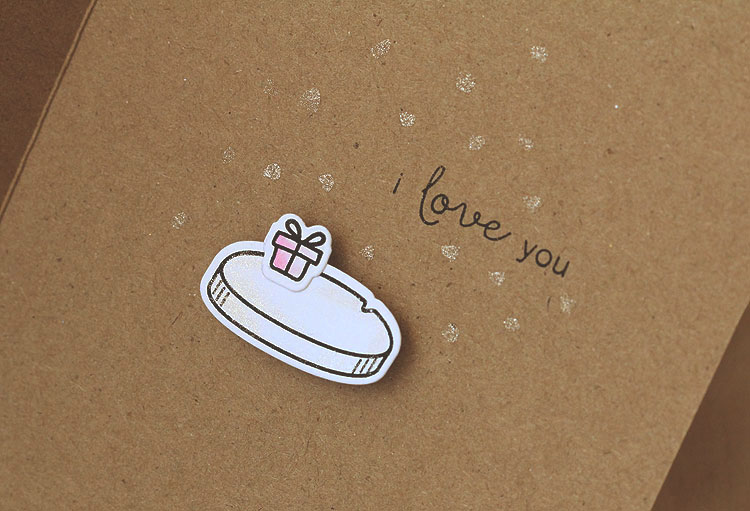 I stamped the sentiment from this ME/Operation Write Home set in black, added some wink of stella snowflakes, and that was that!
Happy Anniversary Cream Puffs
Before I wrap up the post I just wanted to wish Kryssi, Angela, and everyone at Mama Elephant a very happy anniversary — with these strawberry nutella cream puffs :)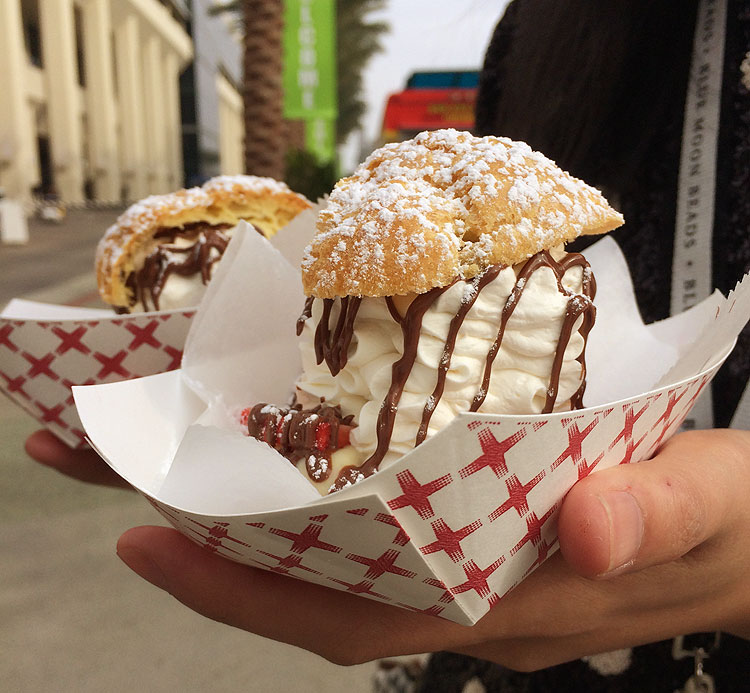 That's actually Kryssi holding the cream puffs. :)
You see, this photo was taken back in January at CHA when we all got to hang out and have lunch together.
So. Good.
So. Much. Fun.
Oh yes.
But even better was sharing them with such awesome people. So, happy anniversary again! Love you guys. And many many more! xo
Giveaways
Mama Elephant has so much fun going on for you as part of the celebration:
ME is giving away THREE $25 gift certificates each day of the Stampede, 9 winners total.
Exclusive prize giveaways on Facebook, Twitter, and Instagram, 3 winners total. (Check them out by following the links.)
Winners will be chosen and announced by us Monday, October 20th on the ME blog.
Good luck!
On With the Stampede
So, on with the stampede! Skate on over to Lorraine Marasigan's blog for your next stop. I just know she has something awesome!
Supplies