Hey hey and happy Monday! Hope you all had a great weekend! Me? I spent a good portion of it cleaning the huge mess I made while working on the Send Joy class that I'm teaching over at Studio Calico. Class started on Saturday, but enrollment has been extended to Nov 10th and ALL of the content is already up. So if ya haven't started your Christmas cards yet this might help give ya that little boost.
I got a little carried away while coming up with ideas for the class — it's like the ideas just wouldn't stop coming and I HAD to get them down on paper. Are you ever like that? For me it's like I can't sleep until I try it. Just has to be done.
I ended up with a bunch of cool bits and pieces on my desk of things that didn't make into onto a class card, but are still kinda cool. Didn't want to throw them away.
And I had printed out the lessons and the table of contents to proof them and had them all on my desk too. It looked like a magazine almost.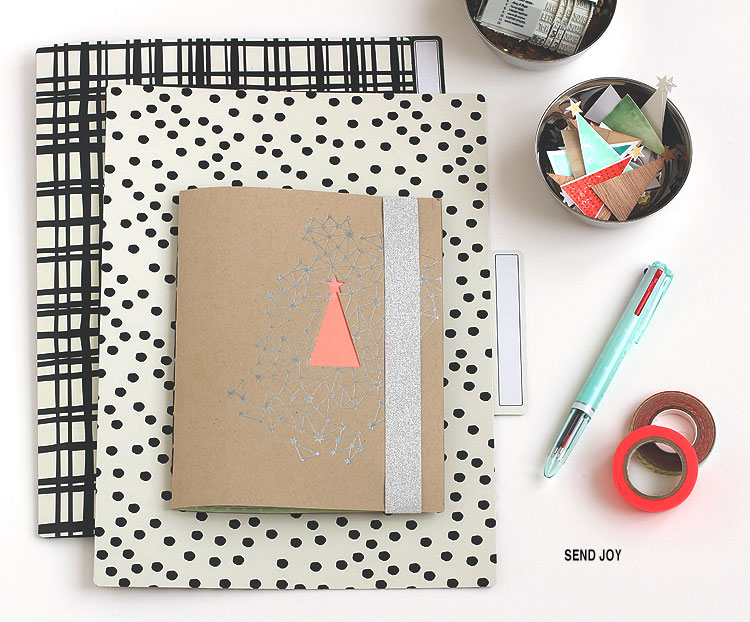 Then a light bulb went off! And I decided to make a mini book to remember the class by. I think it will be great to look back on this next year when I need ideas. It's not done just yet, but it's all bound together. I wove together the printouts + scraps of paper — and even scratch paper that I'd stamped on.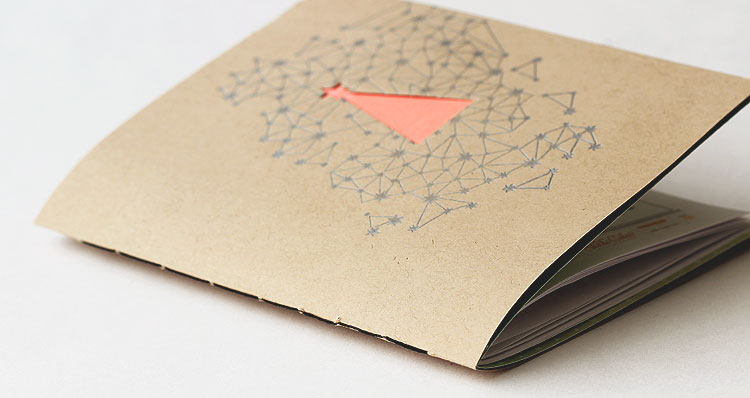 (This is a great tutorial for binding a booklet.)
I like to keep the covers of my mini books flat, but I'm thinking of adding a title to this somehow. Just not sure yet. For now it's letterpressed with this. Love that plate so much. Looks like it's sold out now, sorry. Oh and underneath the die cut is a post-it note. That was also on my mess of a desk. :)
Here's one of the first pages with an extra bit of watercolor paper for a technique that I share in one of the videos: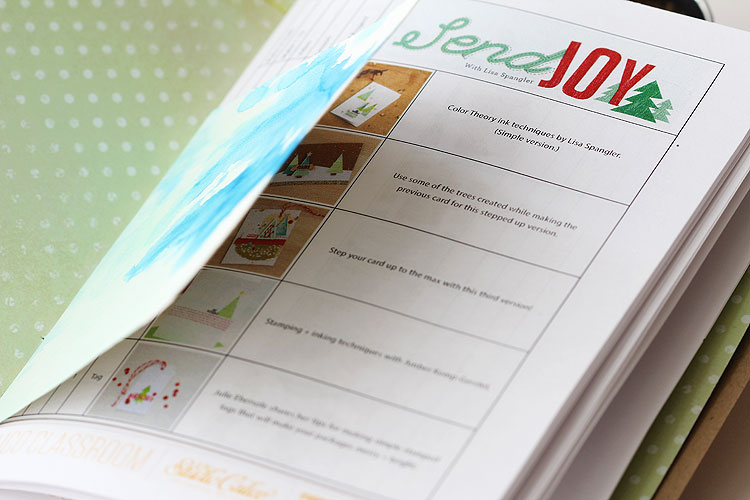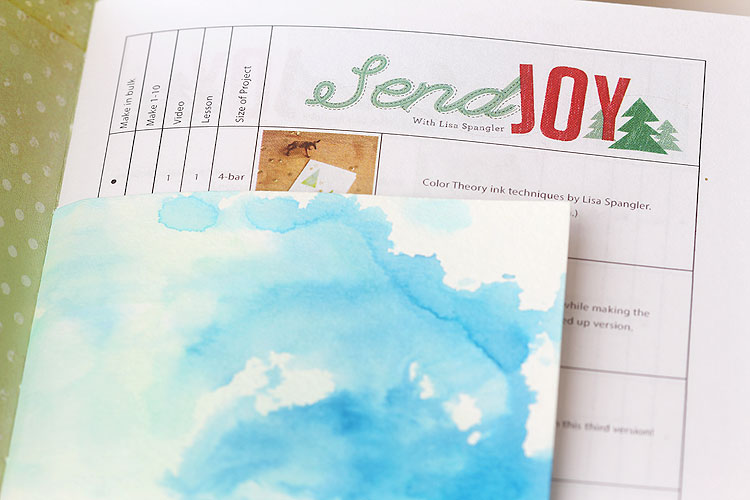 See that table of contents? That was the first time I ever made a table in indesign. I learned a lot and it was great to see everything come together. There are 24 cards + 10 tags that we share in the class, crazy awesome.
I even made a band to hold the book shut. First time I ever used this tool to actually set an eyelet ha! I had to hunt for my stash of stuff to find them, I almost thought I'd given them away.
I used some American Crafts silver glitter paper for the band. It's great because the glitter doesn't rub off, and it's nice and sturdy since it has a plastic (I think?) coating on the back.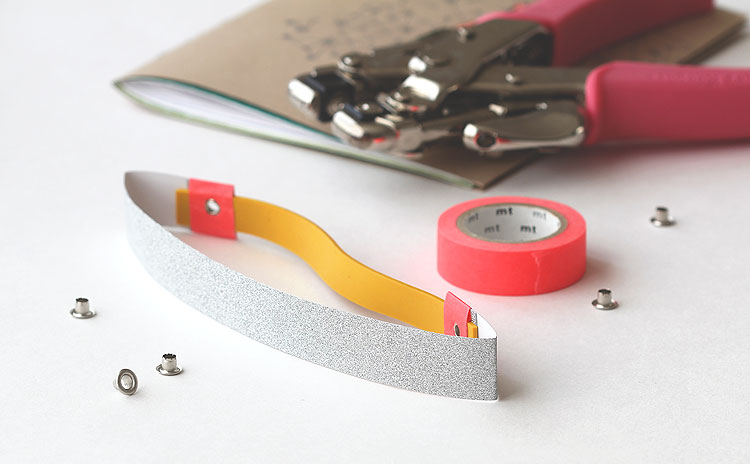 The rubber band is one that I had saved and I'm thinking about decorating it with a gold or silver sharpie. Or both :)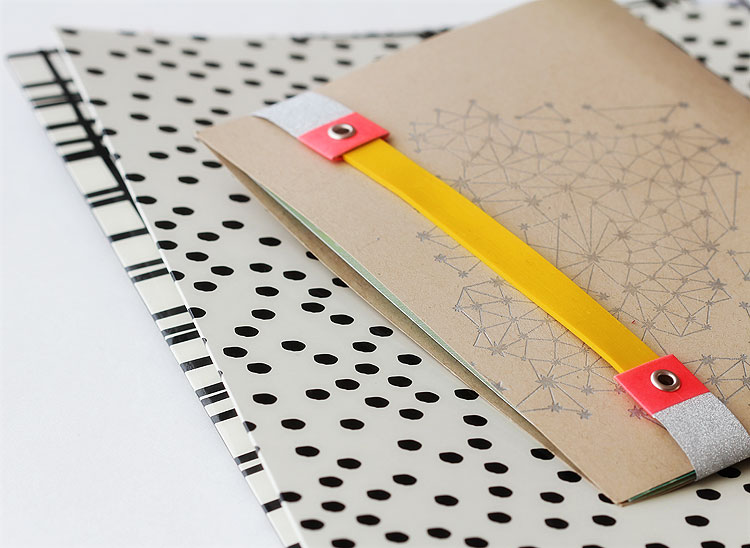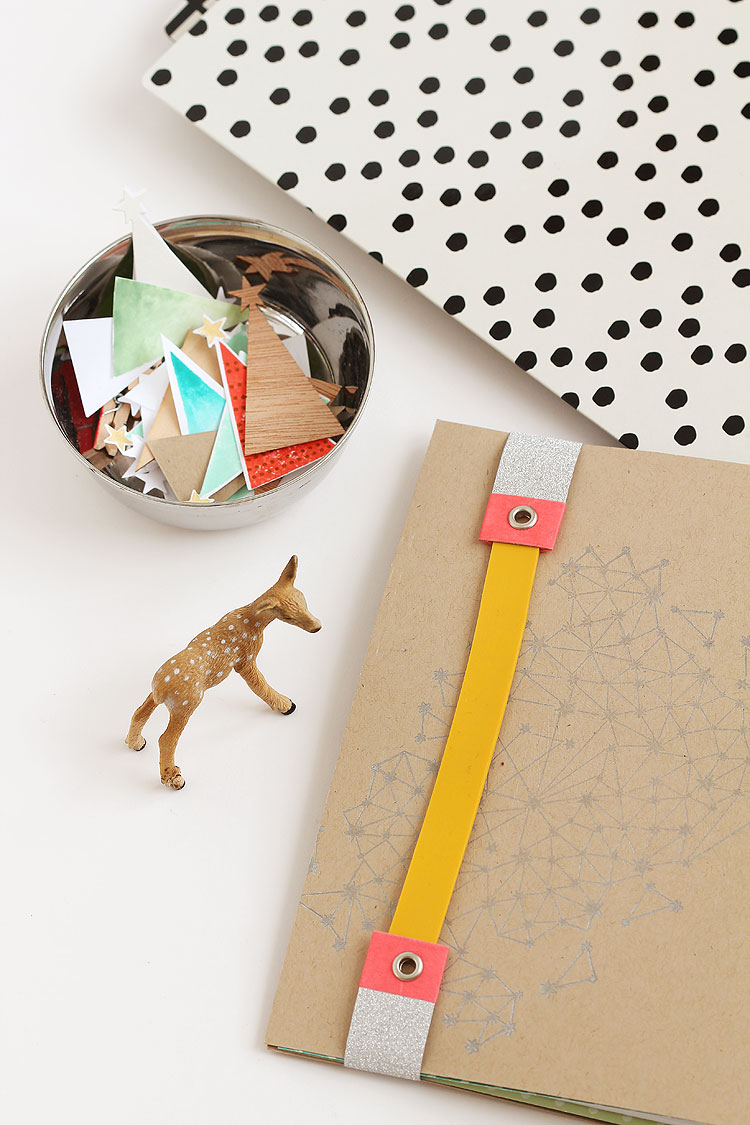 Anyhow, hope to see ya in class. Registration is here if you'd like to join us. There's a great community already — I can tell it's gonna be a great class!
I'll post more pics of the book as I finish it up. For now I'm off to check on class. :)
PS. Those file folders are stuffed with cards from the class. I have 4 more that are so full they won't sit flat. HA!
Supplies