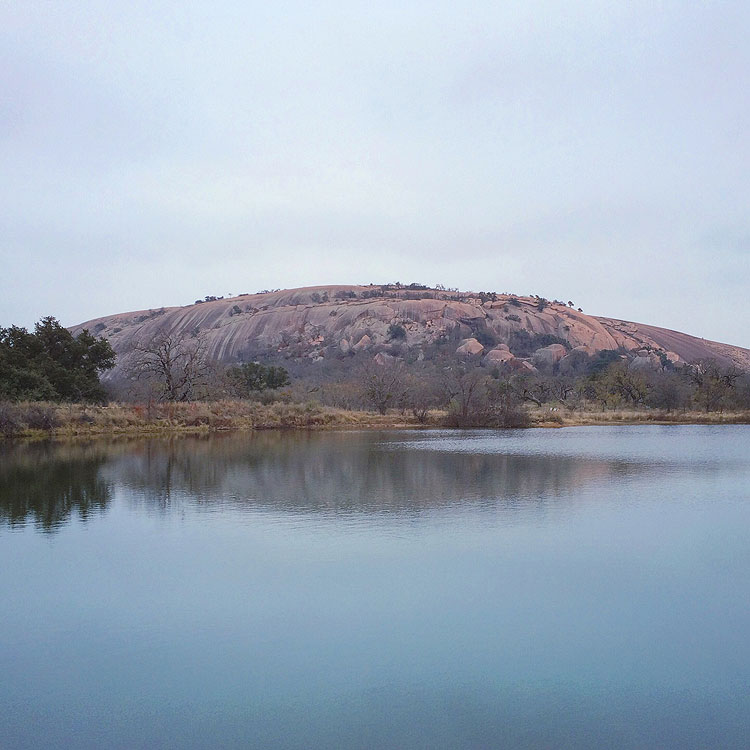 So. It's January 17th already. How the heck does time keep going by so fast? My dad tells me that it only goes faster as you get older. So I'm bound and determined to try and slow things down and make them last.
Like when J and I went hiking at Enchanted Rock State Natural Area on New Year's Eve. Oh man it was so pretty and peaceful. I want to keep this day alive in my mind as long as possible. So, I'll be posting more of our adventures here on the blog — hope you don't mind. And if you do I'll be posting them anyhow, ha!
But seriously, so much of my life is things I can't post about because it's something top secret that I'm working on for Hero Arts or Studio Calico. So this poor ole blog gets really neglected.
I tend to post the most on instagram, so if you follow me there you'll have seen this photo before. But while instagram is great for capturing a quick moment it's not that good at telling the whole story. Like how it was super cold at The Rock this day and the trail to the summit was closed. Or how the pink granite glowed in the sunset.
Along with my hiking and nature adventures, I thought I'd share crafty things I do just for fun + things that make me happy around the house. Oh and food photos. Oh yes.
Expect to see half painted journal pages. Crochet projects. Houseplants — it's like a jungle around here. Cool rocks that I've picked up in our travels. As for food, I seem to either eat really healthy (hello, kale!) or really bad (donuts, anyone?).
Hope you'll come along for my blog journey.