You guys! I'm taking a class over at Studio Calico with the one and only Wilna Furstenberg and I just had to pop in here and tell you that I am truly loving the class so far. Class just started on Monday and we have had 2 lessons. So good. I could watch Wilna work all day, and her voice is so calm and relaxing. Everything she does makes me happy — she's one of my heroes.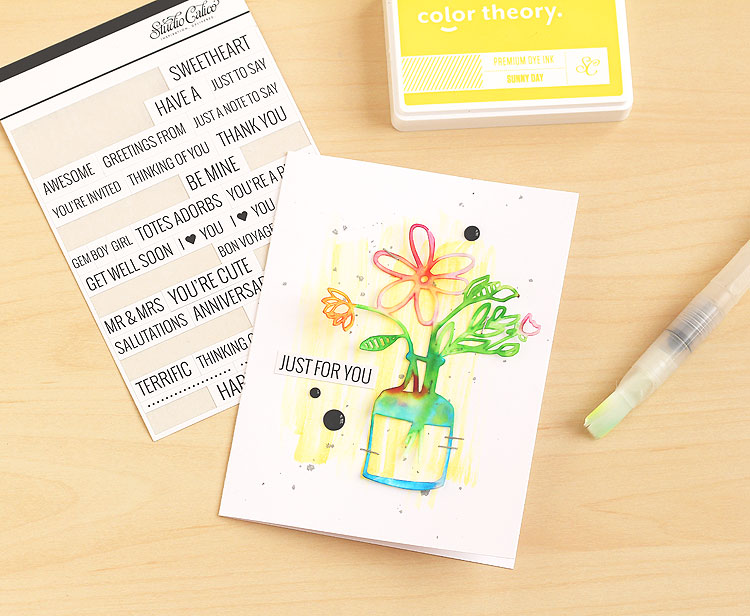 I made this card before class started and I thought I posted it, but I must not have! You know how it goes.
First I used Studio Calico Sunny Day Color Theory ink and a wide waterbrush to make the background, then I splattered on some silver mist.
After cutting Wilna's flower vase with my silhouette, I went ahead and watercolored it too. Then when it was dry I heat embossed it with clear powder — it really makes it vibrant plus it keeps the piece from being too fragile. I attached it with the Tim Holtz Tiny Attacher — aren't those mini staples cute?
I finished it off with a "just for you" sticker sheet that's in the Studio Calico Cirque card kit — love this kit so much. (And there are still some available, can't believe it they haven't sold out.)
If you'd like to sign up for the class, just click on over HERE. Registration is open until March 13th and I think this is going to be one of those classes you'll kick yourself for missing out on. Oh and, included in the class are some awesome cut files by Wilna too. Not this one, but they are equally good. Just sayin. :)