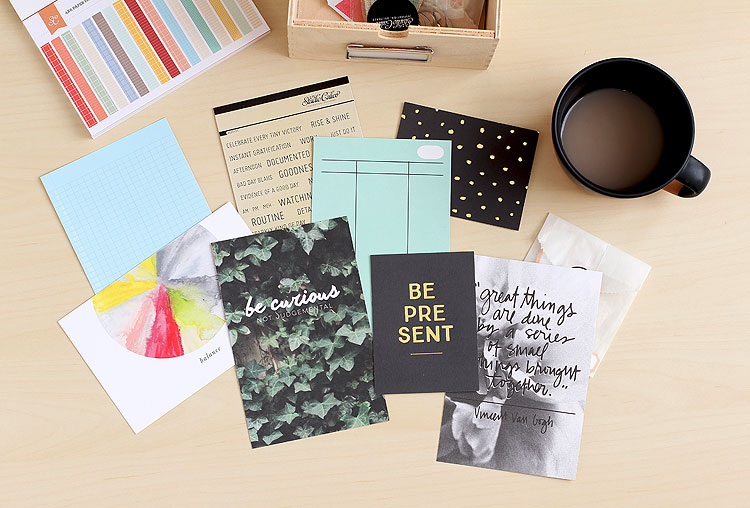 Do you have any fun plans this weekend? Me? I have to work.  Hoping to squeeze in a little crafty time Sunday eve. But! I took some time out to drool over my Studio Calico goodies that arrived on Wednesday. Most of what you see here is from a kit for Tina's Mini Book workshop that is happening this month. This mini book is kind of a cross between art journaling + scrapbooking. Right up my alley. (Oh and if you don't know who Tina is, you're really missing out. Check out her blog HERE.)
All of the class content + videos are already up, and you can enroll now through March 31st. I'll confess that I already binge watched the videos. So good.
Here's a better look at the kit from the SC site — this is not my photo :)
Some highlights, starting in the center and moving clockwise:
See that "details" card up there? That is the cover! It's heavy chipboard and details is gold foil. It's just gorgeous. There's another piece of chipboard for the back.
The postcard is wood veneer and Tina shares a cool image transfer technique using it. Can't wait to give it a try.
The stamp set is awesome — you get a label stamp and then you can stamp the words on it. Genius.
A transparency sheet with stars, cool ticket stubs and a manilla tag.
There's a thick pad of super high quality paper printed with grid designs. Be. Still. My. Heart. If you look back up at my photo, you can see the swatches in the upper left.
Then there's gold foil labels. Yes, please.
3 sheets of stickers with an alpha, hearts, and cool sayings.
Journaling cards, flair and even binder rings are included in the kit too.
I can't believe this kit hasn't sold out yet. I just love every single thing! Pick up yours right HERE.
Then sign up for the class HERE. This class is only $10 — personally I'd pay 3x that. Tina is just the best. Yeah I'm a huge fangirl. I'd love to hang out with her someday since we both seem to love the same things. Madewell? Check. Picking up leaves on our walks? Check. Coffee? Cacti & Succulents? Check. Well, you get the picture. Oh and! The class also comes with digital content that's not shown — it's pretty awesome too. There's clip art, prompts and other neat stuff.
If you are into mini books, you can also sign up for 4 mini book workshops at 20% off right HERE. Here's the schedule — I just know these are all gonna rock:
Mar 2015 | Tina Aszmus – chipboard + journal cards (released Feb 25th)
June 2015 | Maggie Holmes – tag album (released May 25th)
August 2015 | Stephanie Bryan – mixed up mini (released July 25th)
November 2015 | Marcy Penner – 4x6in album (released Oct 25th)
Oh and! In my photo up at the top there are 2 gold foiled cards with "be present" and polka dots — they're from this month's Project Life kit — find it HERE. :)
Hope to see ya in class! xo