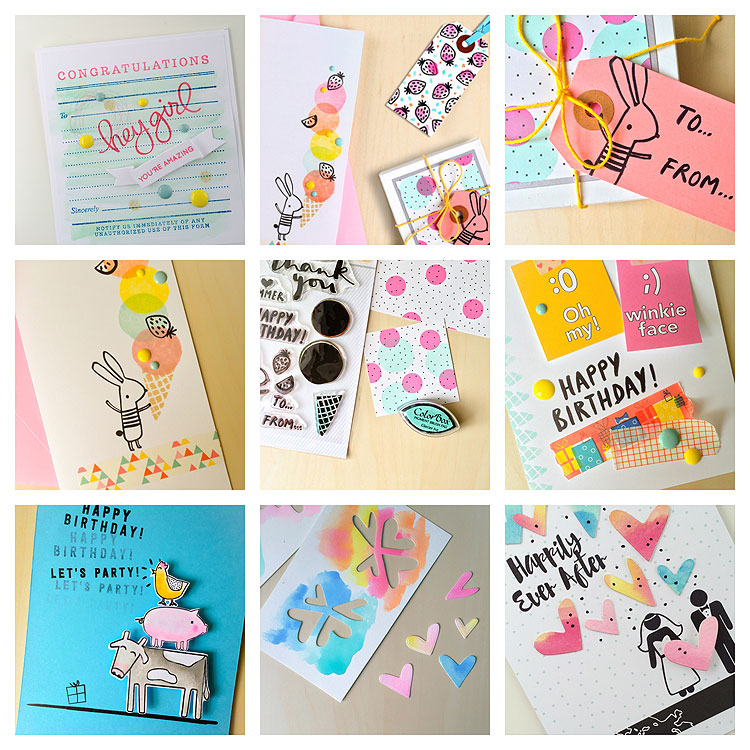 Okay you guys, I normally don't post about Studio Calico kits until reveal. But these June kits are just too awesome. Here are my peeks and some info, clockwise from top left:
A combo sneak from the Hey Girl stamp add on by Mama Elephant with the background made from the Custom Notes set by Hello Forever — I wanted it to look like a guest check like you'd get in a diner :)
ALL 3 are from the main card kit, including that tall pink envelope. Oh yeah.
Bunny and tag from card main. I love that bunny stamp so much! And yep, the twine is also in card main.
Here's the bunny again :)
Stamping on paper from card main with one of the ice cream scoops AND the ink that's also in card main — told ya this kit just rocks didn't I?
More card main. Yes there's washi! And enamel dots! Oh and that triangle border? I stamped it with the tip of the cone :)
Party Animals add-on by Life Love Paper. Love everything that Tina does but this one? Yeah I'm gonna use it a ton. The matching dies are also in the set.
Next up we have some die cut hearts — the dies are in the I Do set by Kelly Purkey. I just scribbled some watercolors on paper and cut 'em out. I want to make a ton of them to have on hand! Will also be great to cut out of felt, chipboard — you name it.
Last but not least, a peek at putting those hearts to use and the stamps that are in that I Do set.
Everything will be up for ordering on May 27th — at noon EST for subscribers and midnight for non-subscribers. :)
Annnnd, Studio Calico is having a sale!
From May 21-25, we're having a Memorial Day Blowout sale! Get 20% off shop-wide + get an additional 30% off the Sale section of the shop! Codes: MEMORIALDAY20 and SALE30.
Have a great weekend,