You guys! Can you believe it's almost June? I sure can't! But that means that I can finally share the Studio Calico June card kit, Galileo.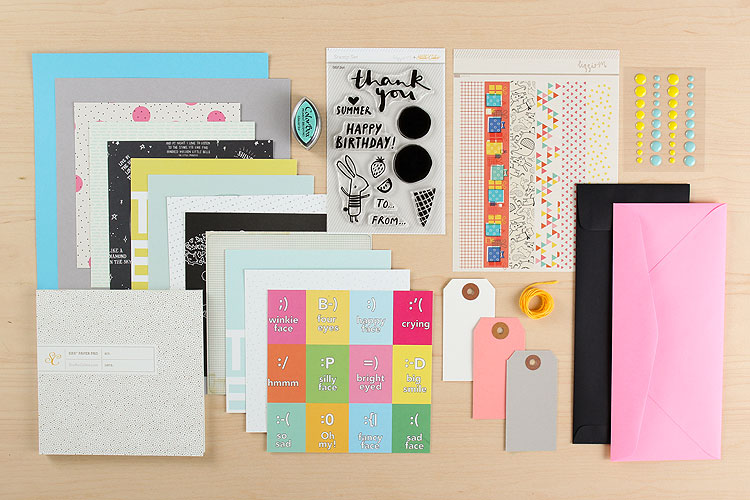 This kit is so good. I can't believe it hasn't sold out yet! Clockwise from top left, here's what ya get:
Tropical Breeze and Date Swirl 8.5×11″ card stock from Bazzill. Both colors are awesome.
Glacier Ice pigment ink pad by Clearsnap — such a great color.
A 4×6 stamp set by Lizzie Mackay for Studio Calico. Her designs are just darling! Check out her website to see what I mean. Every time I stamp that bunny I just have to smile — I want to stamp him on everything. And the ice cream stamps are pretty fun too! Perfect for summer. Plus you can use the ice cream scoops as polka dots and the cone to make a fun triangle border — will show ya later.
Washi stickers, also by Lizzie Mackay. Need I say more?
Enamel dots from Twine + Ink
#10 size envelopes in black and electric pink + 2 folded legal size card bases. LOVE playing with this size you guys! And it's prefect to make a tower of ice cream :)
Yellow twine
3 fun shipping tags — the coral is my fave but the gray is so elegant
6×6 paper pad with 2 each of 11 designs by Hello Forever, Crate Paper, and Studio Calico
Now for what I've made with this kit — so far! Can't wait to play with it some more. Everything you see here is made with *just* the items in the kit.
First up, a legal size bunny card! I'm telling you, I love this bunny!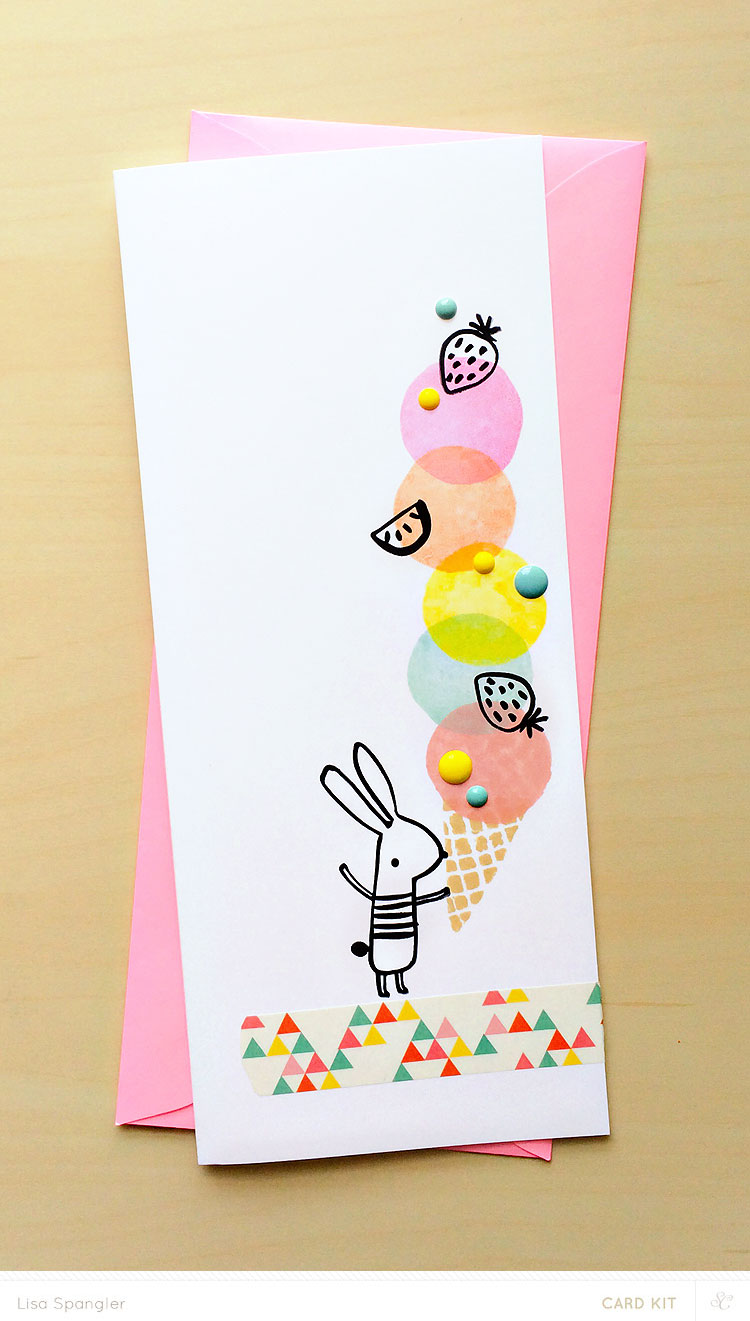 I love how the overlapping Color Theory inks look — listed below in the order that I stamped 'em in. If you haven't used Color Theory inks before, they are a water based dye ink with vibrant colors. You can do all kinds of techniques with them. On this card, I stamped the top scoop in flamingo ink, but I stamped it on scrap paper first then again on the card without reinking — this way I got a lighter pink. I did the same thing with the next scoop in orange county.
Just gotta say that I love how the bunny looks so good simply stamped in black like that. Can't wait to color him too.
Next, a fun little package and some tags! For this one, I used one of the ice cream scoops to make polka dots on some of the paper that's in the kit:

Told ya I love that bunny!
Now for a card that doesn't use the bunny! But it does use more of the paper that's in the 6×6 pad.

I think this card would be great for a teen! And see how I made the triangle border down the left side of the card with the ice cream cone? Love doing things like that.
You can see what the rest of the team did with this kit and more right here in the gallery. Love this one by Aga — she used the scoops to make polka dots too! Dana took the bunny to another level by stamping him on acetate.
Anyhow, if you'd like a kit you can find it right here. Like I said, I can't believe this one hasn't sold out yet!
And that's not all! You can start a new subscription for $5 with the codes below and get free shipping, too! Go on, you know you want to. :)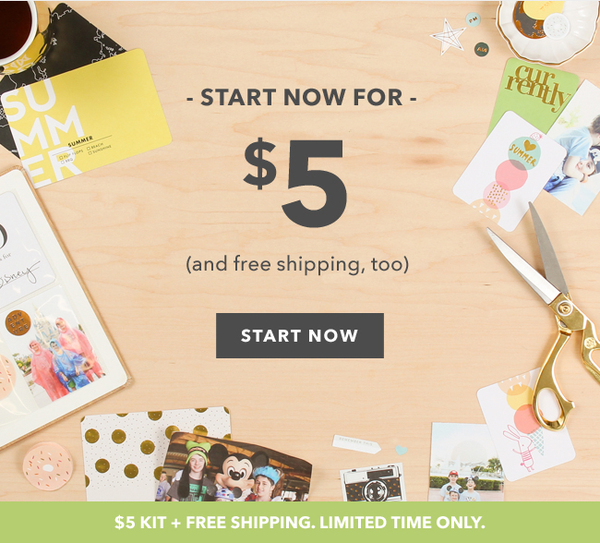 Hope you all have a great weekend! xo
Supplies