Hey hey and welcome to the Hero Arts + Kelly Purkey Planner Blog hop! I'm your second stop on the hop — the one and only Kelly Purkey is the first — so if you're just now joining us be sure to check her post out. You can also see the whole Clearly Kelly line right over here at Hero Arts. I love every single thing.
True confession, right up front: I've gotta admit that while I've always been a list maker, and I've always kept a calendar, I haven't always been a planner addict. Nope. It just wasn't for me. But now that I figured out how to get organized  — well, count me in as a planner nerd. I'll be sharing my process below.
Plan. Plan. Plan.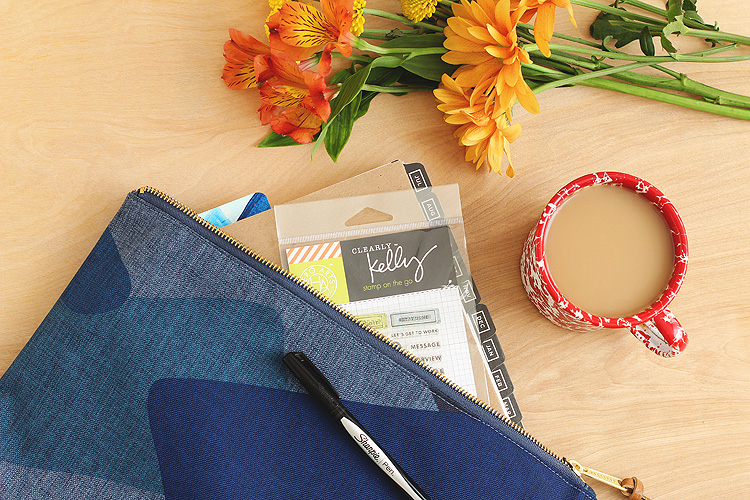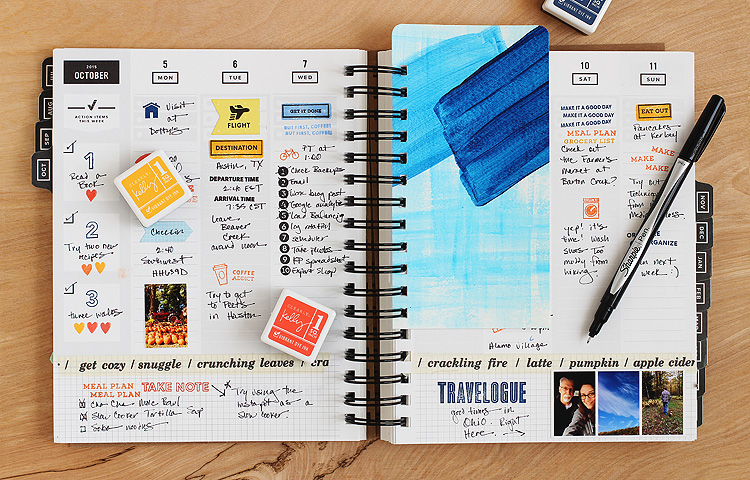 Here's my full week. This is real life. Not just for show. You can see where I dropped my pen, messed up stamping, didn't get some stuff done — but I kinda like that.
Thought I'd walk you through a few things. First off, see that divider page with all the paint splotches? I had so much fun making that. It's just a little acrylic paint — I was thinking it went with the pouch that I keep my planner in. I like to switch my divider up every week or so. This way things don't get too boring.
Goals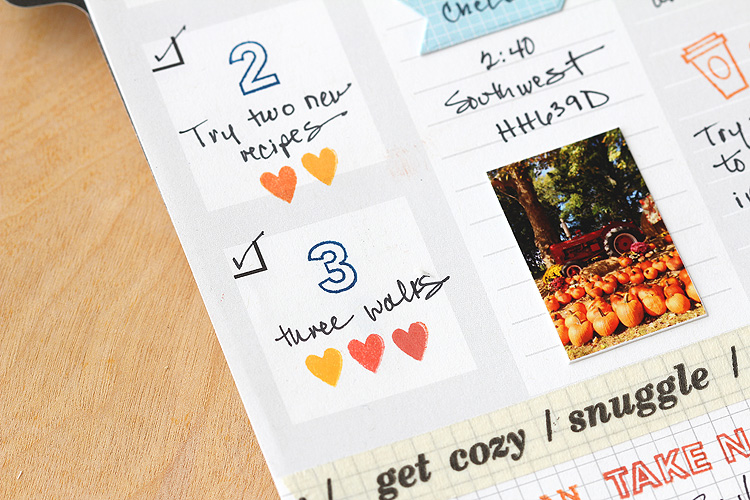 One thing I love to do is set 3 weekly goals. I like to use the numbers from Kelly's Outline Alphabet. (It's from her first release — still love it.) Then I keep track of my progress with little stamped elements, like this tiny heart found in Kelly's Occasion Planner.
Add-on Lists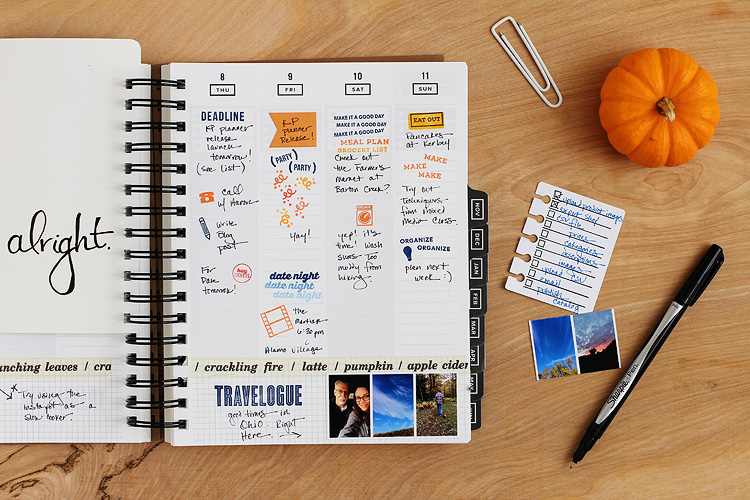 In the release you'll find some super nifty die cuts + stamps that are packaged together called Stamp&Cuts. Here I'm using Kelly's Todo List to make an additional list that I can slide right onto my planner.
Another thing I like to add to my planner is little photos. Here you can see some shots from when I was in Ohio earlier this week. That's my Dad and I on the left — he just celebrated his 70th birthday! — a cool autumn sky, and my husband from when we went for a walk in the woods. Plus some extras I may use next week.
Reverse It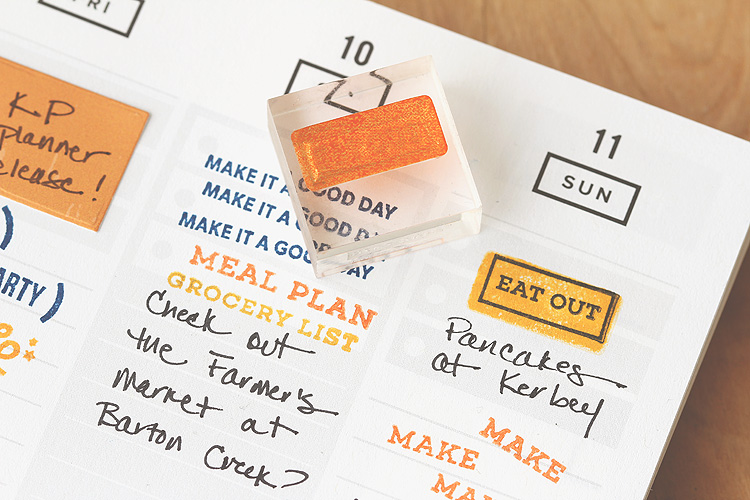 Another thing that I love to do is to mount a stamp on my block in reverse and then stamp it to get a solid image. Then I flip it over and stamp it the right way. Here you can see this in action with the "Eat Out" stamp, found in Kelly's Food Planner. Sure hoping we make it for Sunday pancakes. :)
Get Organized
The key for making all this happen for me is to get organized. I usually do most of my planning on Sundays while sitting at the kitchen table — I drink coffee and plan away while my husband reads and drinks his tea — but sometimes I do it while traveling or in different parts of the house. Enter this cute pouch.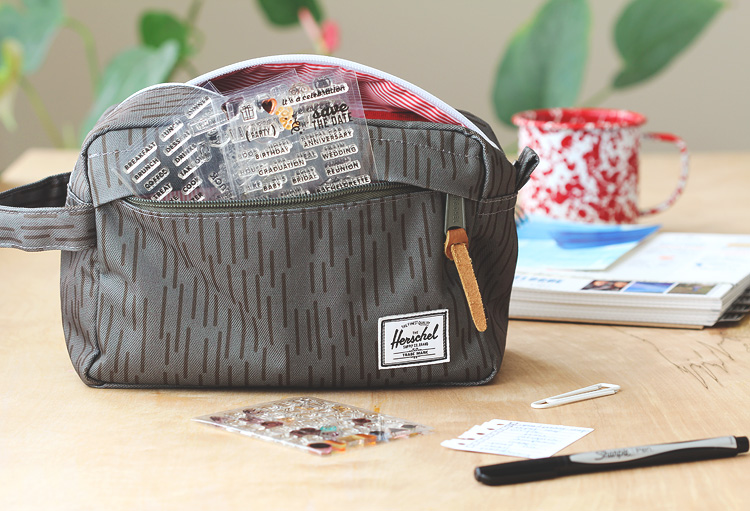 I put all my most-used stamps in the front pocket. Inside, I like to keep my inks, acrylic blocks, post it notes, washi tape, TSA approved scissors, adhesive, and more! While I was in Ohio I even had a small watercolor set in there with room to spare. Love the handle so I can grab it and go. Can't say enough good things about it.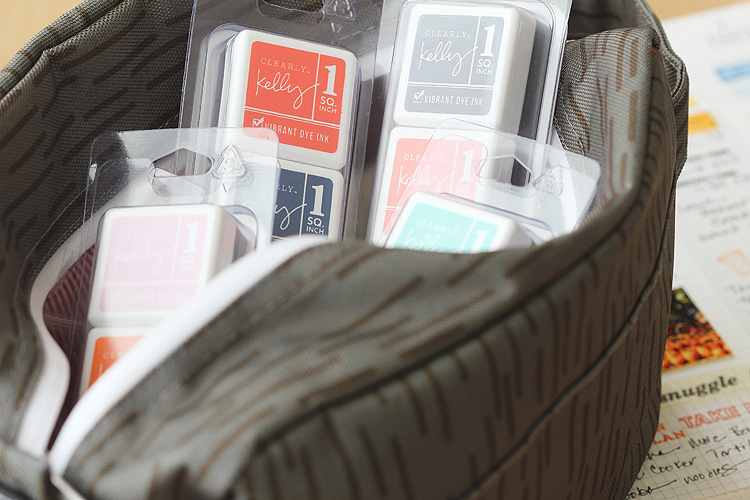 Had to add that I love the colors in Kelly's new inks. Love. I don't know if I have these all in the correct packs, but I always put them back in the plastic case that they come in so that the lids stay on. There's nothing worse than opening your pouch to find a big inky mess, right?
One last thing I just had to share. I'm a huge paper addict and Kelly's Planner Banners have helped me use up those little scraps of paper that I can't bear to part with.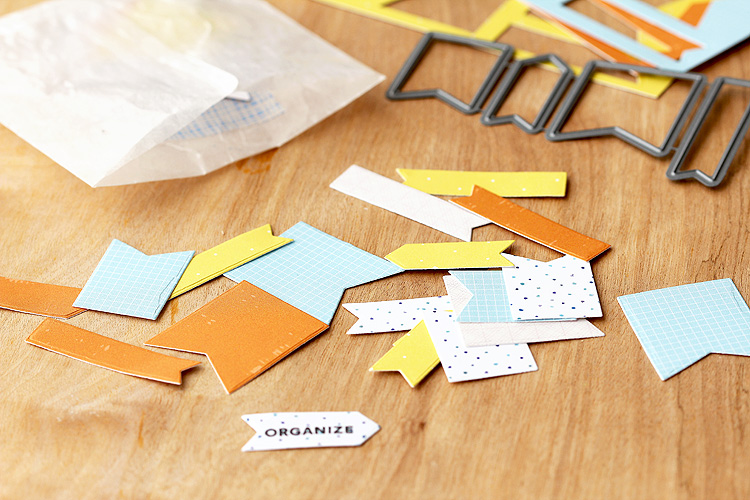 I put them in a glassine envelope and then in the pouch they go.
Giveaway (Yay!)
Hero Arts will be giving away a selection of Clearly Kelly planner products. The winner will be randomly chosen from all of the blog hop comments received by 11:59pm PST on Monday, October 12th. Check the Hero Arts blog for the announcement of the winner on Wednesday, October 14th.
Hop On
Now then, on with the hop! Your next stop is Nicole Reaves — I can't wait to see her planner. That girl always rocks my world.
Kelly Purkey
Lisa Spangler <– you are here
Nicole Reaves
Krista Wells
Suzanne Dahlberg
Barbara Picinich
Amy Tsuruta
Libby Hickson
Thanks so much for joining me today! Hope that I gave you some ideas for using Kelly's new planner stamps. And big thanks to Hero Arts for having me be part of the hop and to Kelly for designing such awesome stamps for us all. xo