Hello there and happy December! I'm so excited and truly honored to be the guest designer this month for Virginia's View Challenge #21: All about glitter!  For this challenge, glitter, Stickles, sequins, gemstones, shimmer mist, metallic embossing — ALL are welcome. YEAH!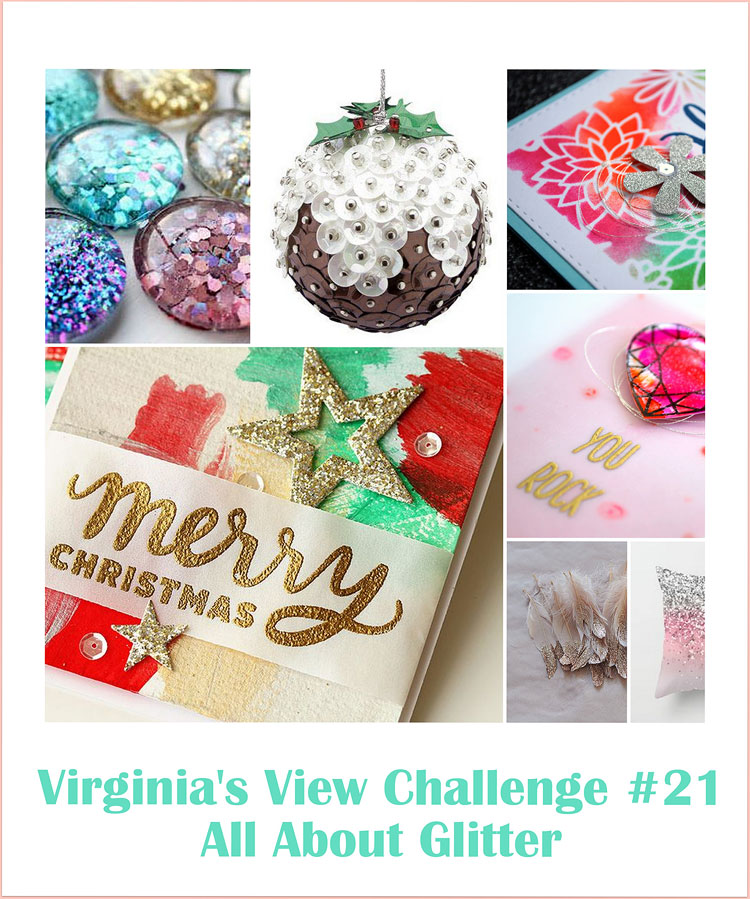 Virginia started hosting these challenges in March of 2014, and this month is her last challenge. There have been some amazing challenges you guys. I can't even imagine all the work that goes into it. Just have to say that I am so happy to get to participate! Virginia had asked me to be a guest designer before, but it didn't work out due to timing. So I feel extra lucky to get to participate in this one.
Oh and see that "merry" card up there? Just in case you were wondering, that's a sneak peek of a card that I taught in a Christmas card class for Studio Calico. The class is available as part of a bundle here — it includes a Fall/Halloween class that I taught and an upcoming class for Valentine's Day too!
Now without further ado, here is my card! I made this one for all the glitter haters out there — you know who you are! (Just so ya know, I LOVE glitter, so it was hard to retrain myself. But I did it!)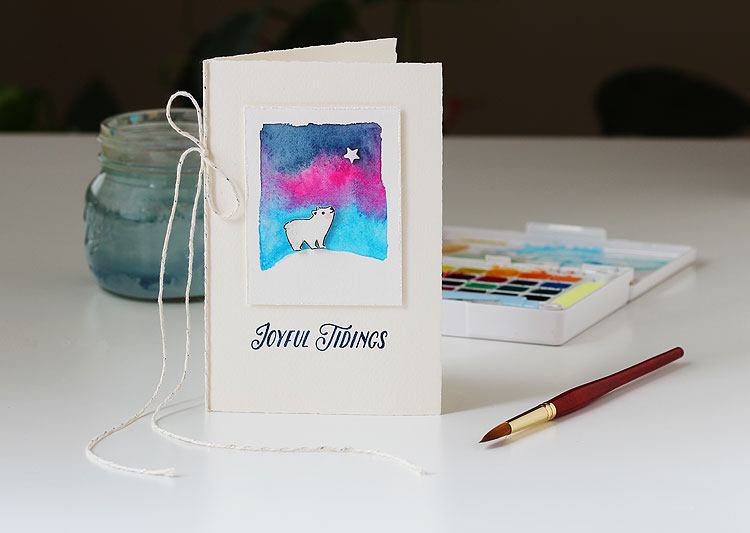 Even though it's kinda subtle, there's lotsa glitter on it — which you can find out more about over on Virginia's Challenge blog.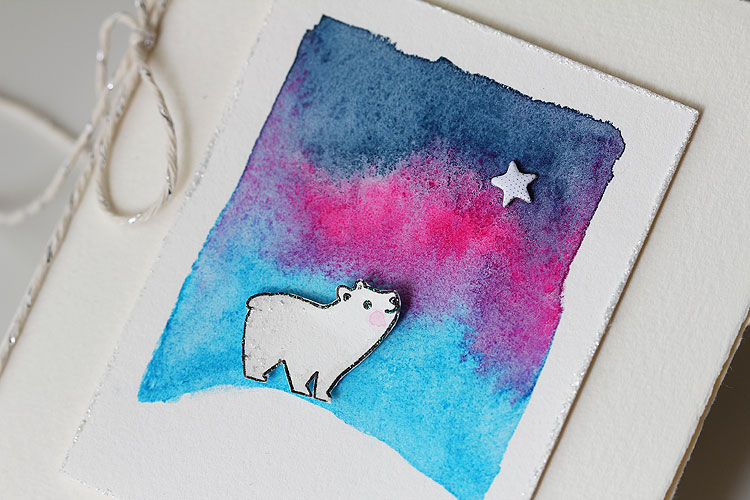 Here on my blog, I'm going to do a little tutorial how I made that background — since it's not glittery, I didn't want to do it on Virginia's and distract you. :)
Watercolor Background Tutorial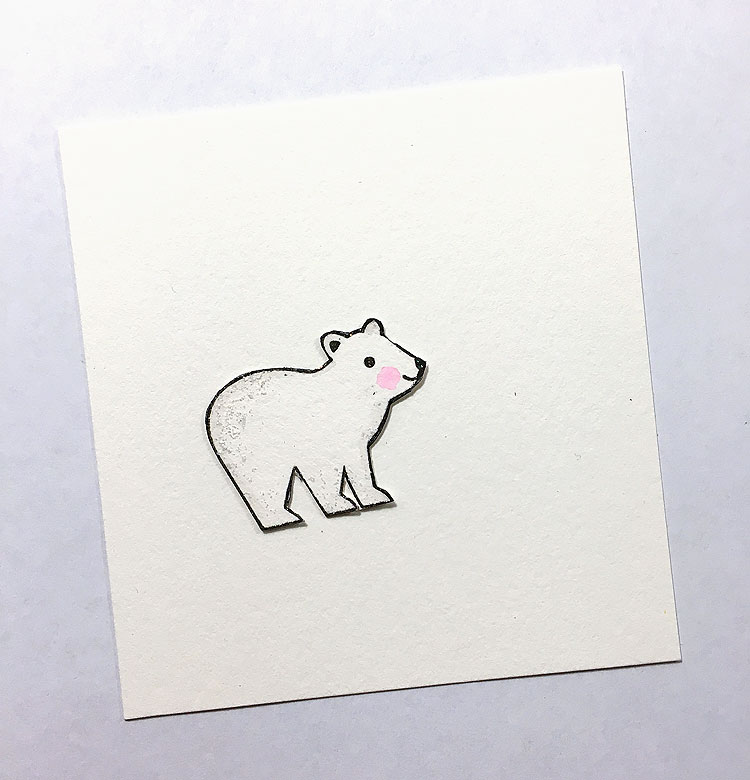 Step 1: Place your stamped image on a panel of watercolor paper to get a feel for how you want the background. Here I'm using the larger bear from this cute Winter Bear set by Hero Arts/Lia Griffith. I used the baby bear on my card for the challenge. Just love that this set has TWO bears!
I like to use this Kid Made Modern watercolor paper from Target as it's pretty smooth, takes stamping well, and watercolors stay nice and vibrant. Plus you can't beat the price — it's only $3 for 20 sheets!
Step 2: Wet the area where you want the background with plain water. Get it really wet so that the paint will flow. The great thing about this is that the paint will only go where you've put the water! It's like magic.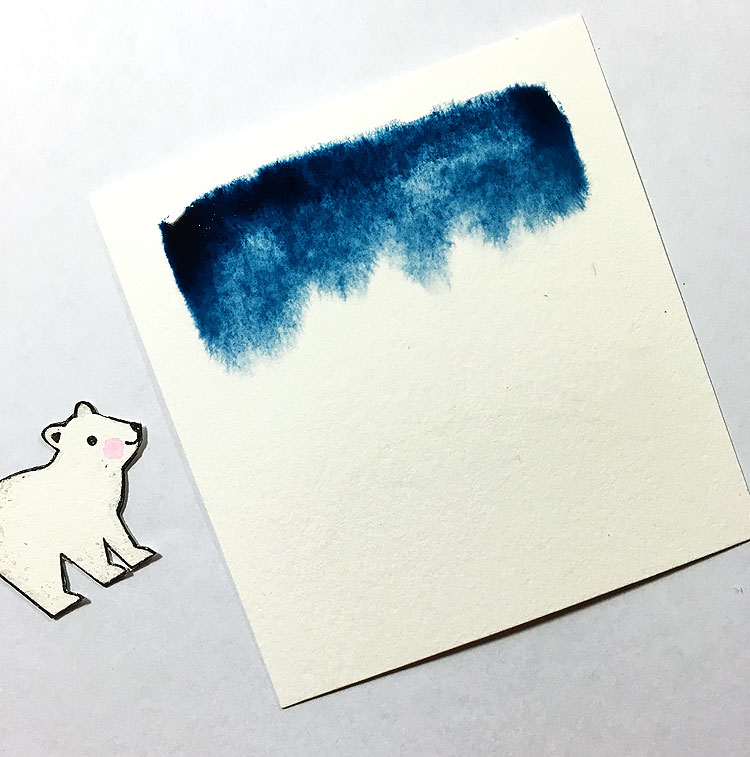 Step 3: Add the darkest blue color to the top. Do this by loading your brush up and then touching it to the wetted area. You'll see it begin to feather.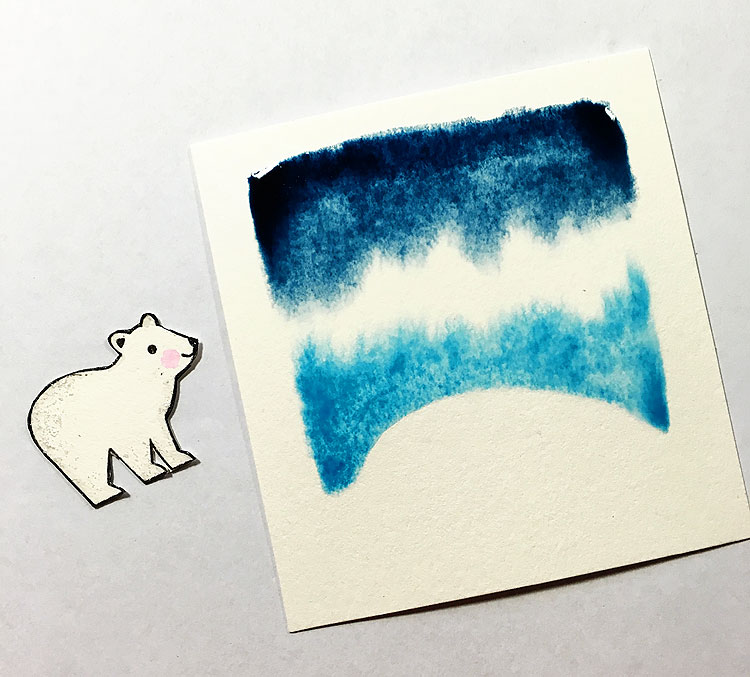 Step 4: In the same way, add a lighter blue to the bottom, and it will start to feather up.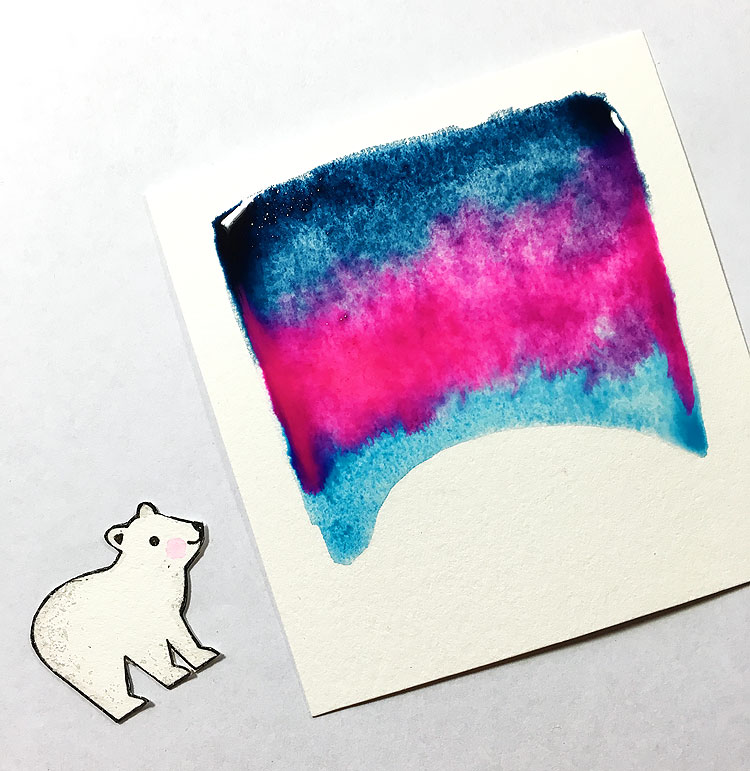 Step 5: Wiggle some pink in the middle, dragging your brush up and down. Now, step back and let it dry. This is the hardest part! DO NOT try to help it or fix anything — you'll only ruin the magic. Do not even move it your paper as you can tilt it and mess up all the delicious feathering that's happening — you've been warned!
Just walk away. :)
The paper may curl a little while it's wet, but it will flatten back out as it dries.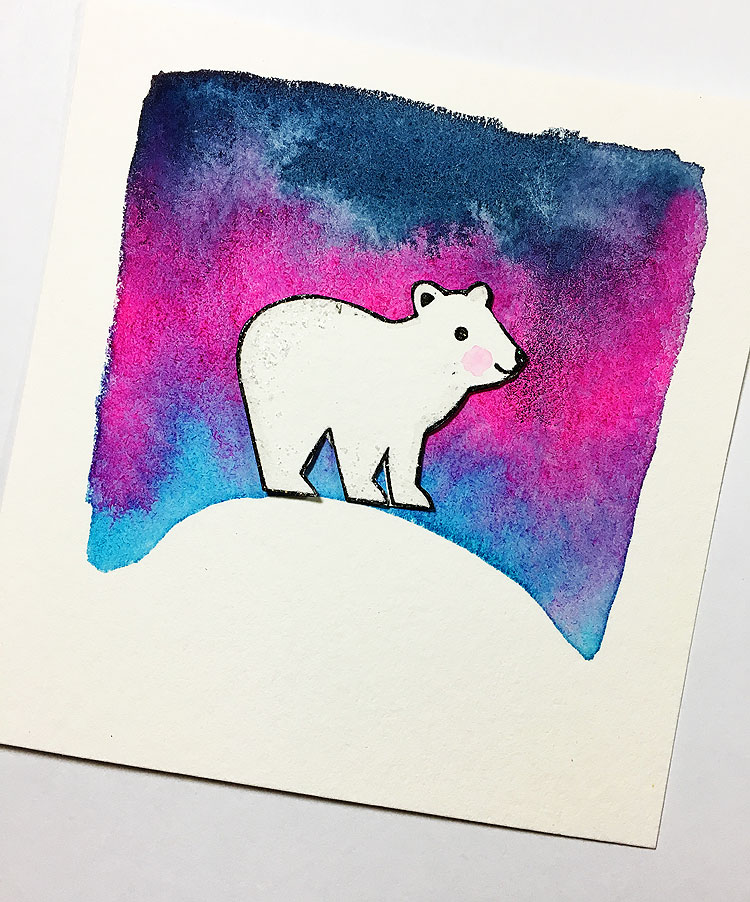 Step 6: All dry! So cool, am I right?
Hope you give this technique a try!
Supplies
Here are the supplies I used. Everything is from Simon Says Stamp except for the little star, which is in this kit from Studio Calico. I had it on my desk and couldn't resist using it!
Prizes!
Simon Says Stamp is sponsoring the challenge  with TWO $25 gift certificates — yeah! Sure hope you'll enter — as if GLITTER wasn't enough :)
Thanks again to Virginia for having me — big huge hugs! xo