You guys! Happy news! The Mondo Hydrangea stamp set is back in stock! YAY! This stamp is part of the latest release at Ellen Hutson and I love it to pieces.
I've had this post just sitting here waiting until it came back in stock because I didn't want to disappoint you! I know how it is when you get an idea and you want to play with it *right now*! :)
I had a ton of fun trying different techniques on them — in fact, I may have gotten a little carried away!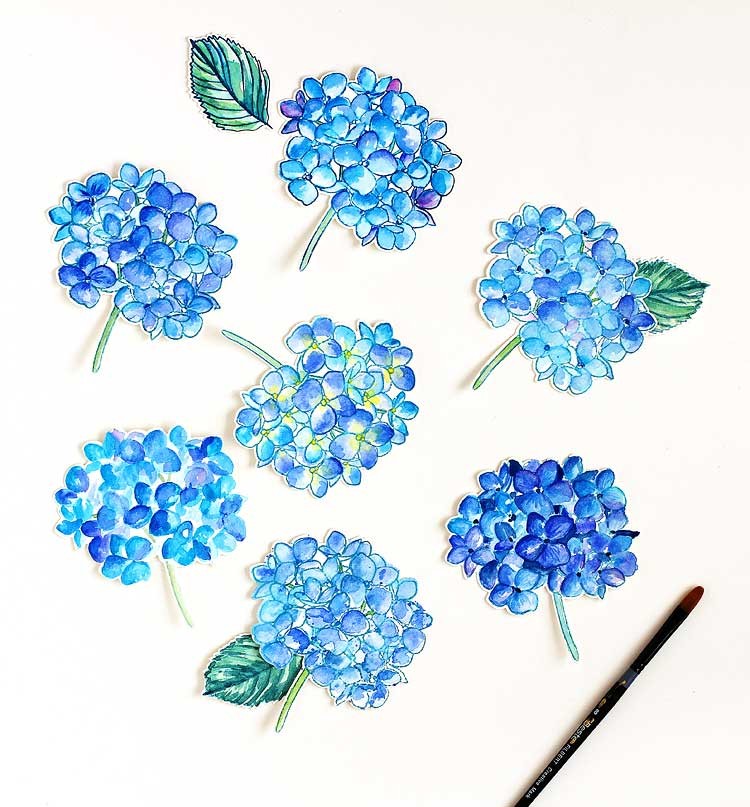 I know, right??!? I just couldn't stop! And I still want to paint more! I'm thinking I'll do some pink ones next. :)
For all of these, I used the Koi Watercolor set to add color. I can't tell you how much I love this set! The colors are so vibrant — just gorgeous. I'll be doing another post on watercolors soon. A few other things:
The top middle one was stamped with Studio Calico Color Theory Deja Blue ink — you guys, this is my favorite blue ink ever. It's not waterproof, so the color does blend a little. But oh man, I love it! (They have tons of vibrant colors too.) (And they also have that Koi Watercolor set if you're just shopping for color…)
The rest of the hydrangeas were stamped with broken china distress ink, except for the "no line" one which was stamped in tumbled glass.
I added some liquid pearls to the center of each to give it that extra something — you can see that better in the photos below. One more tip about that — you can go over the dried pearls with a permanent marker like a sharpie or copic to change the color. Yay!
I used the matching Mondo Hydrangea dies to cut them out — I'm not one for fussy cutting — especially when I made so many lol!
Now how about a finished card? Or two! :)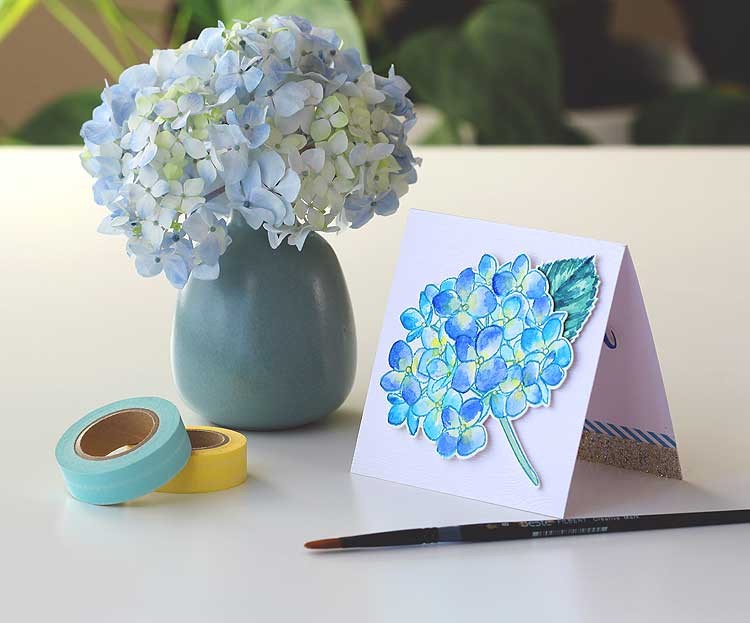 For this one I added a little yellow to the centers…and then the one below has all blue.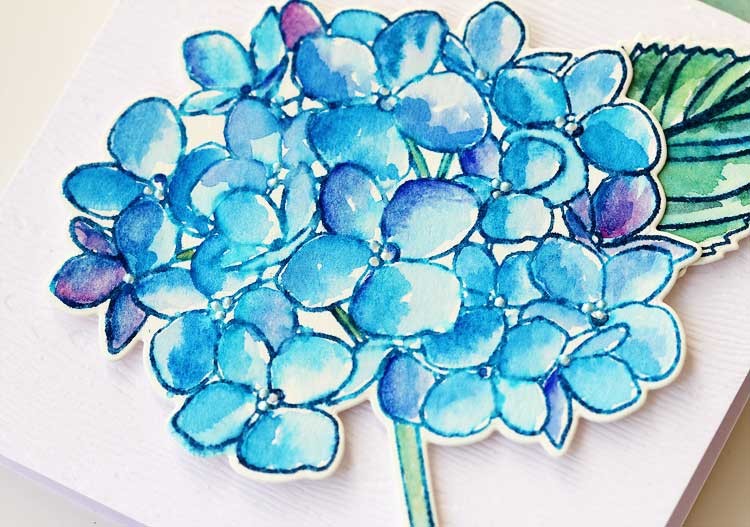 A real hydrangea for ya that I used for inspiration — saw them at Trader Joe's and just couldn't resist! :)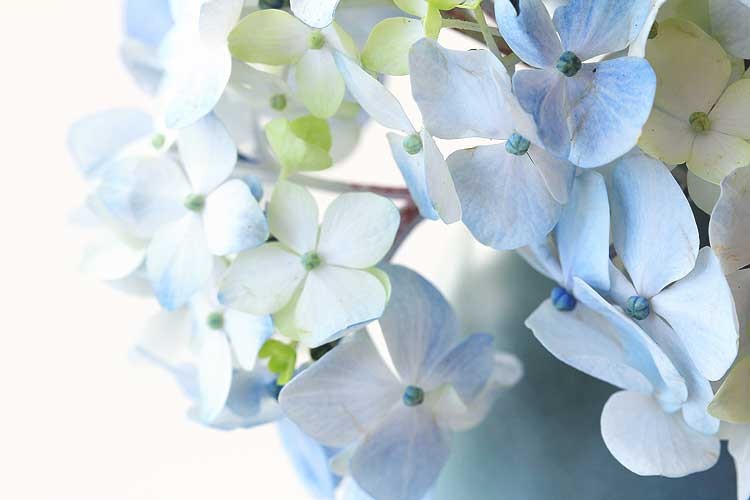 At first I was gonna do something fancier for the front of the card, but I decided to let the hydrangea take center stage and then add the message to the inside.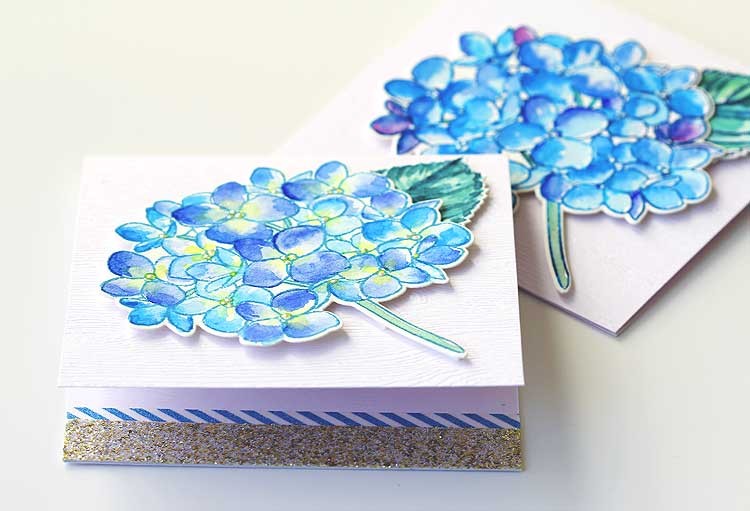 Now for the inside! Here I used the brushstroke wonderful die plus the the Totally Awesome set to add the "have a" and "birthday" to make two cards for my aunts. They both received their cards already and they love them. That's the thing that makes me happiest. :)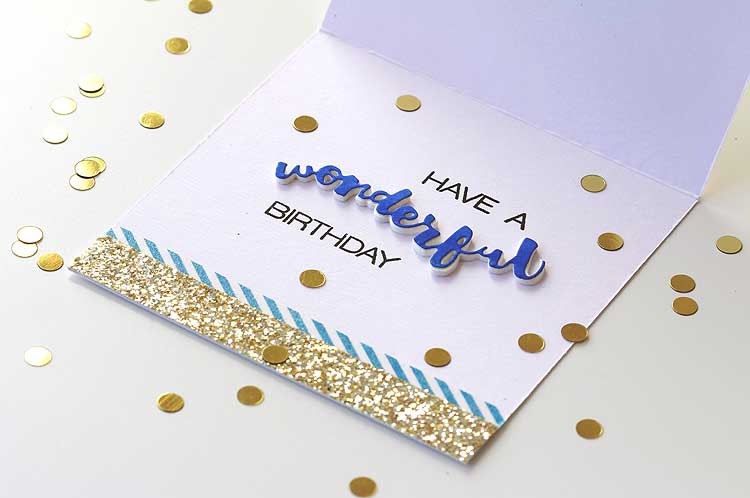 So that it would match the colors on the front, I watercolored on a scrap and then cut it out of there.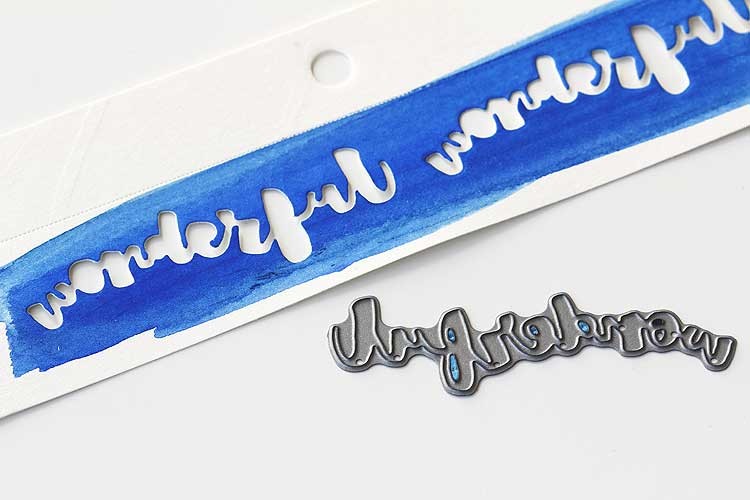 Then I adhered it to fun foam (from the craft store) and adhered it in place. I like to use Tombow mono multi adhesive for this because you can put it on, let it dry for about 30 seconds and it becomes repositionable — kinda like a post-it note! Yes!
I have the rest of the rest of of my hydrangeas all prepped and ready to go too — just have to add a message to the inside of the card. Color me happy.
Supplies
Hope you have a mondo wonderful day! xo