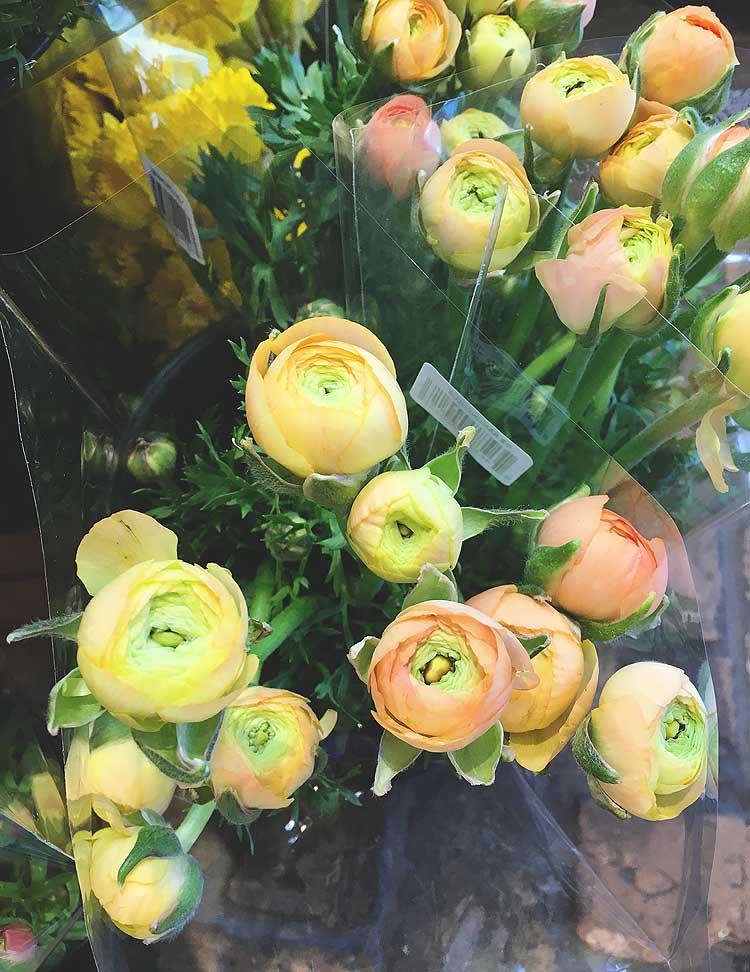 You guys! I saw some gorgeous ranunculus flowers at the grocery store the other day and had to try and watercolor them. Had to. You know how it is when you just have to try something, am I right?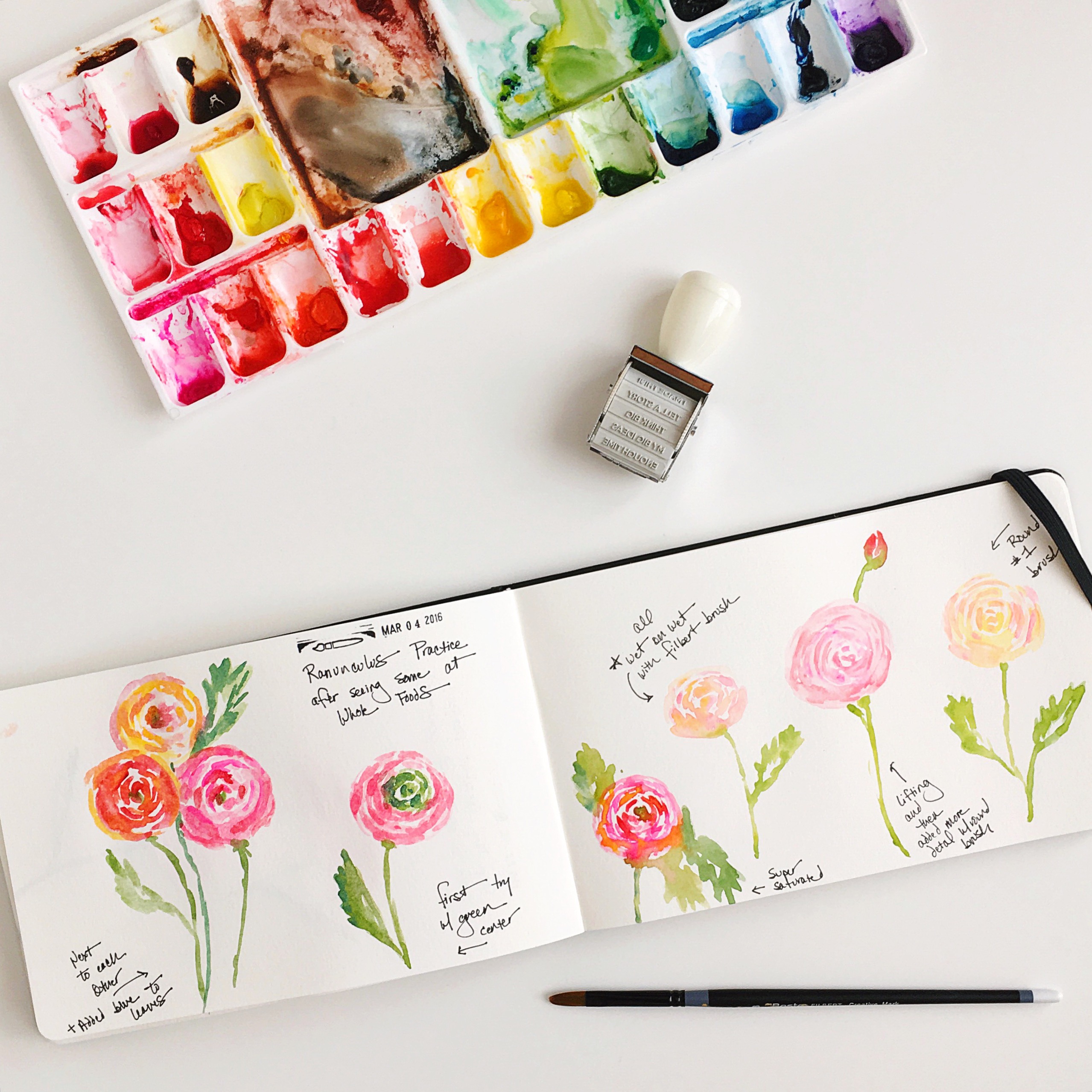 I started out by doing a little practice in my moleskine watercolor journal just to try and get a feel for it. I love practicing things first in my journal.
Then I dove in and started to make cards! I have a bunch to show you after I get them put together — I almost wanna just sit down and color all day, it's hard to stop and turn them into cards lol! Call me a little obsessed. Here are my first two.
For both of these I used my #8 filbert brush and tube watercolors in various brands. I don't remember all of the colors I used, but here are just a few:
Winsor + Newton Winsor yellow
Winsor + Newton Opera rose — this is my fave pink :)
Winsor + Newton Quinacridone gold
Daniel Smith Quinacridone coral — this is one of the first Daniel Smith colors I've ever tried and oh man it's so pretty!
Winsor + Newton Sap green
Winsor + Newton Prussian blue
Now for a bit about each card!
Super Lucky to Have You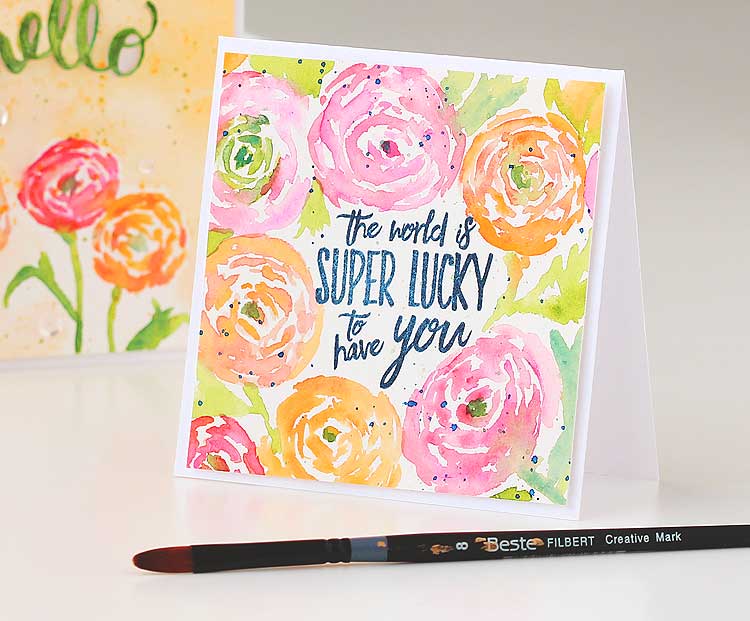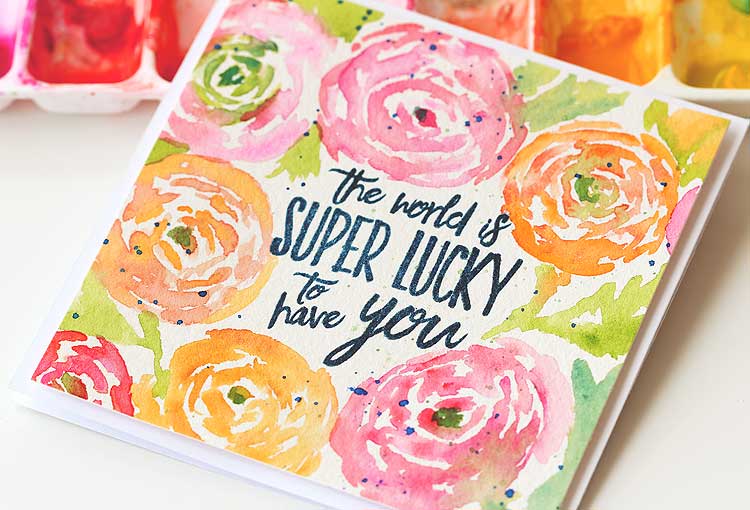 Field Notes:
This one was done on Arches cold press watercolor paper that I had trimmed to 4×4″. You guys, this paper is like magic — it makes me feel like a "real" artist. Wah!
I used the "super lucky" sentiment from this Up the Happy set by Julie Ebersole for Ellen Hutson. Just gotta say that I love this set so much — 'cause it makes me HAPPY!
I stamped the message first to help in positioning the flowers by inking it up first with VersaMark ink and then without stamping I applied Studio Calico deja blue color theory ink right over top of the VersaMark. Then I stamped it and heat embossed it in clear. This is a great way to get more from your inks! And this blue is my fave navy of all time. I think using navy ink instead of black makes it seem more modern and fresh.
Had to finish it off with some splatters. Because yeah, splatters! :)
Just A Note to Say Hello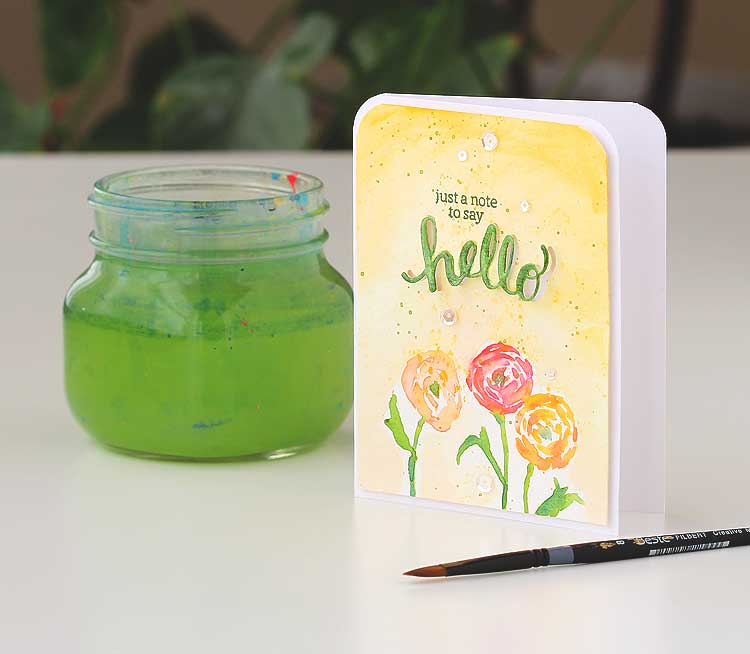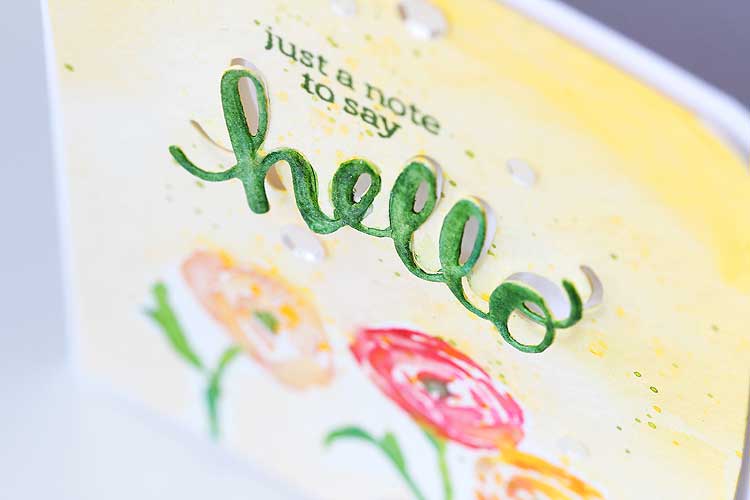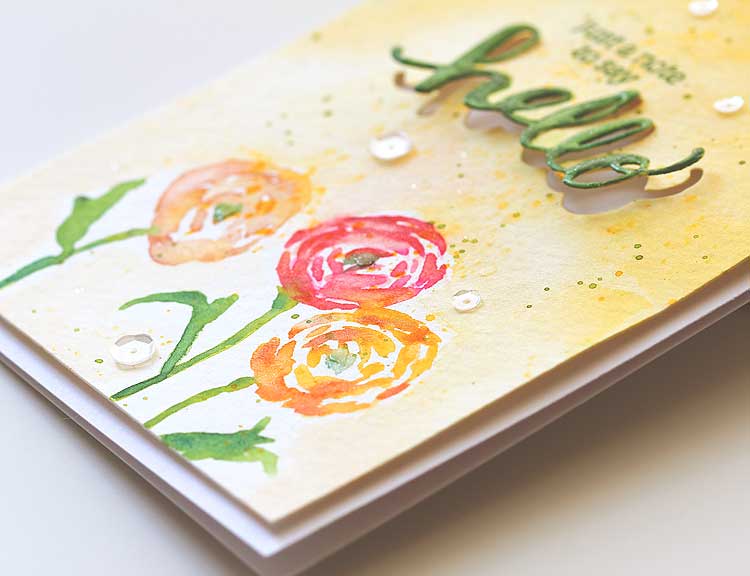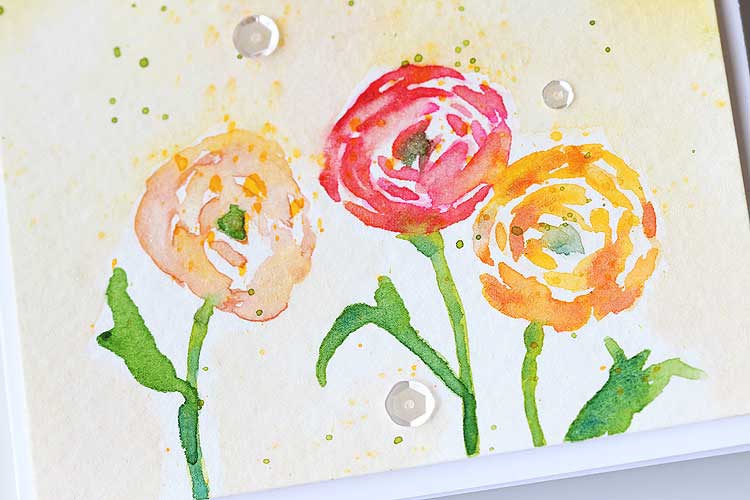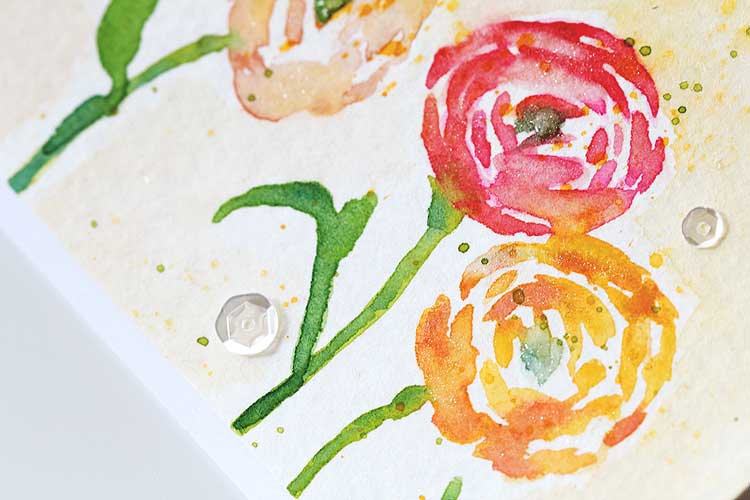 Field Notes:
For this one, I used Strathmore 400 series paper — I picked up a pad for only $3 at Jerry's Artarama and just had to try it! I have to say that while it isn't as deluxe as the Arches, it still worked well! The paper is thinner and it tends to give harder edges to the flowers. The paper did curl a little while it was wet, but as it dried it flattened right out.
I started off by die cutting the Hero Arts Hello so that I'd know where to paint the flowers — I had a happy accident where it didn't cut completely — I'm not even sure how I managed to do that, but I liked it so I went with it. Just so you know, it's always cut perfectly before.
Then I painted the ranunculus trio near the bottom.
I added some yellow splatters but I got a HUGE one that looked so bad, so I grabbed a damp mop brush and used it to make a background wash. I added more yellow to the top.
After it was dry, I added some more splatters and painted the hello green. I got outside the lines a little but that didn't bother me — I think it just adds to the charm!
Then I grabbed my clear wink of stella and went over some parts of the flowers to add a little sparkle.
And then! I added little drops of glossy accents here and there to make raindrops, plus I added a drop to the flower centers and all over the hello.
Some pretty pink posh sequins finished it off!
Update on March 13: Video!
The sun finally came out yay! And  I'm super grateful for the rain tho — we really needed it! — even though it was not so good for filming. Anyhow, here's the promised video!
I'll wait until it dries and then maybe do a little lifting — we'll see! This was done on Arches cold press paper with the same brush + supplies as the other  cards.
Select Supplies