You guys! I completed the Creative Bug 30 day drawing challenge today, yeah! I didn't know when I started it how it would go, as I'd never attempted to draw something everyday before. I have to say that I'm so glad that I did it.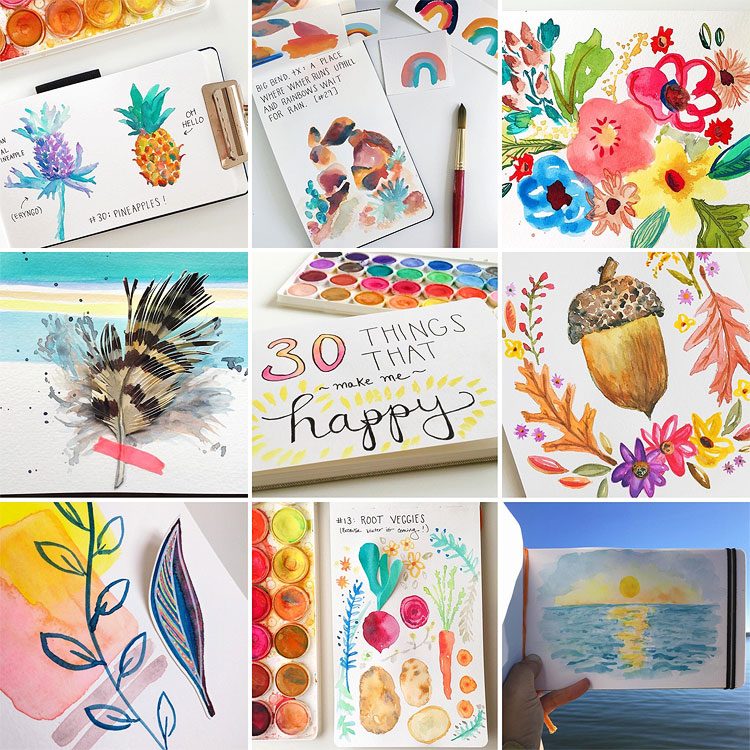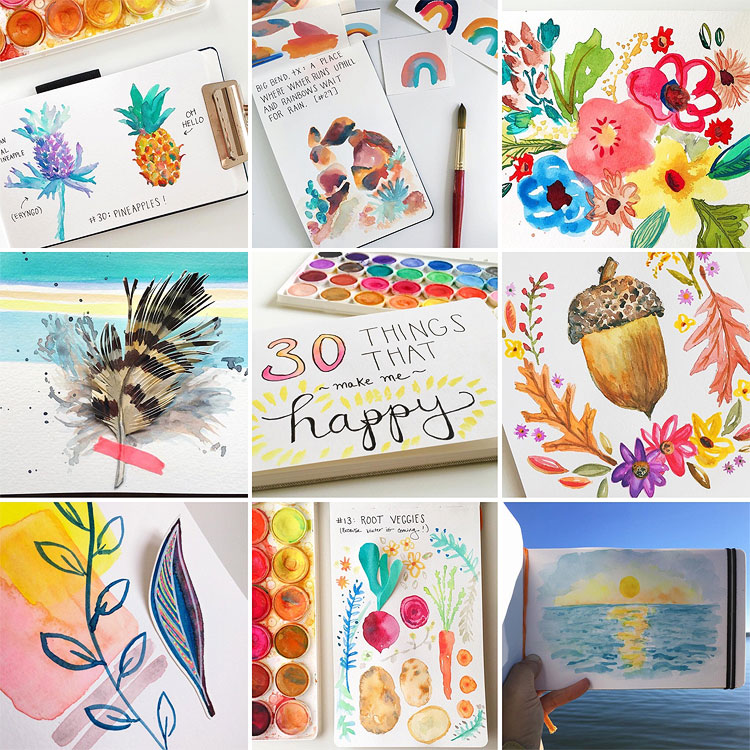 The way the challenge worked was to draw something everyday using a prompt from any of the Creative Bug daily drawing classes and then put our own twist on it. You can see all 30 of my sketches right here over on instagram.
I wanted to take a few minutes to document this past month — what I learned, what materials I used, and more — so here goes!
I used 2 sketchbooks for the challenge: one that I started on our trip out to Big Bend National Park and the Davis Mountains back in August, and one for everything else. I totally filled up the second sketchbook. Yes! I have to say that it's so cool to look back and see my progress over the month and have a filled book. As someone who mostly makes cards and then gives them away it's pretty awesome to have something to keep.
I was traveling and visiting family for a week out of the 30 days and while it took some effort to keep it up I'm so glad that I did! Even though my sketches weren't perfect, it helped me feel more connected to the places and things that I sketched there — better than a photo. Like the sketch in the lower right of the sunrise at the lake while camping. My family was really supportive, too! It felt so good when they wanted to see what I was working on.
Sketching on planes is both relaxing and frustrating lol! It helped my 3+ hour flights fly by. But on the other hand, turbulence can be tricky to deal with! On one flight the lady sitting in the row in front of me turned around and told me that she thought I was very talented. She said she'd been watching me from the reflection in the window. I was completely stunned — and at first I was going to tell her that I'm not very good but thanks anyway. But then I said to myself no, accept her compliment. So I did. That stayed with me all through the rest of the month.
Taking the challenge was a really good thing because it made me keep it up — even on days I didn't feel like sketching or didn't know what to do.
Some days it was kinda nerve wracking posting things. I've been drawing off and on for a while but I didn't share most of it — just kept it private. Learning to put it out there was hard.
I mostly used watercolors for the sketches — the famous Artist's Loft set from Michaels and the Koi watercolor field sketch set. When I was at home I mixed in some of my Daniel Smith colors and shimmery ones from Finetec and Kuretake gansai tambi. I also tried to step out of my comfort zone and used some markers, mainly the Zig clean color real brush pens. Oh man, I need more of those.
Wanted to add one more thing — I'm learning that the Creative Bug tagline "you're more creative than you think" is so true. We just have to let ourselves play — and make the time for it. And I think making time for it is the hard part. I gotta keep it up. Thanks for the challenge, Creative Bug!
One last thing. This contest is to be the next Creative Bug instructor. I'm hoping that I win because I want to share what I've learned about drawing on your own — especially with watercolors. I come from a stamping and cardmaking background and I didn't really start drawing until a few years ago. I mostly only drew something when I couldn't find a stamp for it. But I sure wish I'd have started sooner because it's so rewarding — even if it doesn't come out exactly right, it's still something I made myself. Hoping I can get more people into picking up a brush or pen and drawing something!
Hope you all have an awesome day — with time to play. Oh and if you have any questions about any of the sketches or anything please ask away! xo