Welcome to the very special #celebrating4years blog hop with Mama Elephant! I'm so happy that you're here, and so happy for Kryssi, Angela, and everyone at Mama E!
The newest release is now live and available for purchase in the store!
Check out this year's promo — so good you all!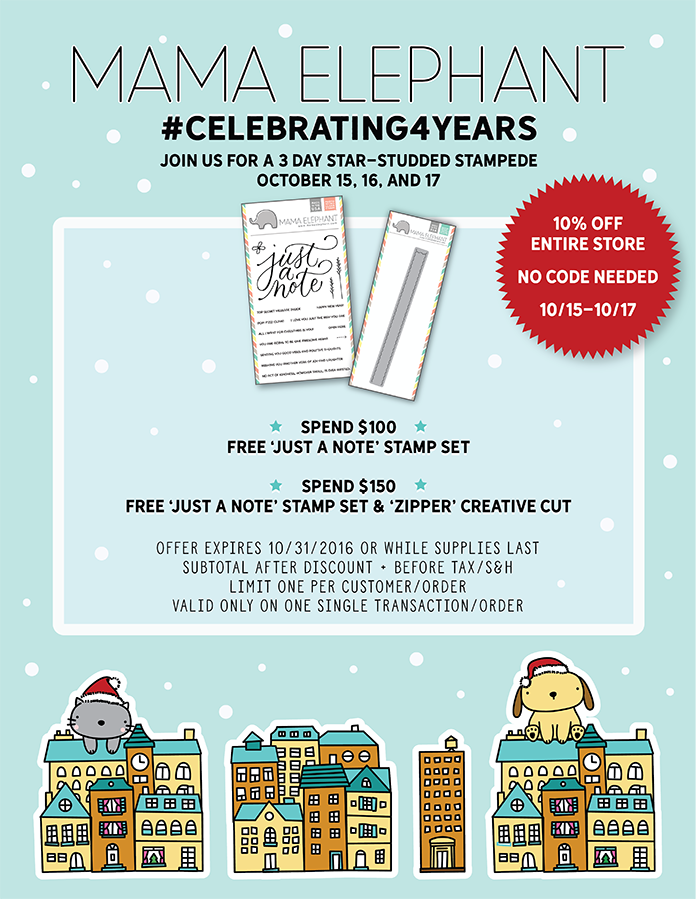 From October 15-17:
Take 10% off the entire store — No coupon code needed!
(In stock items only. No rain checks. All prices as marked.)
From October 15-31:
Spend min $100* – get a free 'Just a Note' 4×6 stamp set.
Spend min $150* – get a free 'Just a Note' 4×6 stamp set and 'Zipper' creative cut die.
Subtotal minimum amount must be met before any shipping fees/tax/customs.
Free item(s) will be automatically added to your cart.
Free item(s) valid only a single order. Orders cannot be combined.
(Limit one free offer per customer/order.)
Free offer valid October 15-31 or while supplies last!
Now, on to my card!
My Card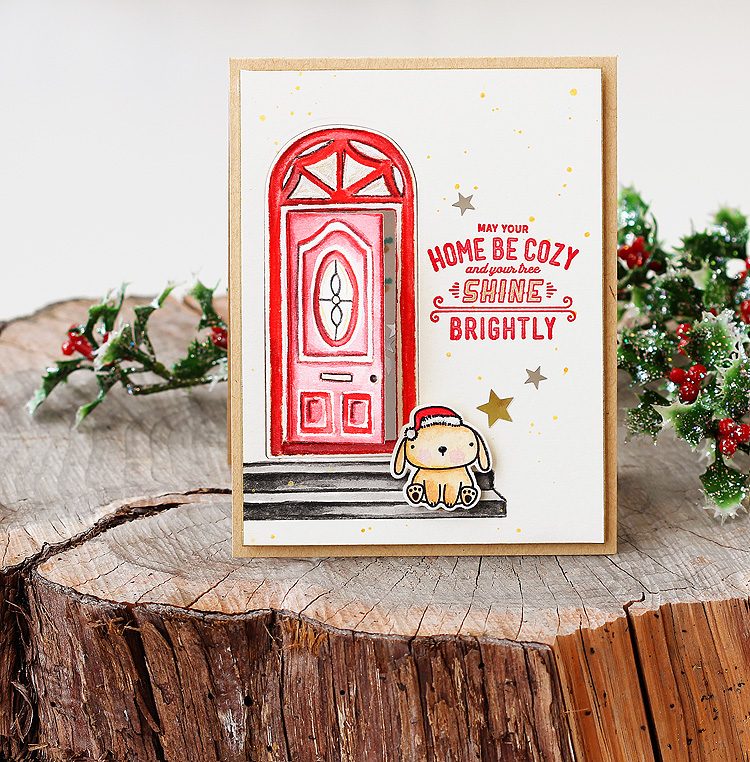 Mama Elephant sent me the super cute Meowy Woofmas and matching Meowy Woofmas die cuts plus the Retro Holiday Labels sets to use for the hop — and I must admit that I squealed when I opened them!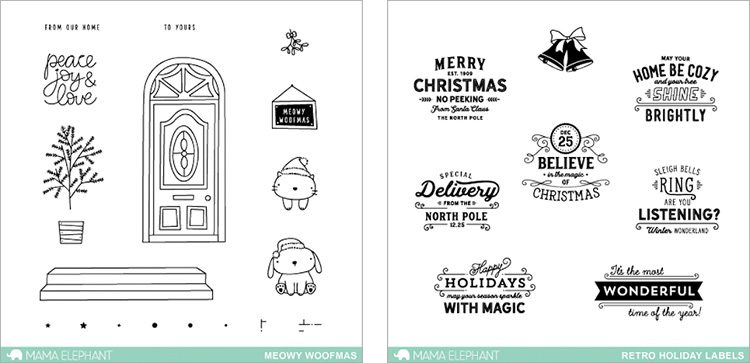 Meowy Woofmas (left) and Retro Holiday Labels (right)
Love. Them. So. Much!
This card has a surprise — it's a shaker card — wait until ya see!
Let me walk ya through all the little details — yeah, I kinda got a little carried away! But I was having so much fun!
Santa Pup
This little cutie just had to be watercolored. Had to do it, no doubt.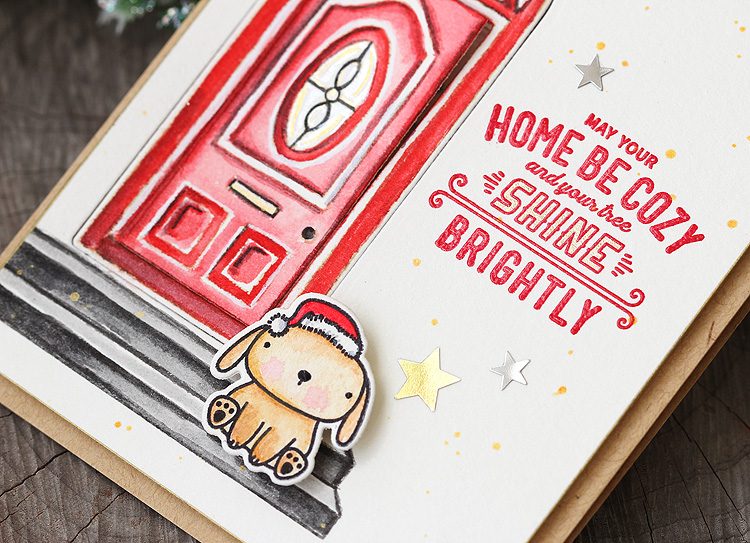 Then when he was dry I added glossy accents to his nose and eyes. :)
The Door (Red, Of Course!)
There was no question in my mind that the door had to be colored red! I was channeling a New York (because that's where Mama Elephant HQ is) brownstone for this and had to do the "no-line coloring" technique. This is where you stamp an image in a light ink and then color away. After you're done coloring you can't see the ink.
I used antique linen distress ink for the door.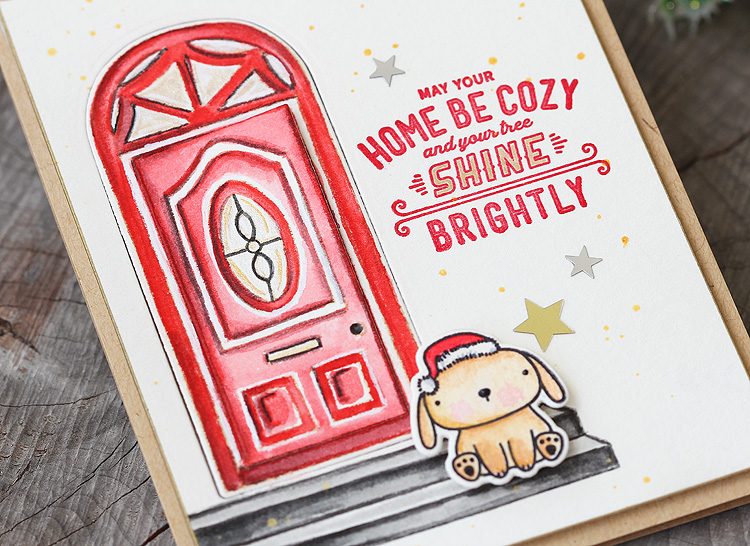 I also colored the stairs using the same technique. This time I stamped it in black soot distress ink that I'd stamped off first on scratch paper. That makes it lighter so you don't see the lines when you're done coloring.
I added some gold and clear sparkle fintec watercolors to the glass of the door and the "shine" of the sentiment to give them well yeah — shine!
And then! I was inspired by the sentiment "may your home be cozy and your tree shine brightly"  to stamp a tree on the inside of the card!
Shake It Up
Whoever came up with this door die is a genius, because the left side of the door itself has a score line so that you can open it! Yes!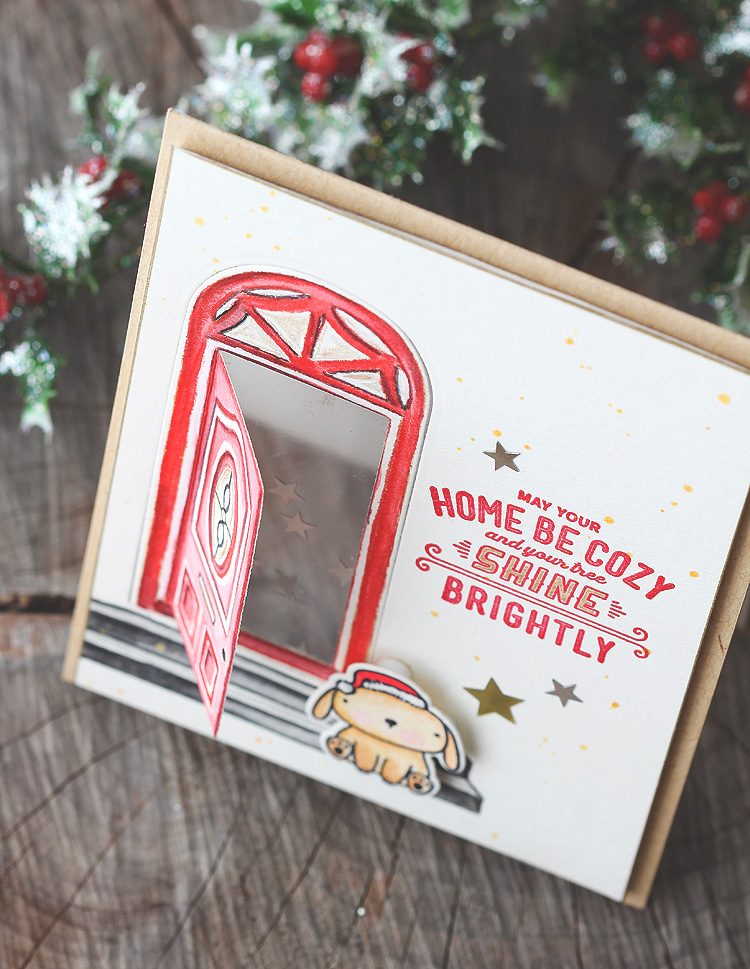 The shaker part was super easy. I just cut the door out of a piece of craft foam and put some star sequins inside, then backed both sides of the foam with acetate.
I cut another door through the kraft base card and stamped the tree on a panel on the inside.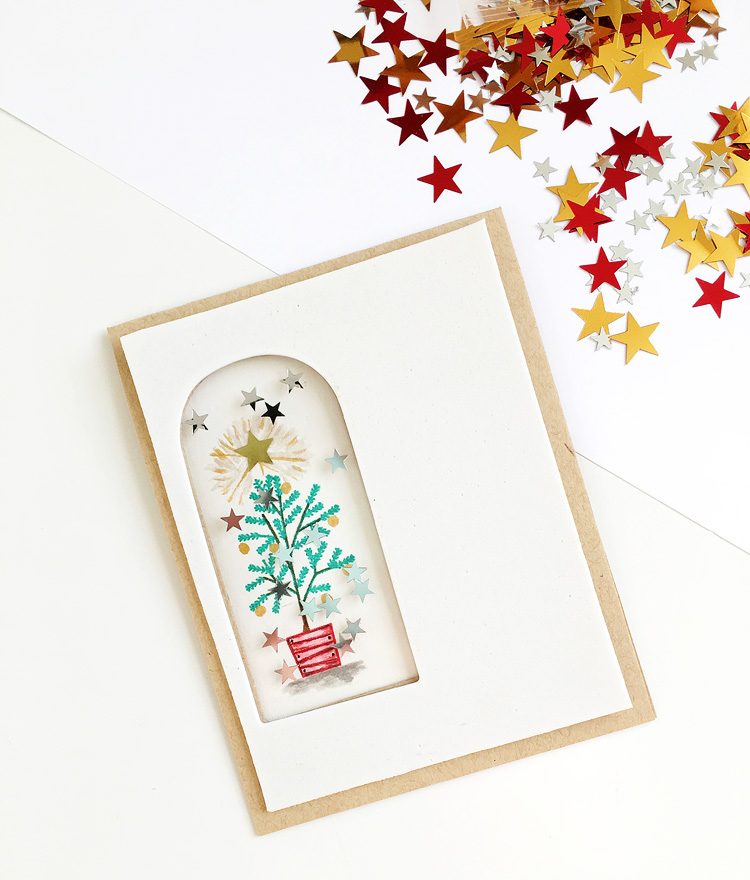 Then when that part was done I adhered the door die cut over top.
Here's how it looks in action with all the layers assembled. First, peeking in the door: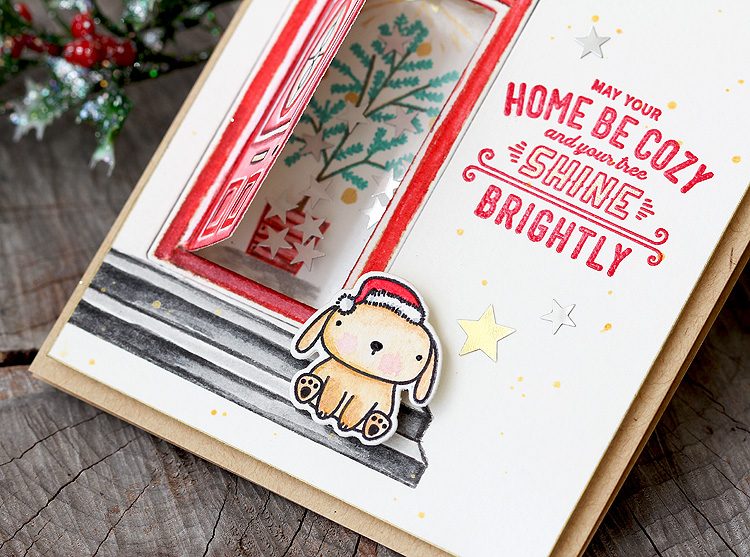 Now opening it more so that you can see there's just the two layers of acetate and the star sequins shaking around inside…
And that brings us to the inside!
O Christmas Tree
Here's a closeup of the tree on the inside. I had to add some sparkle to it with the same finetec watercolors I used on the front of the card and more sequins.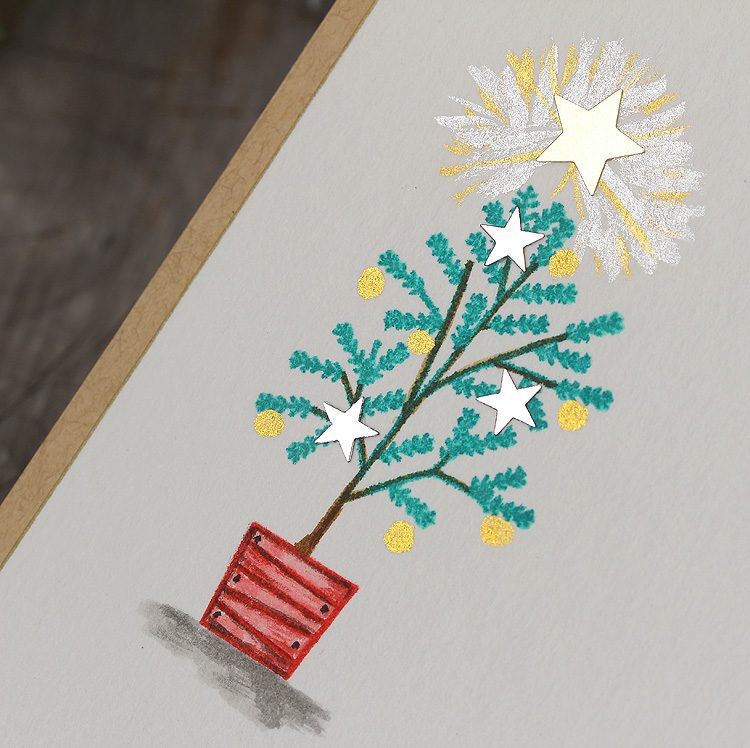 I did the "no-line" coloring technique again on the pot. Then I had to add a little message. :)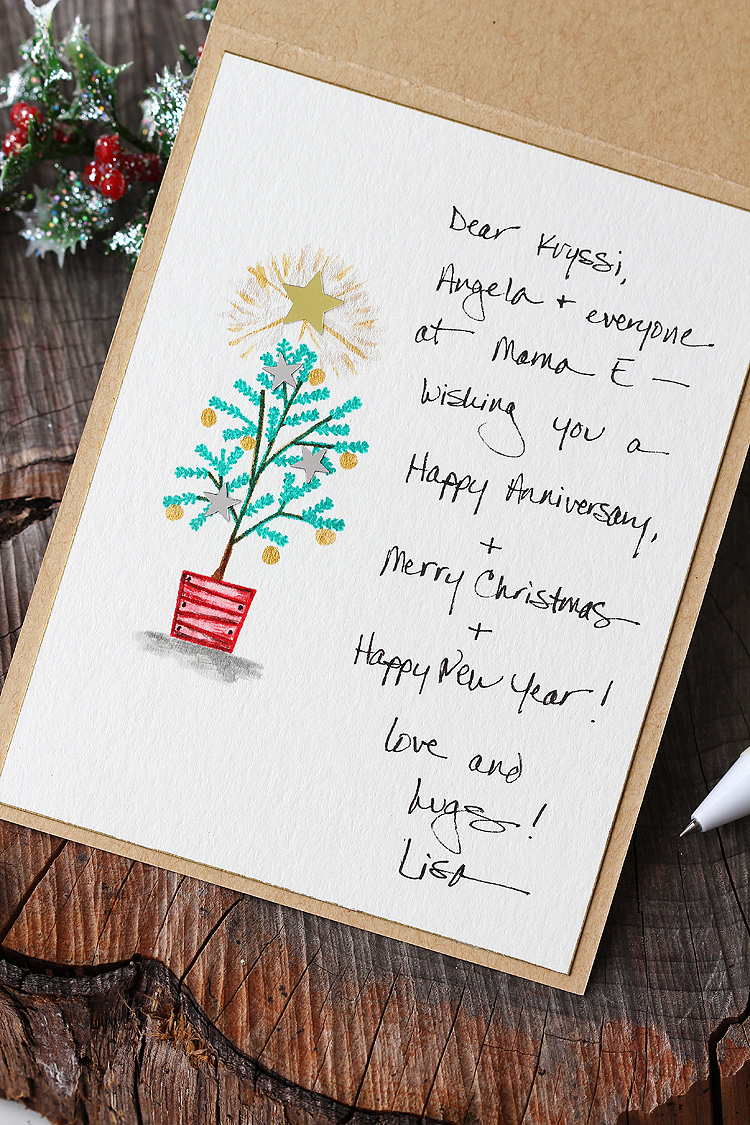 How about one last look at the tree!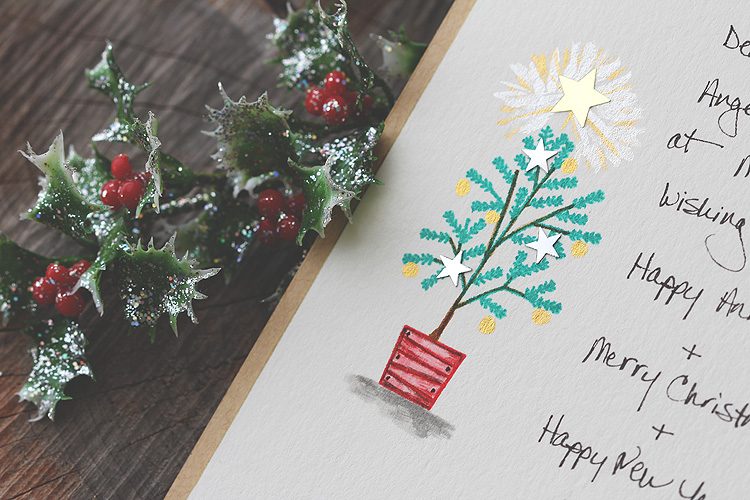 And that's it for my card!
But wait! There's MORE to this post, including a…
To celebrate this mega anniversary release, up for grabs are three $25 gift certificate to the ME store! That's a total of 9 winners for the 3-day Stampede! Winners will be chosen at random from the collective blogs in the Stampede. Winners will be announced on the last day of Stamp Highlights. You have up to 4 chances to qualify to win!
Leave a comment on this blog post
Like/share us on Facebook
Follow/tweet us on Twitter
Follow/tweet us on Instagram
Each action qualifies for one entry, max 4 entries per stampeder please!
Hop On
Now a note from Mama Elephant:
We have so many amazing guest designers joining for for this Stampede. It's a long list so we're breaking it up into 3 days so everyone gets some love.
Here are today's designers, make sure you 'stampede' your way through all of them and check out what they created with the newest products! — Mama Elephant
Your next stop is the super talented Anna Kossakovskaya — I peeked at her blog and she has 2 super cute cards — just wait until you see!
Here's the full list for today in case ya missed any:
Lisa Spangler <– that's me! :)
Remember to visit the Mama Elephant blog tomorrow for MORE!
Thanks so much for joining me in celebrating Mama Elephants's 4 year anniversary! Yeah! Here's to many more! Love you guys. xoxo