Hello there and Happy National Scrapbook Day! To celebrate, Big Picture has put together a FREE class, and I'm so honored to be one of the teachers! Here's a look at the card I'll be sharing in the video — it uses gouache + this awesome Altenew stencil!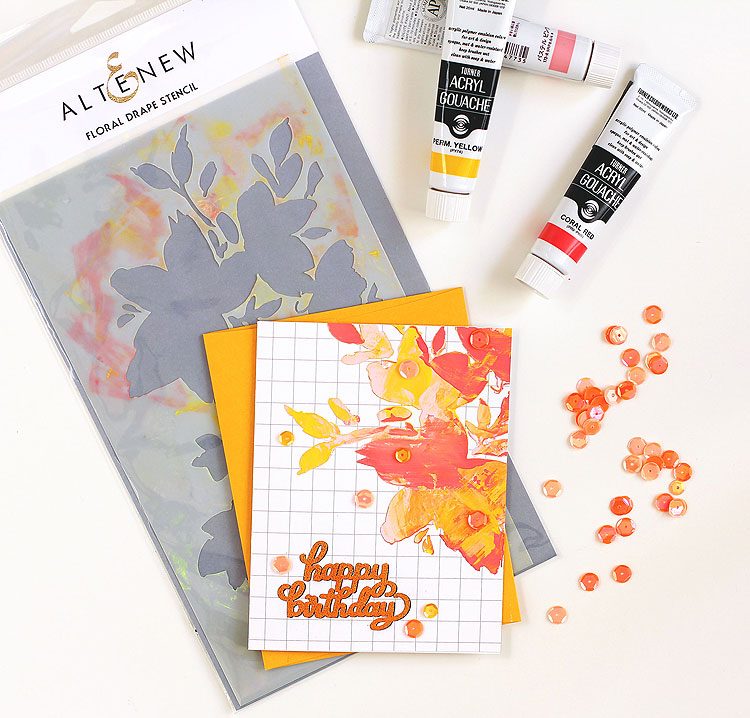 Come join us all day right HERE. You'll just need to add the class to your cart and checkout to access it — don't worry it's totally FREE! :)
Annnnnd, we'll be hosting challenges and giveaways to inspire each other to keep the creative mojo going! You'll have all week to play along! The challenges will close Sunday night, 5/14 at 11:59pm EST. Big Picture will randomly select TWO winners for a 3-month membership and THREE goody bag winners from the challenge projects. Yeah!
PS. I have two more card classes at Big Picture — and I'm working on a third!
My first class, Painted Notes, is all about exploring mixed media techniques. THIS is the class I wish I'd have been able to take when I was getting started with mixed media. We'll be working with gouache, water colors, and more. So if you'd like to find out more about gouache after doing the National Scrapbooking Day lesson above I'd love for you to join me! Find the Painted Notes class right here.
The second class is a birthday card class where I share tips and techniques for getting more out of your supplies. We'll be using HEARTS to create cards for guys, gals, and kids of all ages, plus I share planner tips for how I get those cards in the mail. You can find this class, Heartfelt Birthdays, right here.