Hi there, and welcome to my stop on the Altenew blog hop! I'm so glad you're here! If you're hopping along with us already, you'll have arrived via Marika Rahtu's blog. If you're just now joining us you can head back to the stop over at Altenew — which I just know you'll want to do as there are prizes to be had — more on that later! :)
The May release is filled with so many great new stamps, dies and embossing powders — I was given some to play with and I had so much fun! First off, let me introduce you to these two plaid layering dies that have become fast faves! I couldn't stop using them!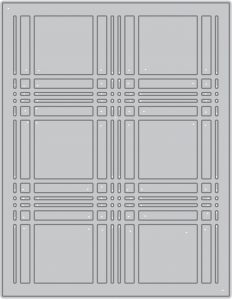 Meet Layered Plaid Cover Die A (above)
annnnd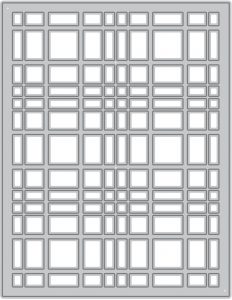 Layered Plaid Cover Die B! These two both cover the front of a standard A2 size card and work perfectly together. I used them on ALL 3 cards I'm sharing today and I can't wait to make more!
Now, on to my cards!
Hello, Friend
To get started, I decided to watercolor a striped background like so: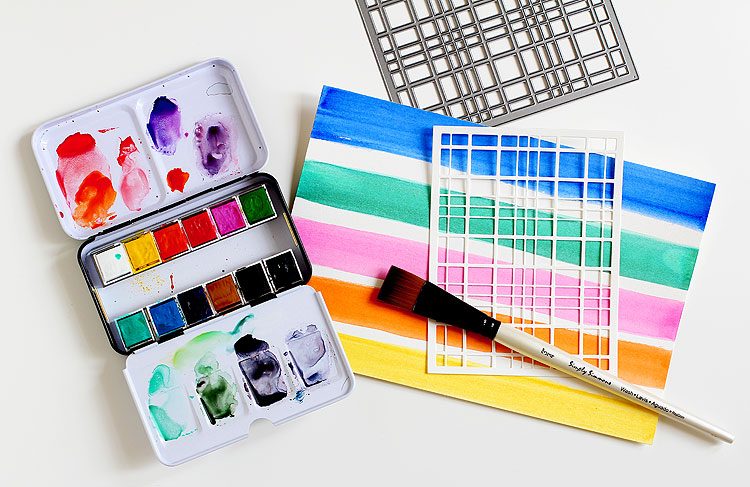 I wanted to see how the stripes would look with a simple overlay of Layered Plaid Cover Die B — love how this turned out!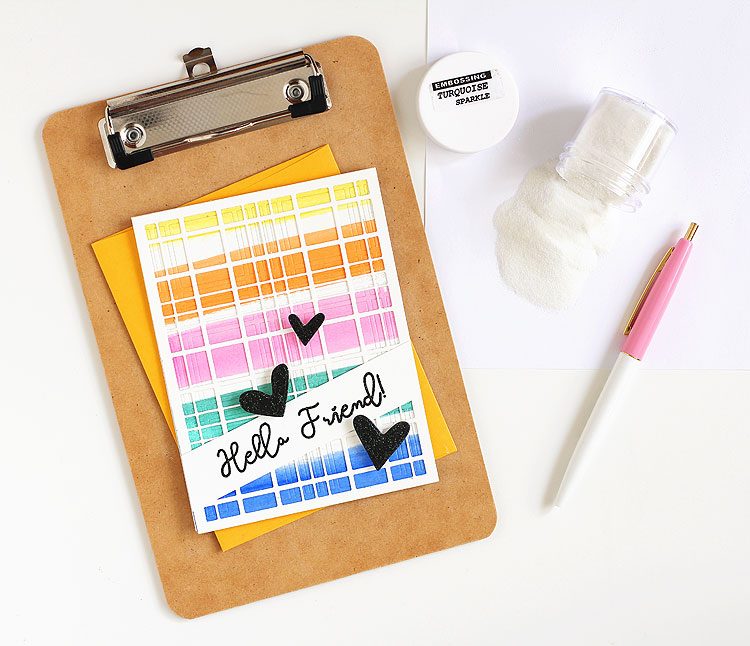 So simple, right? But look closer at those watercolored stripes, and you'll see that I used  Layered Plaid Cover Die A on this one too.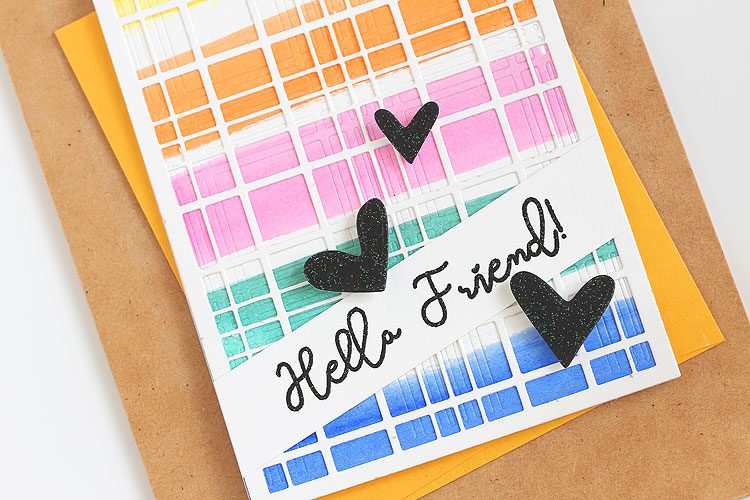 I did the trick that I learned from Jennifer McGuire where you run a die through your machine with a dryer sheet — this keeps the die cut pieces all together after you've run the die through your machine. So cool! It allows you to get the look of an embossing folder with your dies. Yeeeesss!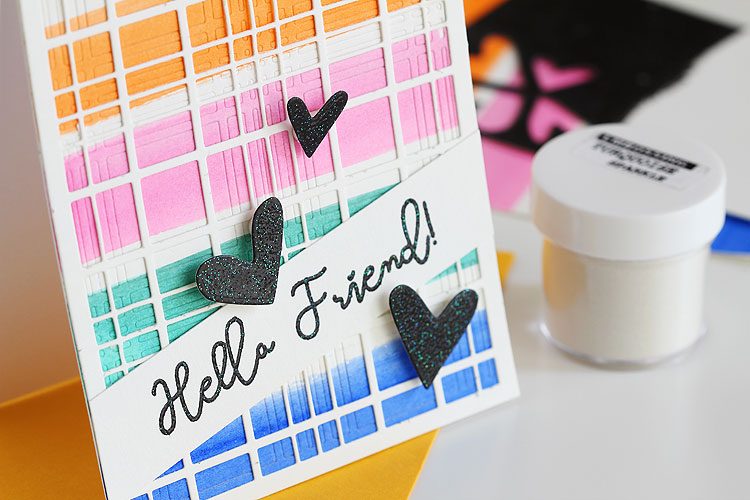 And then! See those black hearts? Wellll, I created them by rubbing white cardstock with black pigment ink, then heat embossing the paper with the new Altenew sparkle embossing powder.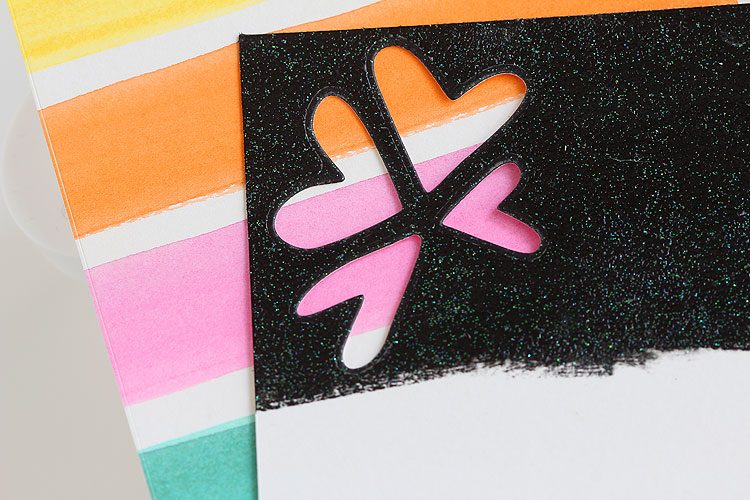 Love how this looks.
Now on to the next card!
You Make Me Melt
I started this card by making another watercolored background like so: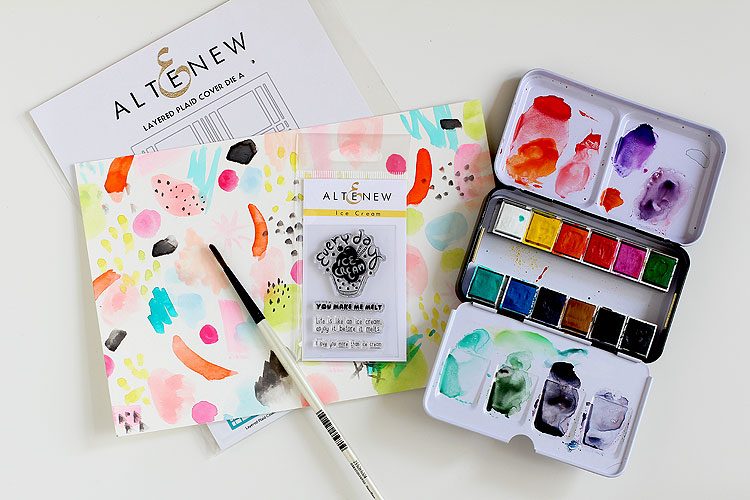 I was going for a 50's soda-fountain-topped-with-confetti kind of look LOL! I thought it would go great with the style of this super cute 2×3″ stamp set called Ice Cream — look at how cuuuuute it is: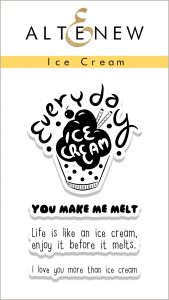 And here's the finished card — I ended up using BOTH of those layering dies on this one too!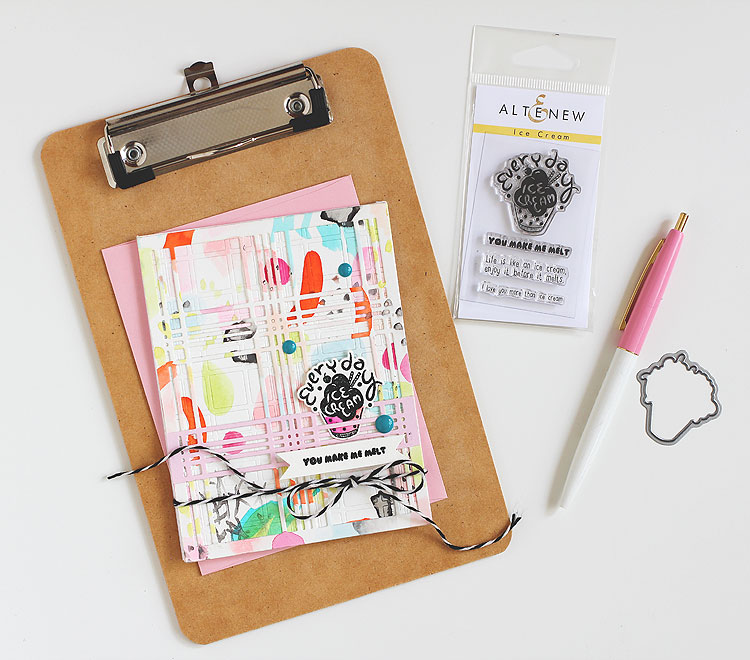 I used the matching Ice Cream Die to cut out my stamped image, and then I tucked it into a slot created by Layered Plaid Cover Die B, this time cut from a strip of pink cardstock. I really like this look, and it's a good way to get more from your supplies.
I also love how the Ice Cream Die cuts around the letters in "everyday" — I'd never be able to do that with my scissors and have it look nearly as good.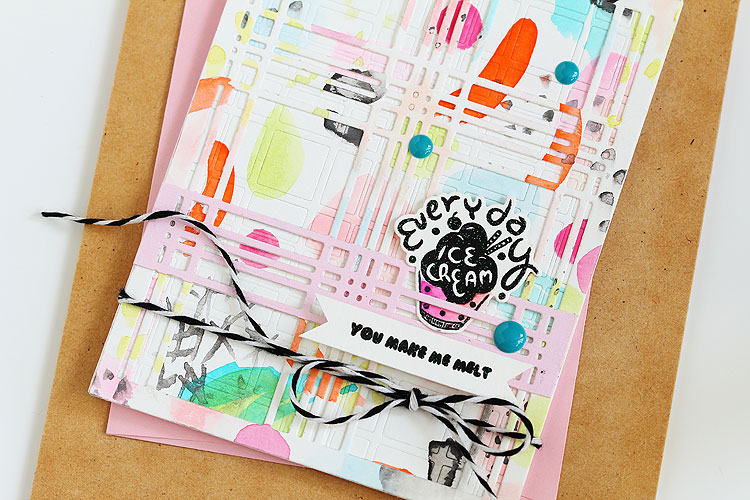 Of course I had to use some of that new embossing powder on this one too :)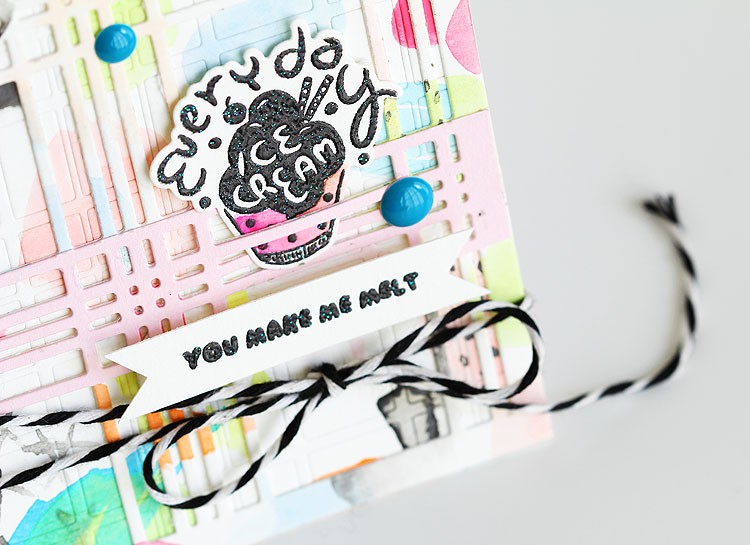 Now for my third card…! Told ya I love these dies and could have kept going and going and going…
You Are So Sweet
After I die cut the confetti watercolored background for my previous card I had 6 squares sitting on my desk from Layered Plaid Cover Die B that I just couldn't let go to waste, so I made another card!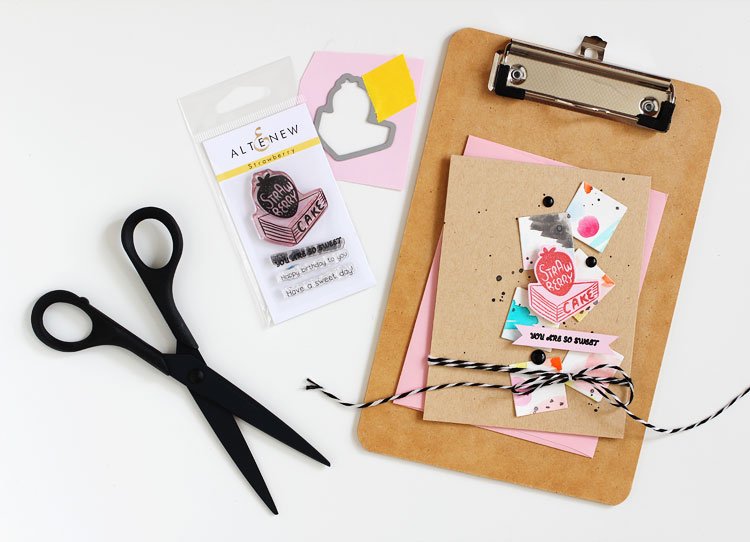 This time I used the lil Strawberry stamp set — another super sweet 2×3 set: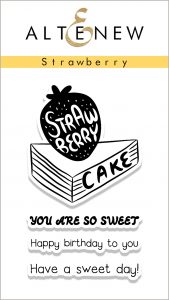 I stamped the strawberry on pink cardstock and embossed it with clear sparkle powder, then die cut it with the matching die.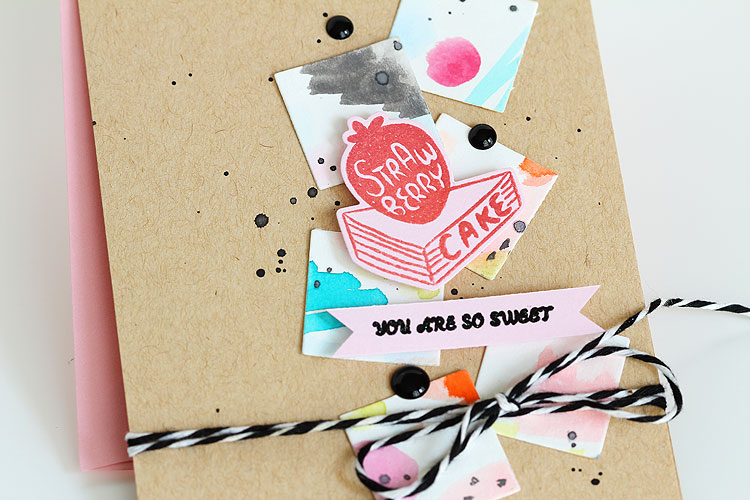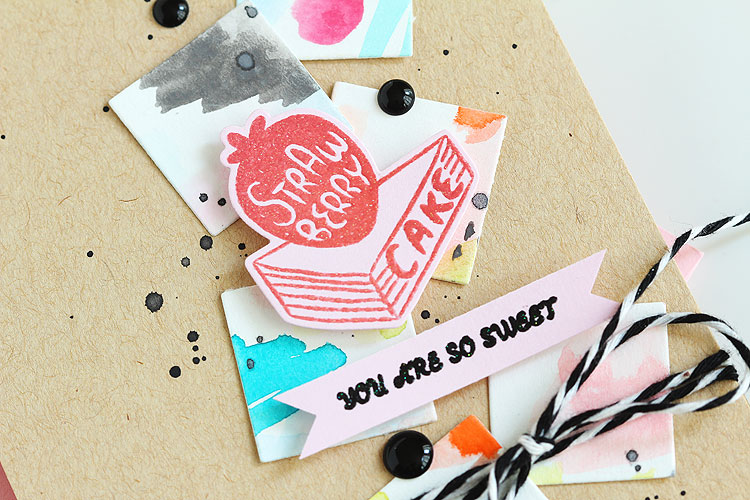 This card is making me hungry for cake and ice cream LOL! :)
So what did I tell ya? Aren't those plaid layering dies awesome? So many ways to use them:
Straight up die cutting
Layering, of course! :)
Using them as slots to add other die cut images
Doing the trick where you keep all the die cut pieces together by using a dryer sheet and getting that embossed look
Using the leftover pieces
I still have to try some inlaid die cut techniques — cannot wait! But for now it's time to keep hopping. :)
Hop On
Your next stop on the hop is the super talented Nicole Picadura! Here's the full hop in case you encounter a broken link or are just now joining us:
TWO Giveaways
To celebrate this release, Altenew is giving away a $50 gift certificate to THREE lucky winners! Please leave a comment on the Altenew blog by Thursday, June 1st at 11:59 pm EDT for a chance to win. The winners will be announced on the Altenew blog on Saturday, June 3rd.
But wait, there's more! :)
I get giveaway a $30 gift certificate too! Yay! Just leave a comment on this blog by June 1st at 11:59 pm EDT and I'll pick the lucky random winner on June 2nd.
Update! The lucky random winner is Stefanie White yay! I emailed you! :)
Thanks so much for joining me, and to May and Altenew for having me be part of the hop. Hope you all have a great day! xo
Supplies