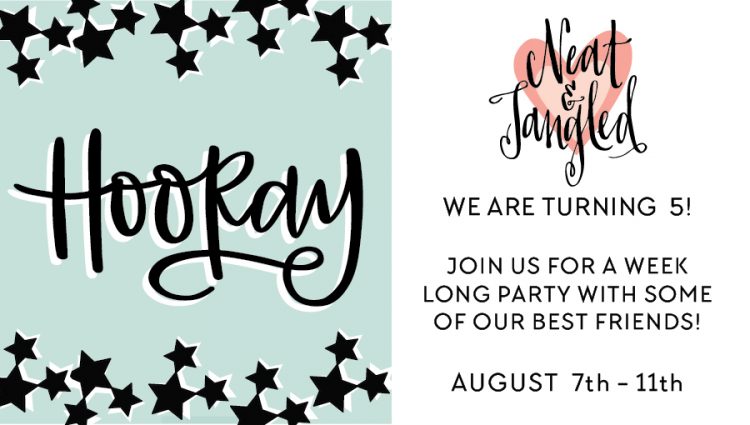 Hi! I'm so glad you're here to help celebrate Neat & Tangled turning FIVE! Yeah!!! If you've been following along with us already, you'll have arrived here via my pal Teri Anderson's blog — love that girl!
If you'd like to head back to the start so you don't miss out on any of then fun then click on over to Neat & Tangled. I'm the last stop on today's hop, but come back tomorrow for moar!
Wild Ones
I used the new Wild Ones stamp set and matching dies for my card — isn't it just the cutest?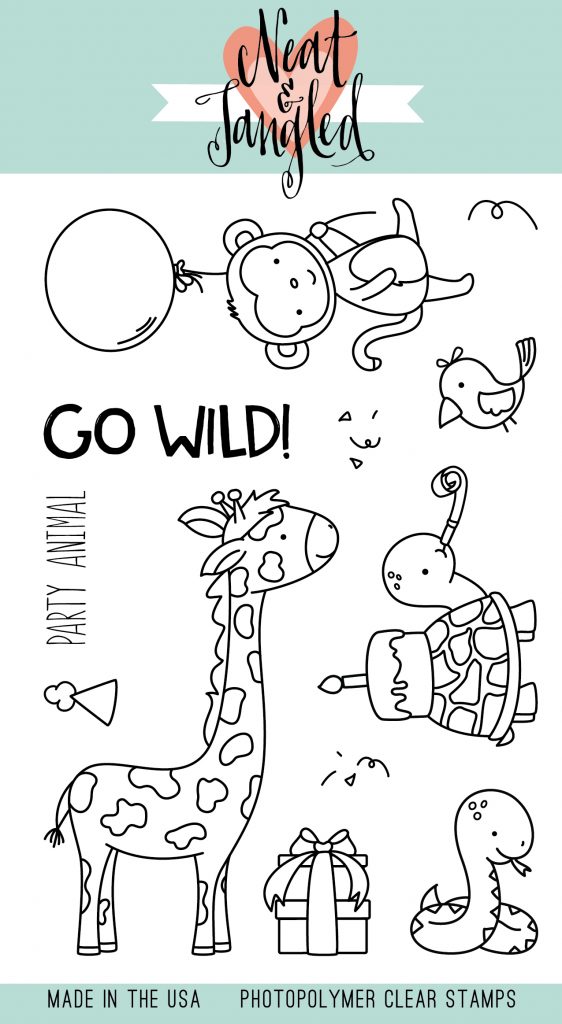 I started out by stamping the images with VersaFine black ink and then heat embossing in clear. Then I went to town watercoloring them all! There's just nothing better than sitting down to color a bunch of fun images like this — who's with me?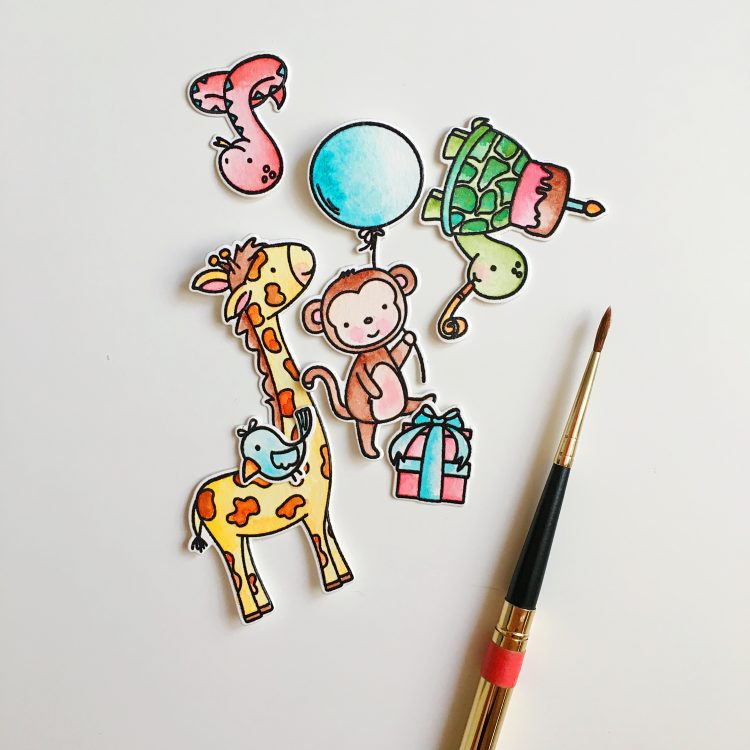 While I was coloring the stamps I had an idea to make an accordion fold card so that I could use All The Stamps! :)
Here's how it turned out! I used a bit of twine to keep the card closed…
And here's how it looks when opened!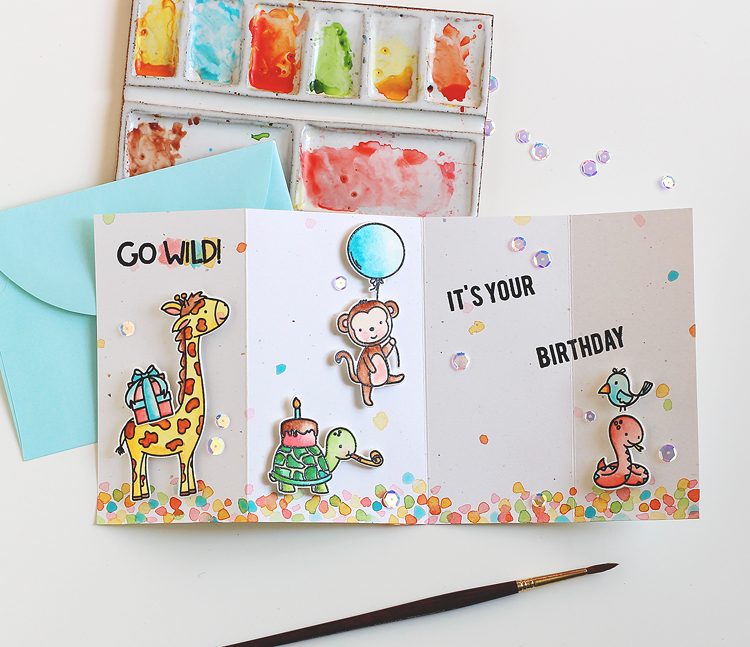 I just trimmed a piece of cream speckled cardstock to 8.5 x 5.5″ and then I placed the critters how I wanted 'em and scored it. No measuring for me! :)
I watercolored some confetti along the bottom of the card for all the critters to stand on and also had some falling down from the sky. Because yeah, confetti!
Now for a closer look at that giraffe on the front!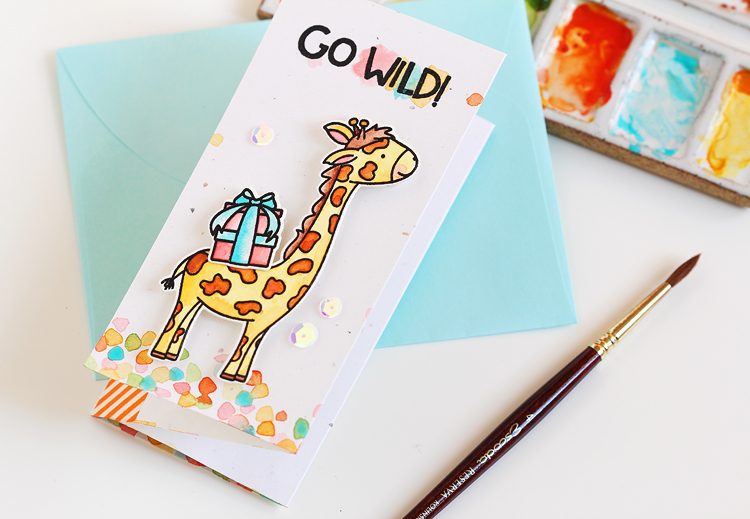 I had to add that little present to his back, and added some color to the "wild" sentiment too.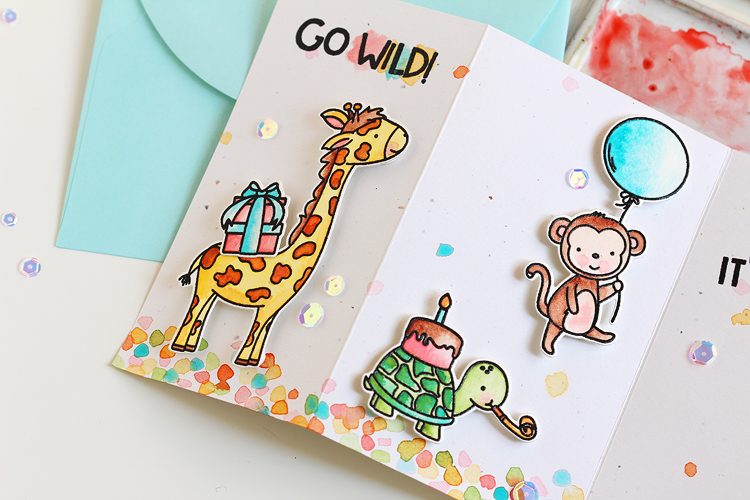 Opening the accordion fold a little more you'll see Mr. Turtle and Mr. Monkey. Had so much fun coloring these!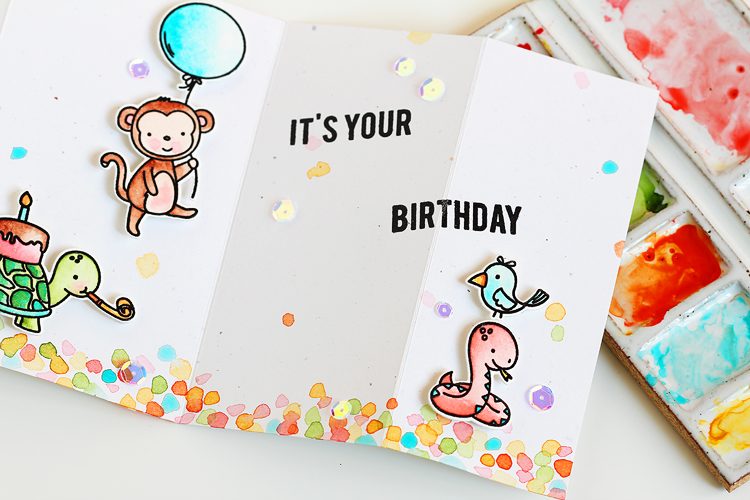 For all of the images I pretty much followed the same watercolor technique of first wetting the area to be colored with clean water, then I loaded my brush with paint and touched the brush to the wet area. The paint spreads out all on its own! It's an easy way to get a smooth blended look.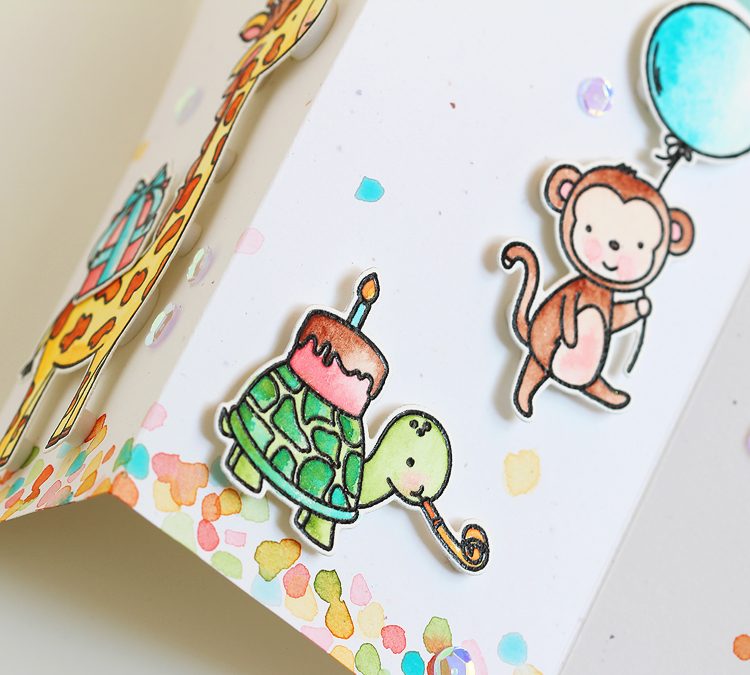 I perched the Mr. Bird on top of Ms. Snake, because why not?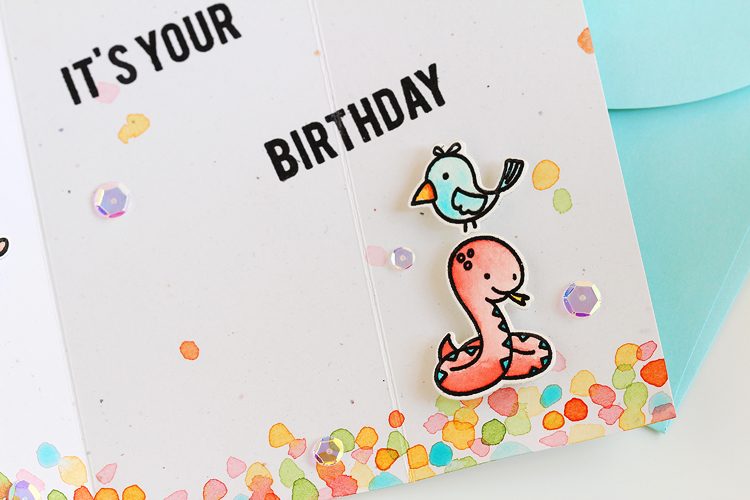 Then I finished up the card by stamping the "It's Your Birthday" from my trusty Celebrate set and added some Like Magic Sequins. These sequins really are like magic — so pretty and sparkly and they pick up the colors around them. Love! I plan to write a little note in that open area under sentiment — can't wait to send this to someone!
Prizes! Yeah!
There are 3 great prizes up for grabs! One $100 gift certificate to the Neat and Tangled shop and two $50 gift certificates to the Neat and Tangled shop. Yeah!
Winners will be chosen from comments all along the hop all week long, so the more comments you leave the more chances you have to win! Winners will be announced Sunday, August 13th over at Neat & Tangled!
Before You Go
I just had to add that I'm so very honored to be a part of this blog hop. I met Danielle at a crafty retreat a few years back and feel lucky to call her a friend. She's such a kind, generous soul and we hit it off right away thanks to both of us liking the same foods! :) (We also bonded over our mutual love of the instant pot. Seriously, if you don't have one of these yet you totally should!)
You can read more about Danielle and Neat & Tangled over in her post. I loved seeing all the photos! Her sweet personality really shines through.
Before I go I had to add that Danielle has a Go Fund Me campaign to help raise money to get treatment for her Dad. He has CRPS and you can read about it here. This is something near to my heart since I had an infection after knee surgery too. One doctor suspected that I had CRPS but thankfully it turned out to be an allergy to stainless steel instead. I donated to her campaign and hope you will too — every little bit helps.
Supplies
All supplies listed are from Neat & Tangled. These are affiliate links, so I'll receive a small commission at no extra charge to you if make a purchase by clicking a link. :)
Happy, happy, happy, happy, happy 5th birthday, Neat & Tangled! And many more! Love you guys! xo