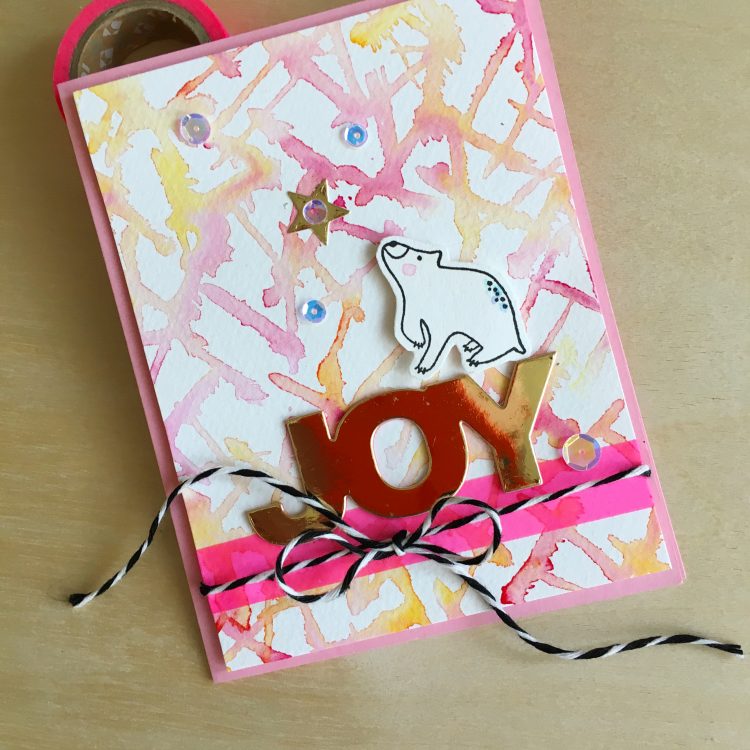 I have another watercolor background technique to share with you! It uses that BIG daVinci #30 brush that I've been playing around with lately and it's so easy to do! Watch this quick video over HERE on instagram to see!
Here are the steps in case it went by too fast LOL!
Load up the brush with clean water and tap it on your paper. I used Fabriano Artistico bright white paper — you'll want a substantial paper like this or Arches cold press watercolor paper that will hold up for this to work.
While the water is still wet, load up a smaller brush with color and touch it in the marks you just made — it will magically start to blend! I used quinacridone rose and new gamboge from the Daniel Smith Essentials set on mine.
Let it dry — that's it!
I think this would make a great New Year's card too!
Coupon Code!
Ellen was kind enough to enough to give me a coupon code to share with you all! Now through December 4th — that's TODAY! — use code LisaDT2017 and save 10% on everything except new Mama Elephant (in the last 90 days) and the new BCRF set. YAY!
Supplies
Here are the supplies that I've been playing with lately — if you make a purchase by clicking on a link below I'll receive a small commission at no charge to you! xo