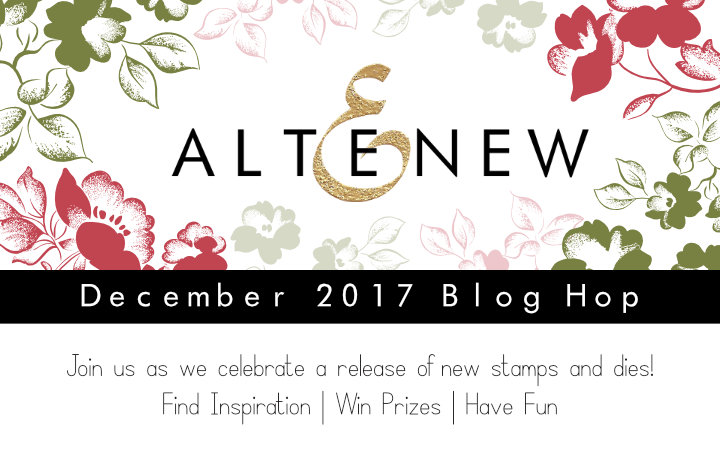 Hi there and welcome to my stop on the Altenew December release blog hop! I'm so glad you're here! If you've been hopping along with us already you'll have arrived here via Virginia Lu's blog — love her to pieces!  If you're just now joining us or you encounter a broken link you can head on back to the start on the Altenew blog.
This release has so many great new products, including this Peony Spray and Flower Arrangement stamp sets and matching dies that I'll be using today — LOVE!
And that's not all! There's also…
wait for it… I'
are you sitting down?
the cutest lil die cut machine EVER!!!! Ahhhh!!! Watch the video and see, plus I'm sharing a relaxing coloring technique too!
(Click here to watch the video over at YouTube.)
Isn't that just the sweetest thing ever??? Besides being cute I think it's perfect to take on crafty retreats! Or if you have an RV you can take it with you wherever you go. And did I mention, it's SO CUTE!!! :)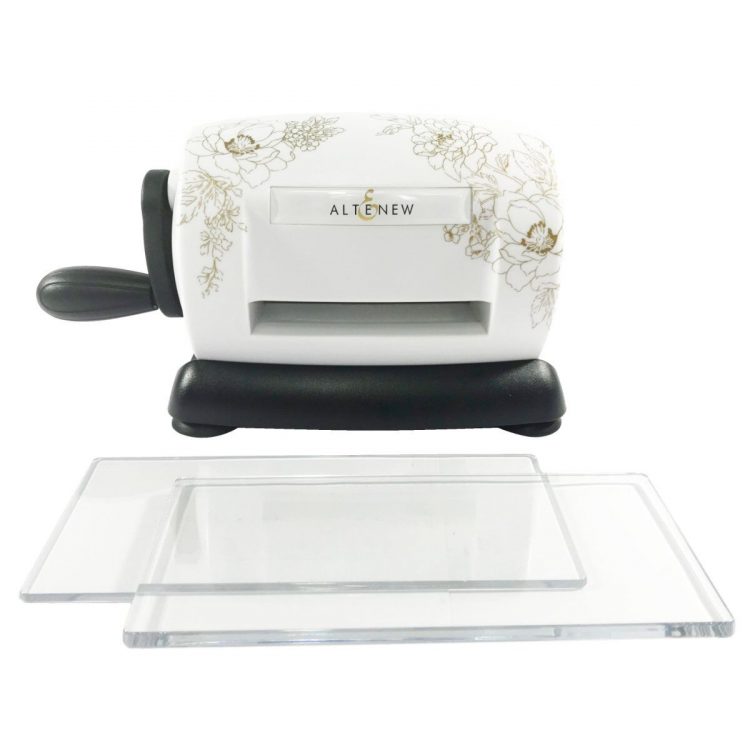 Here's some more info on this cute thing from Altenew:
Our Mini Blossom Die Cutting Machine is the compact and portable must-have tool for your craft room!  It is designed to work with Altenew dies (sold separately) and other wafer-thin metal dies.  It can be used to quickly and easily die cut a variety of materials, including cardstock and Altenew specialty papers, and will help you add texture and dimension to your projects. The elegant and clean design will look wonderful on your craft desk, secured on its stable base with suction feet.
Machine size: 6″ x 4 1/2″ plus handle
Cutting plate size: 3″ x 6 1/4″
Product weight: 2 lb 3 oz
Price: $49.99
Here's a closer look at the cards from the video. First up, the two peony cards!
Two Peonies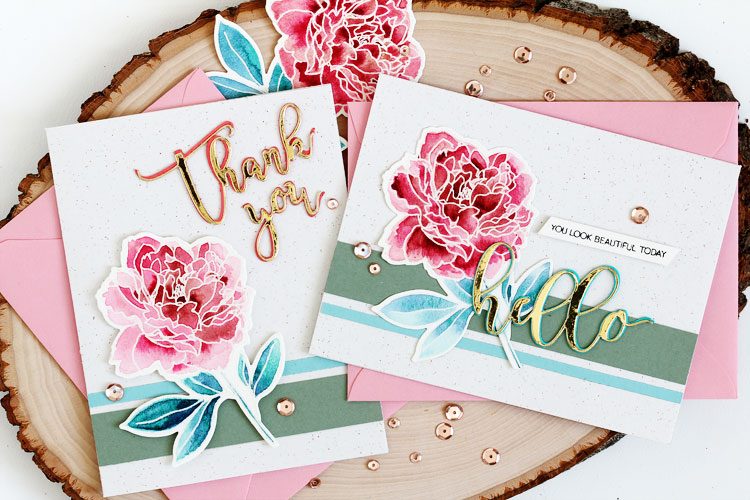 I love how these came out, and how each one is a little different. I started out by stamping the peonies on Canson XL watercolor paper with Altenew embossing ink and then heat embossed them with clear powder.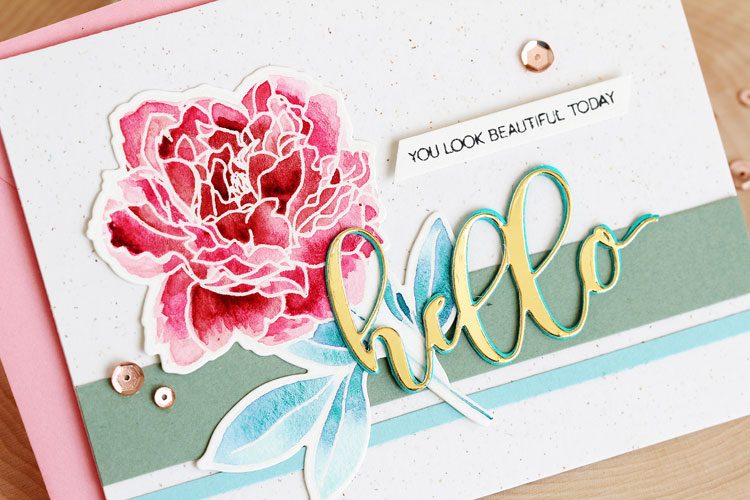 I like to put some music and just color away — you don't have to be super careful with this technique to get amazing results — just let the watercolor do it's thing. Here are the colors that I used:
Petals:
I started with a super watery mix of Daniel Smith quinacridone rose and bronzite that I had leftover on a plate from another project and added color all over the flower, not really paying attention what I put where because it really doesn't matter — that's what I love about this technique! The more random the better for this step!
Then while that layer was still wet, I dropped in Daniel Smith perylene maroon for the darkest color and more quinacridone rose, this time at full strength!
After everything was dry I went back in and added a few details here and there, but if you're pressed for time you can totally skip this step and it will still look just fine thanks to the magic of watercolor :)
Leaves
I used super watery Daniel Smith viridian mixed with Case For Making French ochre extra light  for the light green
Then while it was still wet I dropped in Daniel Smith indanthrone blue — it's so cool watching the colors blend as you tap them in!
After it's dry you can go in and add little details — just don't overdo it too much! Less is definitely more in this technique. :)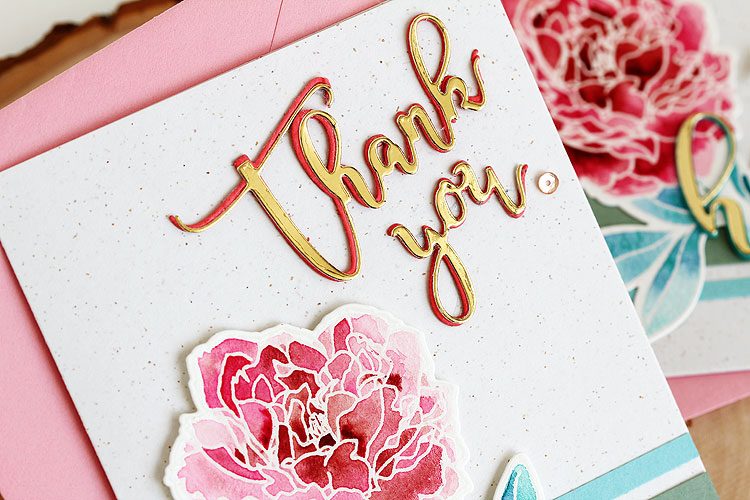 I die cut the sentiments from gold paper from the specialty paper pack and then stacked them up with the same die cut out of colored cardstock. The mini die cut machine cut the gold paper no problem!
I hope you can see all the little flecks in the paper that I used for the base card! I think it goes great with watercolors! Annnd the gold paper is from the paper pack too.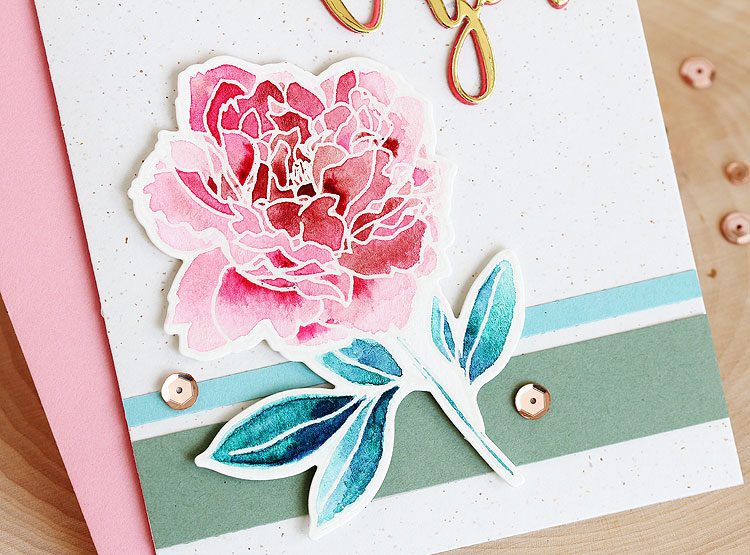 Then while I had my supplies out I had to make one more card with the Peony Spray!
Wood Veneer Deer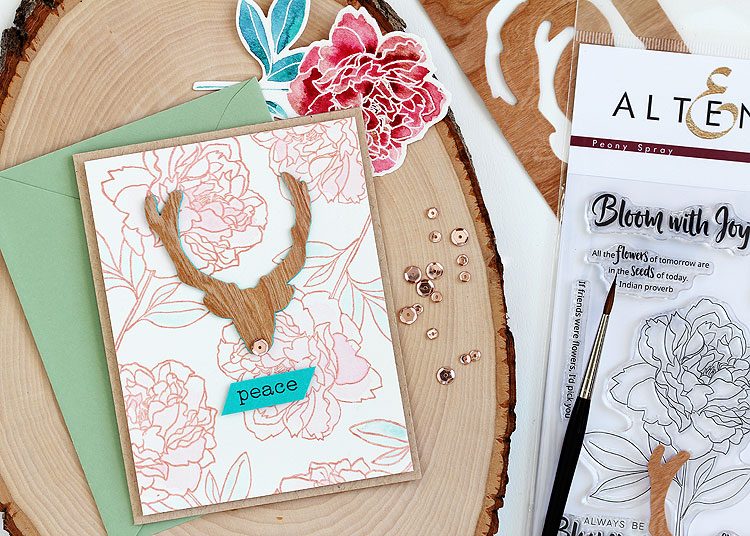 This deer card was totally inspired by the pattern on mini die cut machine!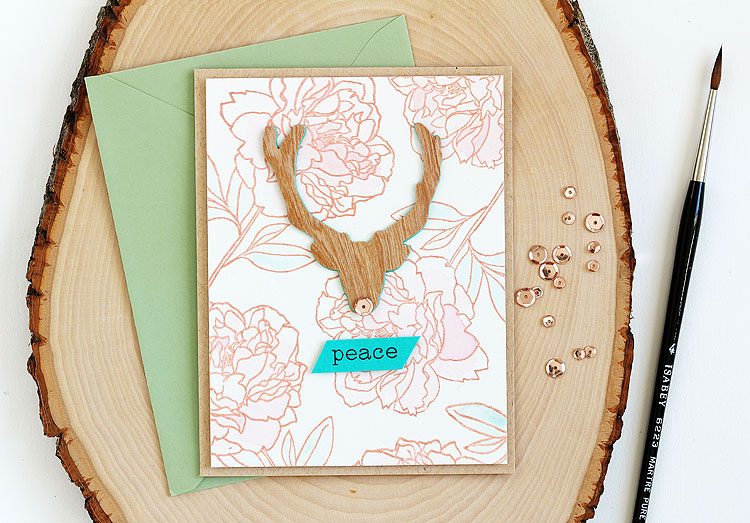 For this one, I stamped the Peony Spray in rose gold ink on Canson XL watercolor paper and then heat embossed with clear powder. Then I very lightly colored in the peonies — there's just a hint of color there.
Then I die cut the deer from the Festive Silhouettes set from wood veneer paper that's in the specialty paper pack — I couldn't wait to see how the mini die cut machine handled it and I have to say that it cut like butter! Yeah!!!
Here's a closeup so you can see it better. And I couldn't resist adding a sequin for Rudolph's nose! :)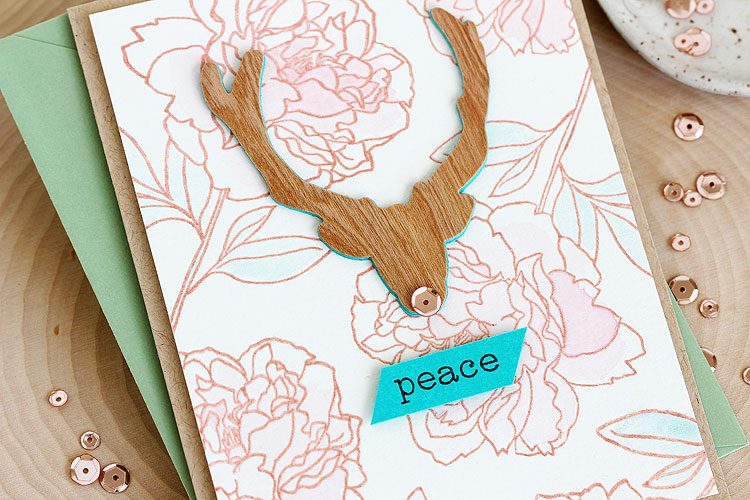 And I wasn't done putting the mini die cut machine through her paces! I made one more card!
Holiday Flower Arrangement
Next up, a card with the new Flower Arrangement stamp set and matching dies! This set is BIG you all — it's a 6×8 set full of petals, leaves and sentiments too!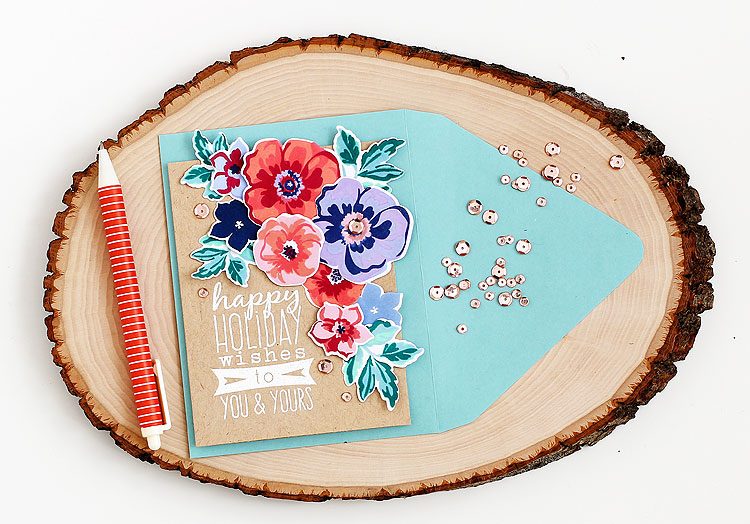 I had so much fun making this card! It's full-on holiday mode around here, so I used a sentiment from the Festive Silhouettes set instead of the ones that come in the Flower Arrangement set itself.
I got a little carried away making flowers and leaves and I wanted them ALL on the card, so I trimmed it down so that I could hang them off the side and the card would still be able to fit in the envelope. :)
I took a photo of the mini die cut machine with the 6×8 Flower Arrangement stamp so that you could see them for comparison!

Ahhhh that die cut machine really is the cutest EVER!!!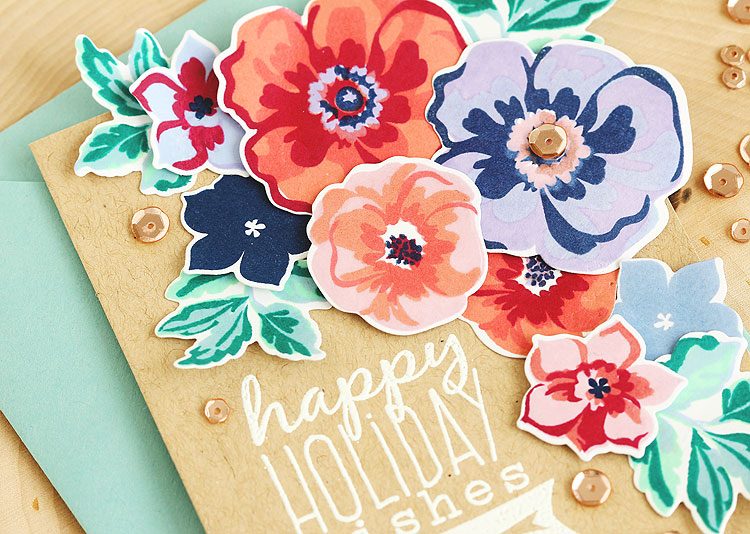 Here are some closeups of the flowers for ya!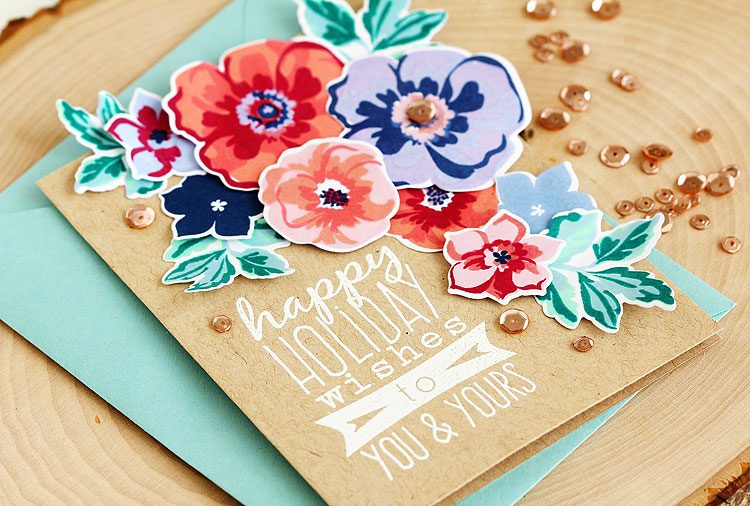 Prizes!
Updated on December 18th: Hello! Comments are now closed! Thank you to everyone who hopped along — I loved reading all of your comments!The lucky random winner of my giveaway is Donna Mikasa! Yay! Donna, I emailed you!
To see the list of winners from the Altenew blog, check out THIS post.
To celebrate this release, Altenew is giving away a $50 gift certificate to SIX lucky winners! Please leave a comment on the Altenew Card Blog and Altenew Scrapbook Blog by Friday, December 15th for a chance to win. Six winners will be announced on the Altenew Card Blog and Altenew Scrapbook Blog on Sunday, December 17th.
And that's not all! If you a comment HERE on my post, you'll be entered to win a $30 gift certificate to Altenew! Yeah! I'll announce the lucky random winner on December 16th.
Hop On
Your next stop on the hop is Lydia Evans — I can't wait to see what she's made!
Here's the full hop list! So many talented crafters and I'm happy to call so many of them friends and honored to be among them!
Thanks so much for joining me, and to Altenew for having me as part of the hop! xo
Supplies
Note: if you make a purchase by using a link from the item below I'll receive a small commission at no charge to you! :)