Hi! Hello! How are ya?! I'm so glad you're here to celebrate as we launch the new Essentials by Ellen January release! There are SO MANY s'whale new stamps and dies!!! Julie has done it again!! That girl — she's fin-tastic, right! Right!
Okay so let's swim to it! I made 2 cards for today — cannot wait to make some MOAR!
Both of my cards feature the new S'Whale stamps, the matching S'Whale Dies and the new Strands die!
Get Whale Soon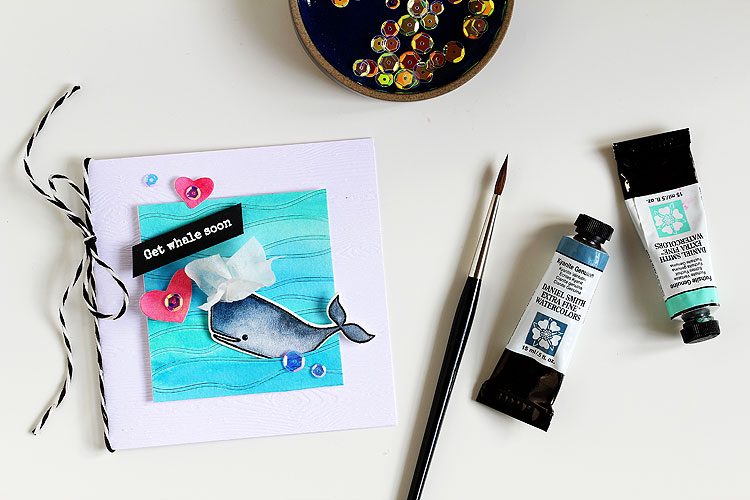 First up, this guy! See that little tissue up there? It came to me in a fevered dream while I was down with the flu HA!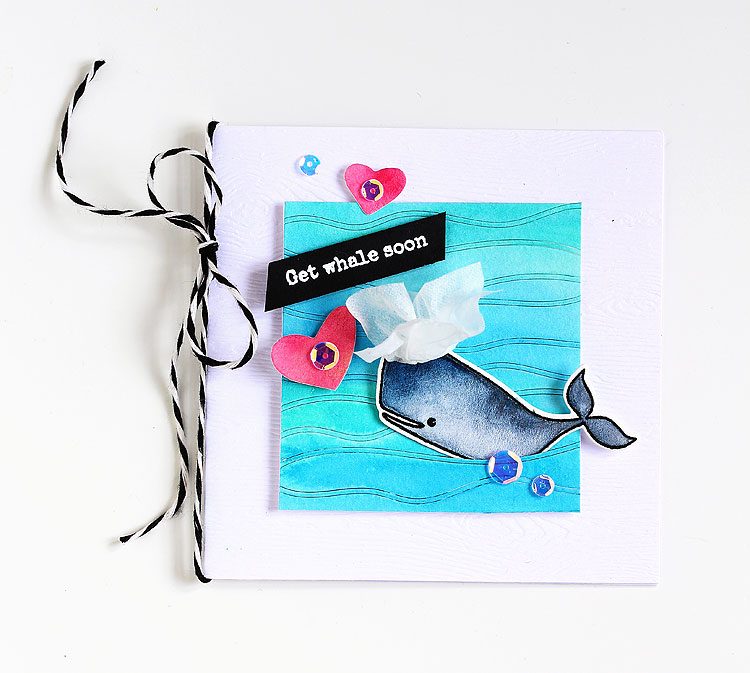 I had so much fun coloring him in — I used a combo of Daniel Smith Blue Apatite genuine and indigo watercolors — look at all that granulation! :)
I used the new Strands die for the background — I just cut it out of Canson XL watercolor paper and then colored it with phthalo blue, phthalo green annnnd — are you ready for it?? — fuschite genuine! Oh man this color is so pretty and sparkly!
Fuschite is made from rocks — so cool. Here's the info from Daniel Smith: "Made from pure Fuchsite, a Russian mineral with mica-like characteristics, this transparent mineral color is great for layering delicate green to add luster and dimension to your paintings. Try glazing this over a stronger green to soften and enhance foliage or add it one subtle layer at a time to cool your study with a unique glow and non-traditional hue."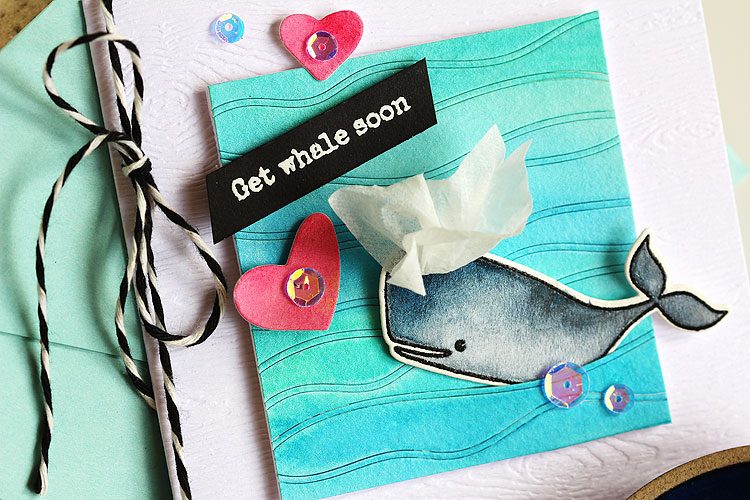 The photos just don't do that fuschite shimmer justice! After the watercolor was dry I adhered it to some white cardstock with dot roller adhesive, then trimmed the edges. I tucked the whale in there so it would look like he was jumping up out of the waves.
Then I couldn't resist adding some watercolored hearts! I used the heart dies from the All Inside die set — those hearts are so handy, I find I'm always reaching for 'em.
I Think You're S'Whale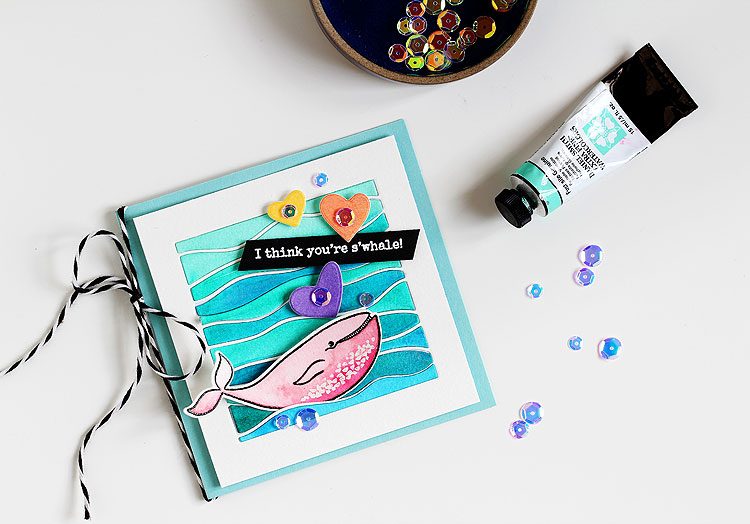 This card uses the other whale that's in the set — isn't she sweet? I colored her in with quinacridone rose from the Daniel Smith Watercolor Essentials set. Then I cut some more hearts out and colored them in a rainbow of colors! Love doing that.
I used that Strands die once again, but this time I did some fancy inlay footwork!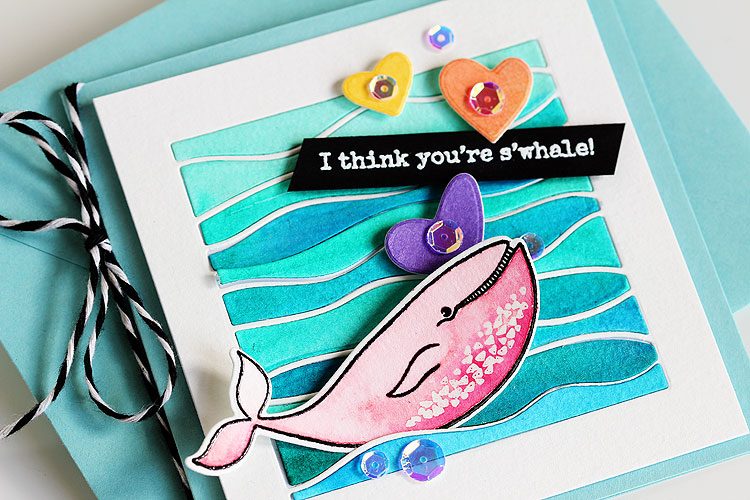 It's so easy to do but looks so cool. I just cut the Strands out of Canson XL watercolor paper, then popped the waves out and colored with the same colors as before. I tried to switch up the color for each wave to add some depth.
Then I was back at it with the watercolored hearts from the All Inside die set — only this time I used a rainbow of colors, once again from the watercolor essentials set. I mixed up my own purple and orange — this set is so great for mixing you all!
That's it for me — for now, anyhow! Can't wait to play with this set more! You can find the whole release right HERE, plus a "story behind the stamps" video by Julie herself. Annnnd, join us over in the CLASSroom for more ideas and to see what the rest of the team and guests have come up with — so much creativity.
Before you go I just had to say thank you snow much for joining me, whaley big thanks to Ellen for having me as a guest, and to Julie for dreaming up this awesome fin-tastic release! xoxo
Supplies
Note: if you make a purchase by using a link from the item below I'll receive a small commission at no charge to you! :)