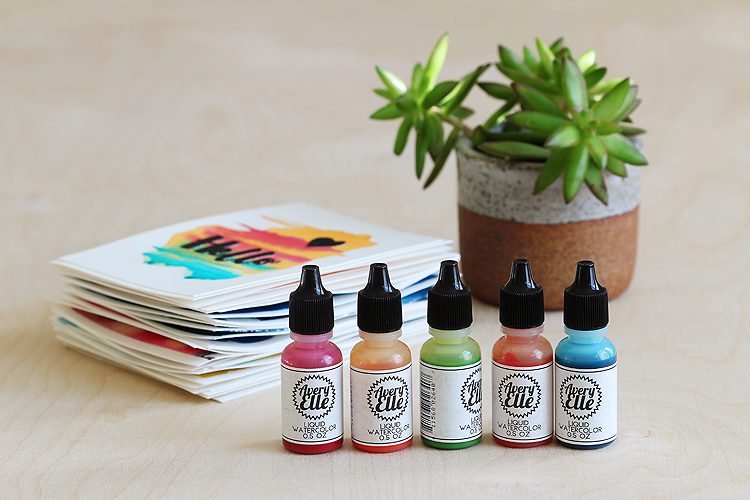 Hello hello and welcome to my stop on the Ellen Hutson & Avery Elle Watercolor Blog Hop! I had a blast playing around with the new liquid watercolors — so far 10 colors are available but I have to say my favorites are these 6 and they're the ones I used in this post:
These 6 are so pretty and vibrant! Now I have a ton o' stuff to share with you — so let's hop to it! :)
Direct-to-Paper (Video)
I started off by doing some direct-to-paper action! Here's a super quick little video to show ya:
Here are those steps in case ya missed 'em — they went by pretty fast, right? :)
Wet your watercolor paper with clean water — I used this brush to wet the paper to make it go faster so that I could get to the fun part! :)
Apply Avery Elle's liquid watercolors
Wait for it to dry!
Wetting the paper first helps the colors move and blend — it's kinda mesmerizing watching them! And it's kinda addicting too, so I kept playing around and have a bunch of cards to show you.
Hello Hello Hello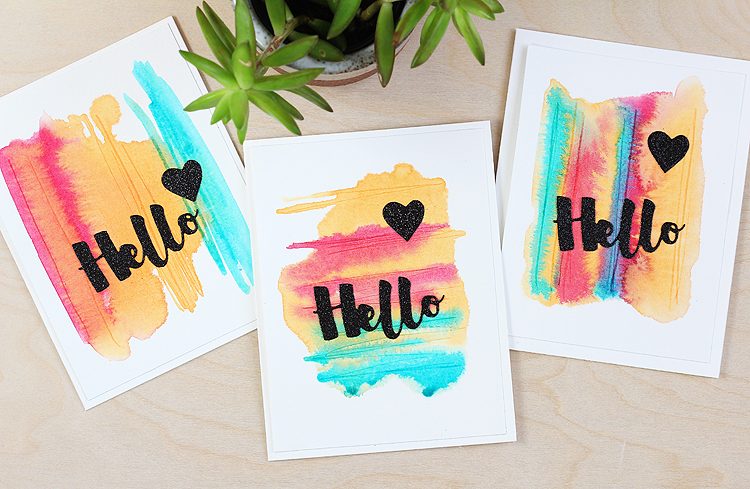 I always like to have a stack of general purpose "hello" cards on hand, so after I got carried away making all those backgrounds with the direct-to-paper technique I turned 'em into clean and simple cards with the Essentials by Ellen Brushstroke Hello + a lil heart die cut from the All Inside Dies set — these are the die cuts that coordinate with Mr. Bear and I love using the hearts that come with — love it when you can get more from your supplies that way!
I cut them out of black glitter paper because — glitter!!! :)
Now how about some closeups so you can see them better: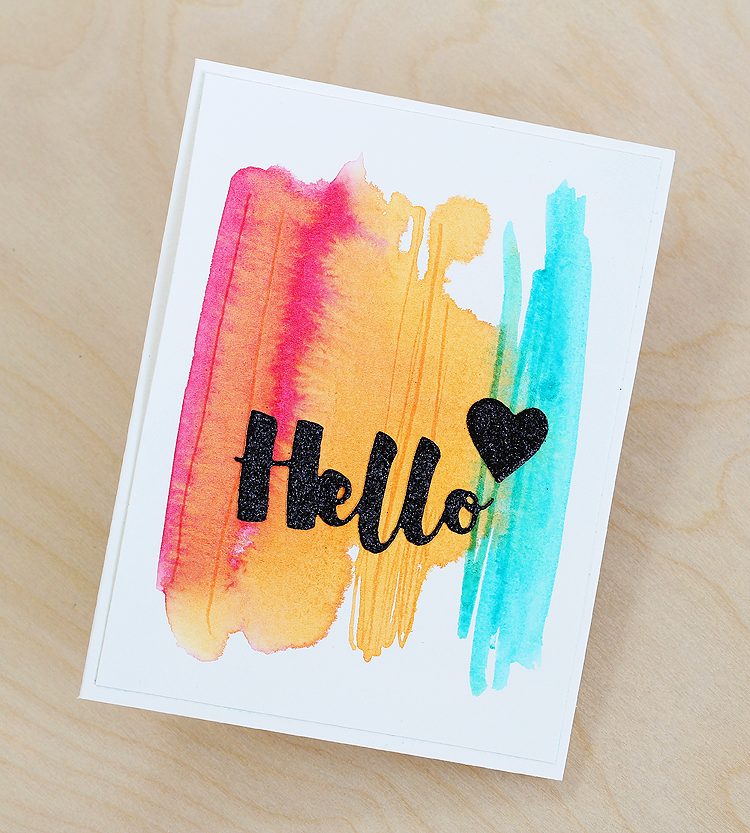 I love how the fizz and the cherry blended together in this one!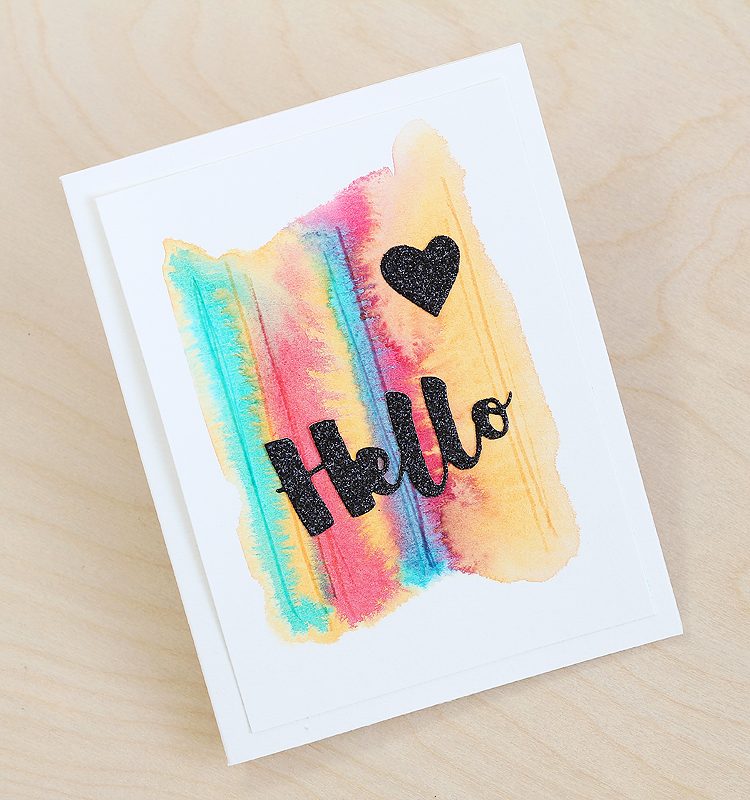 In this one, the purple was made when the cherry and the aquamarine blended together — so cool!
Then there's this little number where I went horizontal: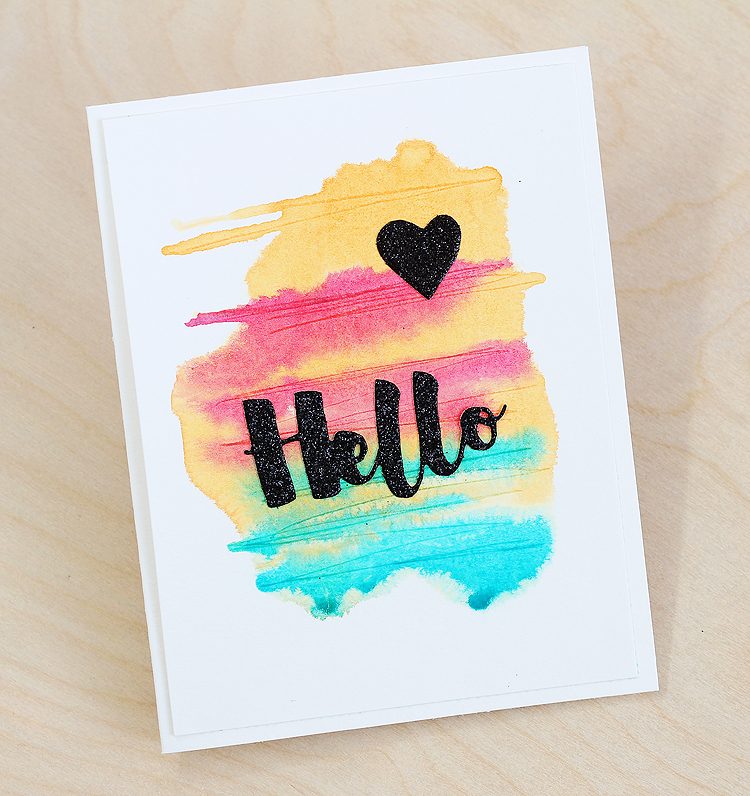 I love how they're all different!
Mad for Plaid
For this next card I wanted to try and make a plaid pattern — it didn't exactly turn out like a plaid but I really like it anyhow!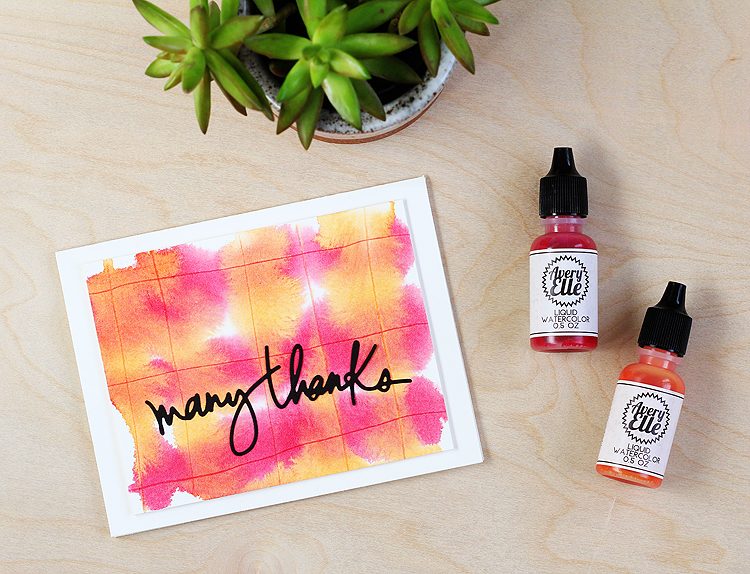 I did the same technique as in the video above where I wet the paper with clean water first. Then I made horizontal stripes with cherry and then while everything was still wet I made the vertical stripes with fizz.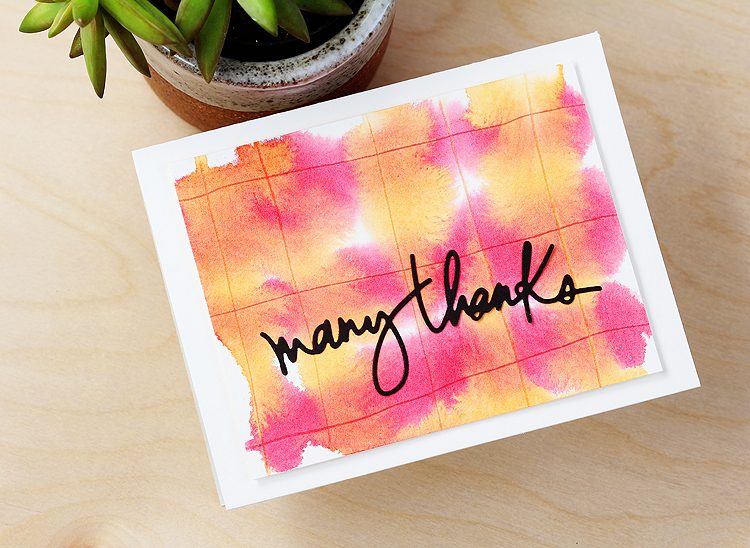 I almost couldn't bear to cover that card up, so I used the Essentials by Ellen Many Thanks die and left it at that! This will be perfect for a friend who loves pink and orange — can't wait to send it to her!
Now for one last card — and a variation on a the direct-to-paper technique.
Fabulous
For this card I busted out — a comb!!! — check it out:
I added some slower captions to this vid so hopefully you can catch all the action! :)
Here's the story: J got a package of like 10 combs but he only needed one, so I grabbed this pink one and added it to my craft stash. I was thinking that I'd use it for gesso techniques but then after I noticed how the tips of the liquid watercolor bottles left lines on the paper it got the ole wheels turning.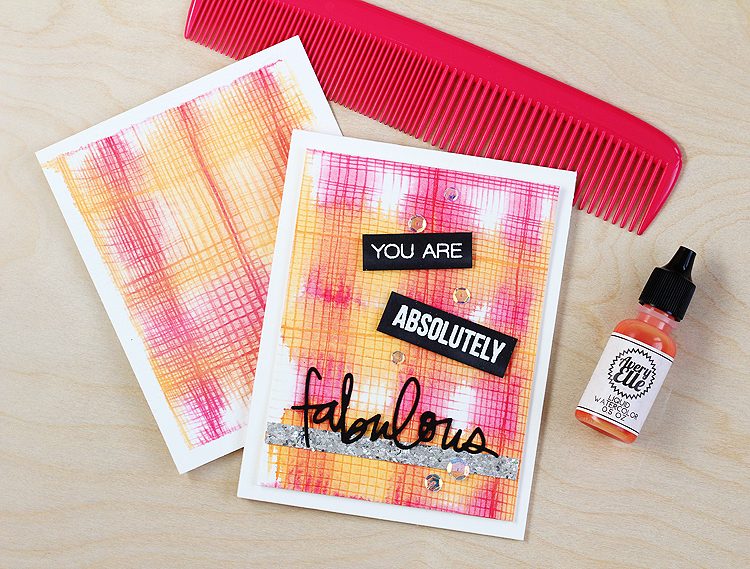 Here's a closeup so you can see it better — I love all that color and texture!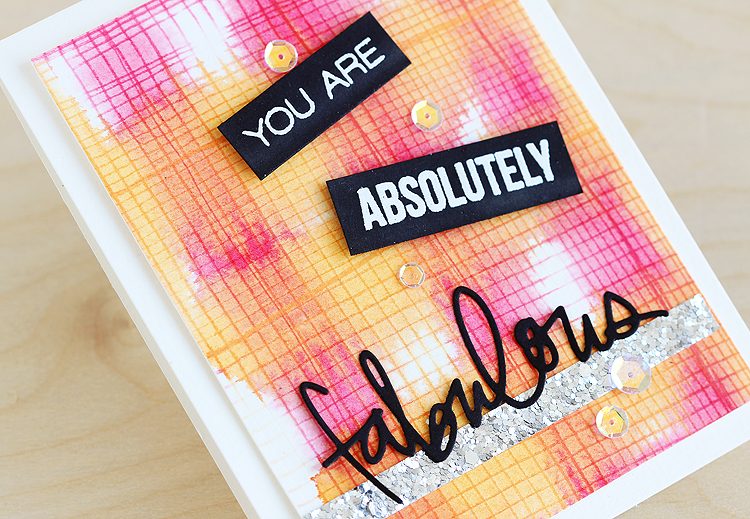 This card just had to have a few sequins and some silver glitter paper — plus this fabulous die and stamps! :)
Well that's it for me! Hope you like these techniques as much I do! So fun you all!!
Hop On & Prizes!
Your next stop on the hop is Heather Campbell's blog — Iove what she's made, it's so sweet!
Here's the whole list in case you're just now joining us our encounter any broken links:
And that's not all!
Be sure to leave comments at each stop on the hop for a chance to win one of two watercolor gift packs from Avery Elle & Ellen Hutson LLC!
Leave your comments before March 28th, at 11:59pm PST.
OH YEAH!
Supplies
Note: if you make a purchase by using a link from the item below I'll receive a small commission at no charge to you! :)