Hey you all! Guess what! Today is my anniversary — 21 years together with J! (Can't believe it!) So of course I had to make him a card! And the August Animal House release from Technique Tuesday was the perfect thing: meet Olive the Octopus!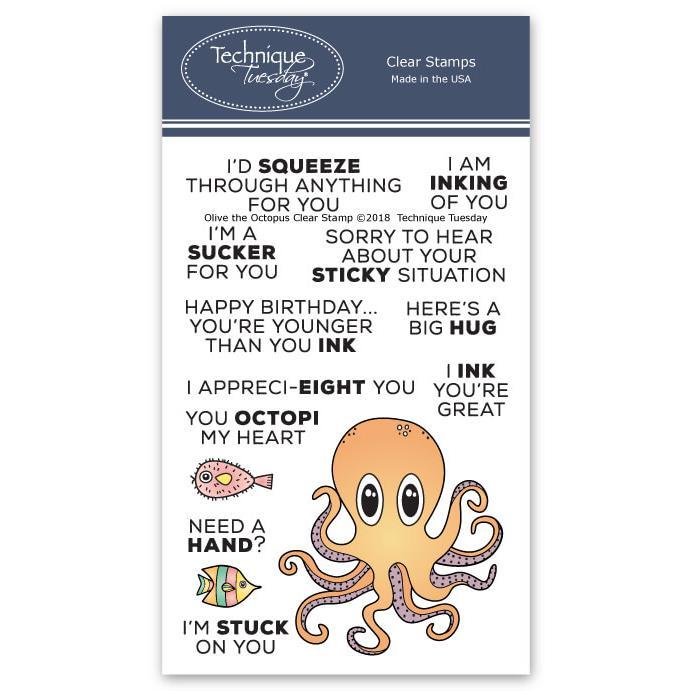 Isn't she the cutest!?! I love all those sayings! Almost couldn't decide between the "I'm stuck on you" or the "you octopi my heart" :)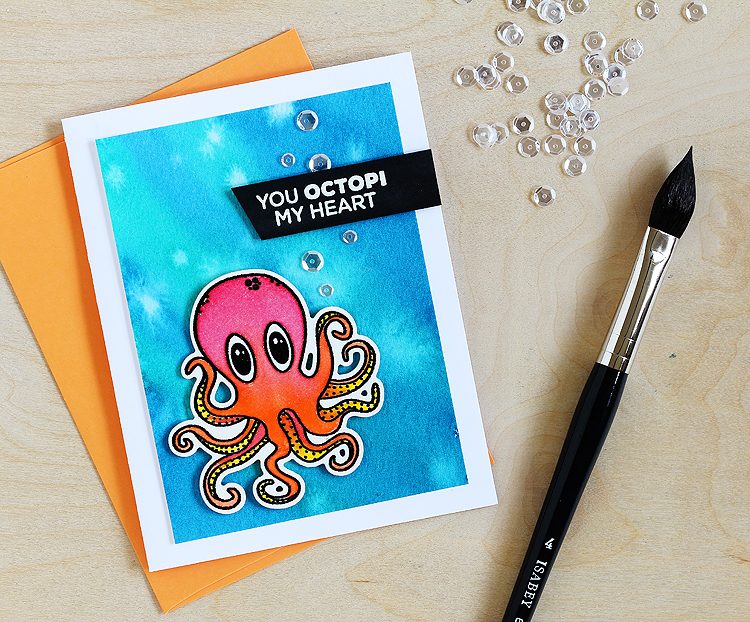 I had so much fun coloring her in, here's a closeup so you can see her better!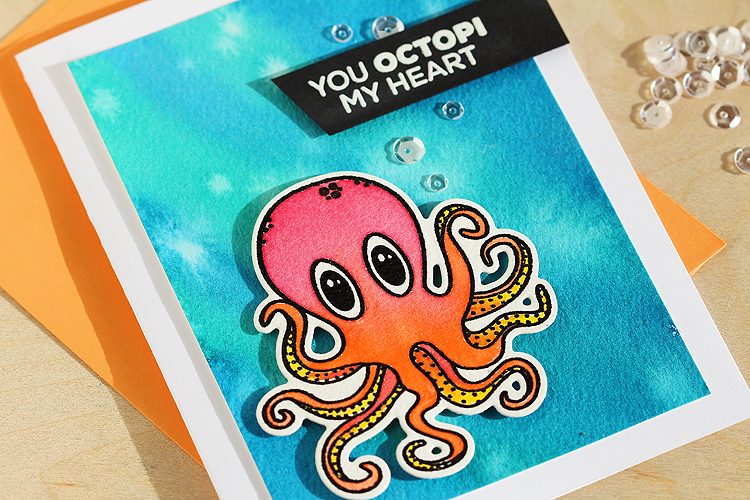 Wish I would have taken a video, darn! Anyhow, here are the steps that I used:
First I stamped her on Arches cold press paper with black VersaMark ink and then heat embossed her with clear powder. Tip: it's really hard to get the solid images like the eyes to come out when using cold press paper, even if you have a MISTI tool, so just do what I do and grab a sharpie marker and fill in any missing bits before you emboss. No one will ever know! :)
Then I wet her all over with clean water. Once the water reached a smooth sheen with no puddles I quickly started painting her from the top down with quinacridone rose and stopped just below the eyes. I had another brush already loaded with pyrrol orange and started painting from the tummy area up towards the rose and let the two blend together.
Then I finished painting her legs orange and finally the undersides yellow, dropping in a little rose towards the top — love how the rose + yellow blends together to make a slightly different orange.
I used a size 8 round for the rose and a size 4 for the orange — it really pays to have two brushes!
Then for the background, I painted all over with phthalo blue and then while it was still wet I swished in some phthalo green. I waited a bit for it to dry a little and then splattered it with clean water to make bubbles.
I cut Olive out with the matching dies — would not want to cut all those legs out by hand! :)
I added some sequins to the front and then it was on to the inside: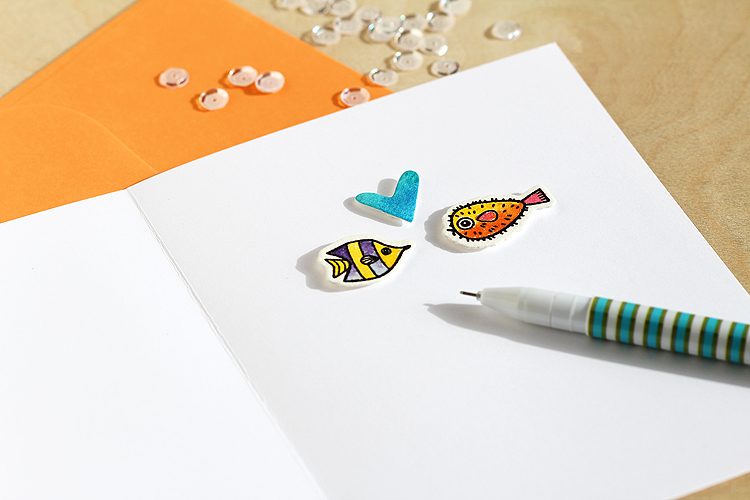 How cute are those fishies!!! They're also in the stamp set — I want to make a card with just them! I cut the heart out of a scrap from the front background — love doing that with dies!
Happy Anniversary, J!!!! Can't believe it's been 21 years! We met when we were in college and he was 18! We dated for a few years so we've actually known each other for 25 years now.
It's really true, time flies when you're having fun!
Supplies
Find the Animal House stamps and dies right here at Technique Tuesday — you can purchase them individually or sign up for the monthly subscription program and save! Find out more over there.
Annnd, here are the links to the supplies I used over at Ellen Hutson, where I'm an affiliate. If you make a purchase by clicking a link I'll receive a small commission at no charge to you — thank you! Note that I listed both sizes of the watercolor paints that I used to give you more options, so it looks like I used more colors than I actually did!
Also, if you're just getting started with watercolor, the Daniel Smith Essentials set is a great buy! You can make the whole card with this set.