Okay I have a confession to make: I lllllllllllove llllllllllamas!!! So when I saw the new Flora & Fauna Llama Garden set I had allllllllll the heart eyes! It's so cute! Check it: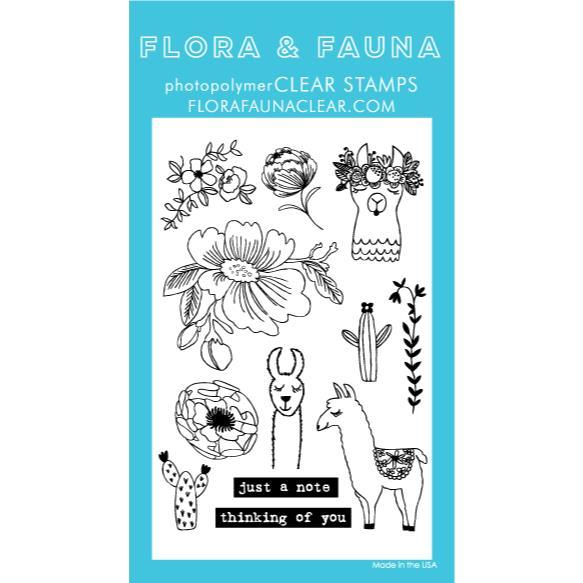 And it goes perfectly with my Larry the Llama pouch that my sister got me. I use it to keep my Zig Clean Color markers in — Zig Clean Color markers + the Llama Garden set = a match made in heaven!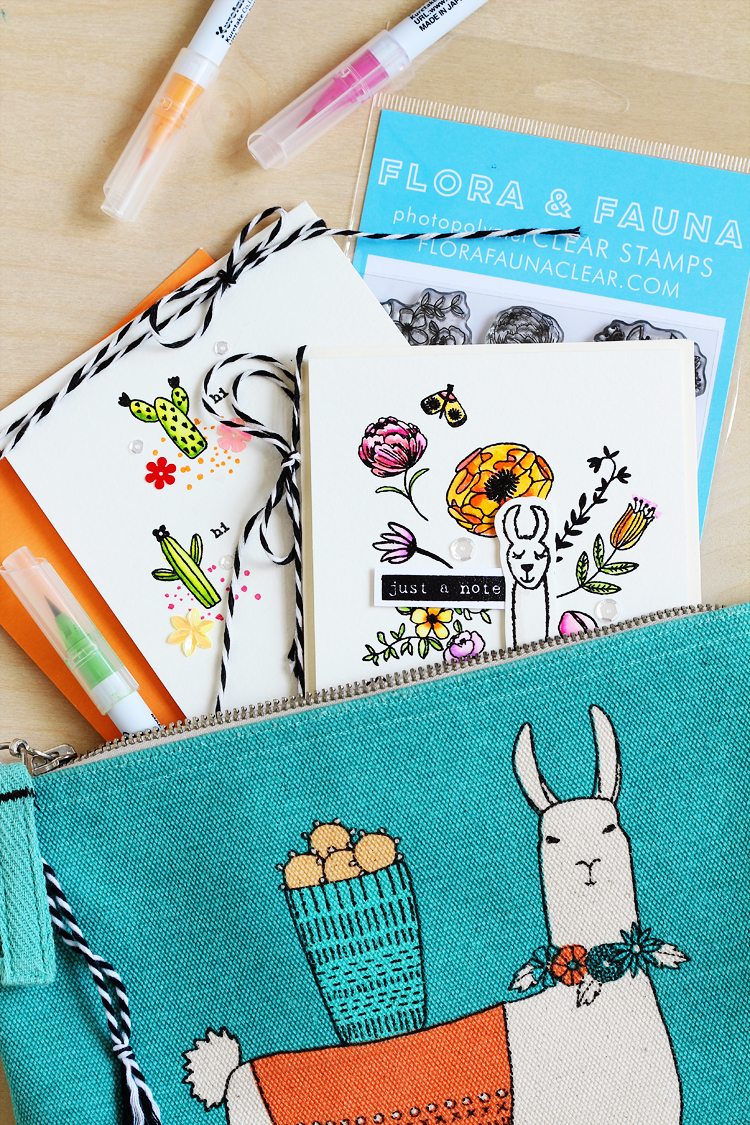 I bet it comes as no surprise to you that I got a lil carried away and made 3 cards! :) So, I'll be sharing one each day for the next few days, starting with this guy:
I used the markers here not only to color him, but also on that stamp from the Flora & Fauna Texture Two set! I just scribbled directly on the stamp, then gave it a light mist with clean water and stamped it — love the watercolor look it gives! Those markers are so bright and vibrant.
Here's a closeup so you can see it better: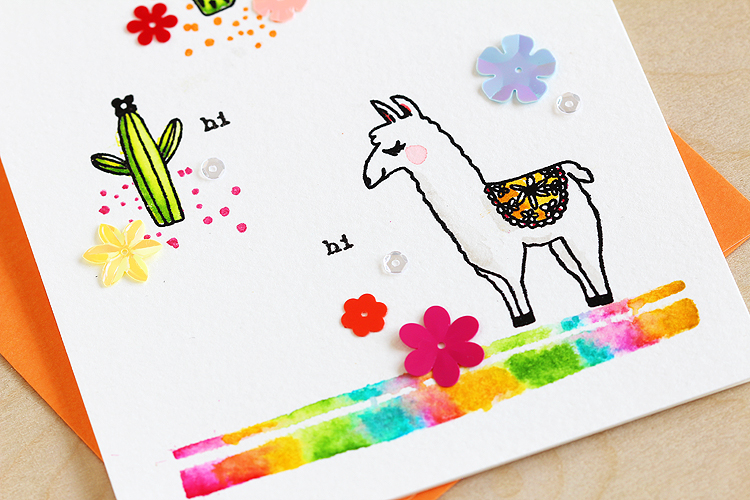 In case ya didn't know, Zig Clean Color markers are water based, so they react with water — kinda like water based ink! You can also blend them — just use a damp regular paintbrush or better yet, a water brush (I use this one from Pentel, it has the best tip and a large reservoir). Zig also has a blender marker but I've never tried it since water works so well.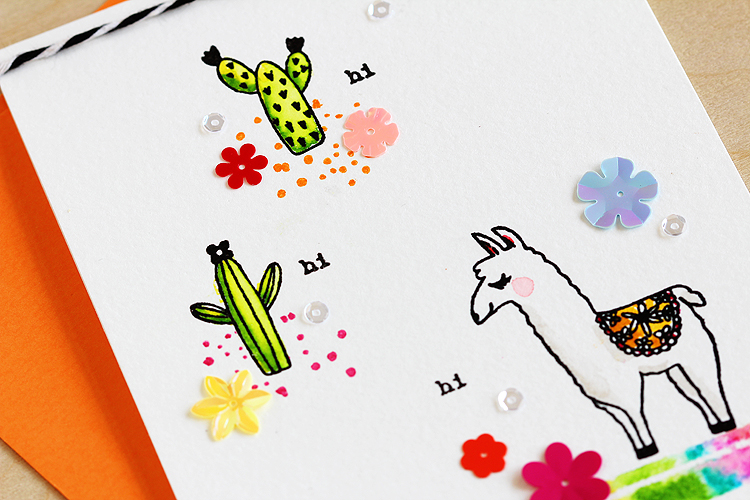 You can also blend the markers with each other — on the cacti I first put down light green along the left edge, then went over it with yellow green, leaving a bit along the righthand side uncolored, and then went over the yellow green part with the water brush. Before I forget, I should add that this card is all on watercolor paper — while it's not 100% necessary I find that it does work better than cardstock.
Speaking of the cacti, I used another stamp from that Flora & Fauna Texture Two set to make the "sand"! I used orange twist and party dress inks for those — no boring sand for this llama! I almost grabbed the cactus stamp from this Flora & Fauna llama set to make a whole trio — will have to try that on another card!
In case you were wondering, that teeny tiny "hi" stamp is from the Flora & Fauna Soul Happy set. So cute! :)
You can find ALL of the markers HERE, and my faves in the supply list below! Here are the markers I used on this card:
Oh and! I used these flower sequins from Impress, but I've listed a few more options in the supply list below. :)
Supplies
Find the Llama Garden set and even more llamas over at Flora & Fauna — I just love all of their stamps and dies so much! They make me smile every time I use them.
I've also linked ya up to the supplies at Ellen Hutson — note that these are my affiliate links, so if you make a purchase by clicking the link I'll receive a small commission at no charge to you — thank you!
Come back tomorrow for more llama love!!