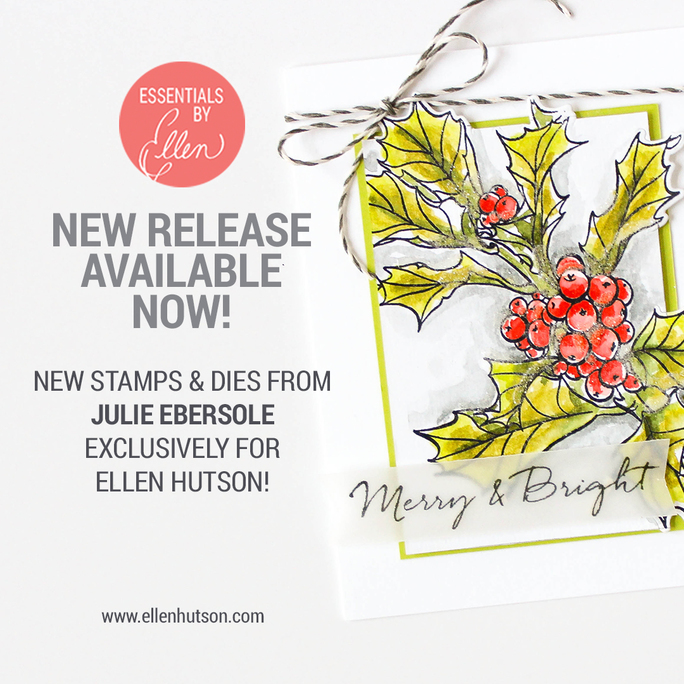 Hi all! I'm super excited to be blogging along with the Essentials by Ellen September release! So many great new products! Today I'll be sharing two fun cards made with the new Essentials by Ellen Winterscapes and Mountain Holiday stamps and matching dies — check 'em out: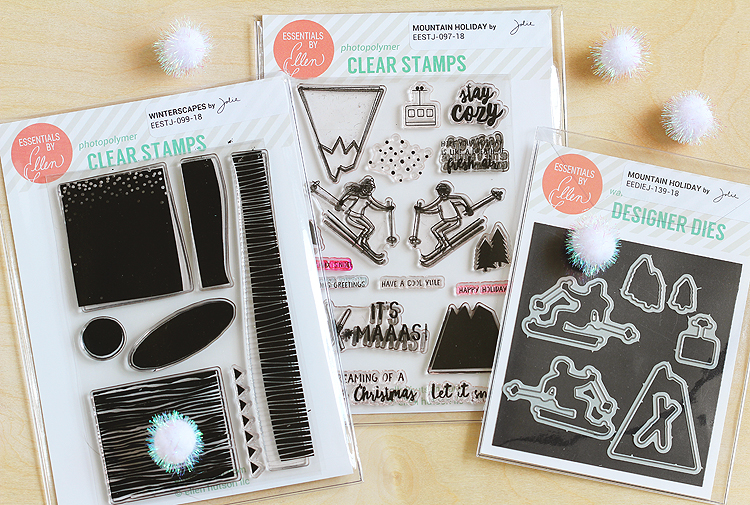 LOVE all those backgrounds in the Winterscapes set on the left!  My girl Julie does it again!!! I mean, woodgrain!! And I can't wait to try using that dot as giant snowballs! Or it can be used all year long as polka dots! And even tho that top background was supposed to be snow I'm gonna repurpose it as confetti on a birthday card! Love getting more from supplies like that :)
Then there's the Mountain Holiday stamps — love! Especially all the lil sentiments — my fave is "Joyeaux S'noel"! :)
So of course I couldn't stop at just one card for this post — had to do TWO! And I see a whole mountain more in the future!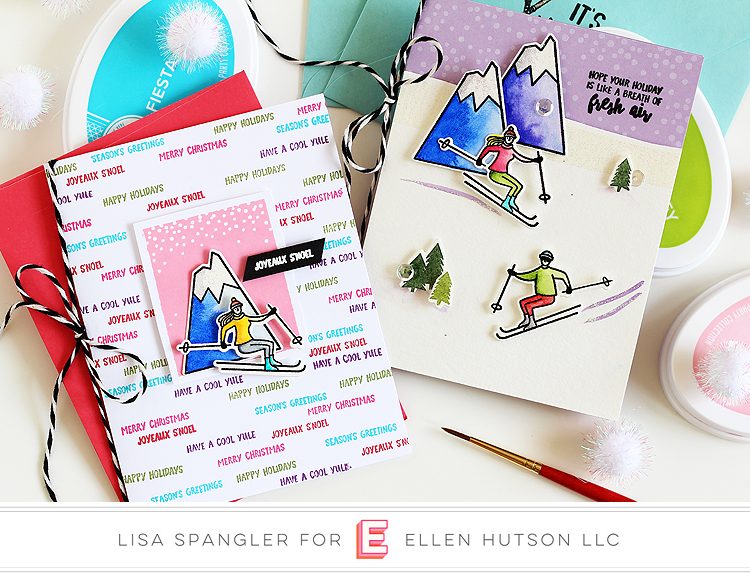 So fun! Here's the a bit more on each one!
A Breath of Fresh Air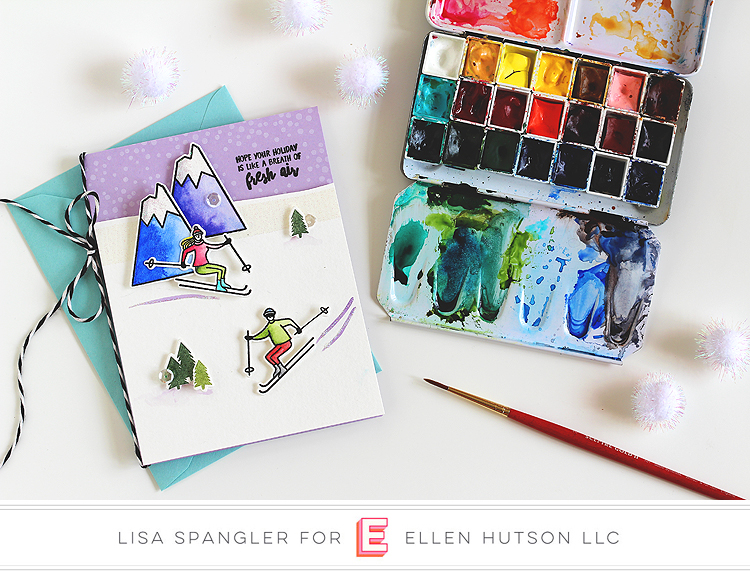 First off, this little number. Here are some little tips and tricks for ya, starting with the mountains. Even tho the Mountain Holiday set comes with a solid stamp to fill in the mountains I just couldn't resist watercoloring them! I used ultramarine blue for the mountain on the left — love that granulation. And then I mixed a little carbazole violet in with the leftover ultramarine to switch it up a bit for the right mountain.
Here's a closeup so you can see it better: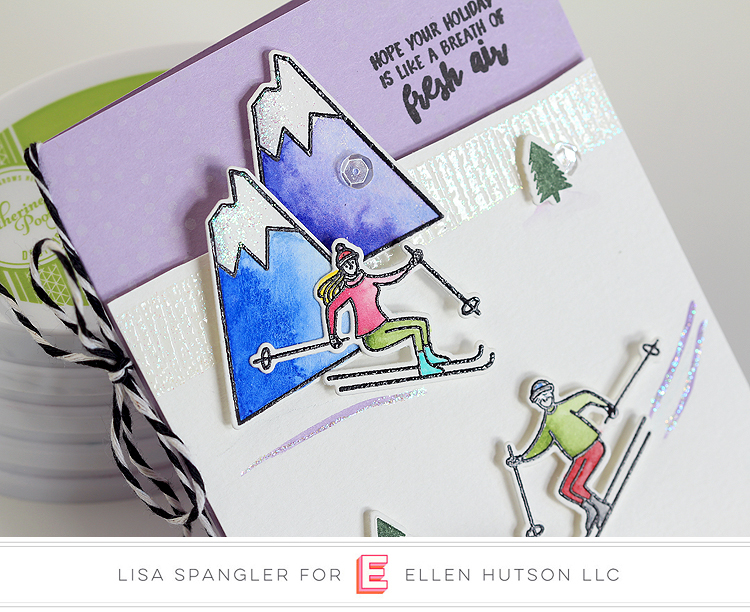 And that brings me to my second tip: see that snowy line up there at the top? That's one of the stamps from the Winterscapes set! I just clear embossed it with SPARKLE clear powder and then cut along the top for the hillside.
Then for that last little touch I made some simple swooshes with leftover paint and added some glitter glue. Done and done!
Joyeaux S'noel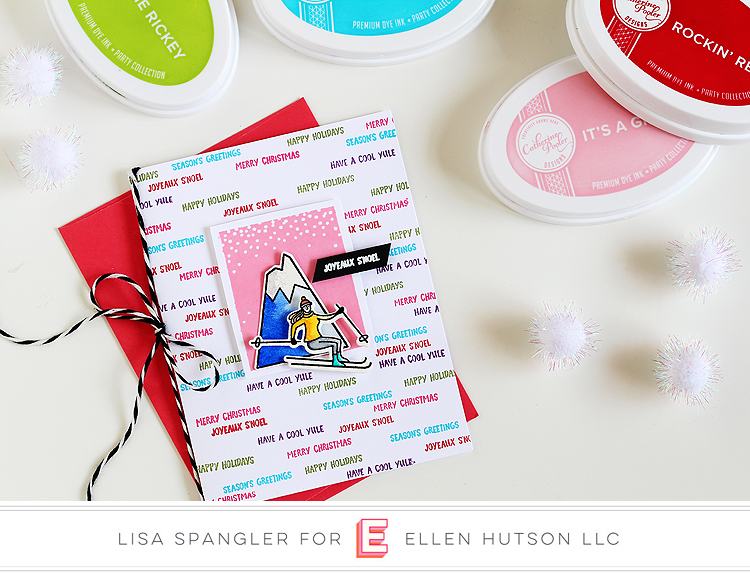 Next up, self portrait!! :)
Just kidding! :) :) :)
I've only been skiing one time my whole life, waaaaay back when I was 13! I kept falling over backwards with my butt on the skies and then kinda sled riding down the slopes LOL! But this is how I'd look in my mind!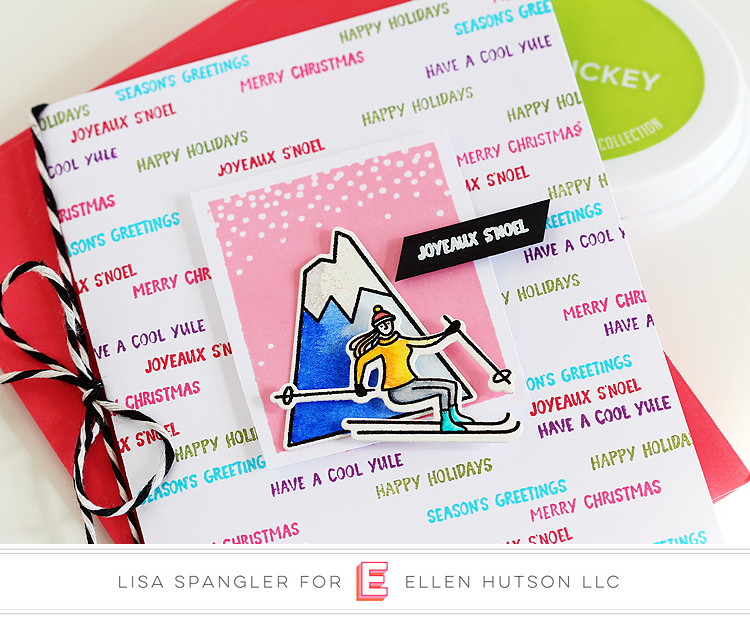 I actually have a yellow jacket just that color! :)
I kept this card on the simple side, but still have a few tips for ya:
Normally I use a BIG brush for watercoloring, but I did this one with a combo of a size 2 and a size 4
Having the Mountain Holiday dies to go along with the stamps really saved me — no way I'd wanna cut out those little ski poles!
I stamped that snowy background from the Winterscapes set in light pink ink to switch things up a bit
Then for the base card I stamped All The Sentiments from Mountain Holiday in various colors, then white heat embossed the "Joyeaux S'noel" on black cardstock for the topper — love doing that!
Then I tied on some twine and that was that!
The Envelope, Please!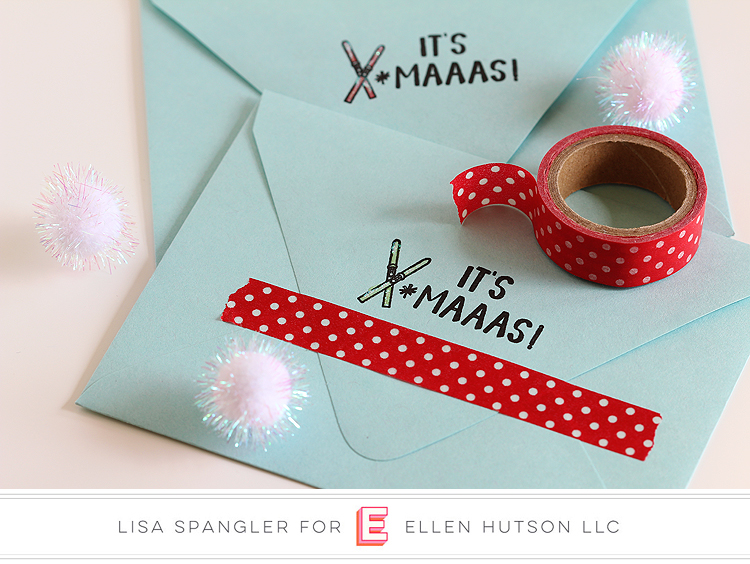 Last but not least, I just had to share a bit of the back of the envelope action! Because that stamp cracks me :)
Supplies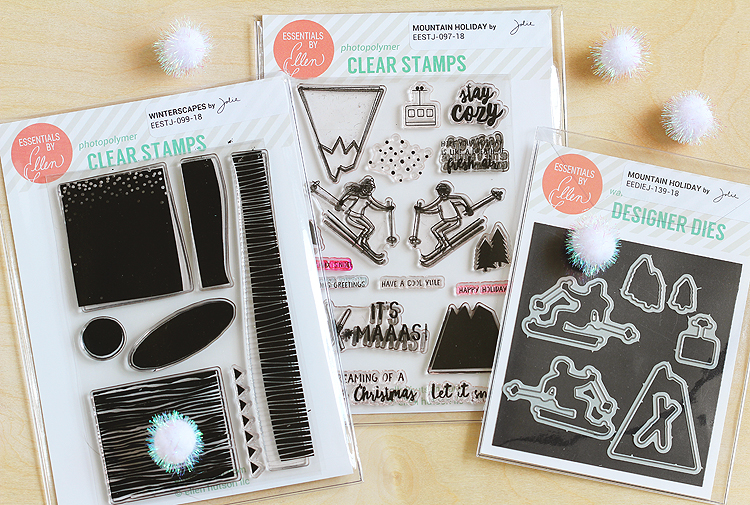 I'm heading off to the mountains at the time of writing this post, so I don't have the "official" product images to share with ya — so using this one instead. It's up in the 100's here in Texas so we're heading for the hills to cool off! :)
Note that these are my affiliate links, so if you make a purchase by clicking the link I'll receive a small commission at no charge to you — thank you!
Stamps & Dies
Inks
Watercolors
Well that's it for me — for NOW! Can't wait to play some more! Meanwhile, find more ideas over on the Ellen Hutson blog!
Stay cozy, friends! xoxo