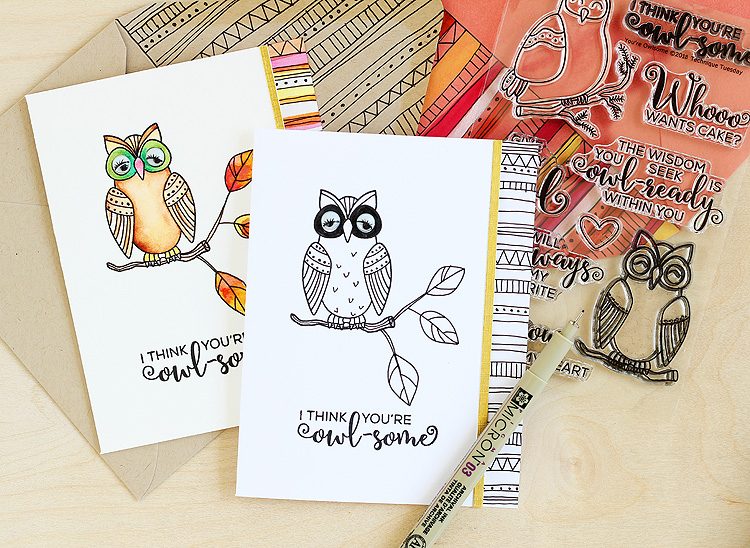 Hi all! Today I'm hopping along with my friends at Technique Tuesday to celebrate World Cardmaking Day, yay!
In case ya hadn't heard, it's also Inktober! What's Inktober, you ask? Inktober is a month long art challenge created by artist Jake Parker that is focused on improving skill and developing positive drawing habits. And I need me some of that! So I decided to combine the two and I made two cards to share.
Let's hop to it!
Just the Ink, Please
We were sent the You're Owl-some stamp set to work with — it's so fun! And best of all, you can get your own set for FREE! (More on that below!) Check it out: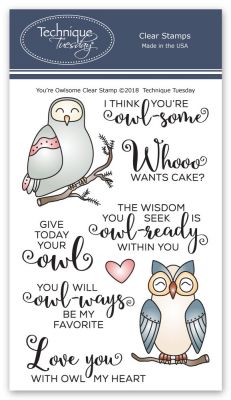 For my first card I decided to use ink only to do the coloring in the spirit of Inktober. I ended up having so much fun — it's so liberating just using ink! Watch and see:
I got a little carried away and made a matching envelope, too!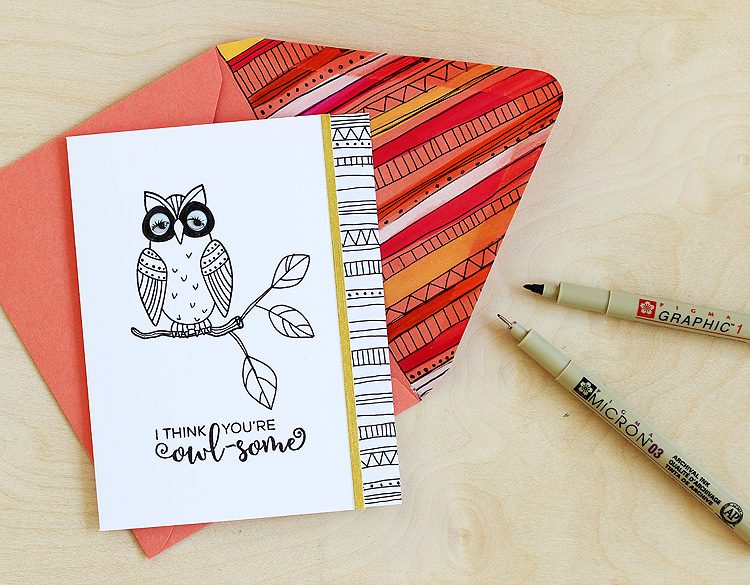 I used my trusty micron pens for this but any black markers will do.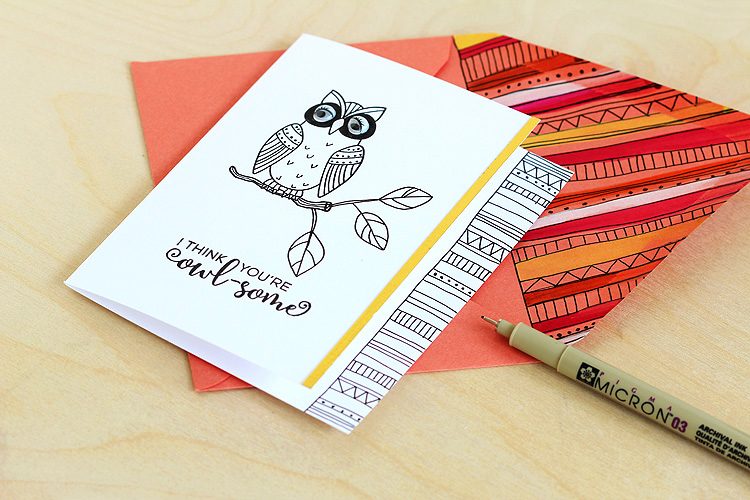 I also trimmed the front of the card a bit and then added doodles along the inside edge :)
As you can see by comparing the finished card to the owl stamp, I ended up doodling some feathers, added more lines and dots to her wings, and I extended the branch and added some leaves!
Then for that little bit of extra something I added wiggle eyes — with eyelashes!!! — and a strip of gold foil paper along the edge of the card.
I totally think this is something anyone can do! So bust out those pens and draw draw draw.
Now In Color
Next I decided to add a little watercolor action — you know me, I just can't resist making more than one card while I have my supplies out, ha!  So I used my trusty micron pens again and added similar doodles to the first card, then watercolored away.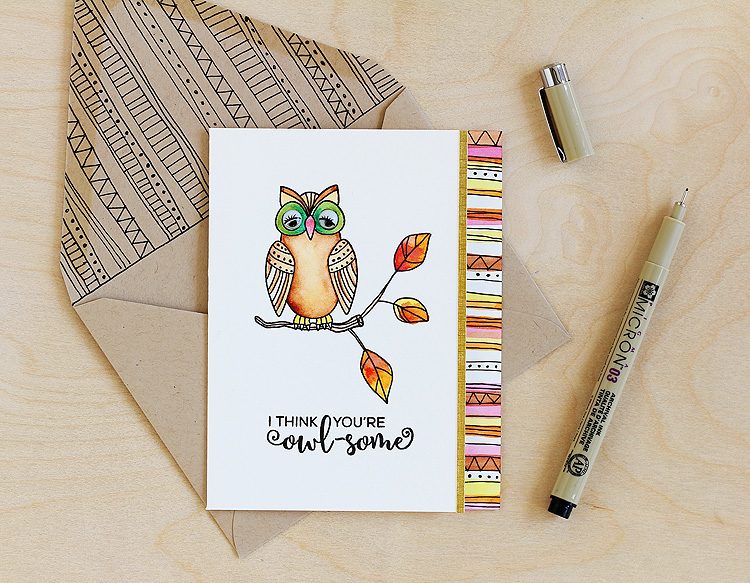 One of the great things about micron pens is that they're waterproof — yeah!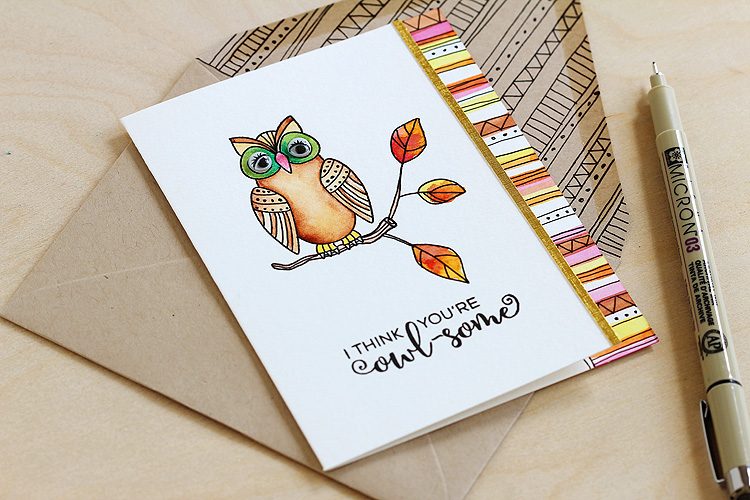 This time I decorated a kraft envelope to go with the card.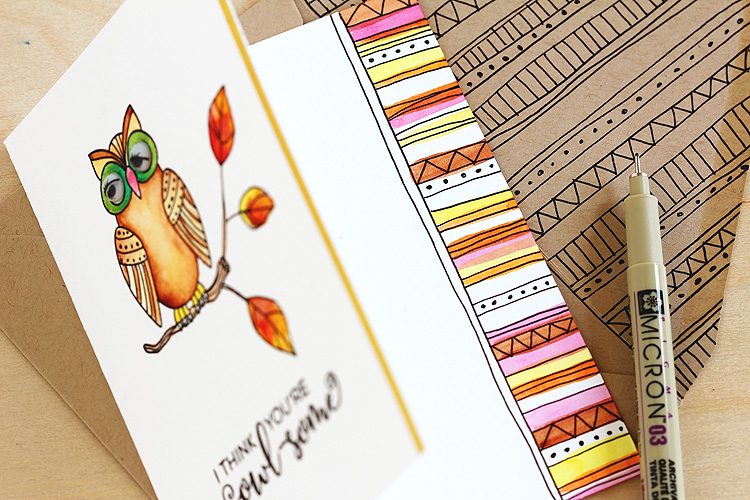 Of course I couldn't resist adding a border, too!
Giveaway!
Technique Tuesday
is giving away gift certificate to a lucky someone who comments during the hop on one of the stops. Comments will be taken through Monday October 8, 2018. The more comments you leave the more chances you have to win! Yeah!
The lucky winner will be announced on the 
Technique Tuesday
blog on October 10, 2018.
And that's not all…
FREE Stamp Set!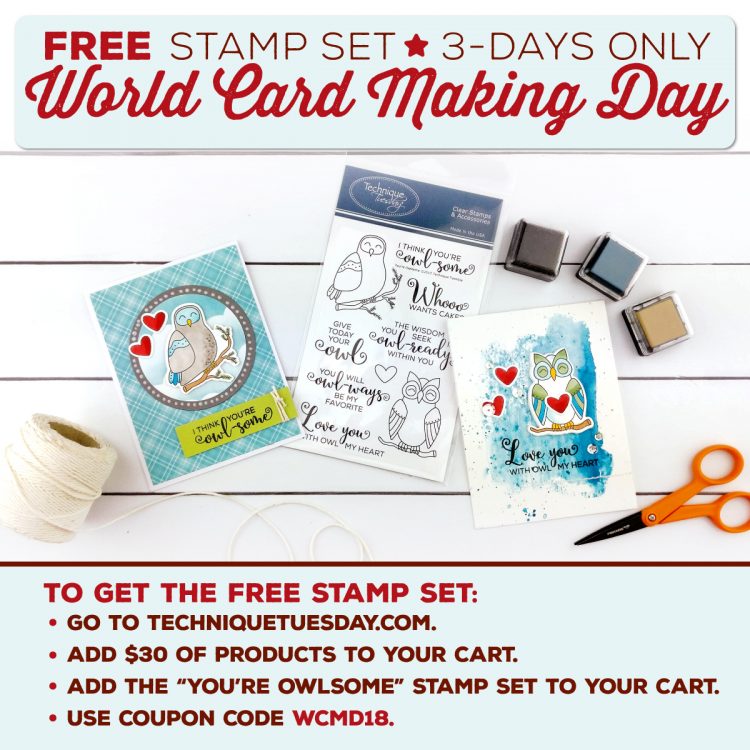 Here's how to get your free set:
Hop On!
Your next stop on the hop is Heather Hoffman — I can't wait to see what she's made! Here's the full list in case you're just now joining us or encounter a broken link:
So honored to be among these super talented humans!
Happy World Cardmaking Day and Happy Inktober! — xoxo