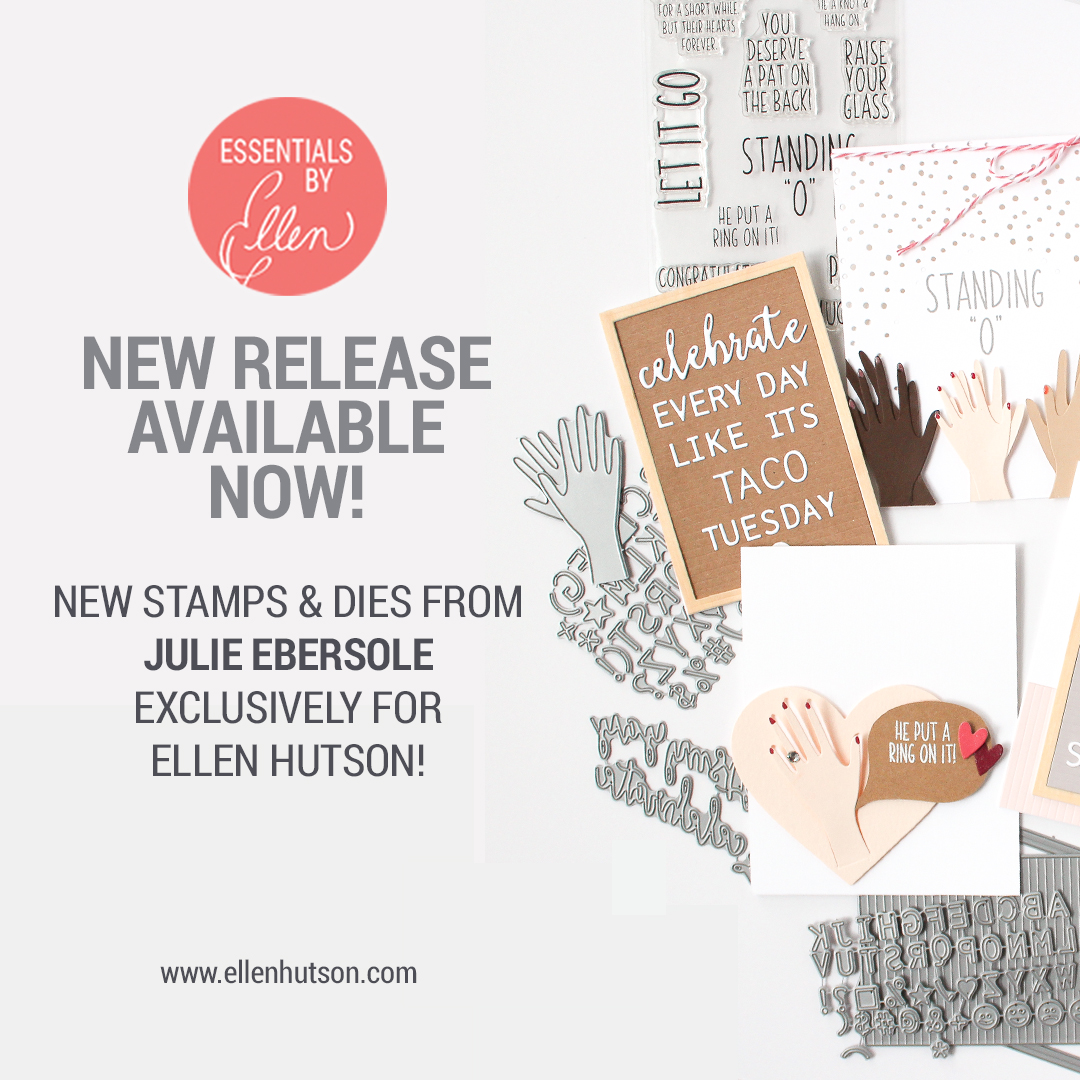 You guys! I've wanted a letter board for ages — and now I can make one — or moar! — thanks to the new Essentials by Ellen Letter Board dies! Oh yeah! Check it: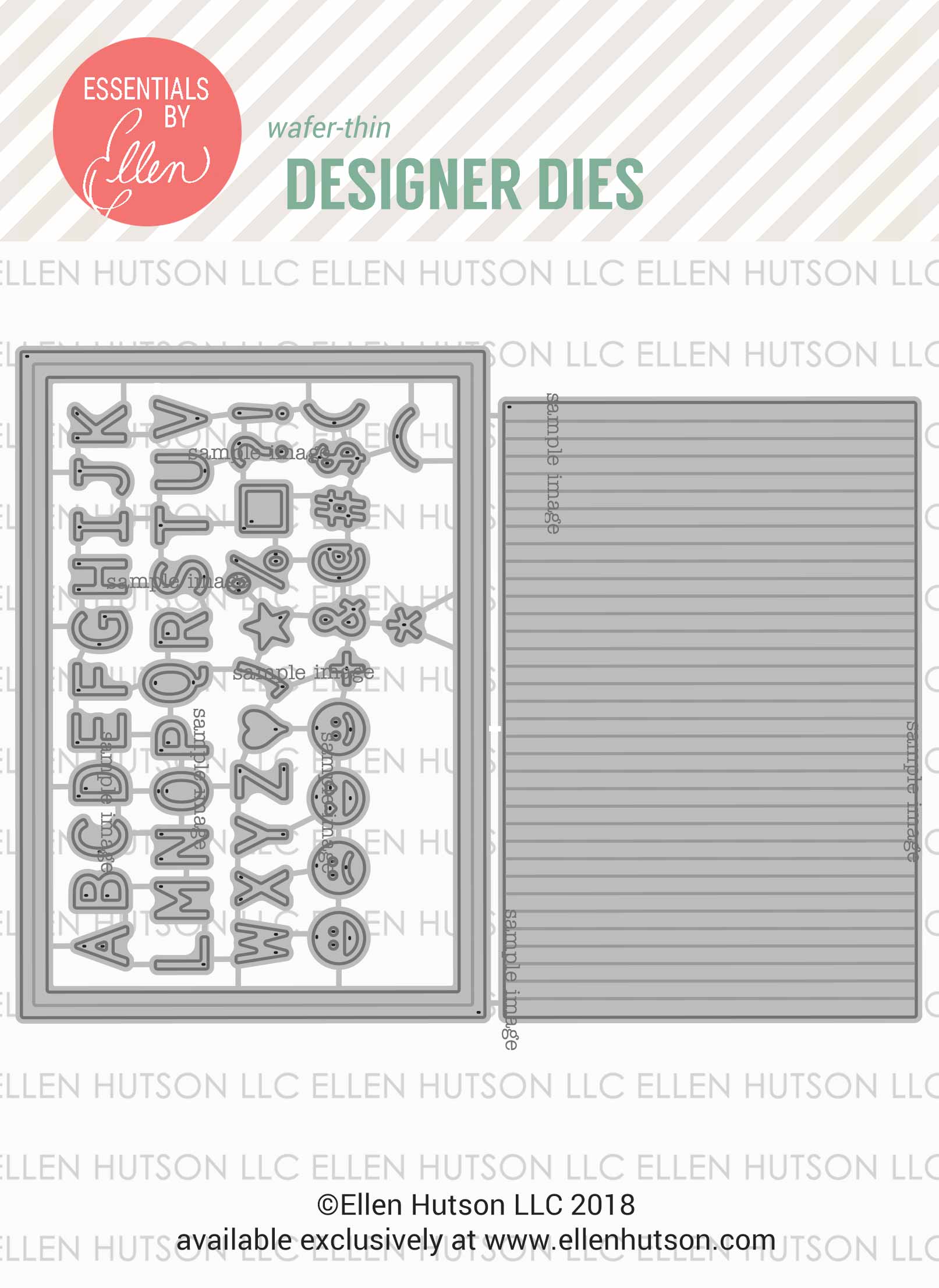 For my first project I made myself a lil something to keep in the bathroom :)
I think these would make great Christmas gifts — hoping to make one for my sister soon. Hope she's not reading this — hi sis!
Anyhow, thought I'd give ya a few tips for using it the dies. First off, the letters…
I cut the white letters out of glossy cardstock. My paper was on the thin side, so I glued two pieces together with a gluestick and then used a shim in my die cut machine. This made the letters way easier to work with!
I cut more out of black cardstock too, once again gluing two pieces together to make the letters thicker. I'm keeping the extras in this little box that I've been saving forever. The box once had a bunch of chocolates in it and I just had to save it — I knew I'd put it to use someday! Do you do that too?
And then! I die cut the letter board out of white felt, and the frame out of wood paper that I adhered to a piece of cardstock! Of course you could use any color you like for the felt — I've listed some below or browse Ellen's felt selection here. I think this would look darling with this smokey gray felt. Or I could get all festive and do red and minty green! That's the awesome thing about making your own, right?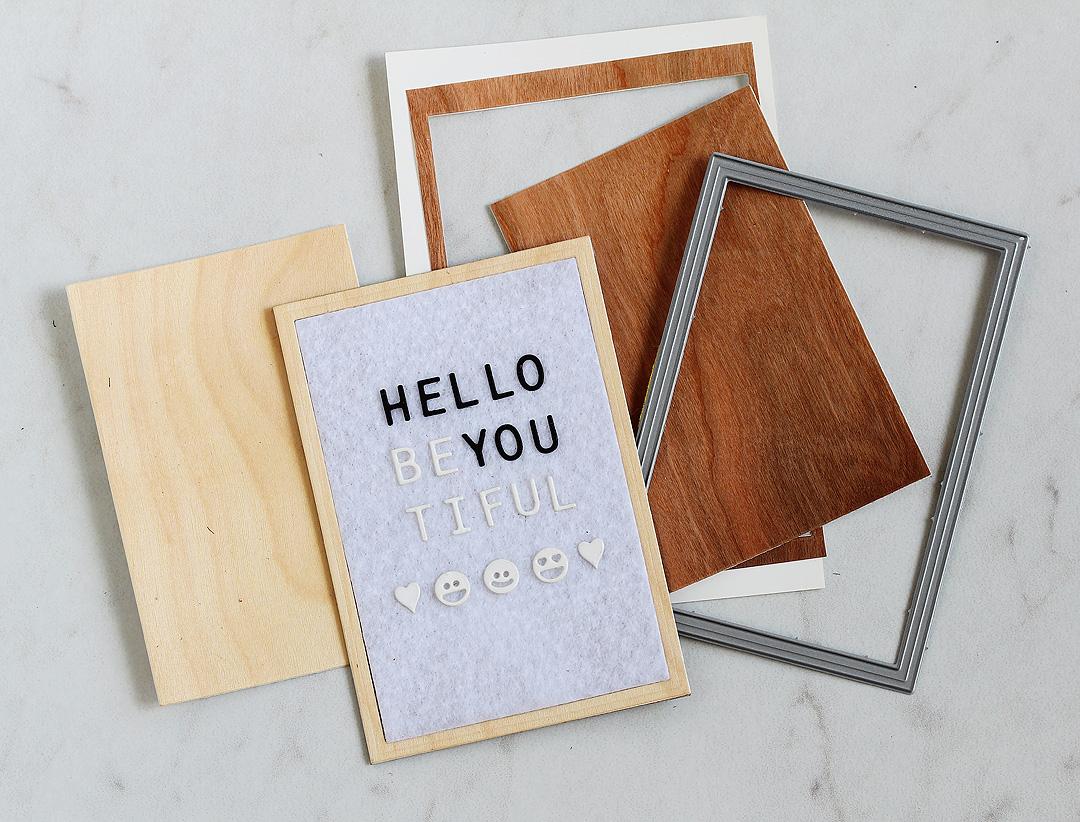 I have to say that the dies worked like a charm! They cut through the wood paper and felt like butter.
Then I adhered the felt and wood frame to a piece of chipboard with my trusty gluestick. Pro tip: I put gluestick all over the chipboard and then stuck on the wood frame followed by the felt. If you try to put gluestick on the felt you'll have a mondo mess lol! :)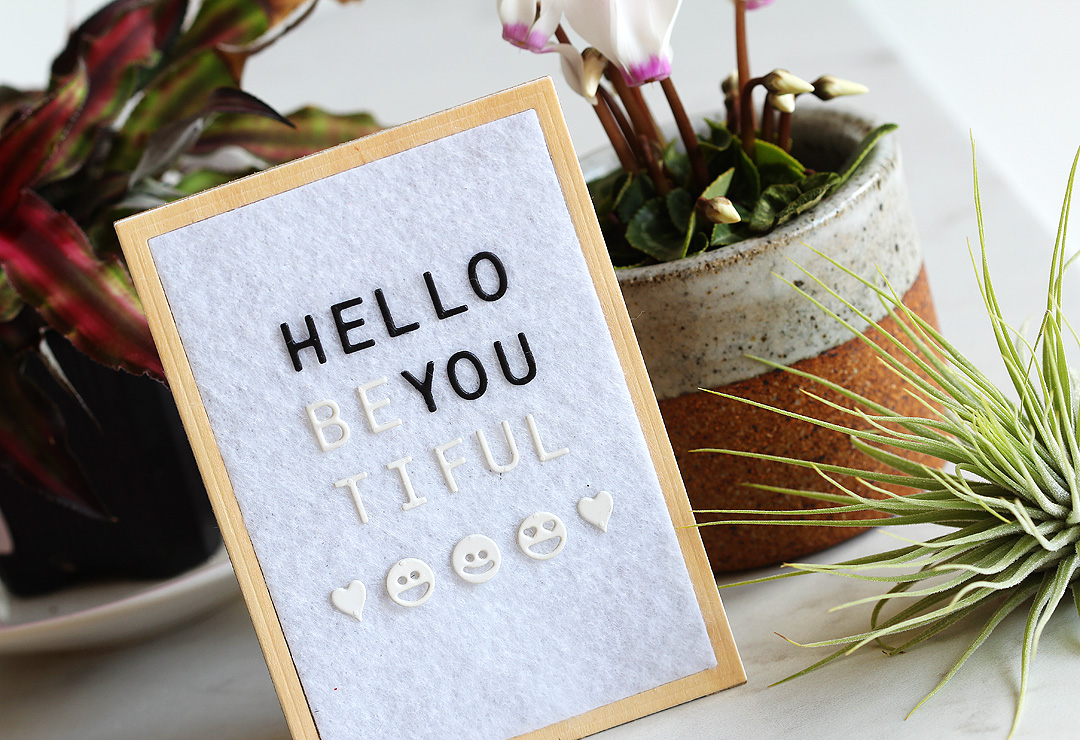 I put my piece under a heavy book for an hour or so just to make sure that everything was nice and secure, then used on point glue on the letters and emojis. This glue is just the best!
I have to say that I smile every time I walk by this, especially when I'm having one of those bad hair days. The older I get, the more I realize that we all gotta do some self-care now and then.
I have a bunch of ideas for this set rolling around in my brain, can't wait to make 'em!
Thanks for joining me! xoxo
Supplies
Note that these are my affiliate links, so if you make a purchase by clicking the link I'll receive a small commission at no charge to you — thank you so much!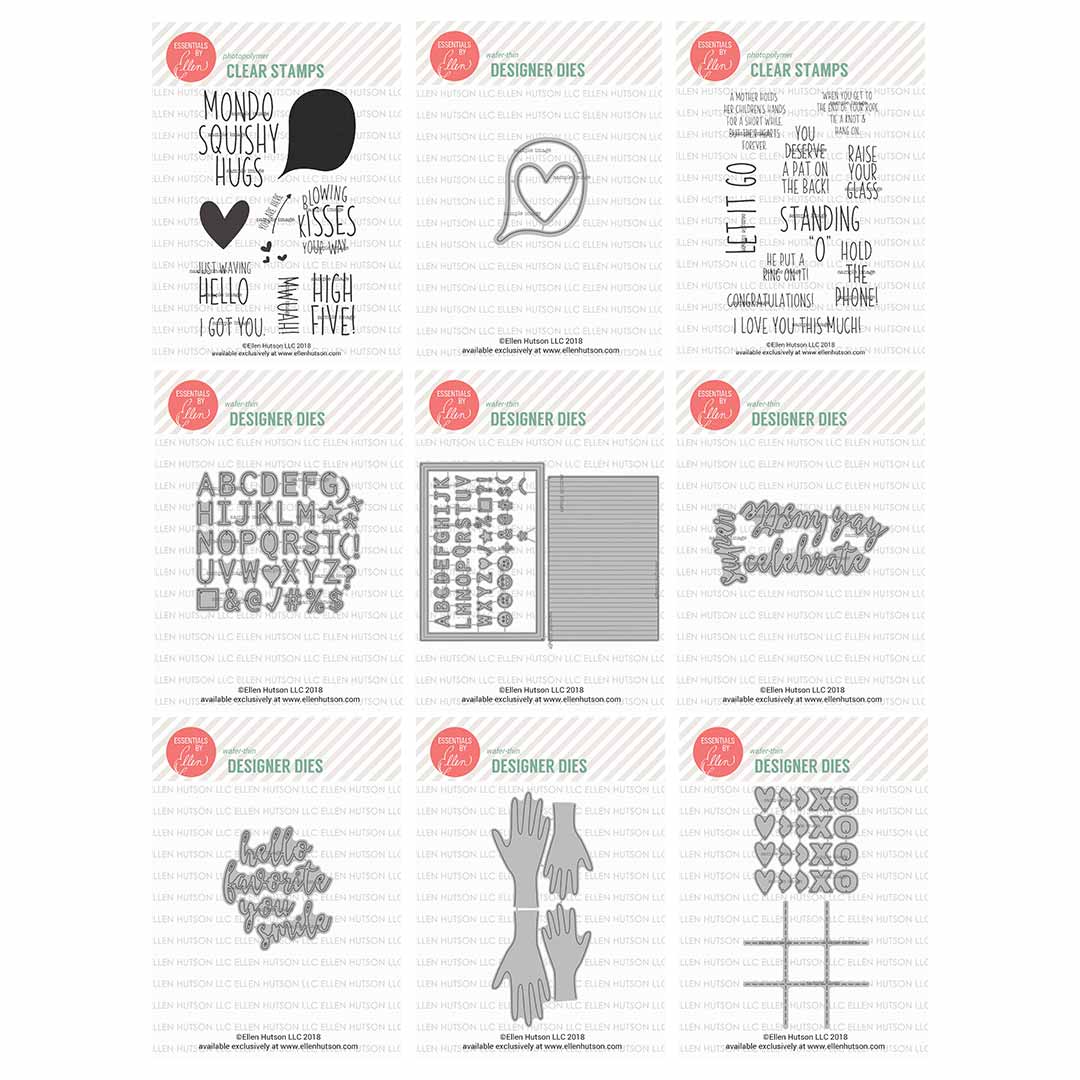 Here's the Letterboard die set that I used for this project: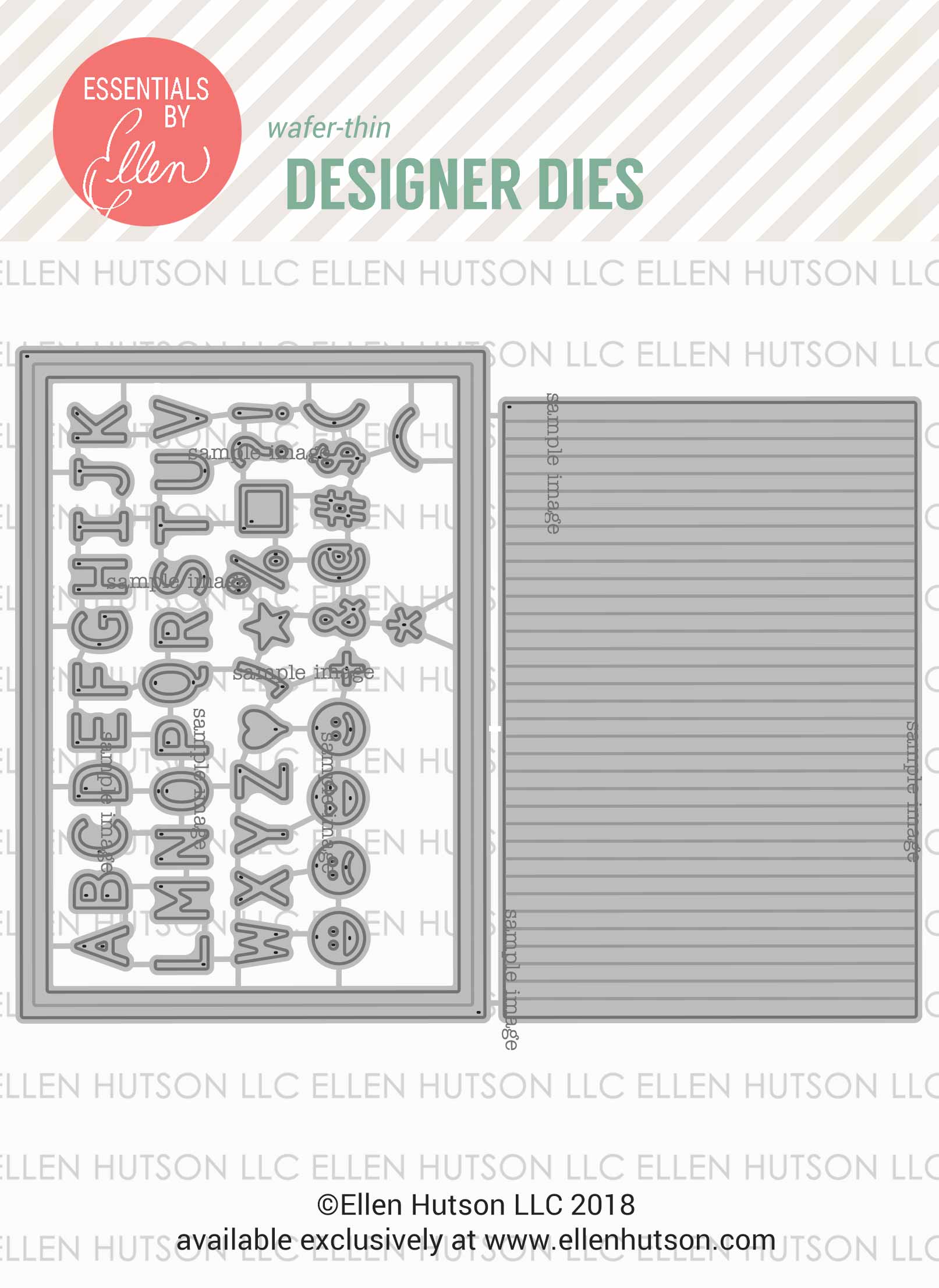 And here are some general supplies. Note that I've listed just a few felt colors, but you can browse the complete selection right HERE gotta get me some of that smokey marble for sure! :)
Cannot wait to make more of these!