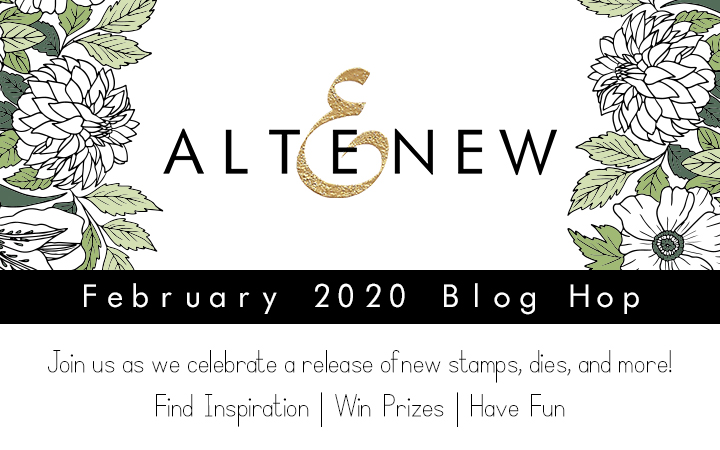 Hi there and welcome to my stop on the Altenew February release blog hop! I'm so glad you're here! I've got two cards to share with you today — so let's hop to it.
New Watercolors!
Feast your eyes on the new Altenew set of 24 watercolors!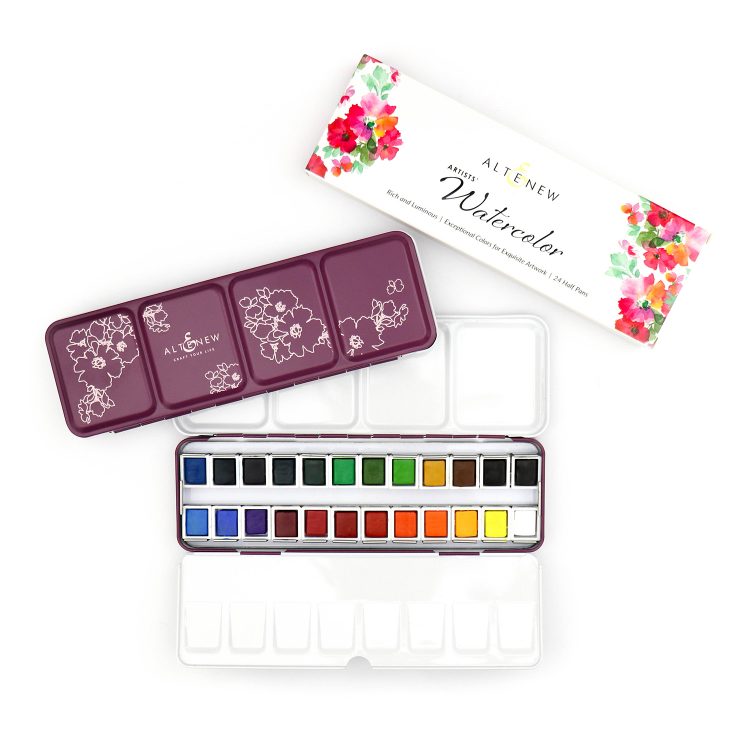 I had so much fun playing with this set you all — the colors are so vibrant! Here are some things of note:
The half pans come in a metal paint box with plenty of areas for mixing — yes!
Each pan is labeled with the name — perfect for a color nerd like me :)
There's room to stow a full size paintbrush between the pans — great for taking on-the-go!
These paints all have white pigment in them so they are semi-opaque — and creamy. Pro tip: I've found when using paints with white in them that it's best to heat emboss images that you stamp in black ink so they stay nice and crisp.
One last pro tip — I like to mist the whole paintbox with water when I first sit down to use it. By the time I've stamped my images the paints are all ready to go!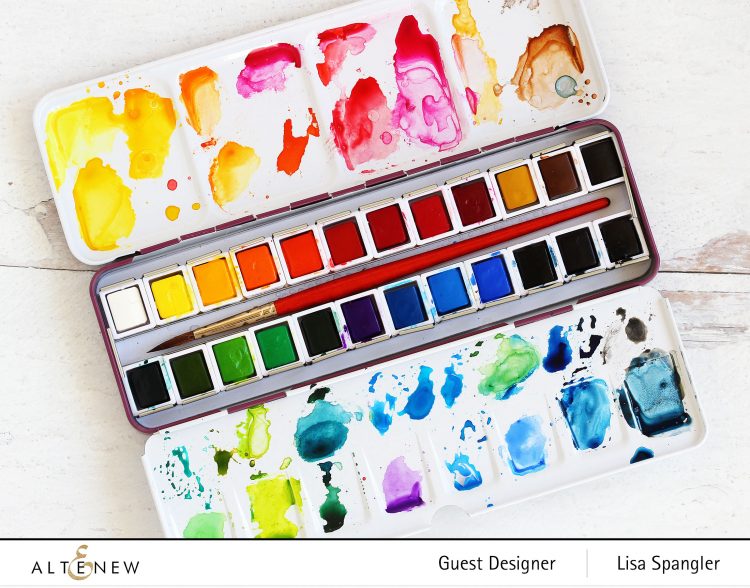 So first thing you'll want to do is unwrap each color — it kinda made me hungry as it made me think of candy!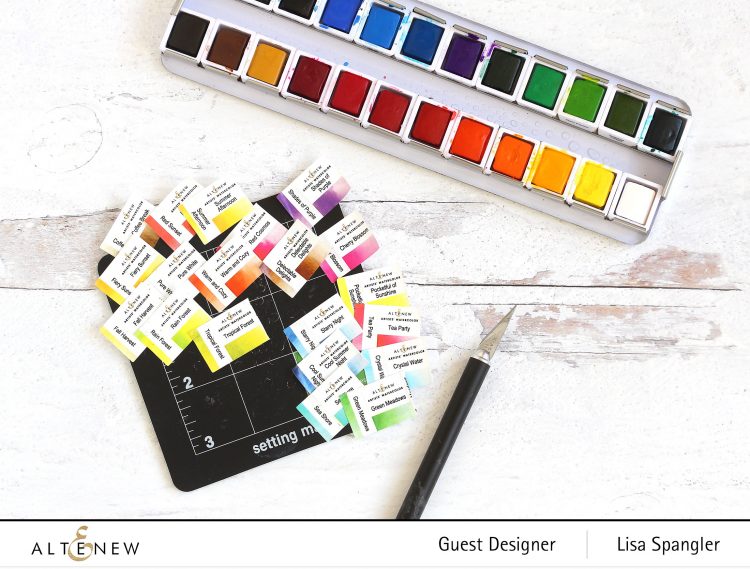 I used a craft knife to trim the labels off so that I could keep the pigment numbers on the side. The names of the colors are permanently printed right on the pan — nice. I'm a total color nerd and so I like to know the pigment numbers — more on that in another post.
After unwrapping those delicious colors I arranged them and then did some swatches. Look how pretty!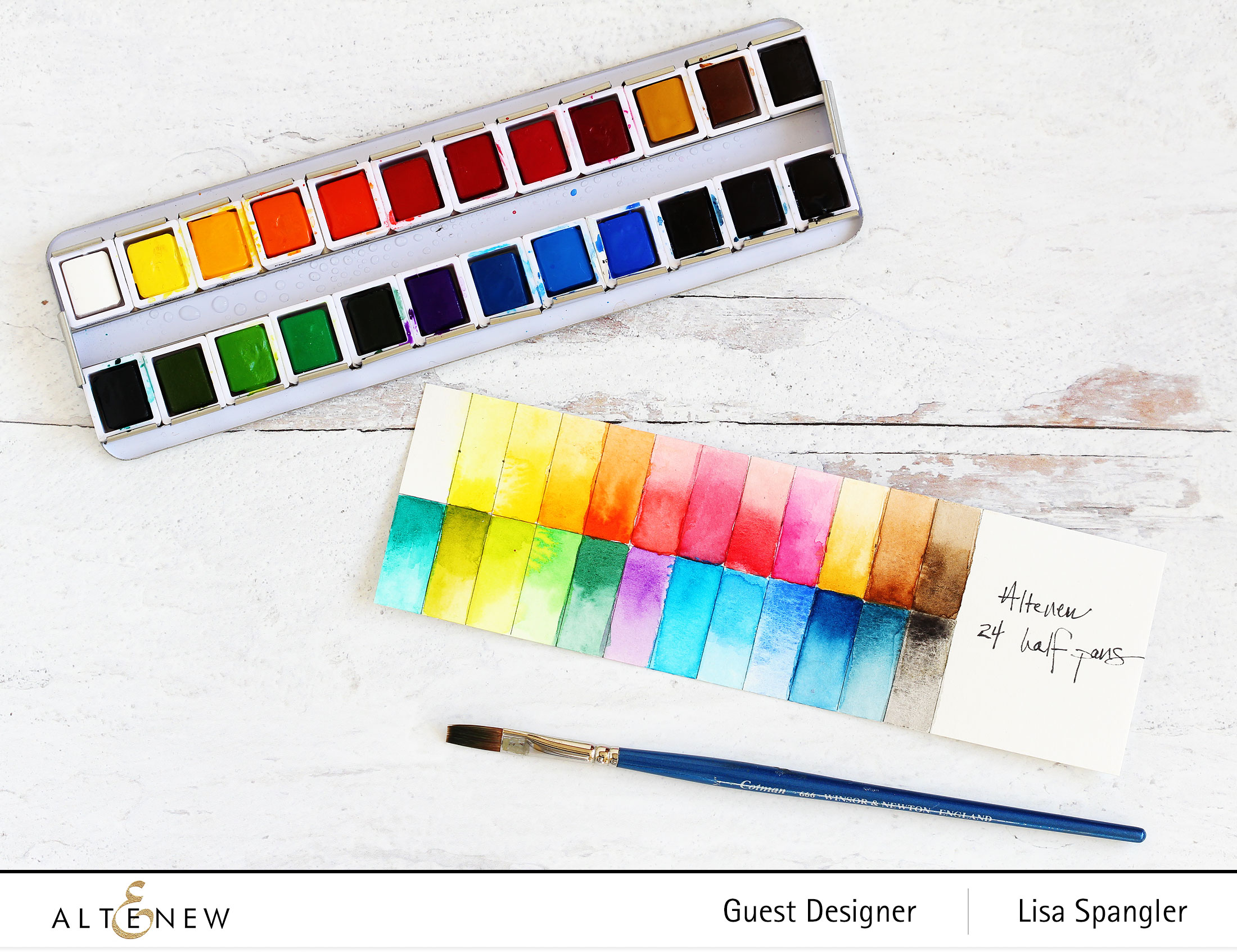 Now on to my cards!
I Miss You
This first card I made was totally inspired by the box that the watercolors come in! Are you ever inspired by packaging? I sure am!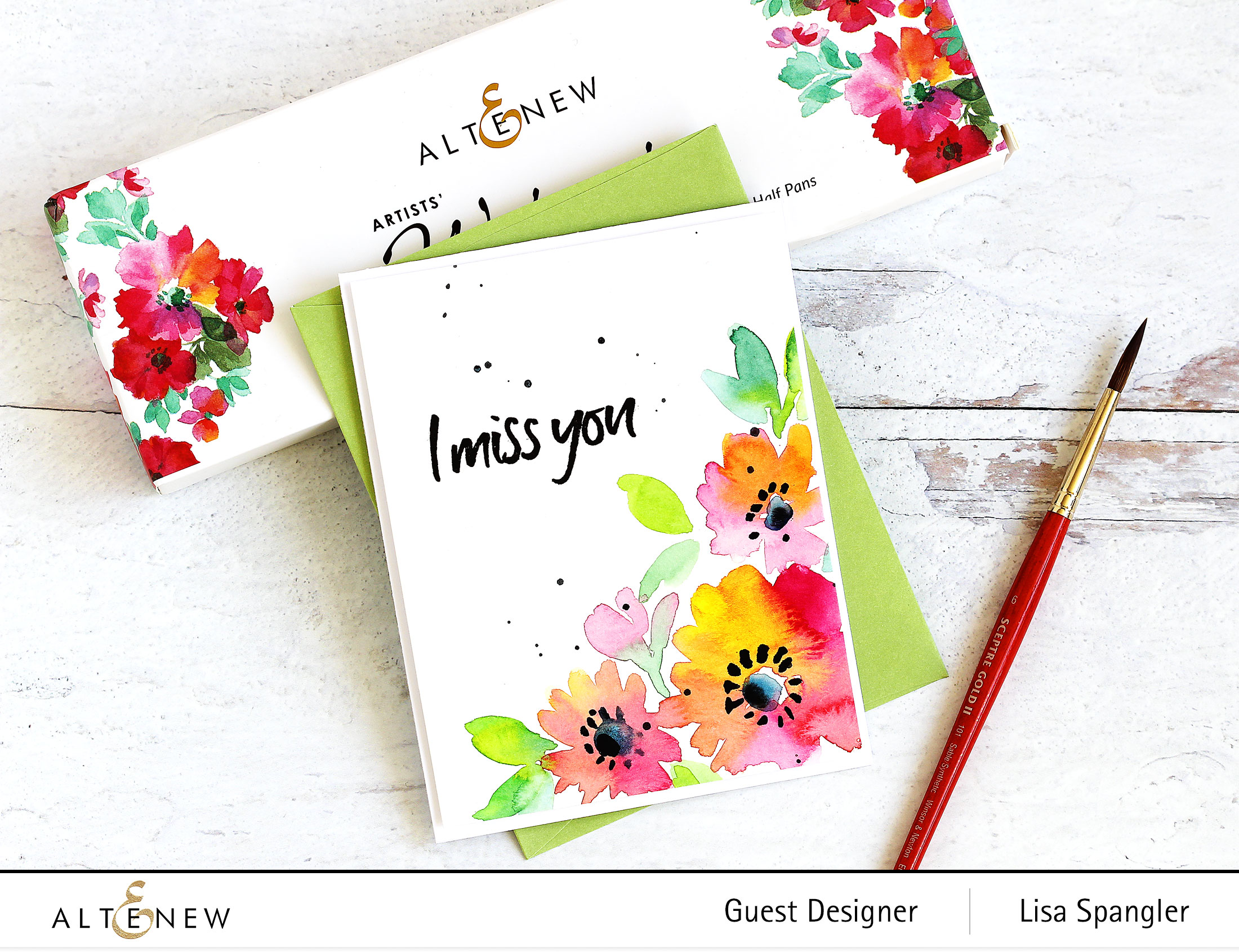 I just had to try and paint those flowers — love how these turned out!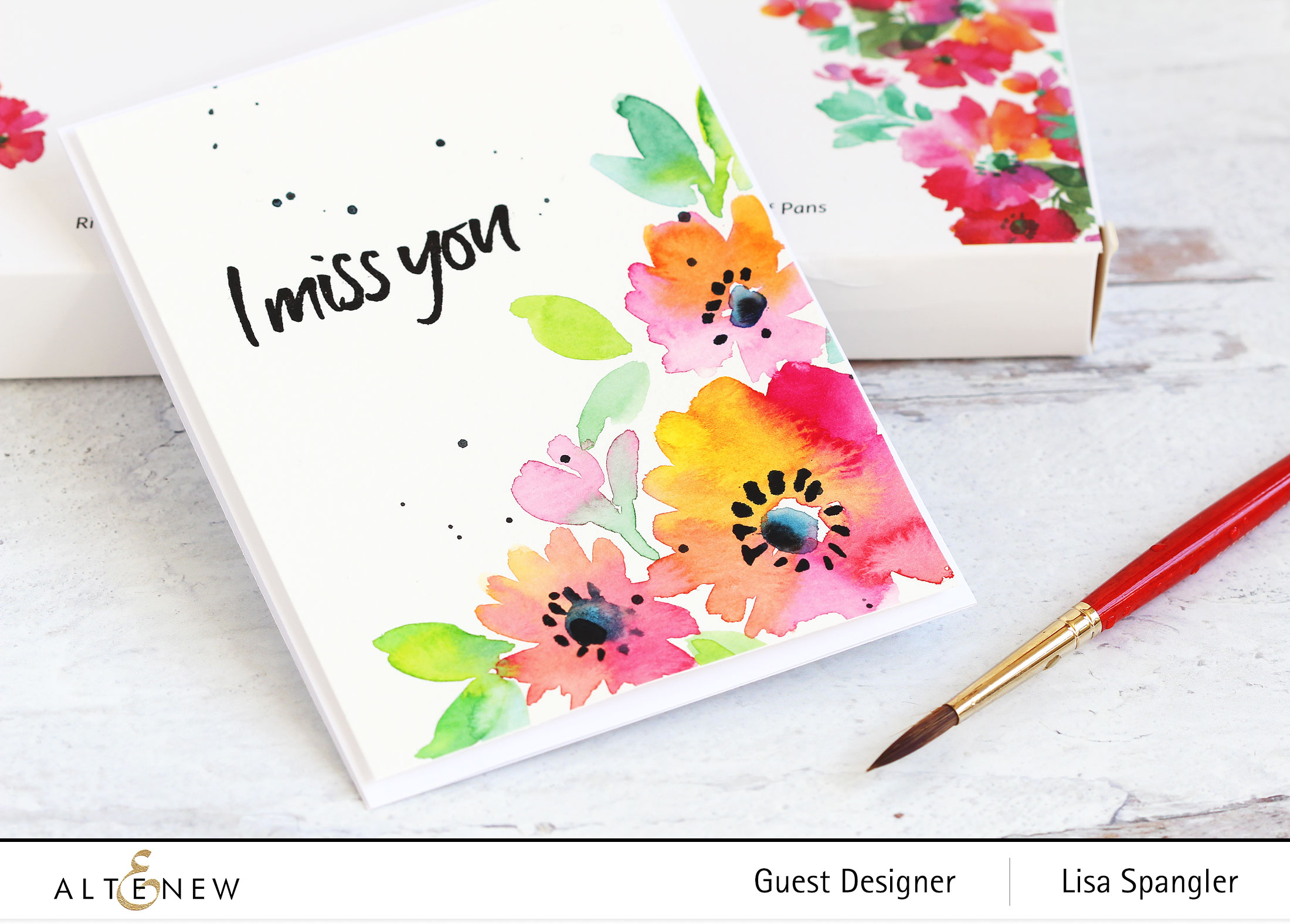 The "I miss you" sentiment is from the new Dotted Diamonds stamp set — more on that next…
A Note of Thanks
For this next card I really wanted to put all the colors through their paces, and the new Dotted Diamonds stamp set was perfect for this!
The dotted diamonds are big enough to cover a whole card and the set has some great sentiments too — although the one on this card comes from the new Warm Hugs set. :)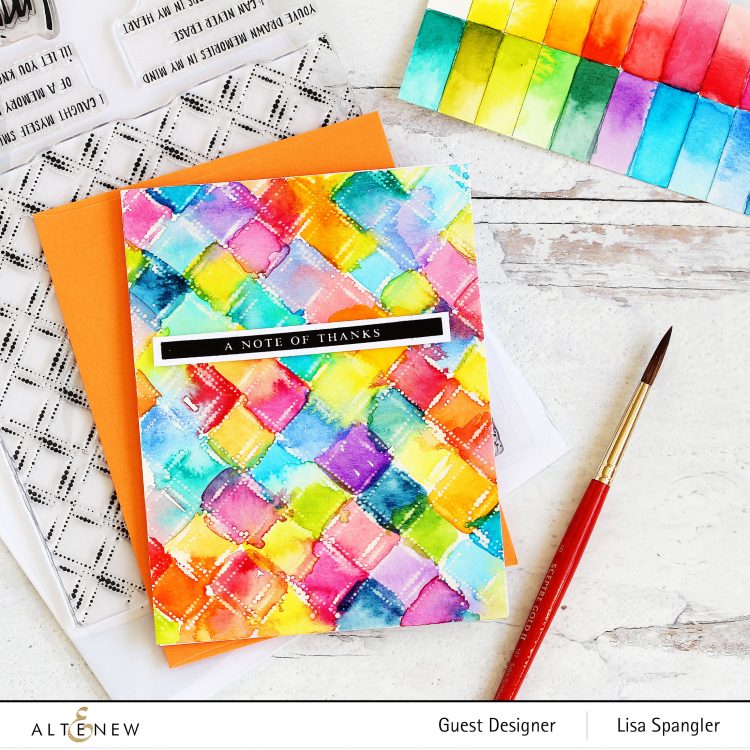 I just white heat embossed the Dotted Diamonds stamp on some watercolor paper, put on music and happily colored away! The big trick here is to try not to overthink things too much — just play and have fun!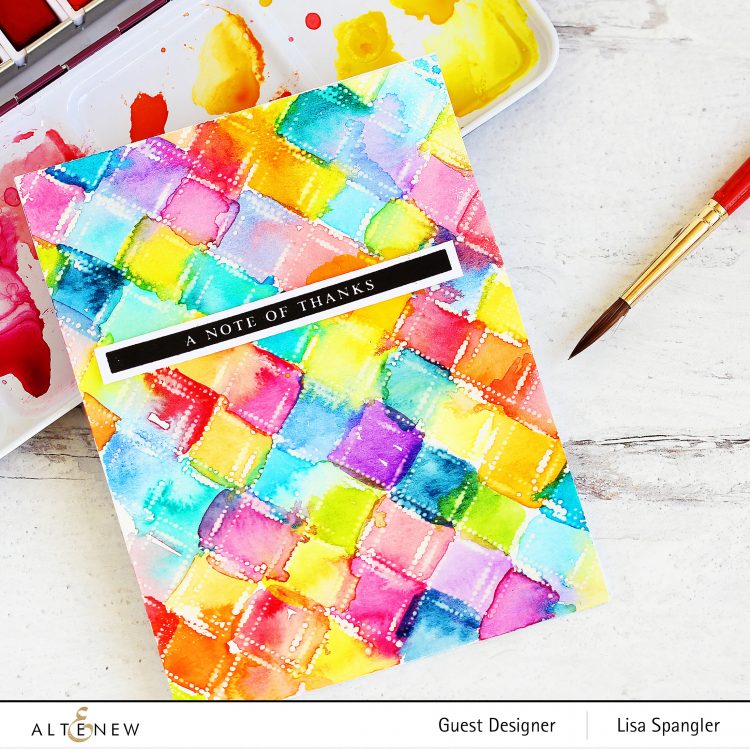 I love how the colors blend together on here! I thought about adding some sequins or something to this card but then I couldn't bear to cover anything up haha!
Giveaway!
To celebrate this release, Altenew is giving away a $50 gift certificate to 6 lucky winners! Please leave a comment on the Altenew Card Blog and/or Altenew Scrapbook Blog by 2/18/2020 for a chance to win.

We'll also draw a winner to receive a $20 gift certificate from the comments left on each designer's blog on the blog hop list below. All winners will be announced on the Altenew blogs on 2/21/2020. 
Hop On!
Your next stop on the hop is Mindy Eggen's blog — I can't wait to see what she's made!
Here's the full list in case you're just now joining us or encounter any broken links. I'm so honored to be among all these super talented humans.
Supplies
Note that these are my affiliate links so if you make a purchase by clicking the link below I'll receive a small commission at no charge to you — thank you!
Comments
I just wanted to let you know that I have moderation turned on to prevent spam, so if you don't see your comment right away that's why. I read each and every one — love hearing from you! xo