Hi there and welcome to my stop on the Ellen Hutson Summer of Stamping blog hop. I'm so glad you're here! This week we're releasing three awesome sets by Brandi that are prefect right now — and I couldn't resist making a card with each one.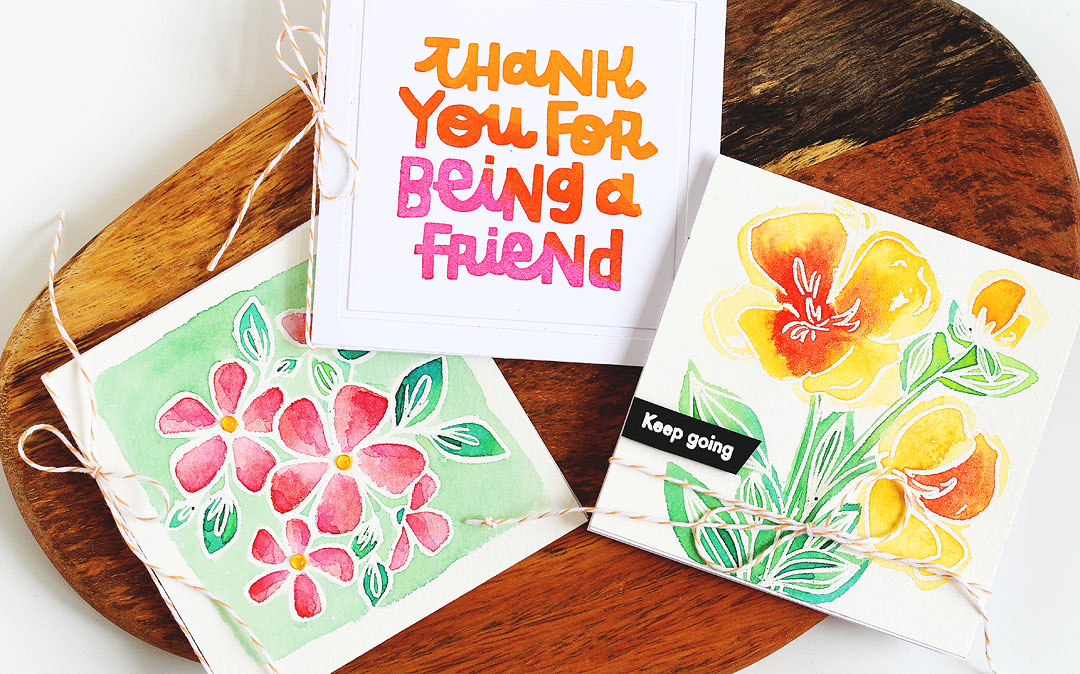 These are all on the clean and simple side, because well yeah, summer! Plus I wanted to send out a bunch of cards, because we all could use some right now. They all also happen to be square cards, because it's hip to be square, right? :)
Let me walk ya through 'em!
Thank You For Being a Friend
My first card for today uses the new Thank You For Being a Friend stamp — it's so fun you all! And why yes, the Golden Girls theme song HAS been going through my head for days now — gotta love Betty White! I just looked her up and she's 98! I can remember watching the show with my Grandma and both of us laughing so hard. Thinking of watching the show again…!
This card comes together super fast so you can make multiples and give them to all your friends! And I have a little secret to share: it only uses TWO colors of ink!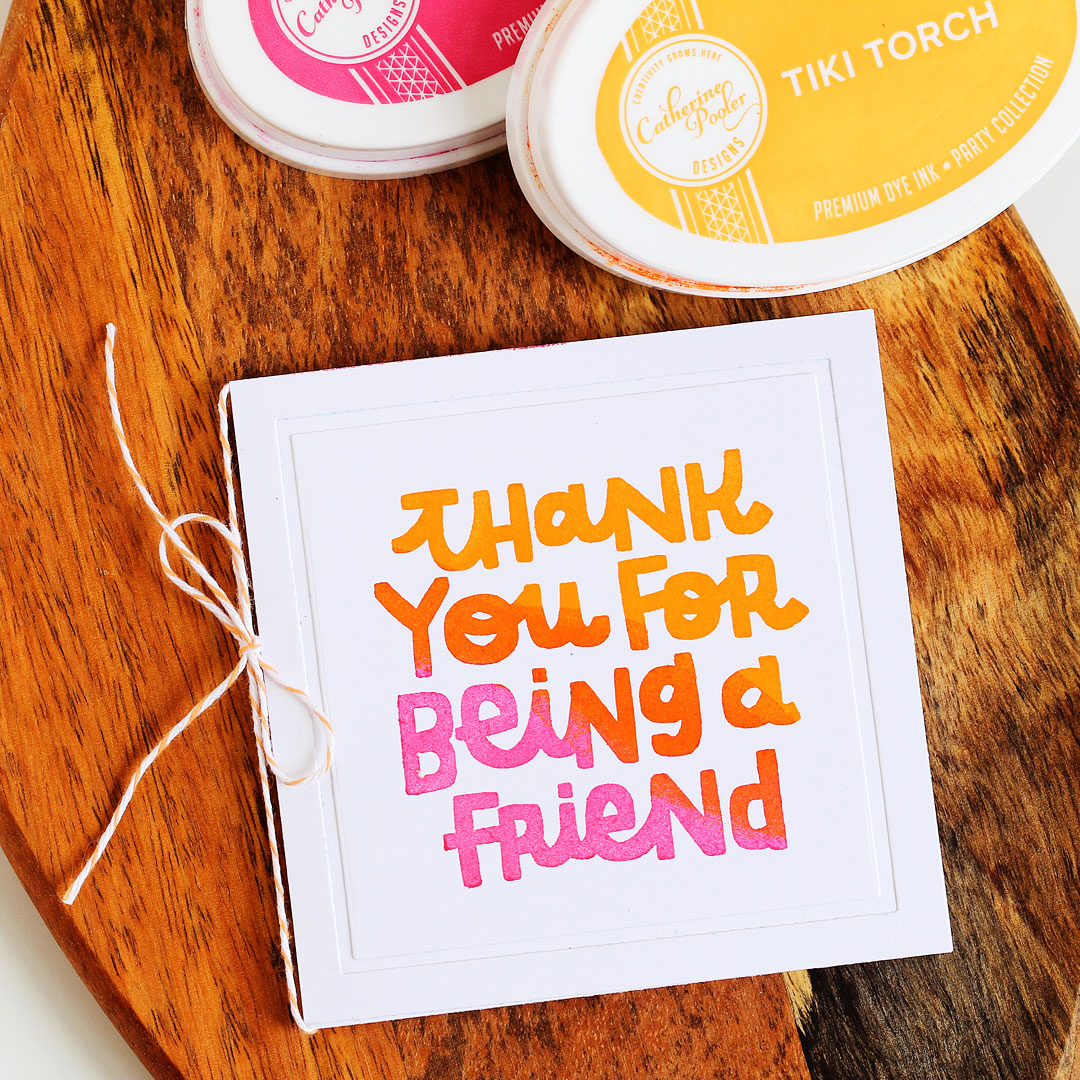 For this card I used tiki torch and party dress — that orange is where they overlap! I just put the stamp on my MISTI, inked it with tiki torch in one corner, stamped it, cleaned it and then inked in the opposite corner with party dress.
Here are some other colors I tried just to give ya some ideas!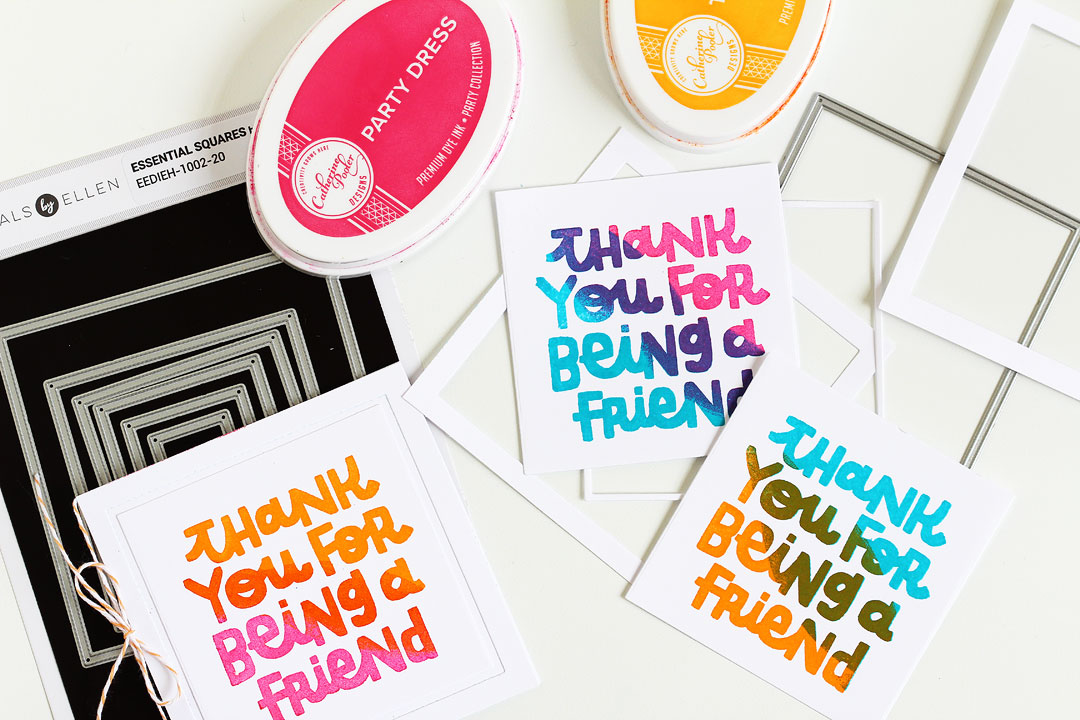 From left to right, that's tiki torch and party dress, fiesta blue and party dress, and tiki torch and fiesta blue!
I gave the card a little detailing by cutting out the sentiment with one of the squares from the Essential Squares die set — I've really been into how it makes that simple frame!
Now for the next card…
Mondo Pansy
The new Mondo Pansy set is so fun to color! Plus it has such good sentiments with it.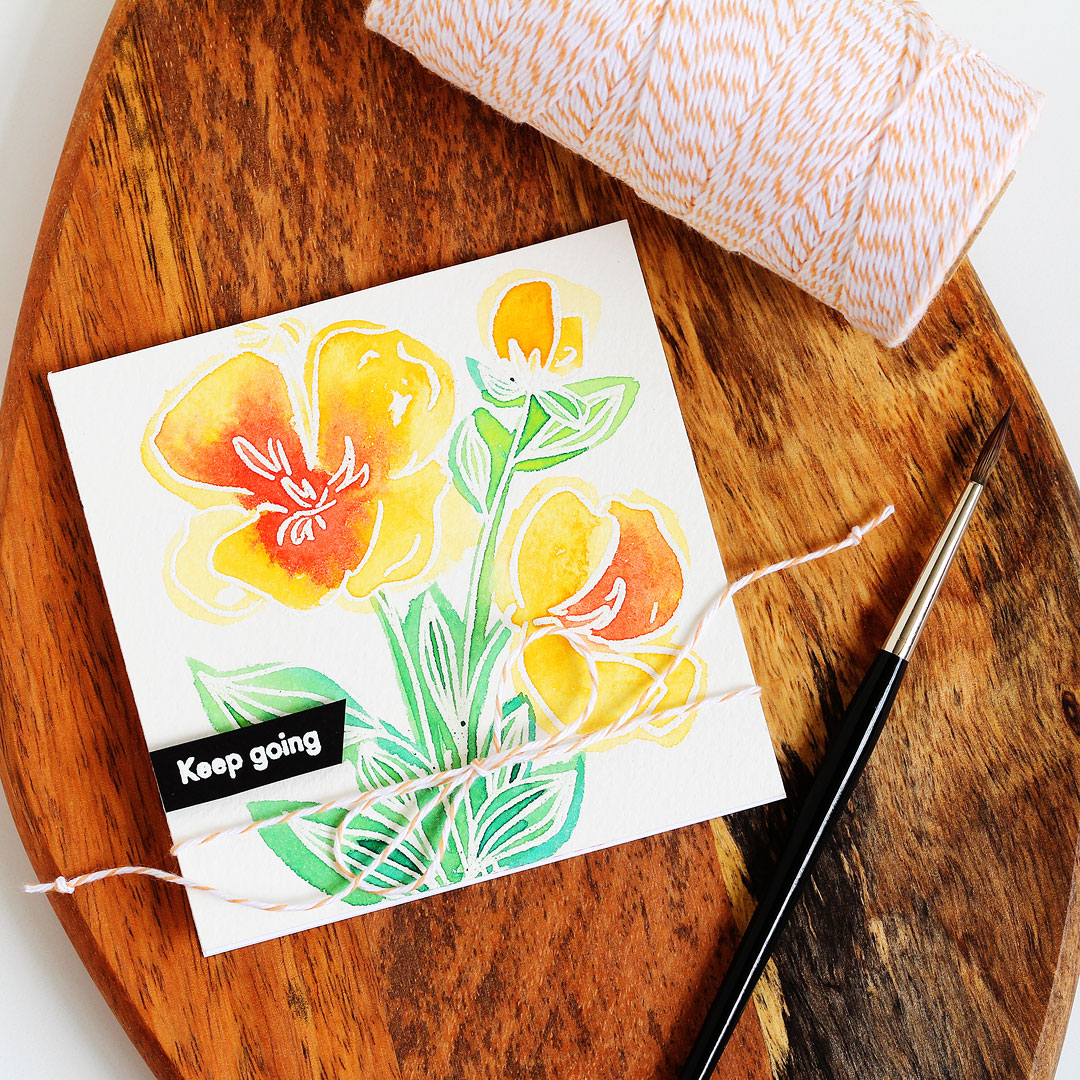 For the past few weeks I've been challenging myself to only use the 6 colors found in the Daniel Smith Essentials set and I feel like I've really upped my color mixing game!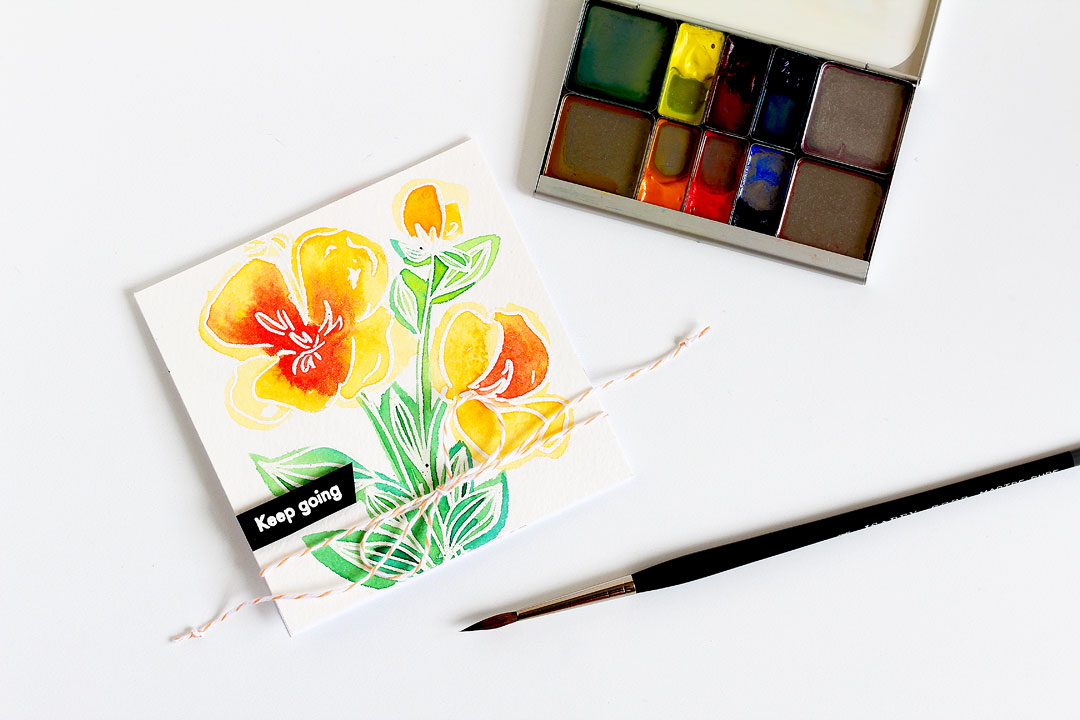 I have a quick video over on instagram showing how I colored this! These Mondo Pansies almost color themselves y'all!
Last but not least…
You Should Know
My last card today uses the You Should Know set — and you should know that it has so many good sentiments in it that I couldn't decide which one to put on my card — so I just left it blank for now :)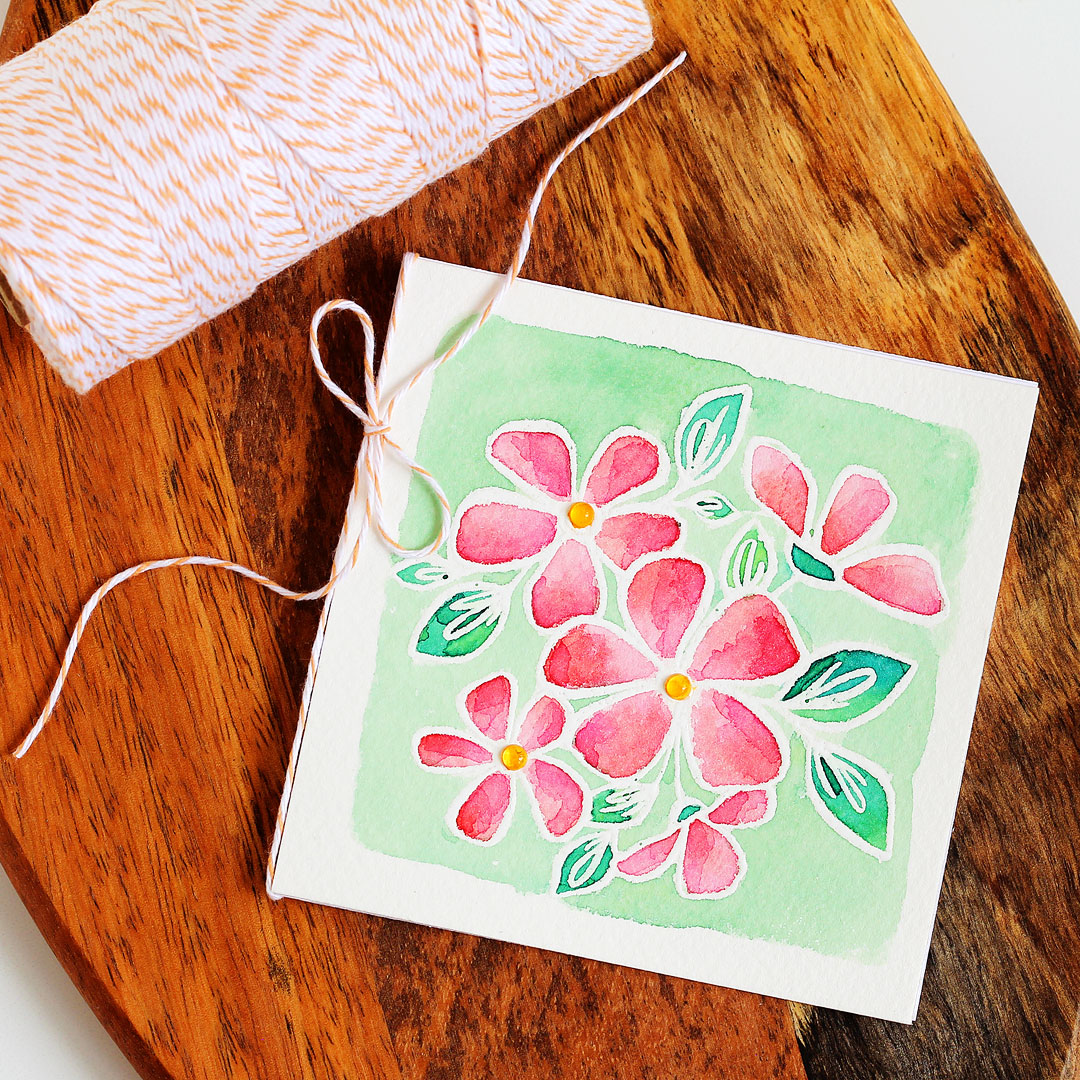 This is another card that's so much fun to color — I could just sit and color all day.
I used the Daniel Smith Essentials set on this one as well — it has such a good range of colors.
Giveaway!
We've got a super fun prize! One lucky random commenter will win $25 to the EH shop! To enter for a chance to win, make sure to leave comments at each stop along the hop! And don't forget to comment here too for a bonus entry. Comment before Saturday, July 18th at 11:59pm PDT. The winner will be notified by email.
Hop On!
Your next stop on the hop is Michele's blog — just wait 'til ya see what she's made! Here's the full list:
Supplies
Note that these are my affiliate links so if you make a purchase by clicking the link below I'll receive a small commission at no charge to you — thank you!
Find a combo with Brandi's full release HERE! This includes all 3 of her new stamps. You can find them individually below, too!
Thanks so much for joining me! And remember, just keep going. xoxo