Hi there and welcome to my stop on the Ellen Hutson Holiday release blog hop! I'm so glad you're here!
This is such a great release y'all! I love every single thing! So grab yourself a cup of hot cocoa and settle in because I have so much to share!
>>> Find the whole release right HERE! So many good things! <<<
In today's post I'll be mostly working with the Gingerbread Plushies Kit, plus a few other new release items that go with FELT! Check out this super sweet kit:
Now, on to the projects!
No Peeking/Creep It Real Door Hanger
The first thing that popped into my mind when I saw the Gingerbread Plushies Kit was to make a door hanger! Oh yes! One side is for Halloween with the Skellie add-on and the other for Christmas, complete with a No Peeking sign and BELLS for when you're wrappin' pressies and don't want anyone sneakin' up on ya!
These are SEW easy to put together y'all! I'm not very patient when it comes to sewing and I had no problems at all. I just added a loop at the top and hey presto — a door hanger!
Pro tip: I used plastic bags from the grocery store to stuff the plushies! Yay for recycling!
Then I made some signage on separate hangers so I could easily switch things up. Here's the Christmas one:
This uses some Lawn Fawn Let it Shine striped paper — can't stop using this paper, you'll see it on more projects from me this season for sure! It's a classic! I die cut the letters with my trusty EBE Classic Block Alpha.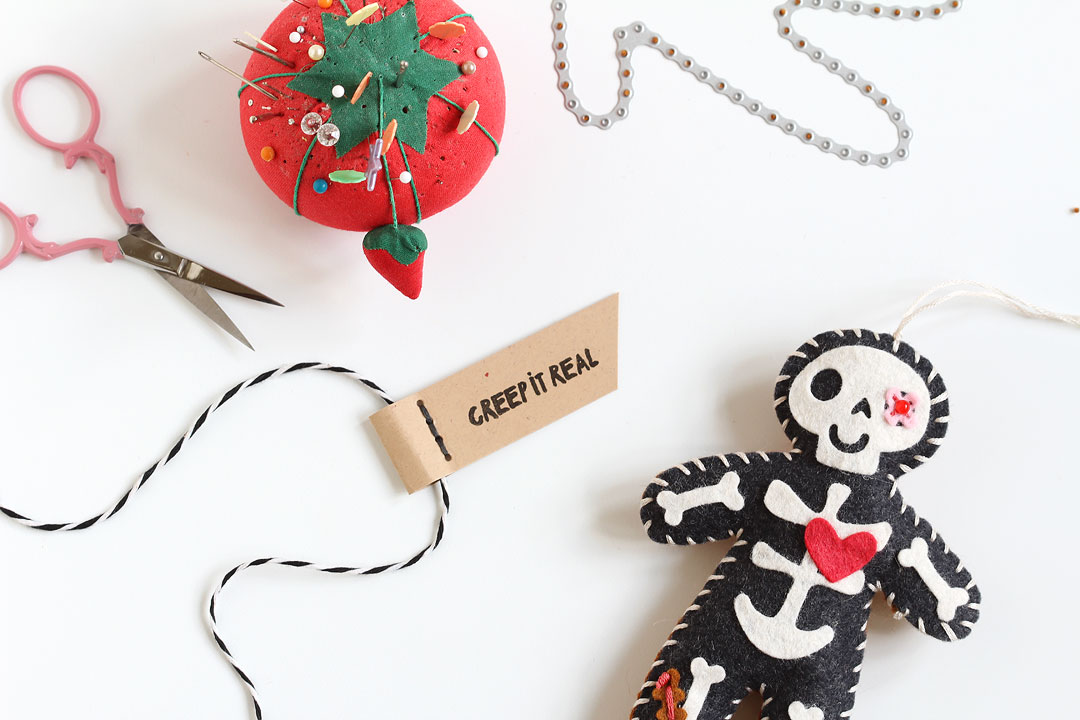 And here's the Halloween one! This one uses the "creep it real" sentiment from the EBE Pumpkin to Talk About set.
Pro tip: use the long leg of the gingerbread die to cut stitching holes in cardstock! Works like a charm.
A Coupla Deer
Once I had that lovely felt out I couldn't stop playing with it! This time I used the new Deer Couple with the Knockout Forest as a background and sentiments from Love & Light — such a great new set.
Pro tip: coat a piece of cardstock with PVC glue — Elmer's works fine — and adhere your felt to it. Let it dry and then die cut your deer. This makes their little legs and antlers super sturdy!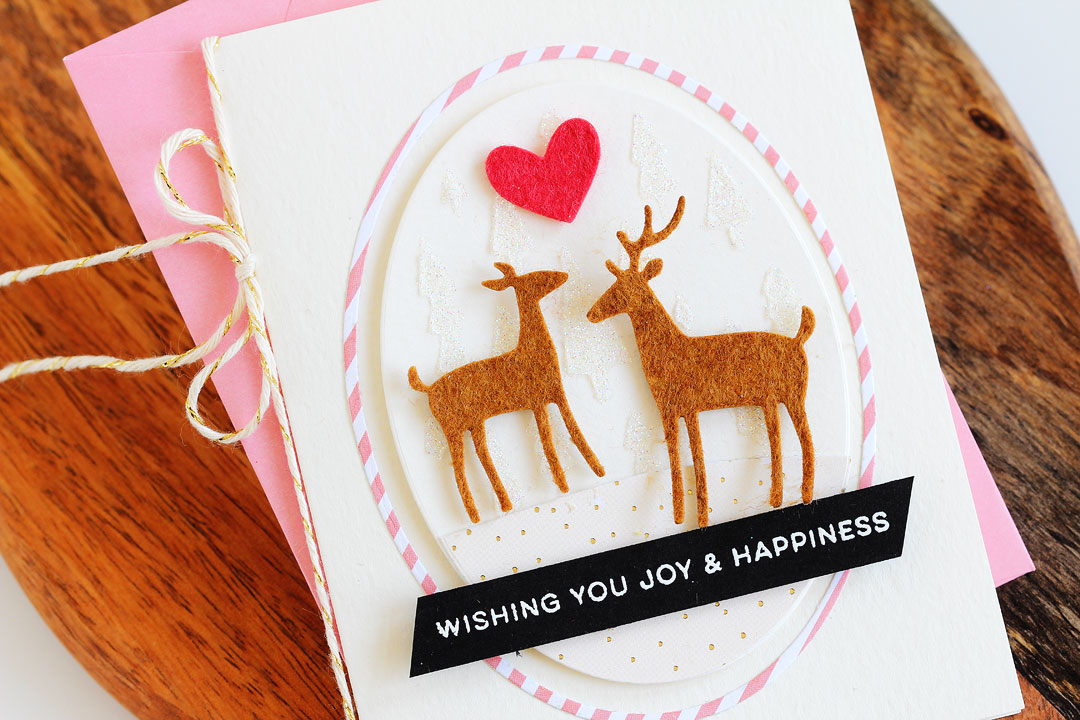 Sharp-eyed readers my notice that the heart up there is from the Skellie add-on! I love getting more from my supplies like that! And there's that Lawn Fawn Let it Shine paper again :)
The EBE Landscapes dies are perfect for cutting snowy scenes from felt and cardstock.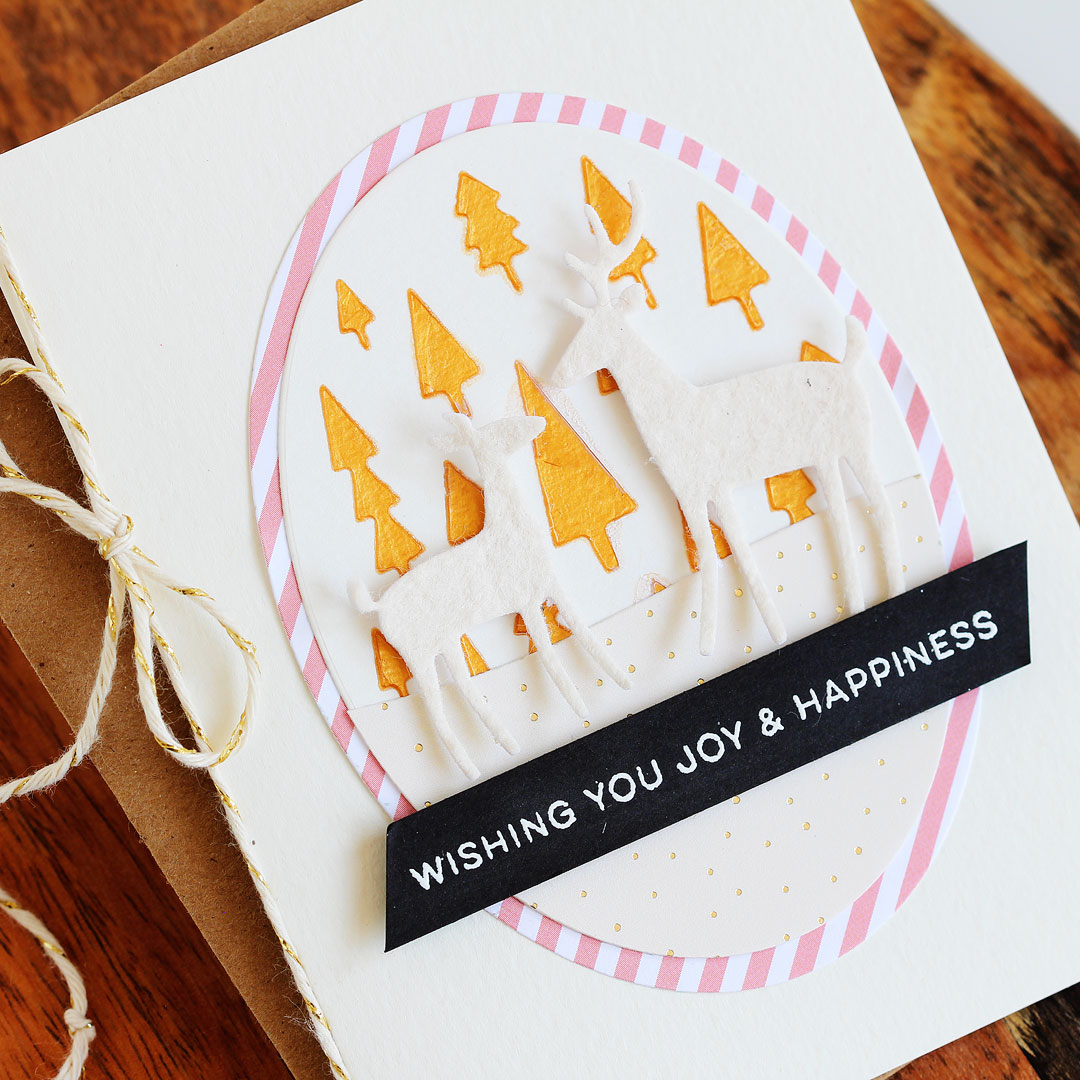 One last pro-tip for ya: die cut the Knockout Forest from cardstock and use it as a stencil! Here I used it with translucent embossing paste and sprinkled it with glitter, and again with gold embossing paste. So pretty.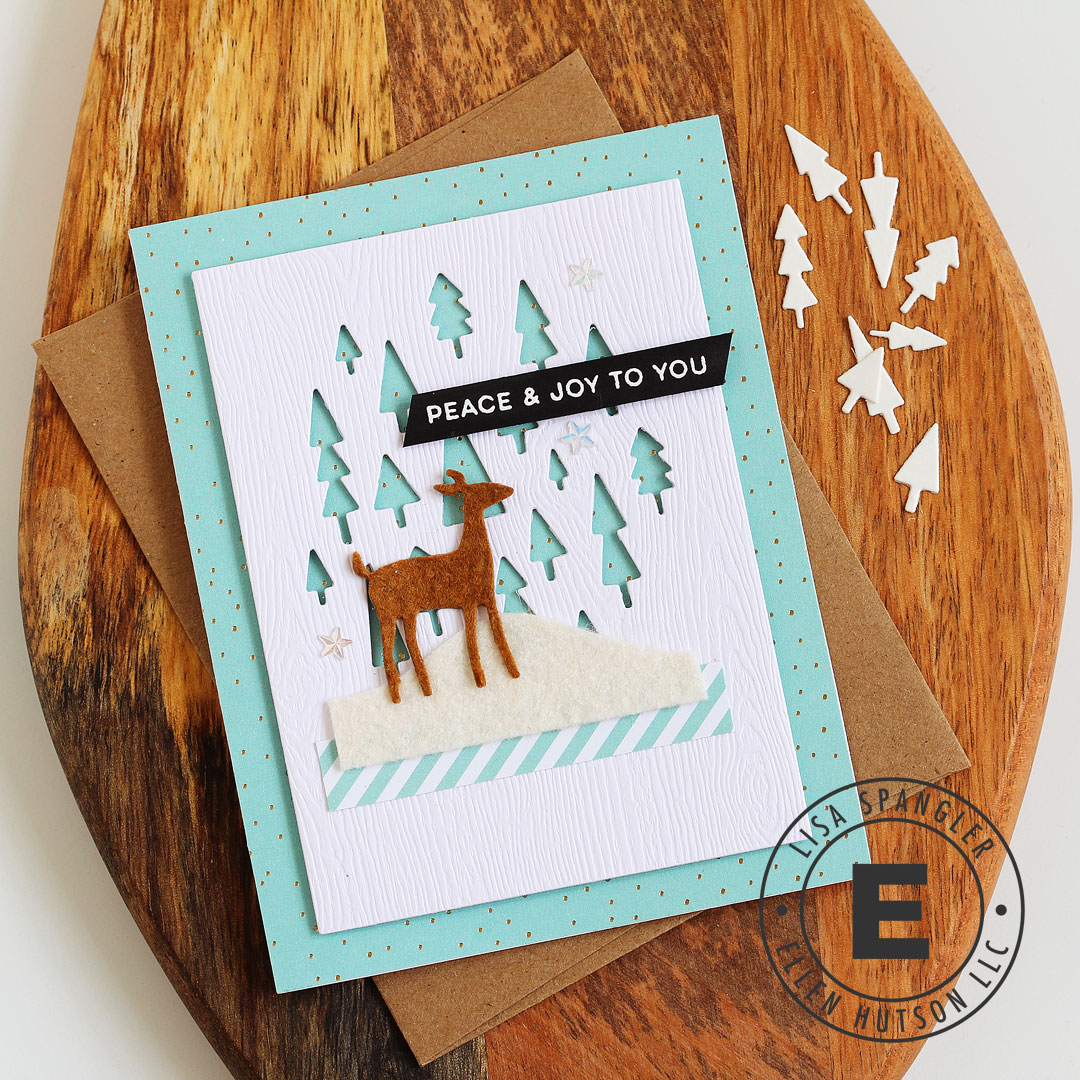 The Knockout Forest looks lovely cut from woodgrain cardstock — I think this would be a great card to mass-produce. I saved those trees up there for another card I'll be sharing soon — so stay tuned! In the meantime we have…
Prizes!
Prizes, prizes, we've got the prizes! One lucky commenter will win the whole Essentials by Ellen holiday release! And another will receive $25 to spend at ellenhutson.com! For a chance to win, all ya' gotta' do is hop along, enjoy the fabulous eye candy, and leave a little love for your fellow crafters: increase your chances by commenting on each stop on the hop! Comments left before 11:59 PDT on October 14 will be entered to win. (Winners are selected randomly.)
Hop On
Your next stop on the hop is Michele's blog — just wait 'til you see what she's made!
Find the full hop list on the Ellen Hutson blog.
Supplies
Note that these are my affiliate links so if you make a purchase by clicking the link below I'll receive a small commission at no charge to you — thank you!
>>> Shop the whole release right HERE! <<<
And here are some older products that you might wanna pick up as well:
Thanks so much for joining me! xo