Hey! Hi! Hello there! I've got big news to share: the Ellen Hutson June release is LIVE in the shop! YAY!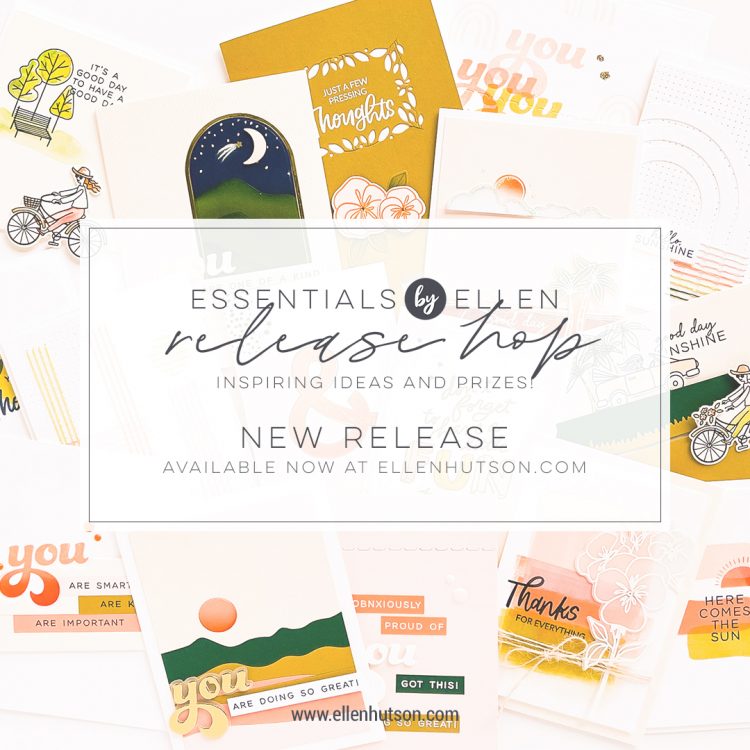 To celebrate, we're having a hop over on Instagram filled with inspiration and PRIZES! Oh yes! Up for grabs are $25 gift certificates to EllenHutson.com! To enter, head on over HERE to Instagram and join the fun.
I made so many cards for this release — so far — I've got more ideas running around in my brain as I type this! So I just had to write up a blog post and give ya all the little details! Yep, had to be done!
Here they are, starting with the cards I'm sharing in the hop! Click on a photo to see it at full size! :)
Pressing Thoughts + A2 Piercing Plate
Our very own Ellen designed the A2 Piercing Plate die and I love it to pieces! She put together a stitching guide, too — find it HERE. She really is one amazing human and I'm so glad to know her!
I just couldn't stop playing with it plus the Pressing Thoughts stamp set by sweet Brandi — they go perfectly together!
This first card is meant to have a Victorian stitching sampler feel. I can just imagine a lady in her dress going out to the garden and pressing that flower.
Here are a few notes for this card:
I white heat embossed the flowers on watercolor paper, colored them, and then took a deep breath and crumpled the paper up to give it an organic feel. Some of the embossing fell off but I think that just adds to the charm!
Then I popped 'em up on foam tape and watercolored the shadows to give it added dimension.
Pro tip for the stitched background: Stamp the sentiment first and then run the die through the machine. This way you'll get nice clean lines. (First time I tried it I did it the other way 'round — lesson learned!) I used watercolor paper again so that it would be nice and sturdy — plus this way it has that off white color — somehow it really reminds me of cross stitch fabric!
For the stitches, I just played around with various that I remembered from my cross stitch days. I used some random bits of floss that I had in my stash, but Ellen has some great bundles of floss in the shop if ya need some! (Love me the rainbow and color pop bundles!)
I added a clear droplet to the flower centers for that added lil something!
My favorite part was stitching around the stem of the flower and then tying a bow! Ta dah!
These next two cards I kept more on the clean and simple side: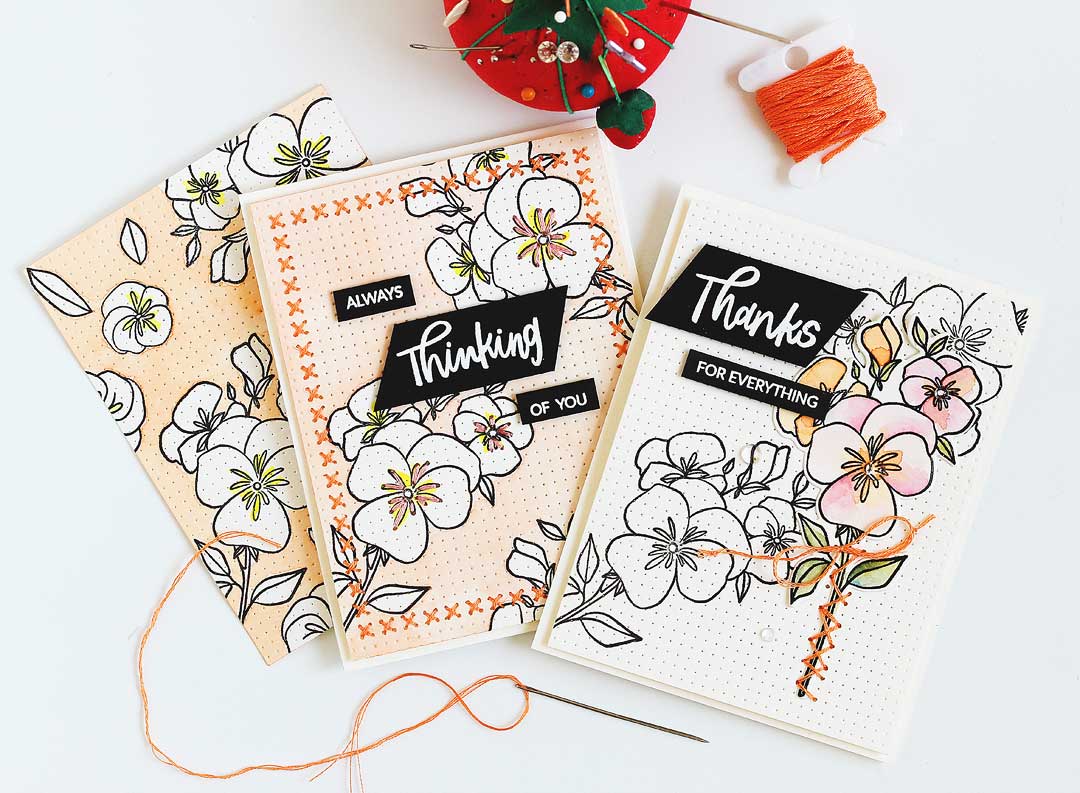 A few quick tips for these:
I worked on watercolor paper again and watercolored that peachy background using a mix of quinacridone rose, pyrrol scarlet and new gamboge, all from the Daniel Smith Essentials set.
As noted in my first card, do your stamping before running the A2 Piercing Plate through your machine :)
Click on the left photo to see the little stitches in the flower centers — I think it adds the perfect little touch!
Good Day + Organic Elements
I made this next card for a friend who lives in Palm Springs — those palms in Good Day totally reminded me of her! I'm the one riding the bike! :)
I had so much fun here and I have to say I don't think I ever combined outlined images with solid background images quite like this before! Love the look this gives! Here's a few tips:
I stamped the background with Catherine pooler inks in bellini, it's a girl, and lemongrass, overlapping images to get that neat effect. Oh that bellini! Can't stop using it! Click the middle photo to see this stage.
I used a water brush to color these — something outta my normal mode of operation — and I have to say I love how it turned out!
All of the watercolors are from the DS Essentials set, except for the jeans — those were done in indanthrone blue — more on that color later :)
A few sequins to finished off the card.
All About You + Shadowbox
I made this card for my nephew — he just finished his freshman year of high school with honors! (How is that even possible?!? Seems like he was just a baby!)
Here's a few tips for this one:
I like to keep masculine cards on the clean and simple side, but with little touches of something fun — and the All About You set really hit the spot!
I used navy cardstock for a bit of a retro vibe here — looks cooler than black!
The striped element is from the Shadowbox die — I just ran it through the machine on watercolor paper and then slide it along the grove to extend it.
Then I watercolored away, once again using the DS Essentials set plus indanthrone blue!
The "you" in the All About You dies was cut from gold glitter paper — gold foil paper would work too!
I plan to put some of that gold confetti in the inside of the card — but not the tiny gold stars as my sister would kill me lol! — we have a running joke where I put confetti in and he tries to open the card without any falling out! HA!
Organic Elements + Essential Arches
Can I just say how much I loved shaped cards? And the Essential Arches make it super easy — just hang the die off the edge and run it through the machine and ta dah!
I went to town stamping the Organic Elements all over my base card — and I just couldn't stop playing! Check it: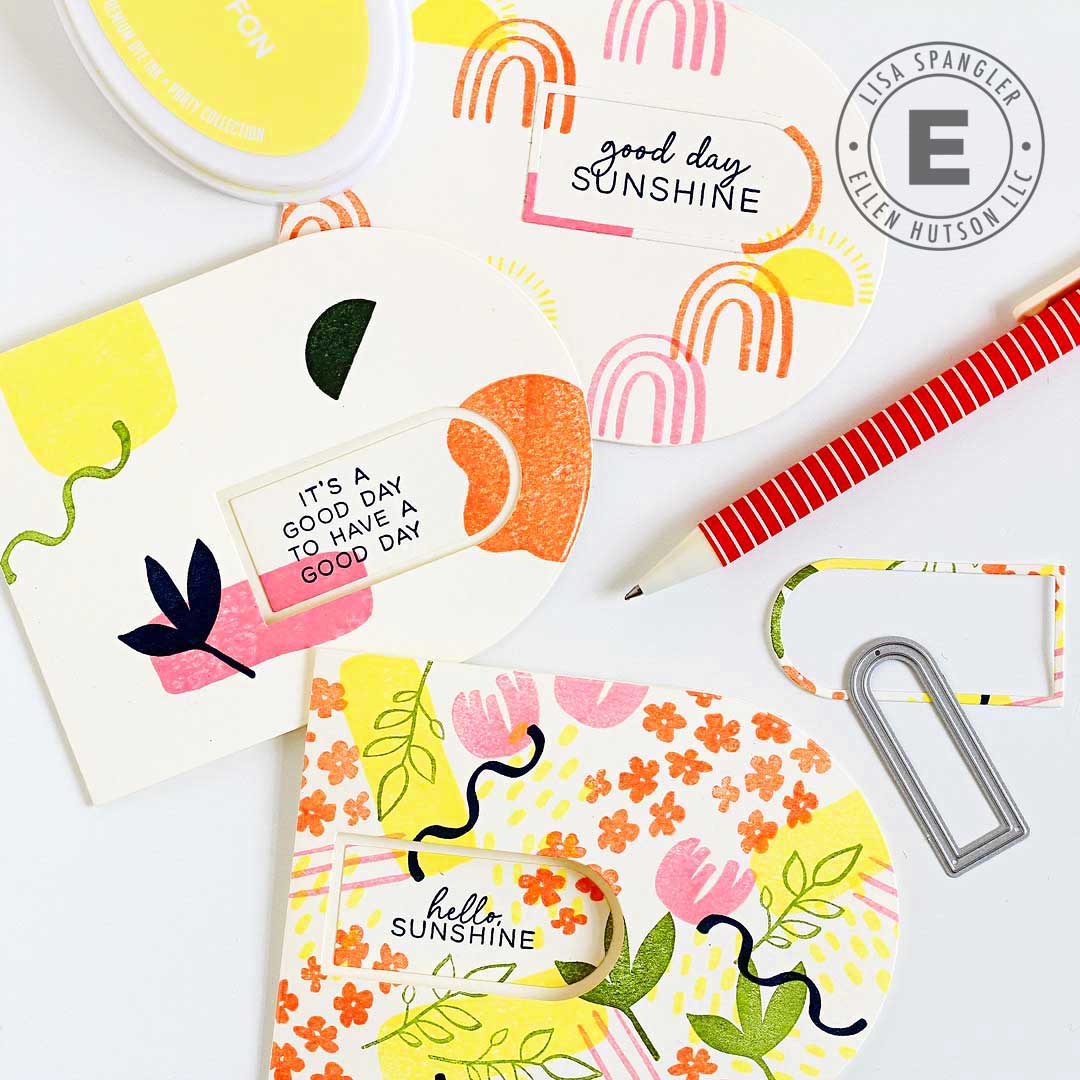 These cards were done on textured paper and I feel like it really gives a luxe feeling to the stamping and that organic feel!
I used the arches again to make a matching shaped window on the card for the sentiment — just love how these turned out. Pro tip: stamp your sentiment first to get the best placement.
Find a full writeup of these cards HERE on the Ellen Hutson blog!
Abstract Mountain + Abstract Sunset
Next up, the Abstract Sunset (or is it a sunrise?!) and Abstract Mountain dies!
First up, Abstract Mountain!
I'll have a little video of how I watercolored these coming soon, so stay tuned. I used my trusty DS Essentials set once again, plus indanthrone blue. Oh that blue — there's nothing like it!
Pro tip: whenever I'm working with teeny tiny sequins like those stars I gotta have this jewel picker tool and this glue! Otherwise I'd lose my mind lol!
I couldn't resist adding a little stitching to the sun on the Abstract Sunset!
That's it for the cards — for now! I have more in the works!
Supplies
Note that these are my affiliate links so if you make a purchase by clicking the link below I'll receive a small commission at no charge to you — thank you!
>> Shop the full June Release right HERE! <<
Here's the supplies all listed out for ya, too!
New Hotness
Old Faves
Thanks so much for joining me, and don't forget to head over to Instagram to see what the rest of the team has been up to — and enter to win some sweet prizes!
Hope you have a great weekend! xoxo — Lisa