I've been the recipient of a bunch of cards lately. Words fail to describe how much it meant to know that someone cared enough to make a card and mail it to me. It was like getting a big huge hug, all across the miles. They really brightened my day!
Then I found a box of cards that my Grandma saved. Still can't believe that she saved all the cards I ever made her. I found out that my Dad, sister, and J have all saved all the cards I've made them, too. Wow.
Cards aren't just paper — they're a smile in an envelope! :)
Then I got to thinking some more about how there are all these cardmaking challenges out there, and I wondered what happens to all of those cards. Do they get a chance to make someone smile? I have some cards sitting here in a box that I've made for challenges that I've never mailed. Made me sad. :(
Then I thought: why not start a new challenge? A challenge to make a card (or anything else) and then mail it. I'm going to call it "Make-It + Mail-It". Yeah! :) J even drew a logo for me, yay!
So, this is the very first Make-It and Mail-It challenge: make a card (or anything else!), mail it, and leave a link to your card below. I'll post my card here too, to challenge myself and to keep things real. And! To make it even more interesting, in one week I'll randomly draw one person to make a card for! Now, how's that for a challenge?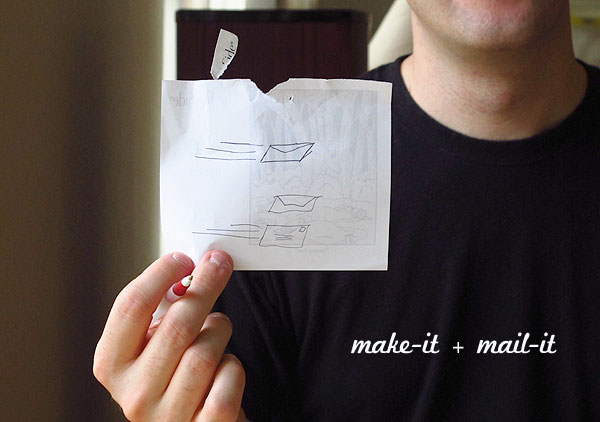 Thought I'd do a little step-by-step tutorial to show you how I made a whole batch of cards, lickety split.
I started with plain shipping tags from the office supply store.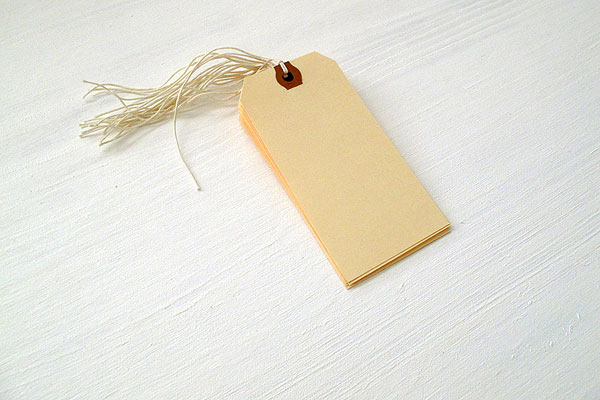 Then I distressed them. Here's a mini how-to: first I crumpled them up, then rubbed them with Distress Inks (don't ask me what colors, I just grabbed a bunch!), misted them with water, and then ironed them flat.
Whenever I get stuck in a creative rut I love to do a whole bunch of tags like this. You can never have too many tags, you know?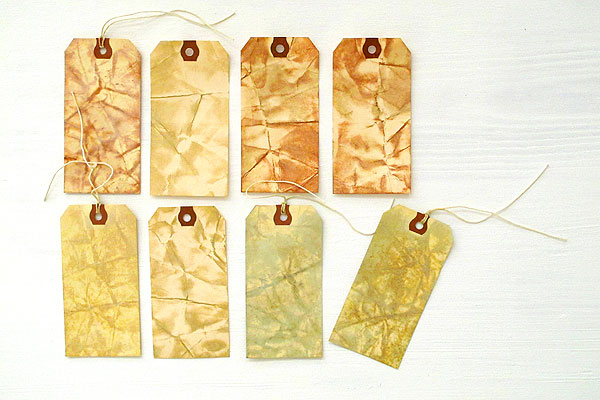 Next I stamped all over them with some new Hero Arts flowers and more distress inks.
Then I broke out some washi tape. (Love this packaging!)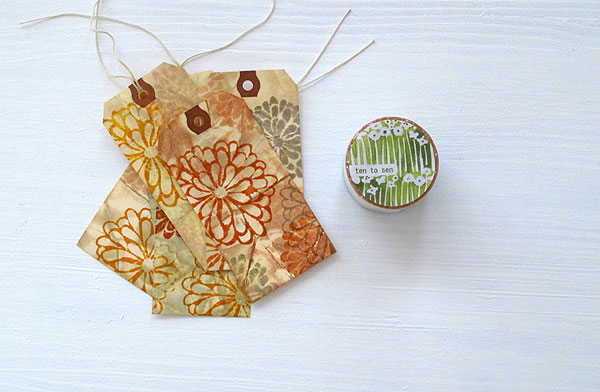 I went to town adding washi tape all over  them! The only trick here is to not try to think too much — just tape away!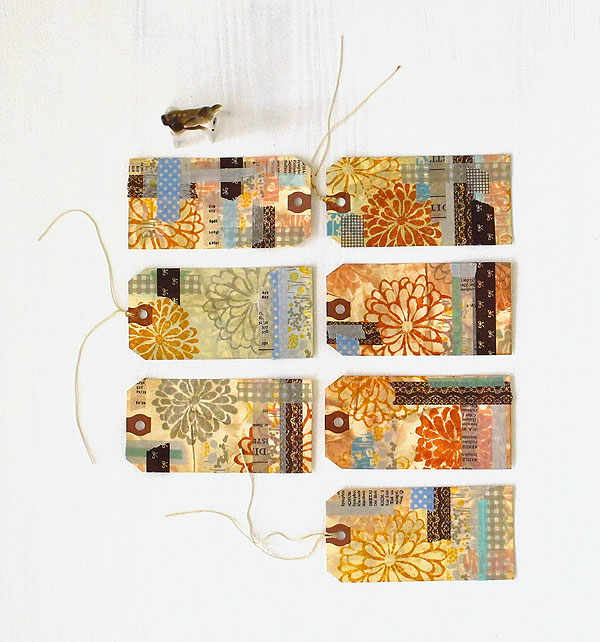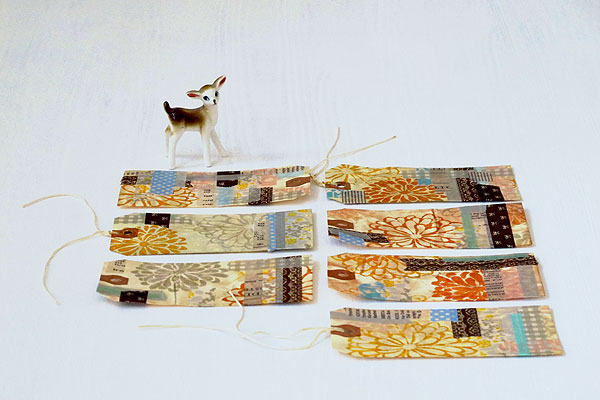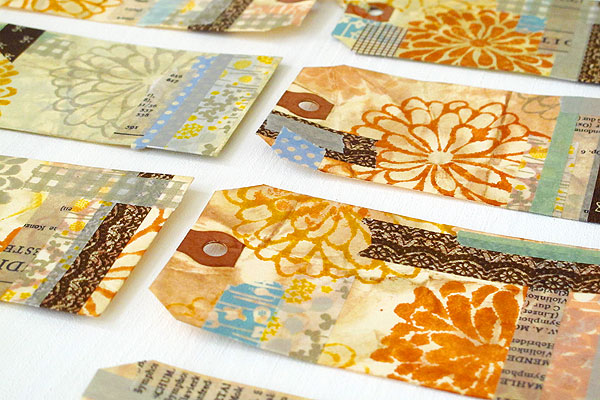 Next, I stamped this thanks message on white copy paper with walnut stain Distress ink. Love how it looks — well, yeah, distressed.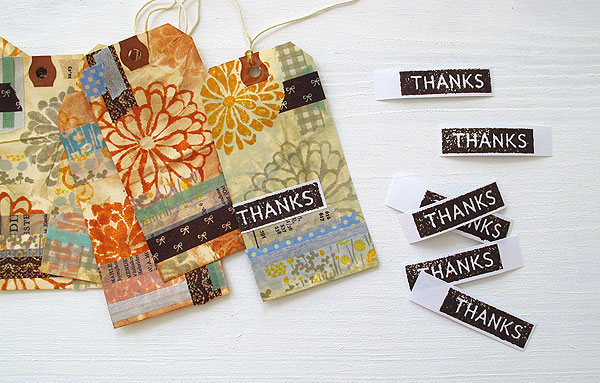 I thought these tags would make great bookmarks, so I wanted to adhere them to the card front in such a way that they could easily be removed. So I got out the glue dots and put one towards the bottom of the tag.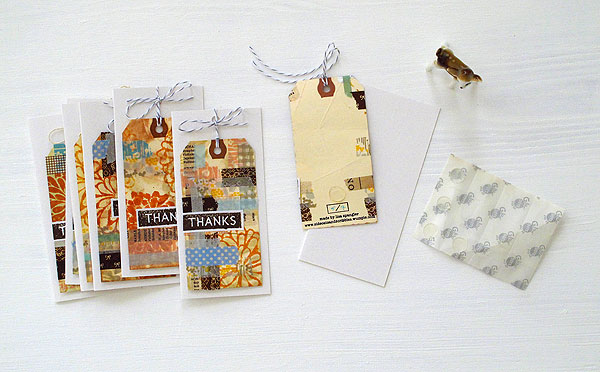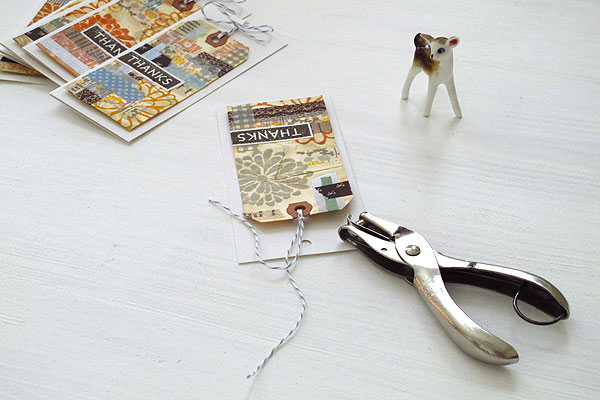 Then I punched a hole at the top and tied the tag on with twine. (Love this grey twine so much.)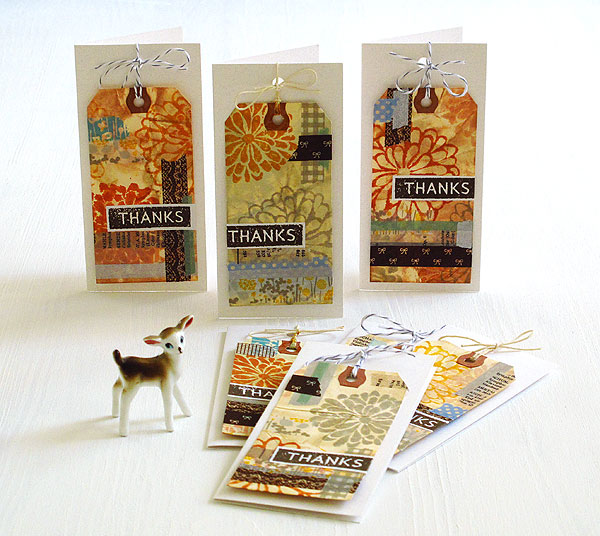 And that's it! Seven cards ready for mailing. (I'm not saying who these are for, in case they are reading this. Ha!)
(Supplies: The white painted board that I took the photos on is an idea I got from reading Ishtar Olivera's wonderful photography tutorials. Thanks again, Ishtar! Why didn't I do this sooner? All stamps by Hero Arts: flowers are from the Sweet Threads set and the message is from Big Hugs. The notecards are also by Hero — they're oldies but goodies that I've been hoarding — time to break them out. I used too many Distress inks to keep track of, but I'm pretty sure that there's rusty hinge, tattered rose, pumice stone, and tea dye. Probably lots more! Shipping tags are from the office supply store. The grey and white twine is by Divine Twine.)
Now it's your turn: make a card (or anything else!) and mail it. Leave your link below so that we can all see. In one week I'll randomly select a winner to mail a card to. Yay!
This is gonna be good.