Hey sweets! It's time for the next Make-It and Mail-It challenge! What's that I smell? Could it be? Oh yes, it's DONUTS!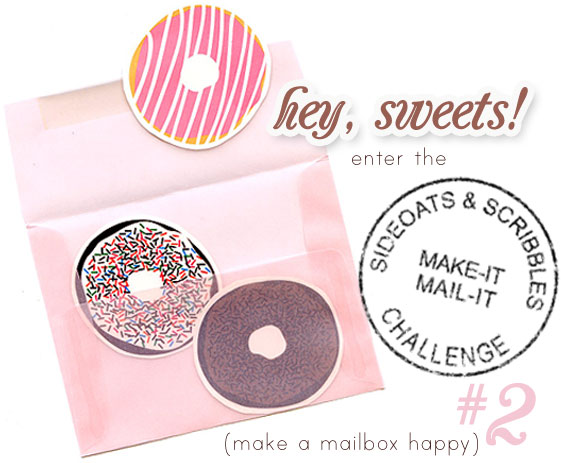 The rules are the same as before:
Make a card (or anything else!)
Mail it.
Link to this post with your entry.
That's it!
If you're up for an extra challenge, make your card something *sweet*, and use a nifty envelope. (But, that's not required at all.)
And, feel free to use the graphic on your blog if you like! (But that's not required, either.)
As a little added fun, in one week I'll pick a random winner to mail a card to. But really, we all win! We get the happiness of sending a card, and the recipient gets the happiness of receiving a card.
What could be sweeter? :)
And, speaking of winners….! The winner of the first ever Make-It and Mail-It challenge is…
…drumroll…
#17 Maureen Morton! YAY! Maureen, I emailed you!
And I just wanted to tell you how much I loved seeing all the entries last week — really made my heart smile BIG. Thank you to everyone who entered. So many fun and happy cards all in one place! I really do feel like we added some good to the world.
Oh yeah, and  these some of the supplies I'll be using for my cards this week! Isn't that paper yummy looking? It's a HUGE sheet by Snow & Graham, maker of all sorts of paper delicousness — including letterpress. I picked it up at Paper Source, can't wait to use it! There must be dozens and dozens of donuts on there, don't you think? (I'll post my cards as soon as they're made.)
And, see those envelopes? They're vellum! GAH! (A little gift from Katrina — thanks so much, Katrina!)
Can't wait to see all the entries! I have a feeling there's going to be some extra happy mailboxes out there after this challenge, yay!