How did that happen? May just seemed to fly by, didn't? Don't get me wrong though, I love June! It's usually not too hot (although we've had a few 100+ degree days here already, yikes!) and I get to make my Dad a Father's Day card (love coming up with something different each year to surprise him).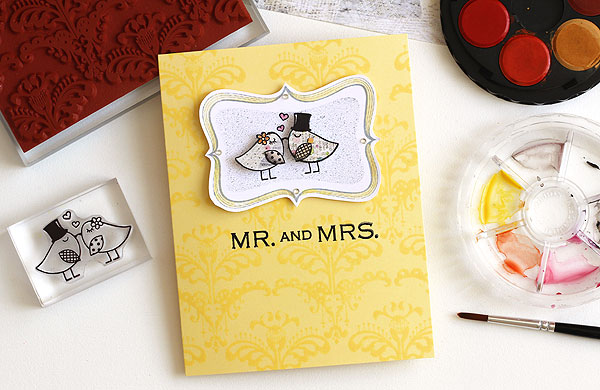 I especially love the themes for the June contest over on the Hero Arts blog: Weddings, Congratulations, and Watercolors. Oh yay!
Here's a little wedding card I made using some new stamps from the summer catalog, new BasicGrey Out Of Print papers, and watercolors. I had so much fun making it — I imagined it was J and I and we got to get married all over again. (Check out the full materials and instructions.)
I loved our wedding day so much and thought about it the whole time I was making the card. We had a small wedding at J's parents house in Ohio with close friends and family, and we were married by a good friend. There were thunderstorms early in the day and all through the ceremony, but then right after the sun came out and there was a beautiful rainbow. Such a happy day! Our wedding color was a pretty pool, but if I was doing it now I just might have to go with gray and yellow. :) How about you, what colors were your wedding? Would you change them?
Happy June!