Hi there and welcome to my little stop on the Hero Arts 2013 Catalog blog hop! You should have arrived here via the amazing Nichol Magouirk's blog. If you are just joining the hop or your encounter any broken links you can always head back to the start over at Hero Arts.
Hero Arts will be giving away several prize packs, with winners randomly chosen from ALL of the blog hop comments received by midnight PST on Monday, December 17. So the more hoppin' and commentin' you do the more chances you have to WIN! There are so many incredibly talented stampers in the hop, I know that I'm going to check them all out — can't wait to see!
It was super hard to choose what stamps to use for the hop — there are so many good ones! BUT, I finally settled on the new cling Map Background (CG527)! You see, I've been wanting a map background stamp for ages and ages — so many things you can do with one, from "I miss you" to "sending smiles across the miles" to just a cool pattern!
Here's what I came up with!
It was super easy to do, thanks to a pool blue notecard, distress markers and a water brush! I just went over the lines on the map with the markers, and then used the water brush to blend. Easy.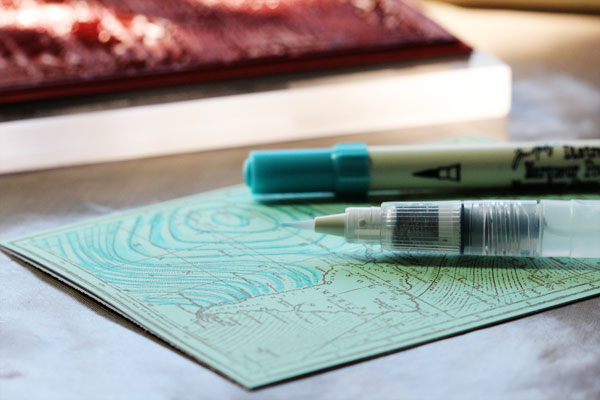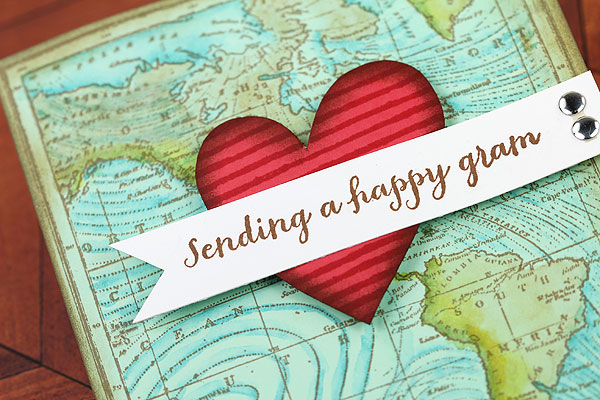 Gotta love that new Happy Gram message (C5645) and Striped Heart (F5744) too!
And I couldn't stop there! Oh no! If you're like me and you haven't made all of your Christmas cards yet (ahem!), but you're tired of making the same designs over and over again, then a new stamp is just the spark to get going again. So here's the Map Background again, this time with a jolly spin!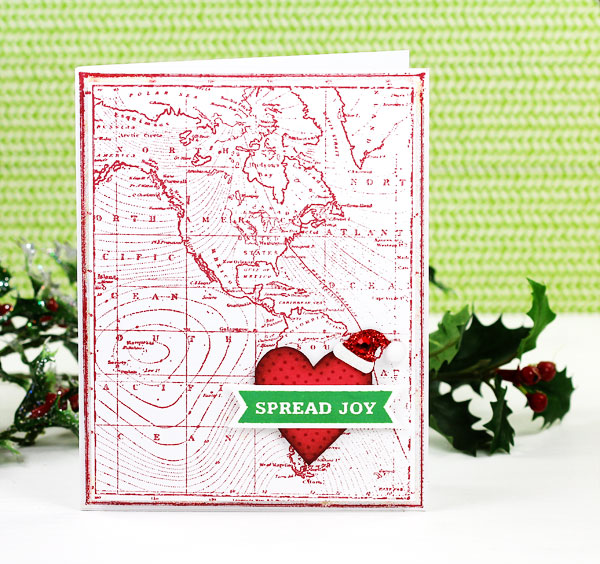 You can see the stamp much better in this one — I think it's cool just stamped in one color, don't you?
I had to keep  a heart  as part of the design from the first card, only this is another new one called Polka Dot Heart (D5746). This time I added a little Santa hat to make it more joyful. Ha!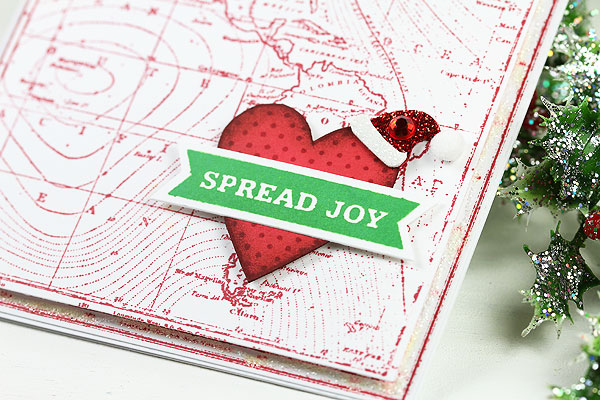 A glittery snowy border was the finishing touch!
I have all of the stamps listed below for you in case you'd like to order them online at Simon Says Stamp or Ellen Hutson's — woo! Both are super great stores and wonderful, kind, caring people. Or, head on out to a participating store near you — there's a list right HERE.
And in case you want to try this for a quick Christmas card, I got the stickers at Paper Source, and I've also linked to them on the EK Success website.
Thanks so much for joining me today! Now, the next stop is the super talented JJ Bolton — I can't wait to see what she's made!
Happy Hopping! And happy 2013!
NEW Hero Arts 2013 Catalog Stamps: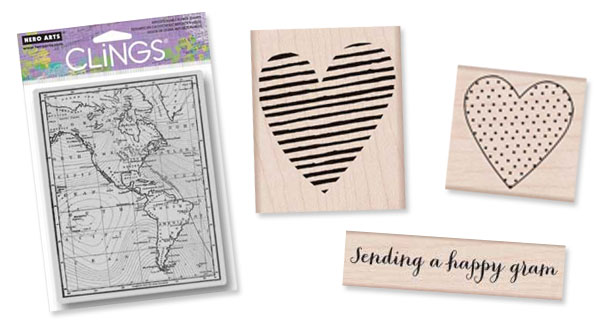 (EH is Ellen Hutson, SSS is Simon Says Stamp)
Other Supplies: