Hey all! Have you heard about Studio Calico's class for May? It's called Pop off the Page 2 and will be lead by the amazing Jen Jockish! If you want your cards (and layouts) to pop, then this is the class for you!
Feeling a little flat? Join layering expert Jen Jockisch for this sequel to last year's popular class and learn how to layer your paper and embellishments to add detail, dimension and visual interest to any project. We'll be kicking off the class with a refresher PDF to discuss ideas shared in the first class, and will follow that up with four PDFs discussing even more concepts in layering. In the end, you'll have access to 5 PDFs filled with 28 new projects, 2 videos (one from Jen and one from Celine) and oodles of Pop Off The Page tips and tricks.
Jen is joined by a talented group of contributors – they have a diverse range of styles, but they all know how to rock the layers. Becky Novacek, Celine Navarro, Dawn McVey, Debee Campos, Emily Branch, Jill Sprott, Kim Stewart, Lilith Eeckels, Lisa Spangler, Marcy Penner, Patricia Roebuck, Sasha Farina, Shanna Noel, Stephanie Bryan and Stephanie Dagan will each be sharing a project and their own personal layering tips.
While supplies last, students will receive an embellishment kit of layering essentials, including an exclusive stamp set. This kit will ship free to you, no matter where you are! We will update this page when the class kit is sold out. The class also comes with exclusive downloads – printables from In A Creative Bubble and Blinks of Life and die cut files in .svg, .png and .studio from Kinsey Wilson. You can see all of the digital files here.
In addition, you'll have access to a private message board where you can ask Jen all of your layering questions! Here's a look at the class syllabus :
May 1 : Layering refresher – layouts from Jen, Marcy, Becky, Lilith and Sasha
May 6 : Layering with mixed media – layouts from Jen, Jill, Celine and Shanna, card from Lisa
May 13 : Layering with paper techniques – layouts from Jen, Patricia, and Kim, card from Dawn, Project Life spread from Stephanie Bryan
May 20 : Layering in other projects – 3 tags from Jen, mini album from Stephanie Dagan, art piece from Debee Campos, 3 cards from Emily
May 27 : Jen's layering tips and tricks – 4 layouts and 1 card from Jen
I am super honored to be a guest artist for the class — here is a little peek at the mixed media card that I came up with: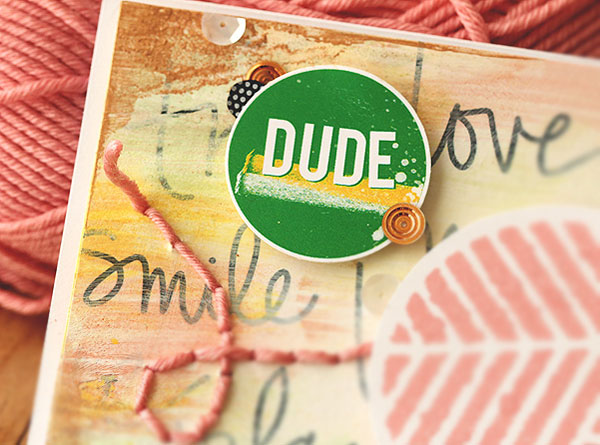 Just love these sequins that come in the class kit. There are MORE goodies too, like the "dude" digital file and the words in the background. Just love. :)
Find out more and sign up right HERE — but don't delay, today is the last day to register!
Hope to see ya there,