Hi there, and welcome to my stop on the Hero Arts Stamp Your Story blog hop! You should have arrived here from Shari's blog, but you can always head back to the start right HERE at Hero Arts.
The new stamps from the Stamp Your Story catalog are all about telling your story — whether you are a cardmaker, a scrapbooker, art journaler — whoever you are. As for me, I'm a cardmaker through and through. But I've been keeping nature journals for years. This is where I document hikes with J, prairie trips, plants, birds, butterflies, sightings in our backyard wildlife habitat — and I even do some sketches in them.
I also like to keep a journal of stamp ideas. Things I've tried, what worked. What didn't. Often when I get some new supplies I grab a journal and play around. That's what I did when I got some of the newly released daubers and stamps. Check it out!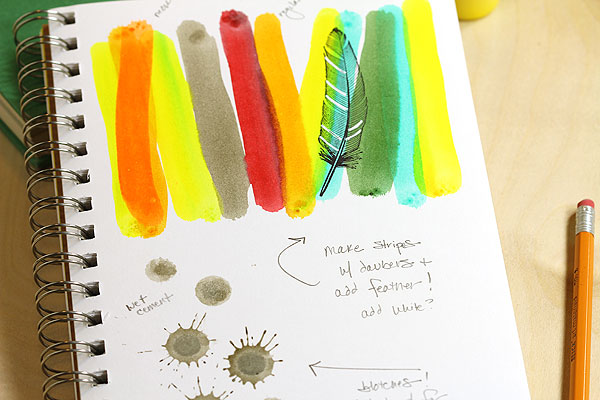 First I made some stripes with the daubers across the top of the page. Love how they turned out, especially how the colors blend together. Then I thought that they went with the shape of a feather, somehow. So I stamped one on there from the My Favorite set and thought it looked good! Next I grabbed my trusty white pen and colored in some of the lines on the feathers.
From here it was easy to make a bunch of cards!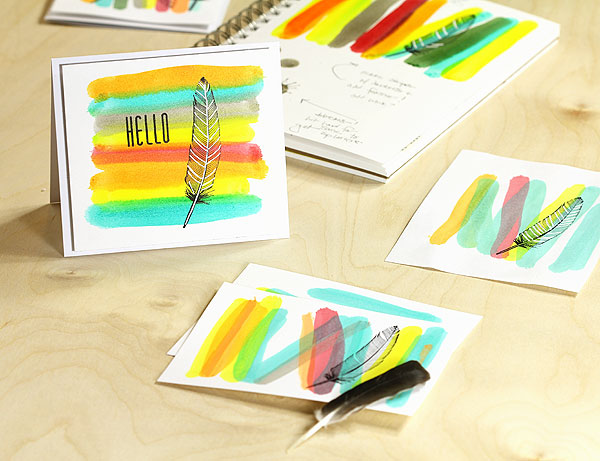 Love how the neon daubers really pop, don't you? Then I had to make one more, alternating the feathers as I went:
And I couldn't stop there! Remember the blotches at the bottom of the page? Well, that gave me an idea for a card too: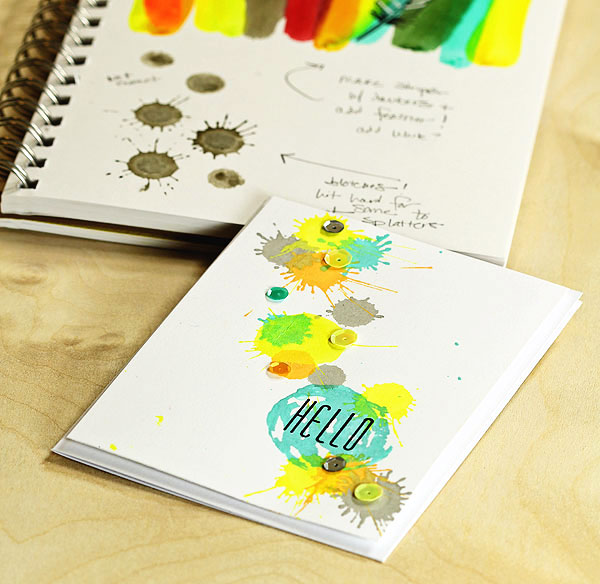 Love how this turned out! And love how you can make different blotches with the daubers depending on how hard you tap them on the paper. All of the blotches are from the daubers, except for the one under the "hello", which is a stamp from the Not Perfect set. I did "ink" it with a dauber tho!
Of course, I had to add a few sequins, too. (You know me and sequins lately, ha!)
So that's six cards, all from one journal page!
Now how about another share? This one uses the flowers from the Remember set — I kinda think they look like California poppies. (Bet you didn't know that there are California poppies in Texas, did you?)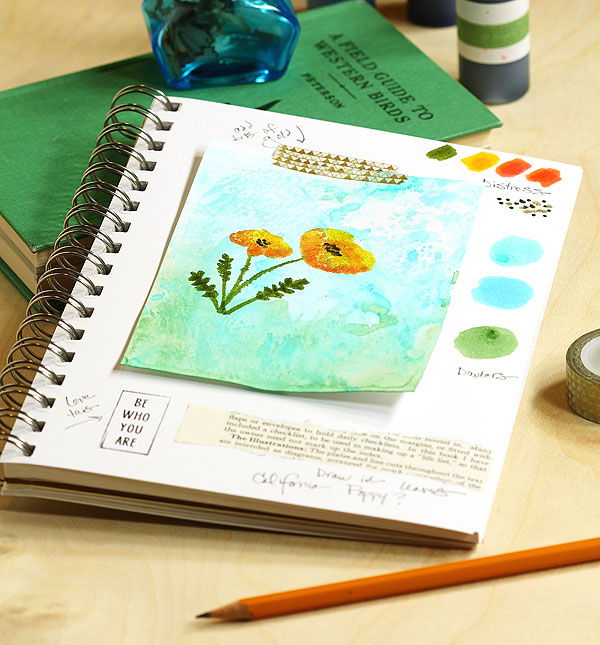 For this journal page, I actually played around on a scrap of paper and then taped it in the journal after I was done. This can be less intimidating, and it also allows you to do some techniques easier — like this one.  Here I tried daubing the daubers on a craft sheet, misting them with water, and then dragging my paper through it. Turned out so pretty!
I decided that the flower stems looked a little lonely, so I added some leaves with a green marker. Here's how they look without my leaves :)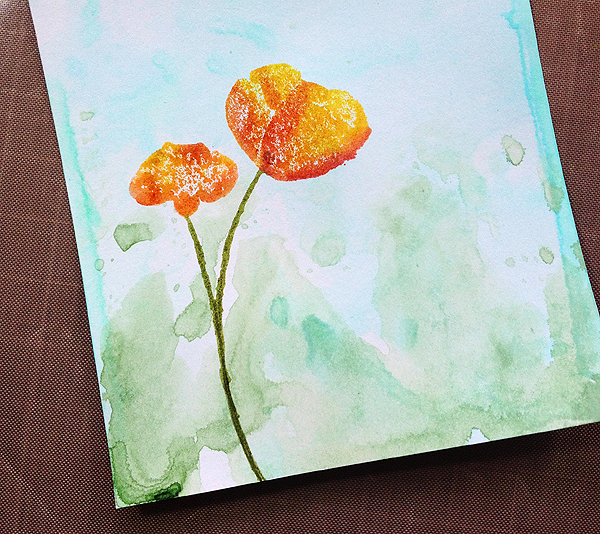 I added some centers to the flowers too. Then when I made the cards I just had a add a bird from the My Favorite set! (This set is rapidly becoming my favorite, ha.)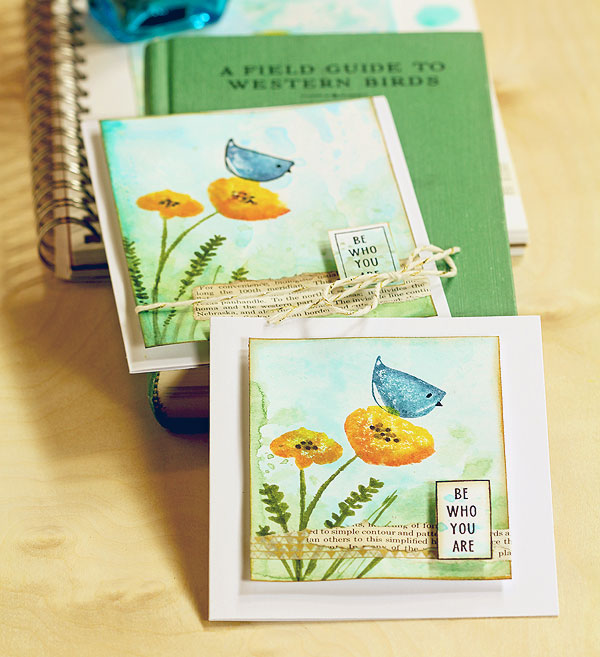 And I came up with two cards using this idea! They are kind of similar, just different sizes. First up, the square one — because it's hip to be square, right?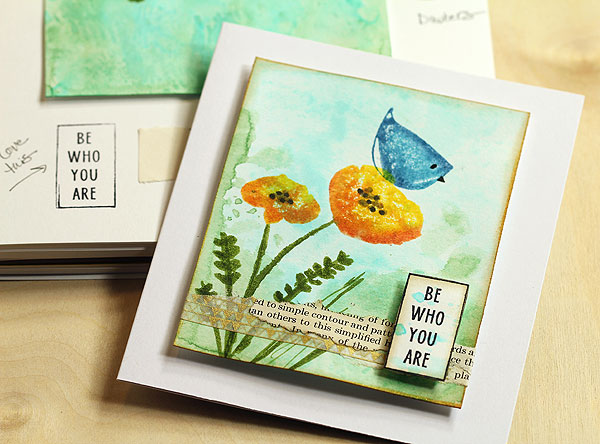 Love this "be who you are" so much. It's so true. (It's from the My Notebook set.)
And here's a closeup of the second card: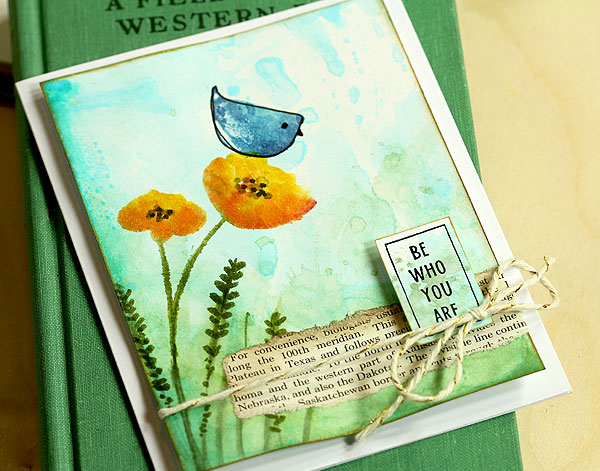 Eagle eyed readers may notice that the old book text has "Texas" in it. Yep, that's where I live. :) (It also has Nebraska, where two other artists on the blog hop are from. Do you know who?)
Well, that's it for me today — thanks so much for joining me.  Now, on with the hop! There 's an awesome prize up for grabs, and the winner will be chosen from all the comments on all the blogs in the hop. The more comments you leave, the more chances you have to win — so you may want to leave a comment here before you click on over to your next stop! That would be the talented Kelly!  I just love her style. Can't wait to see what she's made.
Supplies: