Hi and happy Saturday! Are you ready for Mother's Day tomorrow? I am! I made cards for my step-mom and J's mom — both using some new Hero Arts stamps from the Stamp Your Story catalog and BasicGrey Mint Julep papers. Love.
I kept the card on the clean and simple side to focus on the gorgeous rose in the new Remember set.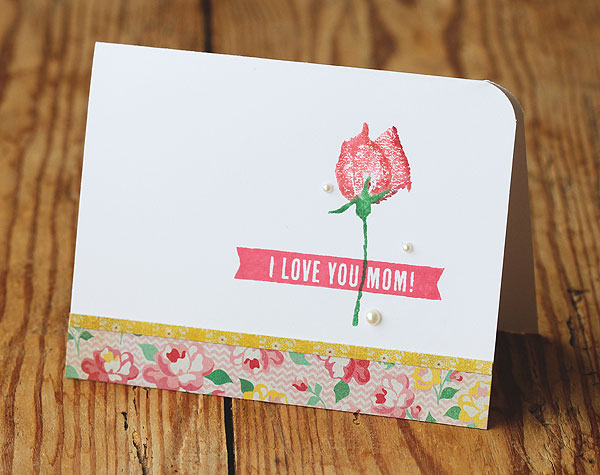 It has such great texture, don't you think?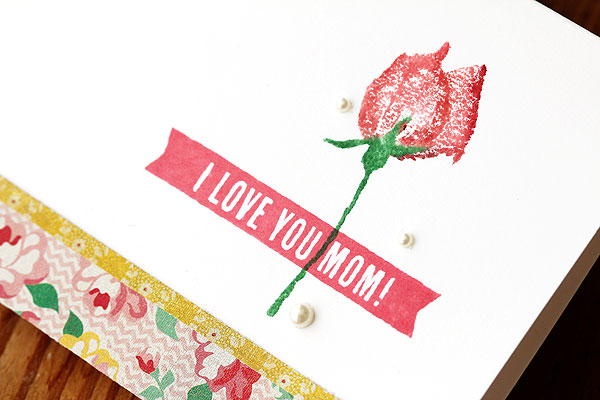 To get this look, I just inked the stem and leaves with a cottage ivy marker, then used worn lipstick on the whole rose and added a little rhubarb stalk to the edges. Misted it with water and that was that!
That "I love you Mom!" stamp from this set is a good one in my opinion, because you can use it all year long. Who needs to wait for Mother's Day to tell our moms we love them? Not me! :)
My step-mom and my dad just celebrated their 27 year wedding anniversary yesterday — so crazy how time flies by, right? I can still remember the wedding. And the fun we had baking a chess pie together last time I was home for a vist. (And eating  it, yum!)
And, I am so lucky to have a wonderful MIL. I know many people who don't really like theirs. But me? I am lucky. We share a love of nature, photography, J (of course) and — are you ready for it? — stamping!!!  Check out her blog right here.
I love you, Moms! Wish we we lived closer. Happy, happy Mother's Day. xx
Supplies: