Hey there and welcome to Mama Elephant's 3rd Anniversary Stampede! The new release is live and available for purchase in the shop right now.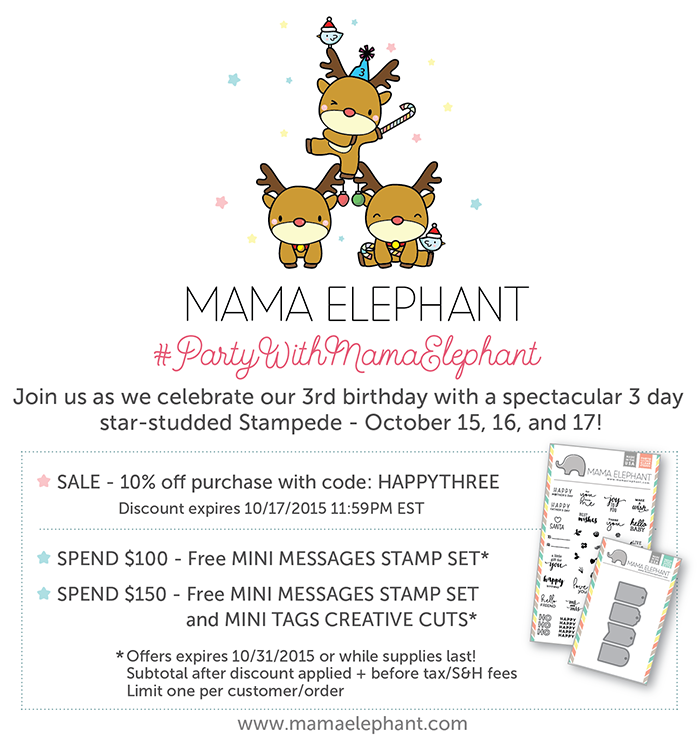 If you've been hopping along with us already, you'll have arrived here via the super talented Nichol Magouirk's blog. If you're just now joining us or encounter any problems just head on back to the start of the hop over at Mama Elephant.
Reindeer Games
Now for my card! I was sent this super cute Reindeer Games set to play with and I just have to say that this set is so much fun! There's a set of matching die cuts that go with the stamps too.
Here's what I came up with!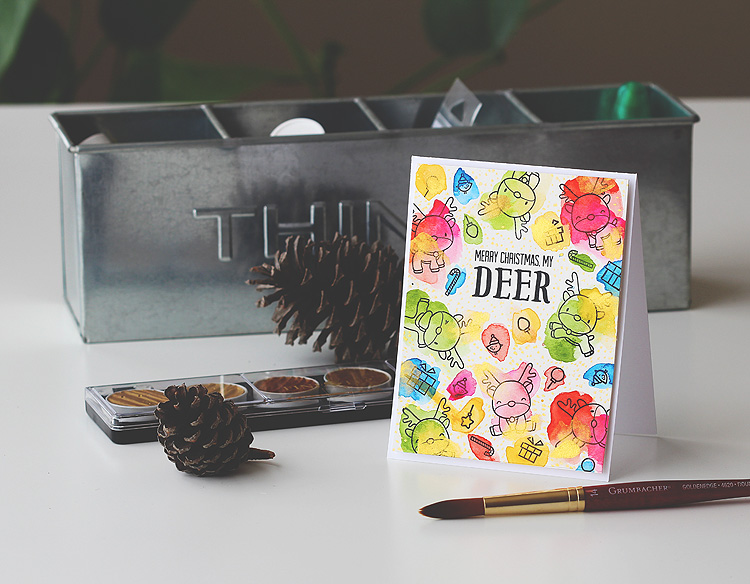 I had an idea to make a simple one layer card and take advantage of all those cute deer + other fun elements. So I started out by printing the message on watercolor paper, then popping a whole herd of deer on my MISTI like so: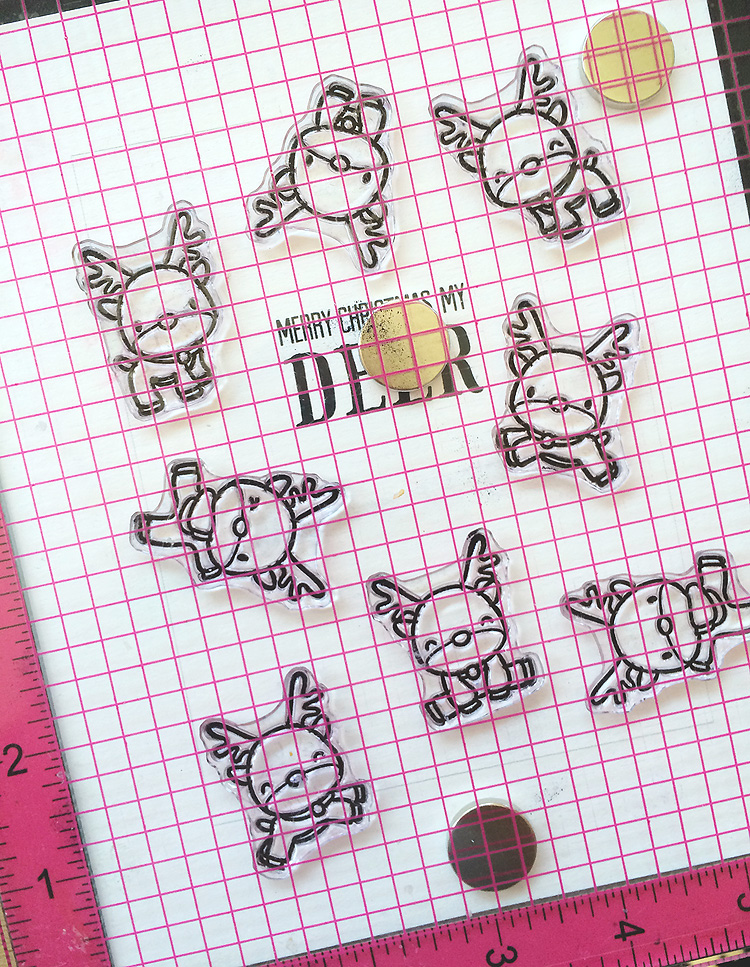 Aren't they just too cute? This is a card that you could easily make a ton of and not get bored.
I filled in the open areas with some of the other little elements in the set. (The birds! AH!)
Next I watercolored all over with watercolors, blending some together here and there. This is the kinda card you can really relax and have fun with — just listen to Christmas carols and watercolor away! (By the way, if you are looking for a portable watercolor set that has really vibrant colors, this is the one for you! I recently took it on a trip and I just can't say enough good things about it. Love that it comes with mixing trays, too.)
Then it was time to really jazz it up with some gold. Because I just can't seem to make a Christmas card without gold or silver — or both! So, enter the finetec watercolor set.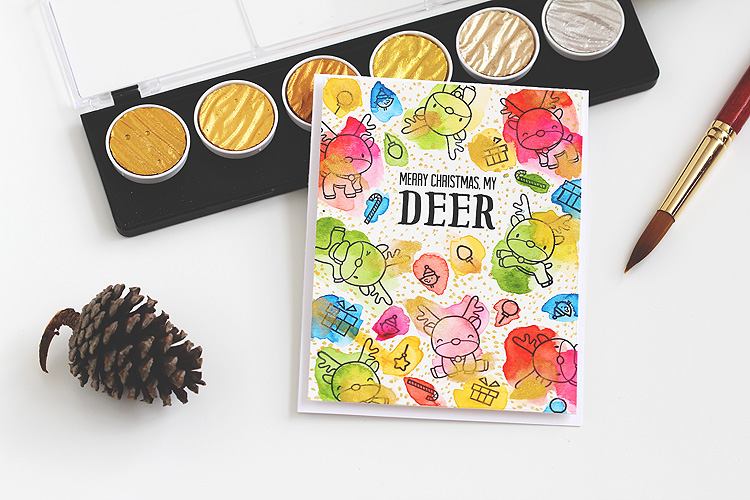 These metallic watercolors are so pretty and shimmery. Here's a closeup so you can see it better.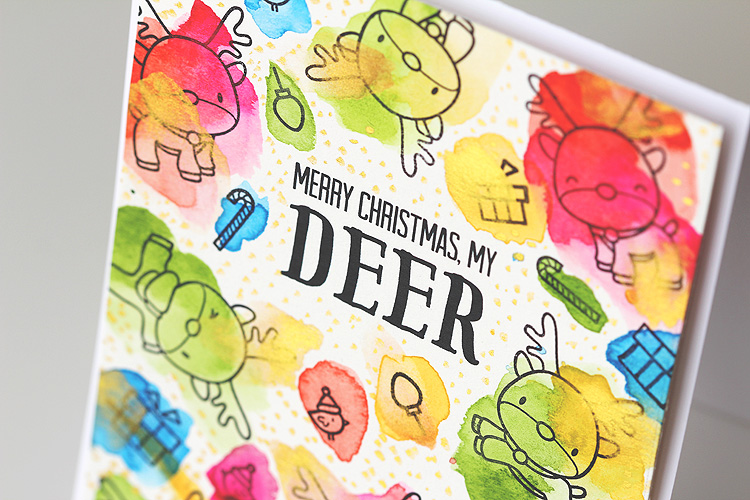 Then I layered it to a white base card — and that was that! One Christmas card done and ready to pop in the mail.
Sale
To celebrate this release, Mama Elephant is having a 3 day sale from October 15 through October 17 with discount code HAPPYTHREE for 10% off your entire purchase!
Promotion
Mama Elephant is having a fantastic promotion through October 31, 2015.
Get a free MINI MESSAGES 4×6 stamp set FREE for purchases over $100 — OR — get both the MINI MESSAGES 4×6 stamp set and the MINI TAGS creative cuts die set FREE for purchases over $150 (after discount applied, subtotal before tax/s&h, limit one free offer per customer/order).
Giveaway
Mama Elephant is also giving away three $25 gift certificates throughout all 3 days of the Stampede. To qualify to win, just leave a comment on this blog post. Winners will be selected and announced on the Mama Elephant blog on Monday, October 19th.
Hop On
Your next stop on the hop is Elena Roussakis' blog. I can't wait to see what she's made!
Thanks so much for joining me today, and happy third anniversary to Kryssi, Angela and the whole Mama Elephant gang! YEAH!!!!! Here's to many (many!) more! xo
Supplies