Hey hey and welcome to the Essentials by Ellen Winter 2016 Hop! I'll be showcasing several of the new stamp sets and dies today. If you've already been hopping along with us, you'll have arrived from the super talented Carolyn Peeler's blog. If you encounter any broken links or you're just now joining the party, you can always head back to the start of the hop in The CLASSroom.
Now, on to my cards! This release is so good that I just couldn't seem to stop stamping. So, I've got THREE cards to share with ya — and more ideas that I can't wait to stamp!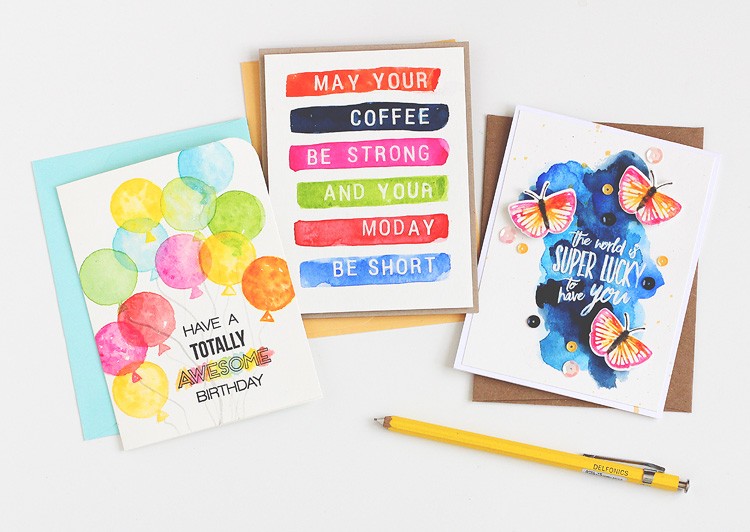 I'll share 'em in the order that I made 'em!
The World Is Super Lucky to Have You
I love this sentiment that's in the Up the Happy set so very much, so I reached for it first. I had Julie in mind when I made this card!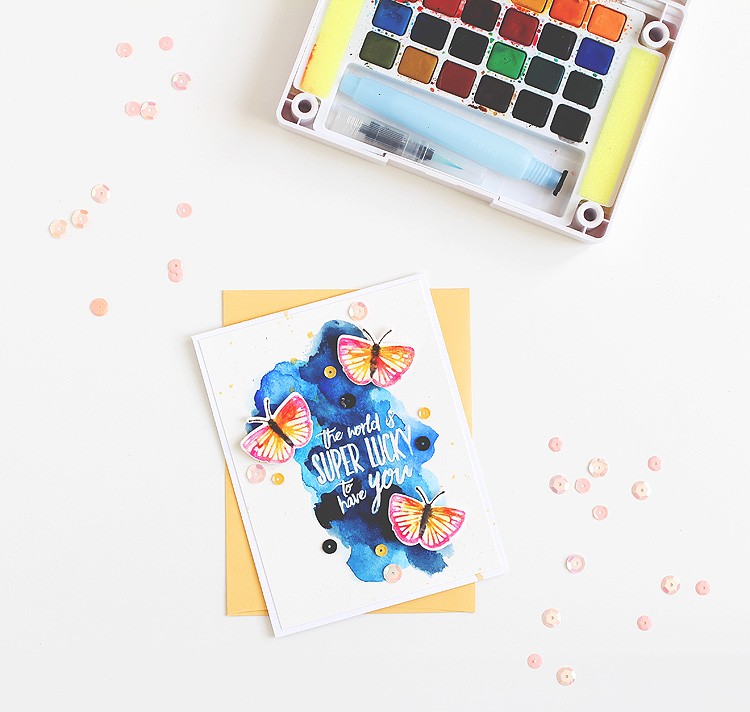 We're all so lucky to have Julie, am I right?
I started out by stamping that message with VersaMark ink on watercolor paper and embossing it in clear. Then I watercolored a background, blending blues and blacks. I can't say enough good things about this Koi Watercolor set by Sakura. The colors are just so vibrant! I've taken it on several trips and it's so great for traveling. And the pans may look small, but boy do they go deep. Plus it comes with a waterbrush that I've found is great for lettering. Like I said, can't say enough good things about this set. :)
I made the butterflies by watercoloring directly on the stamp and stamping. I used my MISTI to add colors in layers so they wouldn't get muddy and I had more control. Here's a closeup so you can see: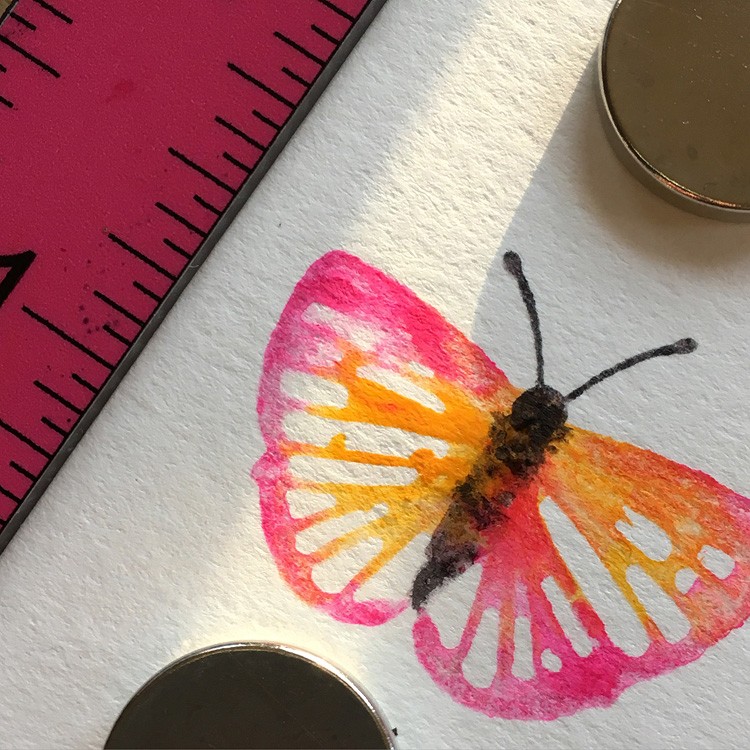 Then when I was all done with the watercolor parts, I inked the stamp up with VersaMark ink and then clear embossed it. I think this adds that extra special something.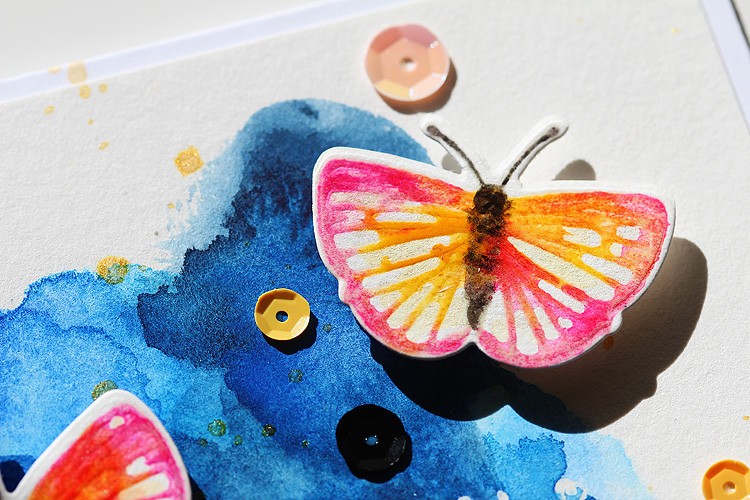 Then I die cut the butterflies with the matching Up the Happy Die set and mounted them to my watercolor resist background. Some splattered gold mist and sequins completed the card.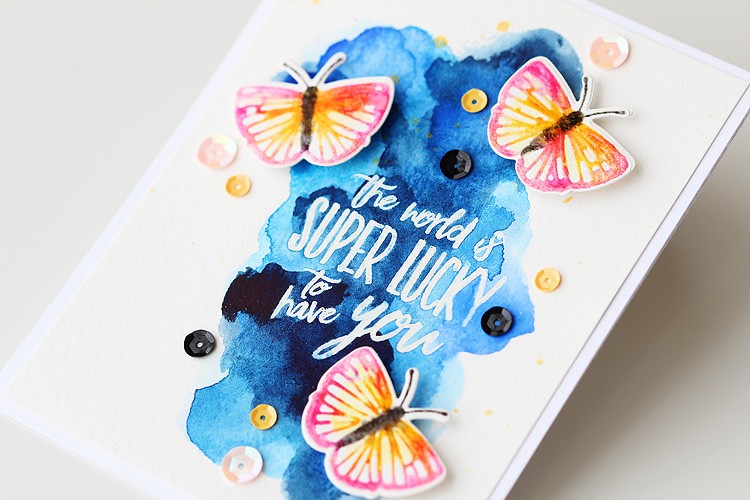 Gotta say that I love love love having those matching dies for the butterflies so I don't have to worry about cutting out their antlers :)
Now on to my second card…
A Case of the Modays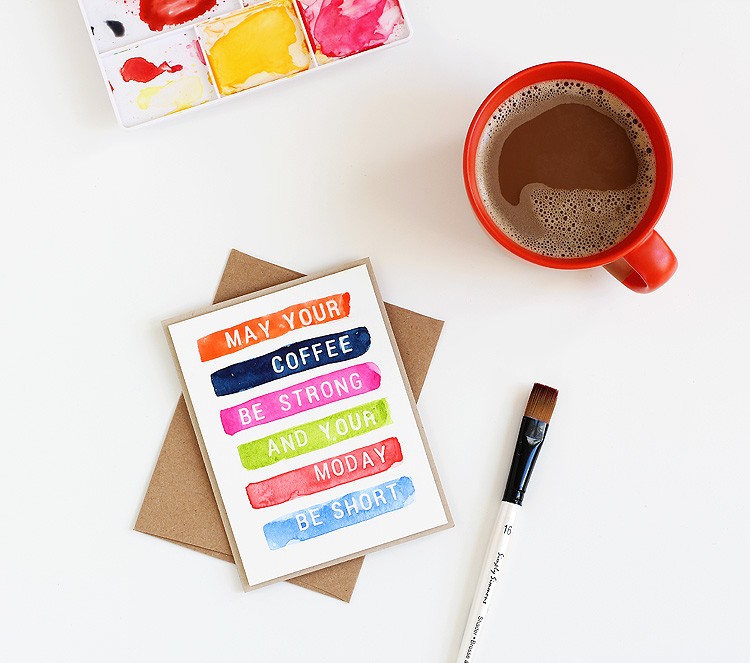 So, this card was supposed to say "May Your Coffee Be Strong and Your Monday Be Short". Only I was having a baaaad case of the Mondays and didn't notice that I had a wee typo until AFTER I took the photos and I was writing the blog post! Doh. Did you spot it already? You'll see how I fixed it here in a bit :)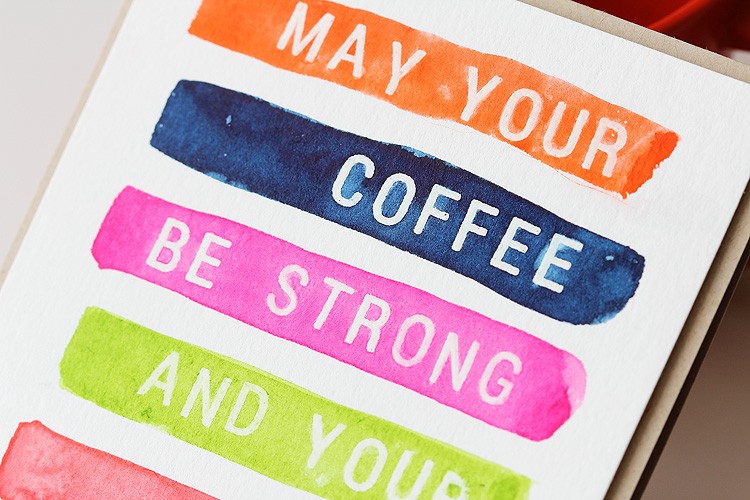 I used the new Basic Alpha to stamp this saying on watercolor paper. You guys, this set is genius — like everything Julie comes up with! It has multiples of each letter and they are all the same height, so it makes it super easy to pop everything on a MISTI and stamp in one go! I was able to stamp "May Your Coffee Be Strong" all at once! Yeah!
I stamped it with VersaMark ink and then clear embossed it, then swiped watercolor over it to reveal the letters. Easy. And I couldn't stop there — I had to do the inside too!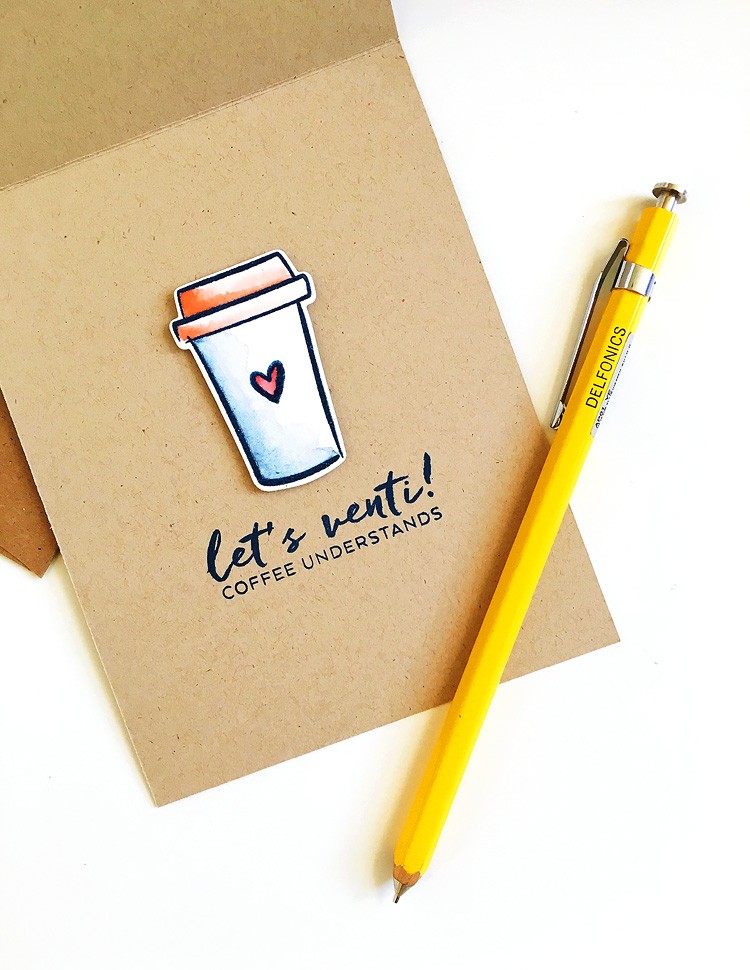 This coffee cup and sentiment are both in the Oh Frappe set. Oh and one more trick!
I decided to stamp the cup in navy ink since I used dark navy watercolor on the front. My navy ink isn't waterproof, so I did the same trick as with the butterfly and stamped it using the MISTI, first in navy and then again with VersaMark so I could clear emboss it. Oh yeah I love my MISTI.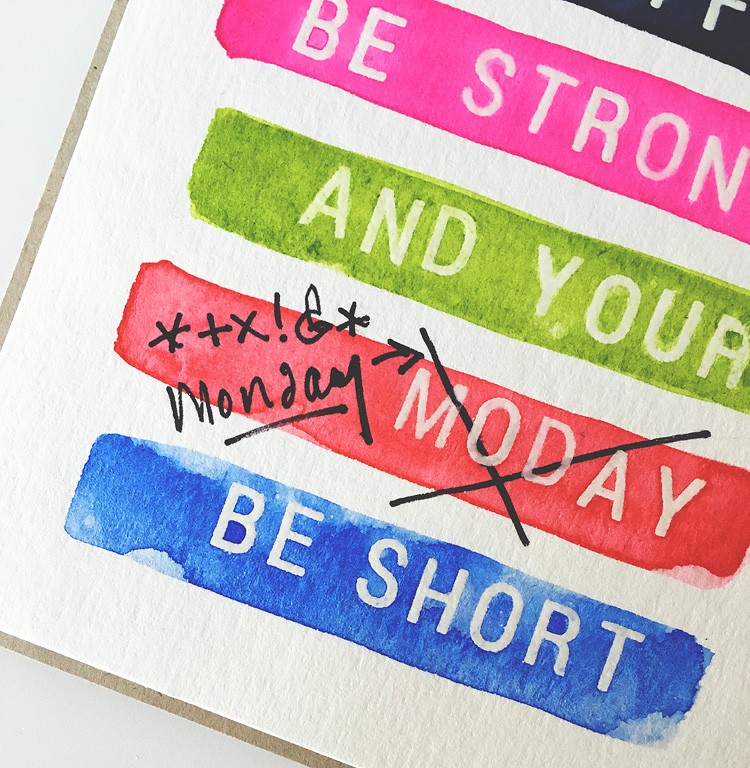 Now for my "fix", since apparently I can't spell. :) I just x'd out "Moday" and added some curse characters LOL!!! That was that. No mo' problem.
I've got a BUNCH more ideas running around in my brain using the Basic Alpha set — can't wait to try them! (I have big plans for spelling out "mondo squishy hugs" and using the bear from this set!)
Now for my last card!
A Totally Awesome Birthday
I'm gonna send this card to my brother. I think a card like this is perfect for guys because it's not too froo froo. :)

I started out by stamping the "Have a Totally AWESOME Birthday" on watercolor paper using the Totally Awesome set to help with positioning.
Then I HAD to try the "no line" watercolor technique using the balloon from the Up the Happy set. This was my first time trying this technique — and you can bet it won't be my last! I had so much fun.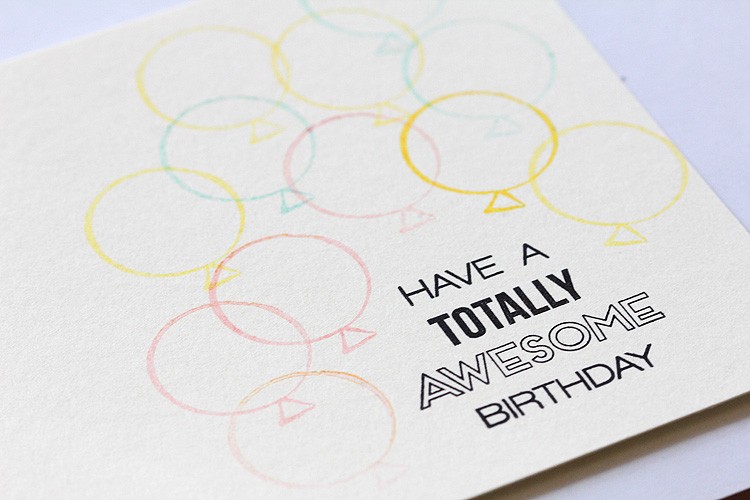 If you're not familiar with this technique it's super easy: just stamp your image in a super light colored ink. It doesn't have to match, just has to be in the ballpark. I didn't have all the colors that I needed, so when in doubt I used yellow. I also stamped the balloon on scratch paper before stamping it on the card so it would be even lighter.

Then I went to town coloring the balloons. I allowed the balloons to fully dry before coloring an overlapping one so that the colors wouldn't blend together. Then when everything was dry I painted on the balloon strings with a light gray.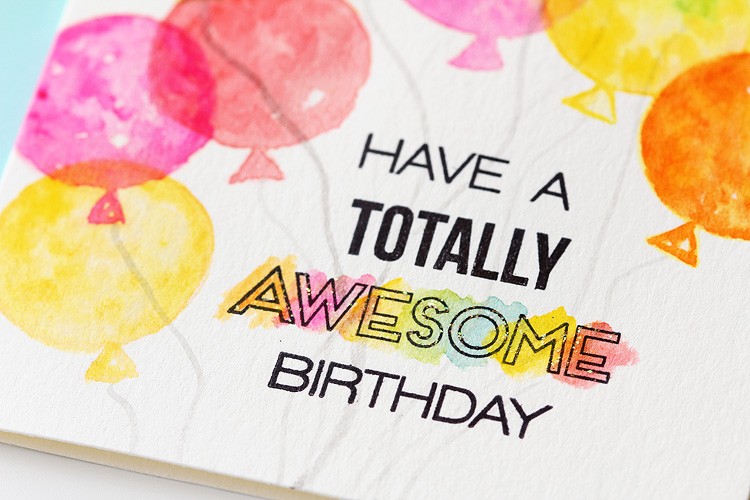 The final touch was painting on some sparkly glitter glue to the "awesome" — just to add that little extra something! I've found that painting the glitter glue on with a brush gives you more control so it doesn't get blobby. It dries faster this way too, woo!
Giveaways!
I get to give away an Essentials by Ellen stamp set! YAY! The winner may chose ANY Essentials by Ellen brand stamp set (maximum value $15) currently in stock at EllenHutson.com To enter my giveaway, please leave a comment on this post by February 16th!
There is also a crazy awesome Grand Giveaway in the CLASSroom! To enter, be sure to leave a comment THERE, also by February 16th; ALL winners will posted at the CLASSroom on Friday, February 19th!
Hop On
Whew! You made it to the end of my looooong post! Thanks so much for reading — you rock!
Your next stop on the hop is the amazing Julia Stainton, yeah! Just wait until you see what she's made. Happy hoppin'!
Supplies
Thanks so much for joining me! xo