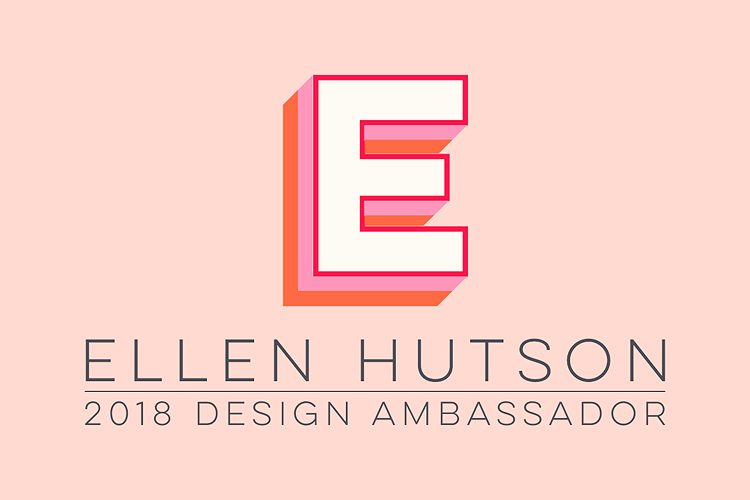 Hey there and welcome to my stop on the Ellen Hutson Design Ambassador team hop! I'm so excited and honored to be on the team with these amazing women. If you've been hopping along with us already you'll have arrived here via my friend — and fellow Lisa — Lisa Adametz's blog.
Cannot wait to see what everyone's made — even though I've been making cards for a while now I always love seeing what others do with the same supplies and picking up new tips and tricks.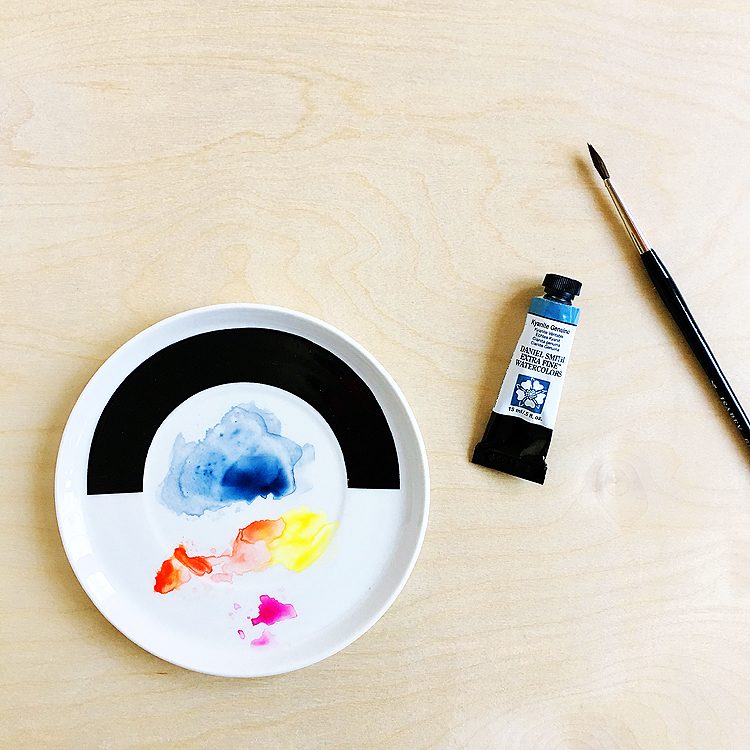 My favorite tip at the moment is to use an old plate for a palette. I found these recently at a thrift shop in Joshua Tree, CA — my eyes lit up as soon as I saw 'em!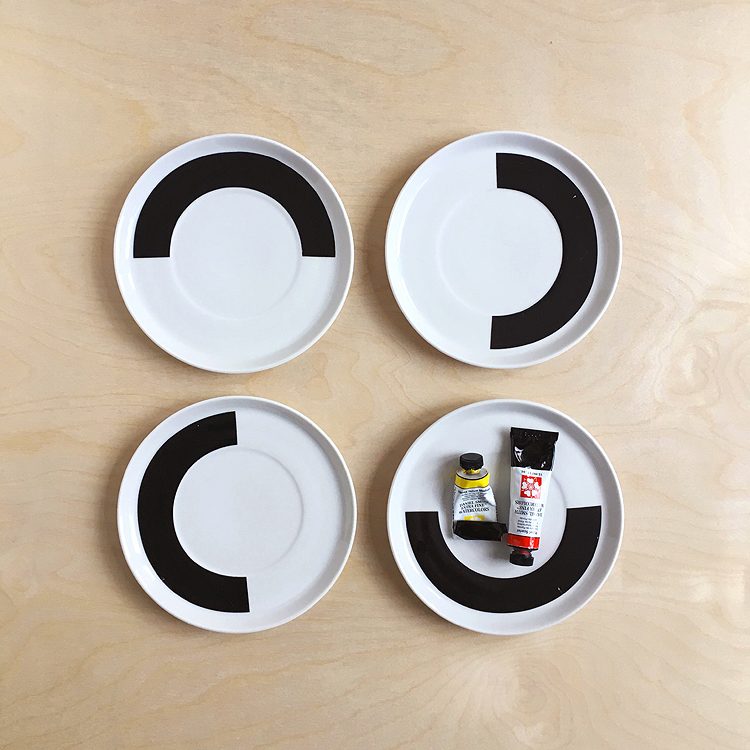 White plates — the best for being able to see the colors of your paints! Arch like a rainbow! 49 cents!!?! Yes, please. And they were hand decorated in St. Petersburg, Russia — wonder how they made it all the way out to Joshua Tree?
Sending Sunshine
Now on to my card! As soon as I heard about the blog hop I just knew what stamps I wanted to use — the All Inside set and matching dies by Julie! Ahhhh I just love that little bear so much!
Then when I was talking to my Dad he sounded glum because they've been getting a ton of rain where he lives in Ohio — he's been talking about building an ark ha! — so of course I had to make him a card to cheer him up! Here it is: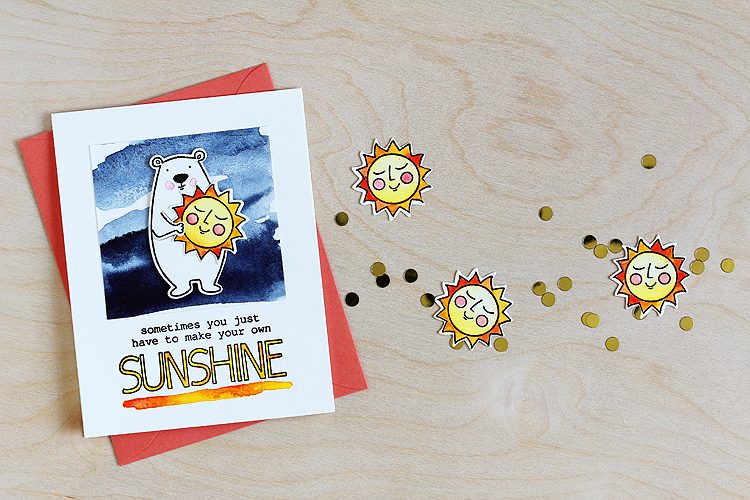 This guy came together so fast! Let me walk you through it. Everything is on Canson XL paper including the base card. This paper is great because it's not super expensive yet it still holds watercolor really well.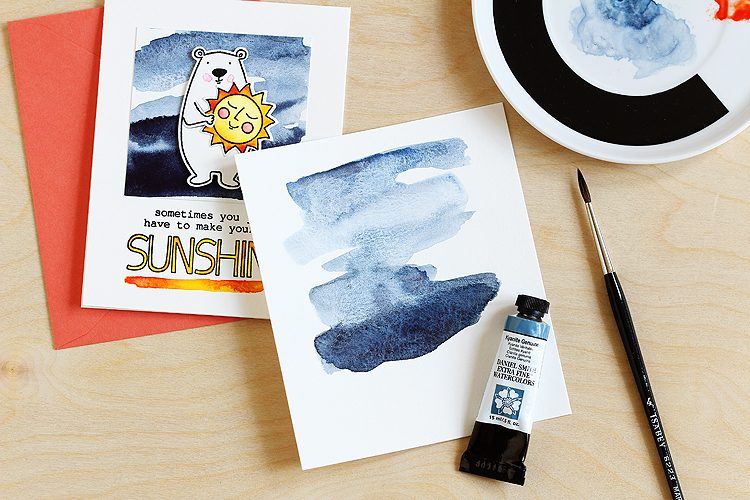 I started out by making a background with a combination of Daniel Smith kyanite genuine and indigo. Oh man, that kyanite!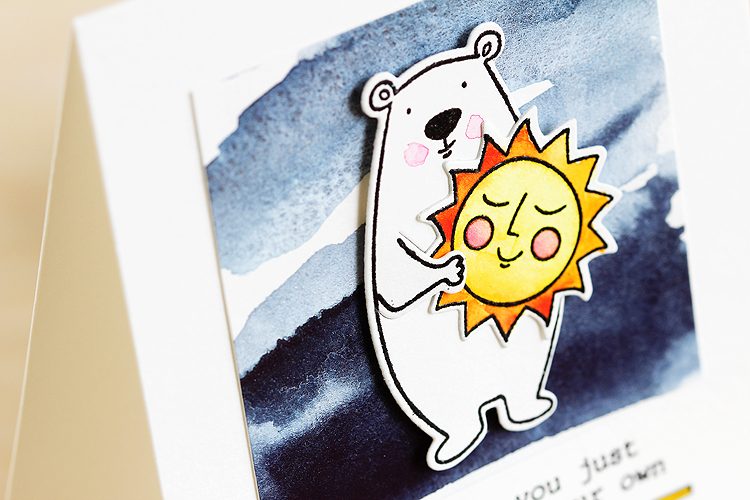 Kyanite is one of those colors made from genuine rocks and minerals so it's granulating. That's not all — in the sunlight it's all shimmery and sparkly! Ahhhh! I made the background on a separate piece of paper and then trimmed it down afterwards so that I wouldn't have to worry about ruining the base card. :)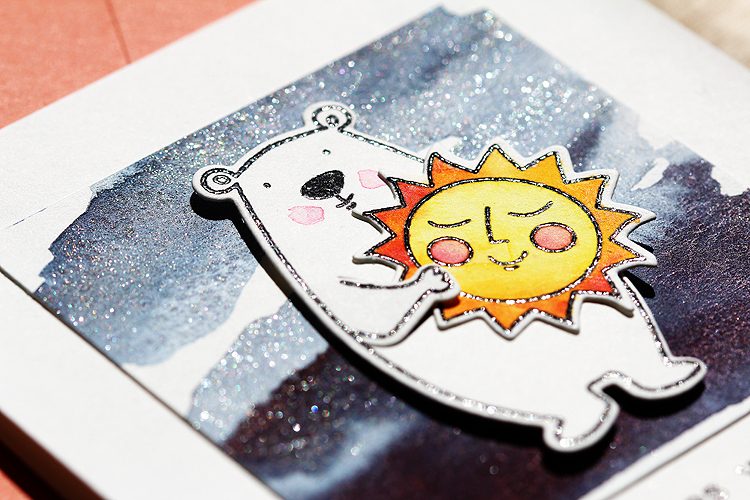 Then I watercolored the sun and the sentiment with Daniel Smith hansa yellow medium, pyrrol scarlet, and new gamboge. These colors all work great together and I mixed things up by coloring with the hansa yellow medium first and then dropping in touches of the pyrrol scarlet and new gamboge.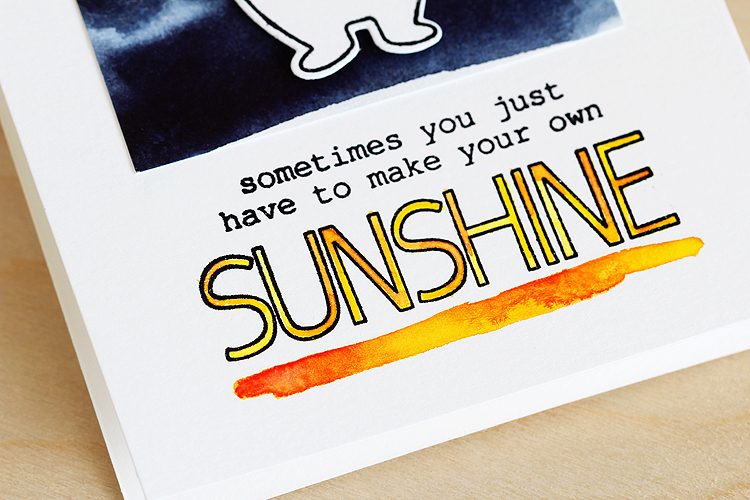 While I had my supplies out I made a few more suns to use as confetti — ha!!!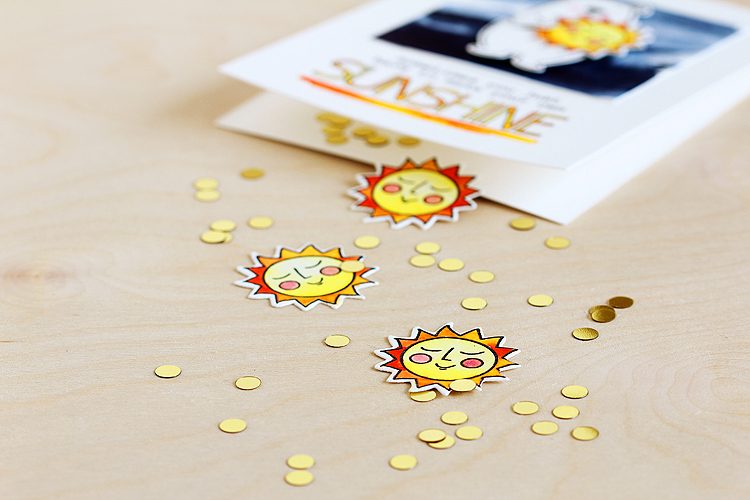 I'm gonna put the lil suns and that Pretty Pink Posh gold confetti in the card so that it'll all fly out when my Dad opens the card — although, most of my friends are on to my confetti ways so I bet he doesn't fall for it. :)
Three Things
We've been asked to answer 3 silly questions — so here goes…!
Coffee or tea? Both! Hahaha! I make pour over coffee in the morning and then I have a cup of chamomile before bedtime. :) I'm always on the lookout for good local coffee beans — do you have any to recommend? I'd love to hear! Current faves are Greater Goods Coffee, Big Bend Coffee Roasters and Joshua Tree Coffee Company.
How did you come up with your blog name? Weeeelll, my blog is called "sideoats & scribbles" because I'm a huge prairie nut and sideoats is the state grass of Texas where I live, and then I scribble on about so many things here — cards, watercolors, sketchbooks and more.
Tell us one silly/random/interesting tidbit about yourself! Breakfast is my favorite meal — I could eat "breakfast" food all day! Especially breakfast tacos. Yum.
Hop On
Your next stop on the hop is Lydia Evans' blog — I can't wait to see what she's made! Here's the full list in case you encounter any broken links or are just now joining us:
Thanks so much to all of you for joining me and to Ellen Hutson to ask me to be on the team! Still pinching myself that this is happening. xo
Supplies
Note: if you make a purchase by using a link from the item below I'll receive a small commission at no charge to you! :)