Hi all! I was invited to join in celebrating The Stamp Market's April release for the Ellen Hutson Design Ambassador team and I'm soooooo happy to be joining in! They're a new edition to the Ellen Hutson shop so we're giving them a BIG welcome!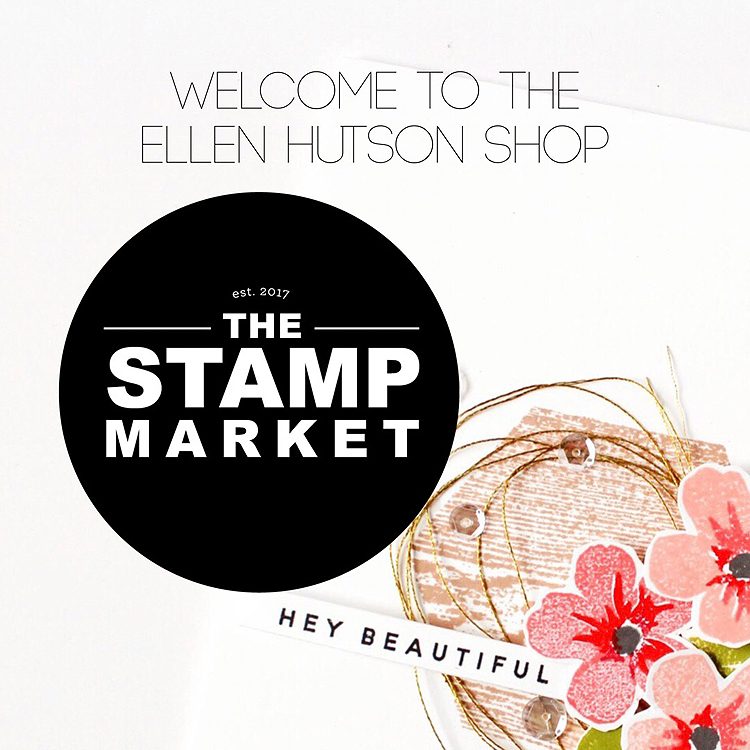 I must confess that I'd never tried The Stamp Market stamps before but feel like I've found a new friend — from the moment I received the package in the mail it was love at first sight! Just look at the back of the envelope — it says it all!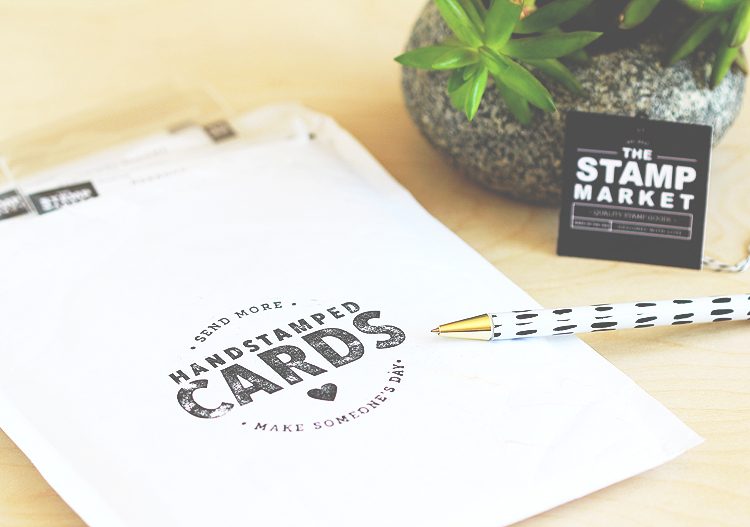 Send more handstamped cards — oh yeah!!! I was sent several stamps from the release and I'm going to be focusing on the Hexagon Hello stamp set and oh whoa it's so versatile! Check it out: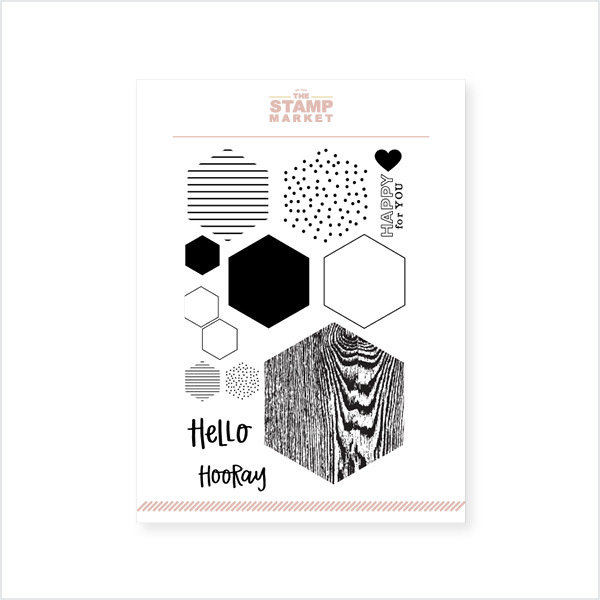 This is a great set for getting inky and playing with color — I've got a list of suggested inks down below. And that woodgrain hexagon? Swoon. I think it'll be great for masculine/Father's Day cards. I ended up making 3 cards with this set and I could have kept going and going and going…so anyhow let's get to it!
You've Been On My Mind
The first card I made was this super clean and simple one inspired by The Stamp Market packaging itself — love the black and white clean and simple look.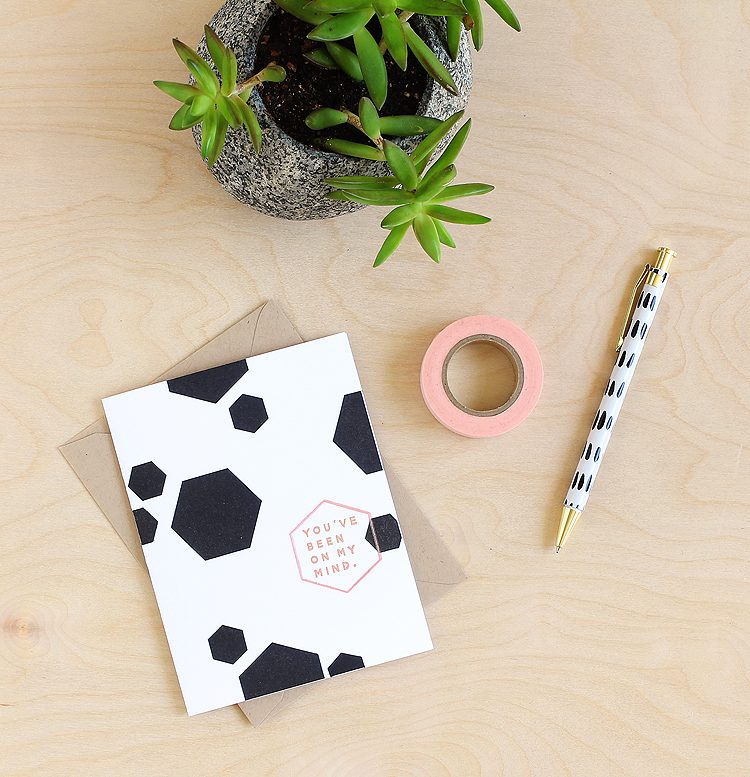 These stamps are made in the USA and stamped perfectly in one shot with Versafine onyx black — this is my go-to black ink. I just added some touches of rose gold for that little something.
The outline hexagon was stamped with rose gold ink and then the "you've been on my mind" from the Beautiful Blooms set was stamped and then heat embossed with rose gold powder.  (Tip: you can easily brush away any stray powder from the outline hexagon.) That Beautiful Blooms set has so many great sentiments you all! I think the contrast between the unembossed hexagon and the embossed sentiment is so cool.
And would you believe out of all 3 cards I'm sharing today this one took the longest? Hahaha! I do love how it turned out tho, it feels like a card you'd find in a boutique for mega bucks right?
Hey Beautiful
Next up, I was checking out my trusty old hexagon pinterest board for inspo and found this Pantone color chart from spring of 2013! Yeah, hexagons are a thing with me and have been for a while now —  they're kinda like the little black dress of stamping.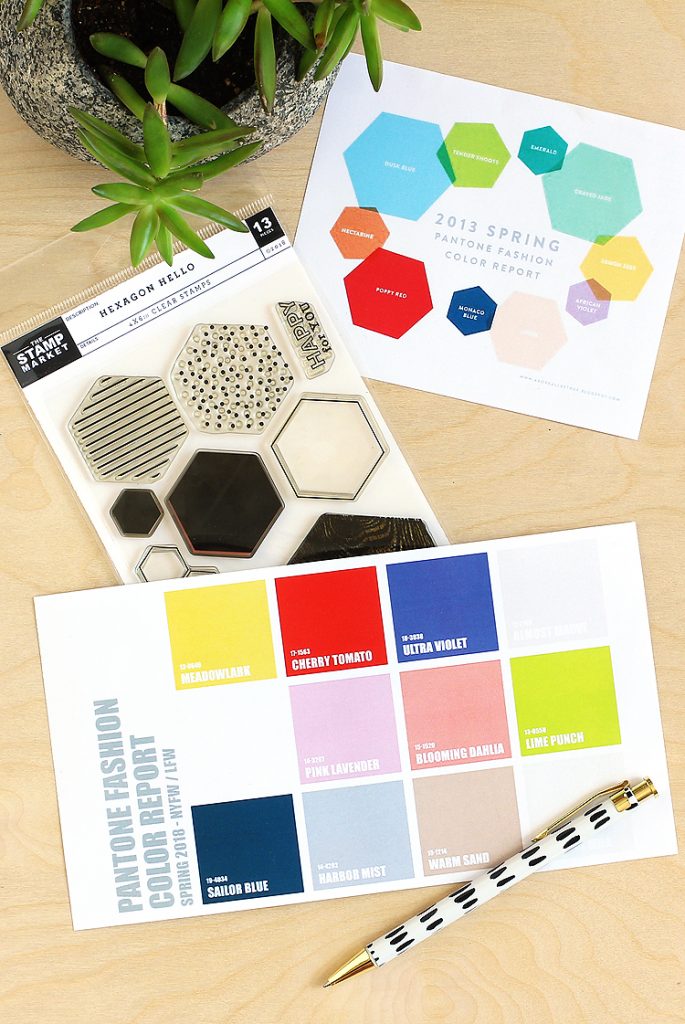 So I went and found the 2018 spring color report and made a card based on both of these combined. Thanks, Pantone!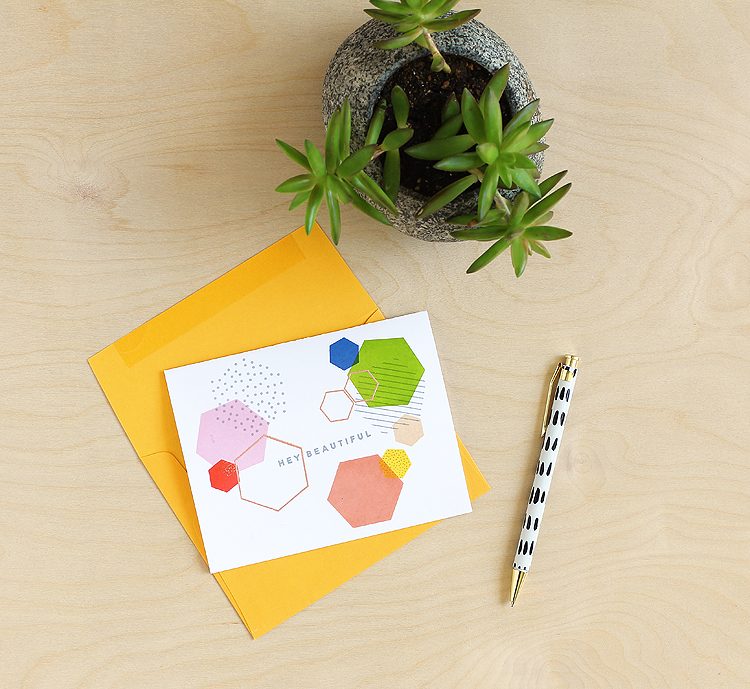 I love how the hexagon kinda lassos the "hey"! Oh and I'm back at it with the rose gold again too haha!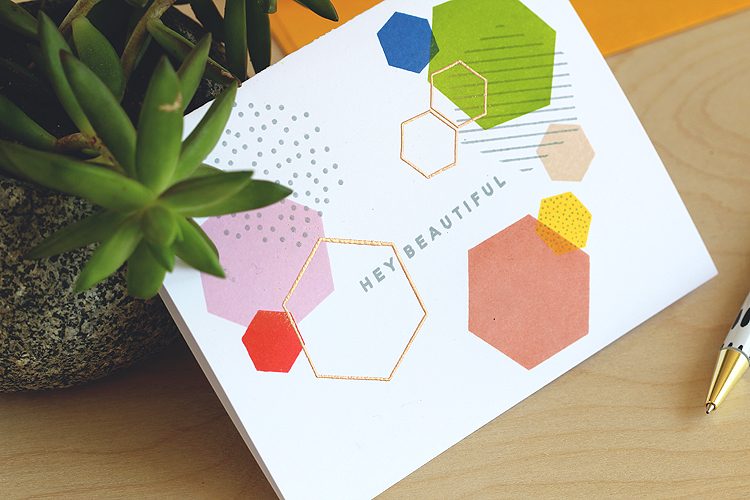 I just had to use gray ink for this instead of black — I think it kinda makes it softer somehow. Also, love that "hey beautiful" sentiment that's also from the Beautiful Blooms set. So many good messages in there! And I haven't even explored the flowers yet — I was having too much fun with the hexagons haha!
Just had to shout out that dark quartz color for the bottom large hexagon — I helped design that ink back when I was working full-time for Hero Arts and it's still one of my fave colors — I think it's quite the match for the "blooming dahlia" in the Pantone chart. :)
You're Amazing
Last but not least, a little card using just ONE of those hexagon stamps and FOUR inks!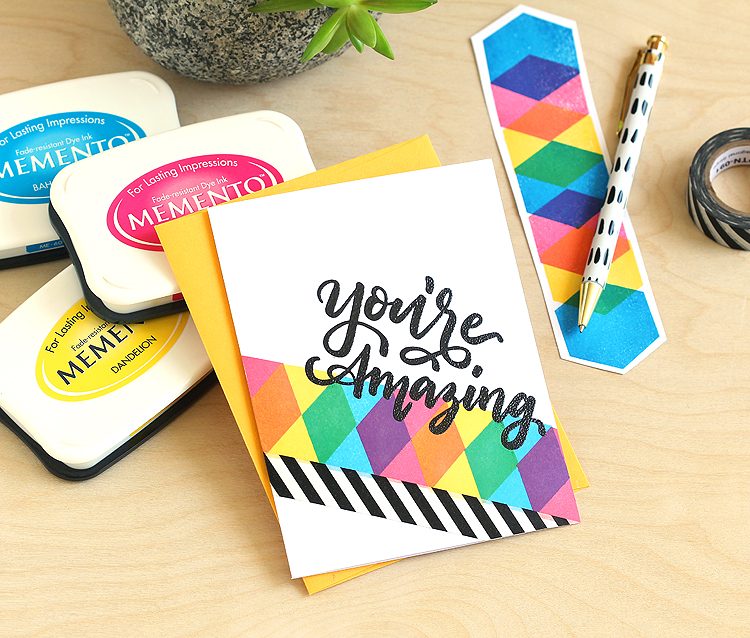 Yep that's right, this card uses just 3 inks for the hexagons and then black for the You're Amazing! It's the CMYK palette :)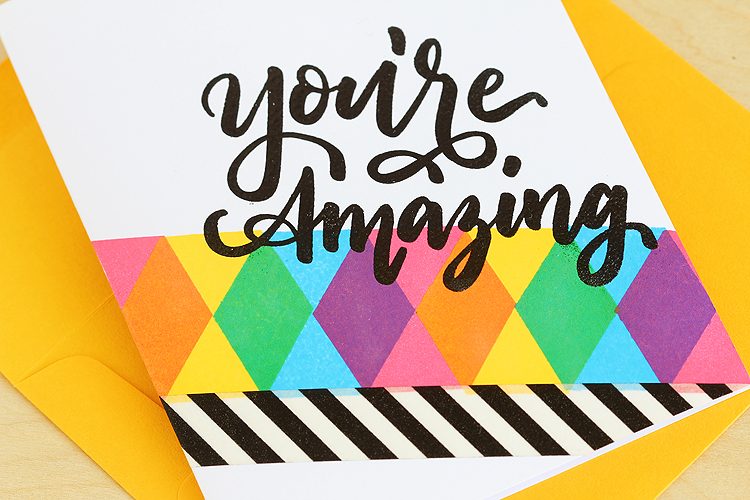 When the stamped hexagons overlap they form a new color — so cool, right??? I got this idea from my explorations with watercolor triads and color theory and it turns out they work for inks too! YEAH!!!
You'll want to use dye inks to get this effect, but the overlapping technique will look cool with other inks as well — just different results. You'll need a pink, yellow and a blue ink pad to represent the CMY triad, for cyan, magenta and yellow. I used all Momento inks but I've ordered some more inks to give them a try — here's a list for ya!
Thanks so much for joining me! Be sure to check out what my teammates have made over on the Ellen Hutson CLASSroom blog and be sure to check out The Stamp Market blog too — I know I sure will! xoxo
Supplies
Note: These are my affiliate links so if you make a purchase by clicking the link I'll receive a small commission at no charge to you! (Thank you!)