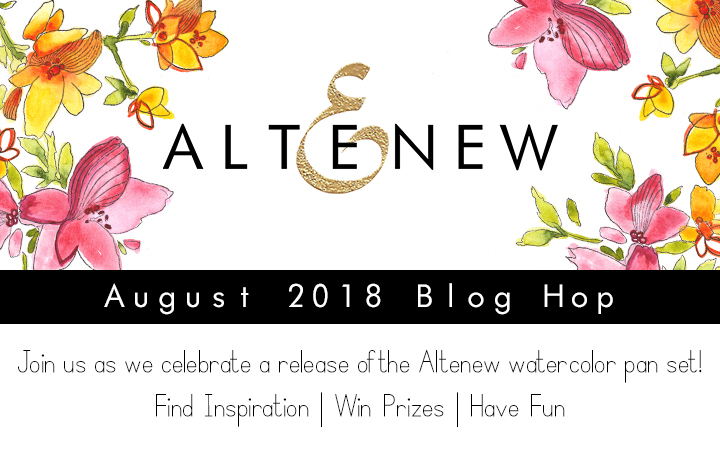 Hi there and welcome to my stop on the Altenew August release blog hop! I'm so glad you're here! If you've been hopping along with us already, you'll be coming from Erum Tasneem's blog. If you're just now joining us you can head on back to the start of the hop at the Altenew Card Blog.
We're hopping to celebrate the release of Altenew's new 36 pan set of watercolors! These are so vibrant! Just have a look: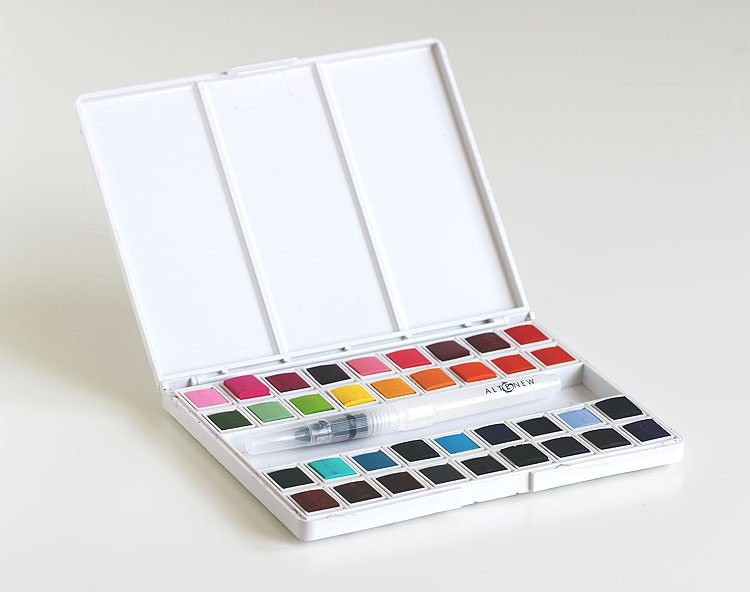 I love how the pans pop out and have the names on the bottom. Plus the palette has so many great mixing areas. The set also comes with a water brush.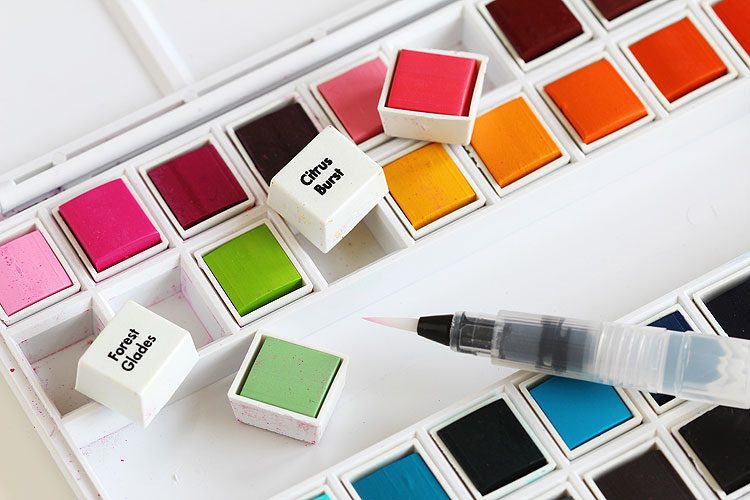 The first thing I did was swatch them out — check out all those colors!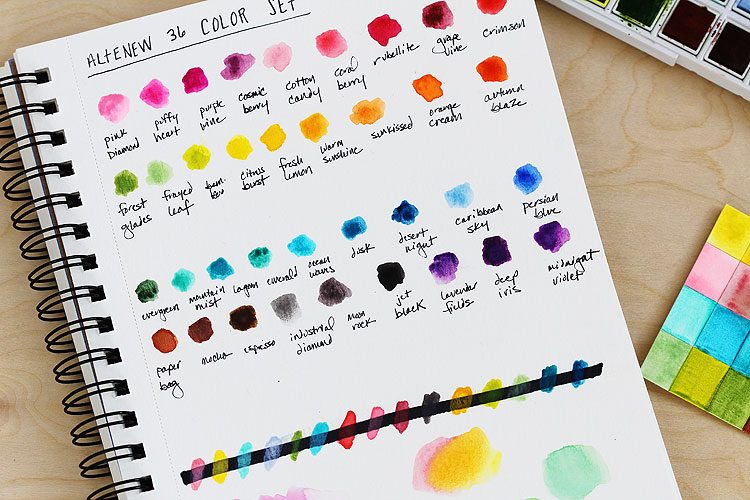 The second thing I did was to put them in the order that made the most sense to me! Love that the pans come out so that you can configure the set however it will work best for you.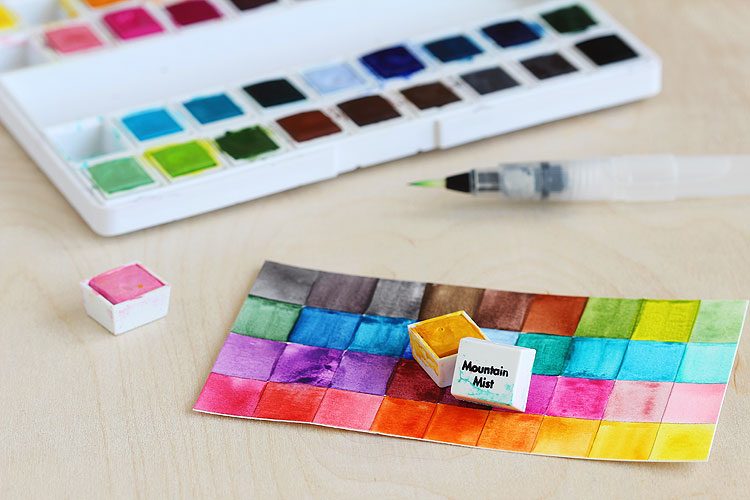 I've found that these watercolors are very opaque — I did the highly scientific method of drawing a line with a big ole sharpie marker and then coloring over them. As you can see, the watercolor sits on top of the paper and blocks out the marker: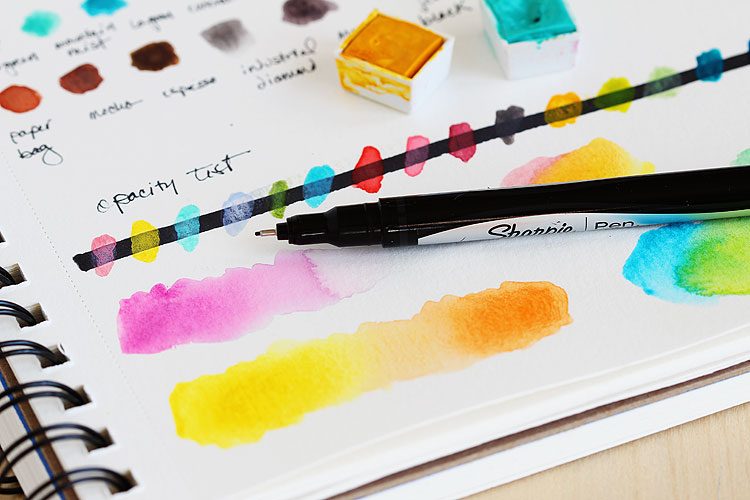 This is a good thing because it means the color stays really vibrant! Buuuut it also means that the watercolors will cover up the lines of your stamped image — which is fine if you're going for the "no-line" watercolor look — but not so good if you stamped your images in black LOL!
So my first tip for ya is to heat emboss your stamped images — easy! If you have a MISTI tool, you can always stamp your image once, color it, and then stamp over it again to get your crisp lines back. :)
Now on to my cards! I made FOUR cards to share!
Cactus Congratulations
I had so much fun with this one!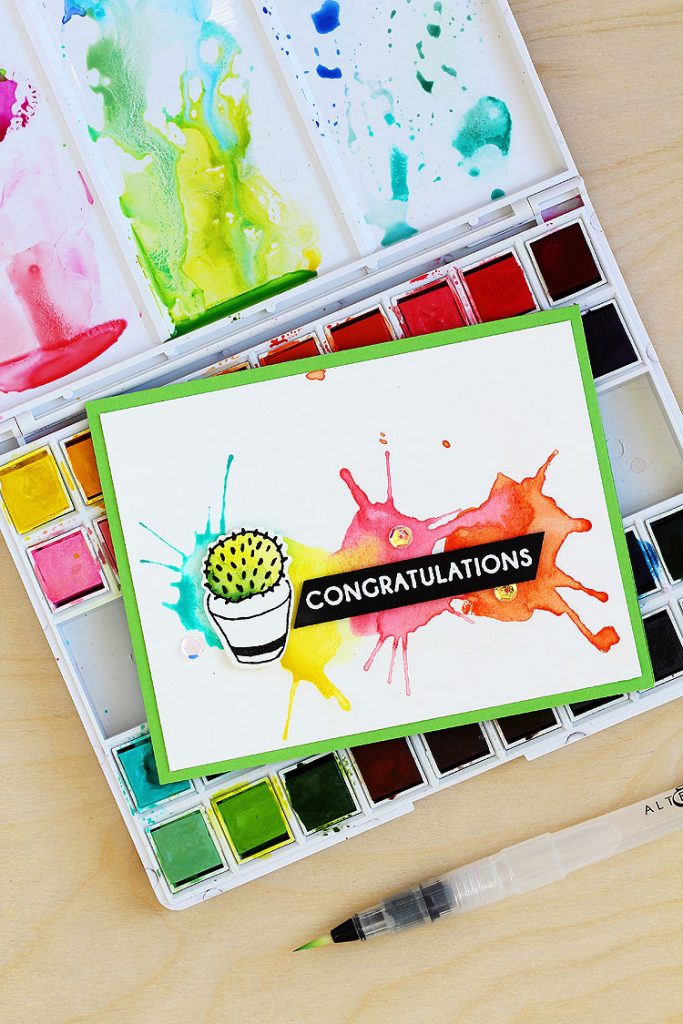 Isn't that the happiest cactus ever? It was super simple to put together, thanks to those watercolors! Here's a closeup so you can see it better: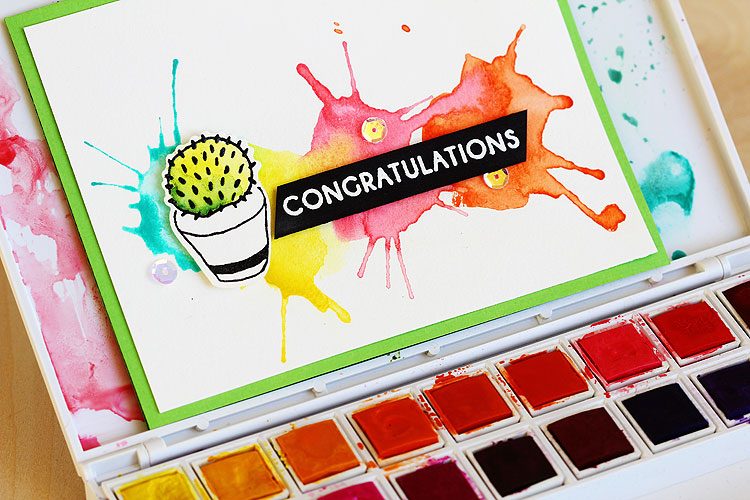 And here are my tips and tricks for this guy!
I first heat embossed the cactus from the Altenew Indoor Garden set  [AN |EH] in black ink to preserve the stamped image
Next I colored him in with watercolors with included water brush — I left the pot uncolored for a little contrast
Then for the background, I trimmed a piece of watercolor paper to 5.25 x 4″ and then I made really super juicy puddles of color and then blew on them with a straw — it's so fun! The trick is to make your puddles really really juicy — try it on a scrap of watercolor paper to get the hang of it. :)
Here's another shot of that background so you can see it better — just makes me happy :)
Now on to the next set of cards!
Thank You Flowers
For this set of cards I used the Altenew Magnolias For Her stamps [AN | EH] and matching dies [AN | EH] to show the softer side of the Altenew watercolors: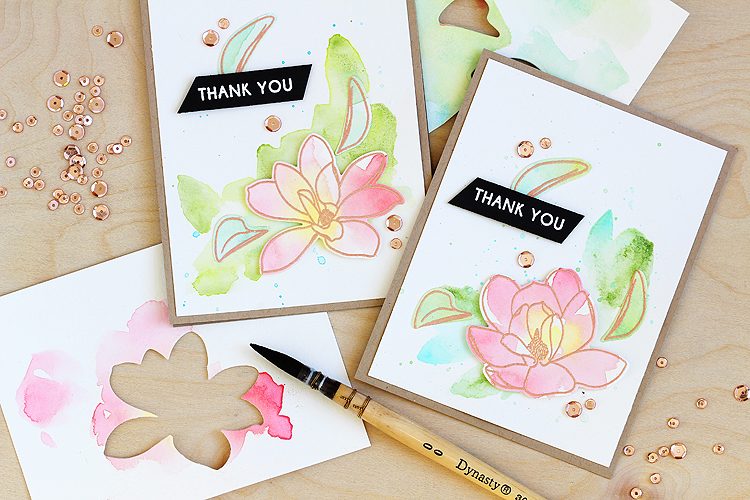 Aren't those pretty?
I started out by picking up some of the pink watercolors on my brush and making a puddle of paint on the palette. Then I dipped my brush into clean water and added a bunch of water to the paint to soften the color. I then watercolored a super loose shape that kinda sorta resembled the shape of the stamp.
I did the same trick to make a background with light green, making the shapes of the leaves.
Then when the watercolors were completely dry I stamped the flowers and leaves over the watercoloring using Altenew embossing ink and embossed with rose gold
Hello
Last but not least, a happy hello!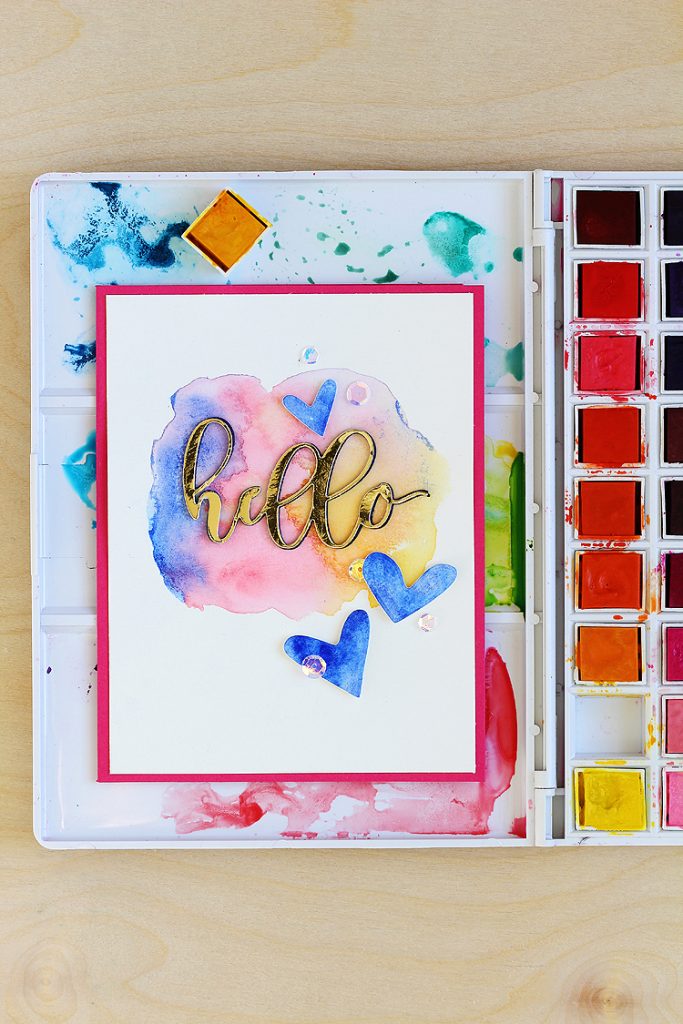 For this card I just played around splashing on paint to make another background and then added the "hello" die cut over top!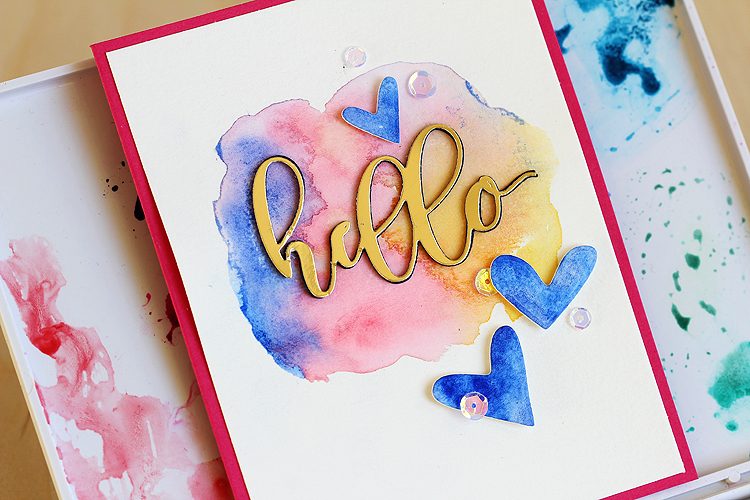 Here are some tips and tricks for this card:
While you have your supplies out, use up some leftover paint to color a scrap of watercolor paper, then use it to die cut or punch out other elements later such as these hearts!
Pick colors that mix well together like yellow and pink and blue and yellow
I started on the left with the blue and painted a thick stripe, then while that was still wet, I started again in the middle with the pink and painted another thick stripe working towards the blue. Then starting from the right I painted a stripe of yellow and work towards the pink.
I die cut the "hello" from gold specialty paper — using the Altenew Embossing Ink [AN | EH] love that extra shine!
A Few More Notes
I was sent an early release set of these watercolors back in January so I've had some time to play!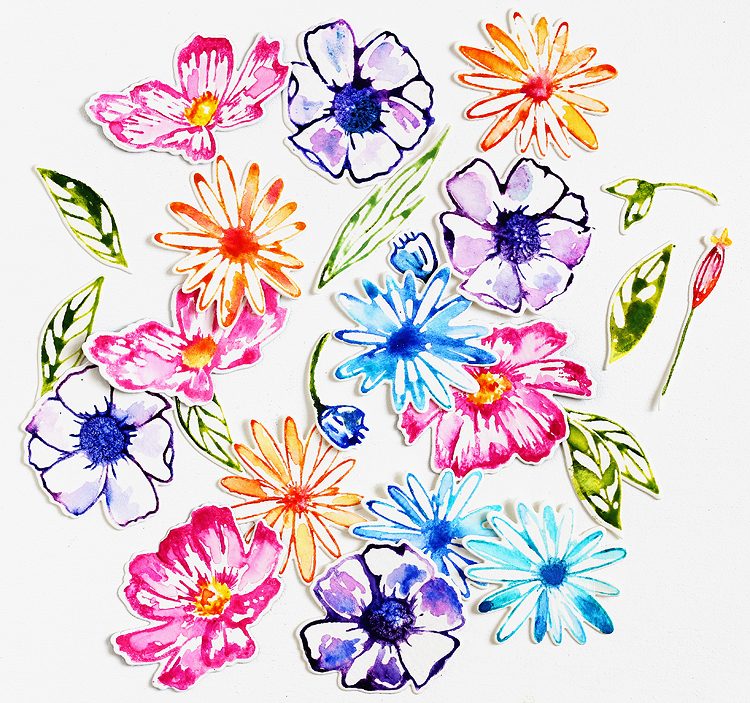 I've found that if you mist them with plain water and let them sit for a bit the paint gets really rich and creamy. In THIS post I'm sharing a technique where I brush paint on a stamp and then pull some of the color down to the flower petals with a damp brush.
I haven't done a lightfastness test, but I've found that a few colors do fade over time, most noticeably the pink diamond and cotton candy. I wonder if they have a pigment similar to opera rose, which is a known fugitive color across all brands. Also remember that all watercolors lighten as they dry.
Comparing these to other brands that I've used, they remind me most of Winsor & Newton Cotmon watercolors or the Prima confections sets.
I've found that some of the blues do stain the palette, but that's normal and I actually like it — I think it makes the palette look loved!
The paints rewet like a charm! I've had some brands of watercolor dry hard-as-rocks in our 100 degree Texas heat, but not these.
I like how you can move the pans around in the palette to suit your way of working — some people put warm colors/cool colors together or color combos they like to remember. In my setup, I have it arranged from lightest to darkest in yellow > orange > pink > red > purple > blue > green > browns > gray/black.
Speaking of the pans, a standard pan fits perfectly in the slots in the palette so you can customize it further!
Prizes and more prizes!
To celebrate this release, Altenew is giving away a $50 gift certificate to SIX lucky winners! Please leave a comment on the Altenew Card Blog and Altenew Scrapbook Blog by 8/15/2018 for a chance to win. Six winners will be announced on the Altenew blogs on August 19, 2018.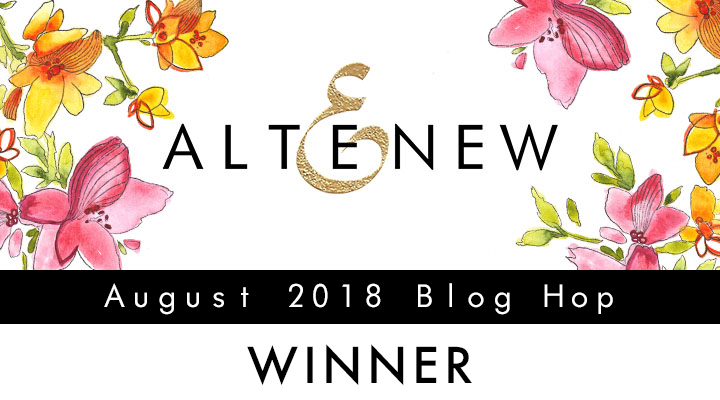 And that's not all! I'm giving away a $30 gift certificate! To enter, just leave a comment right HERE on my blog by August 15th for a chance to win! I'll announce the lucky random winner on August 16th.
Update on August 16: the lucky random winner is Aya Elsheshtawy, yay!!!! I emailed you! Comments are now closed :)
And that's not all! Altenew is having a special promotion: You'll receive a FREE watercolor pan case (value $5.99) with the purchase of the Watercolor 36 Pan Set for a limited time. The free gift will be added to your cart automatically.
Hop On!
Your next stop on the hop is Therese Calvird's blog — just wait until you see the gorgeous card she made! Here's the full hop list in case you're just now joining us or you encounter any broken links:
Thanks so much for joining me, and thanks to Altenew for having me be a part of the release!
Supplies
Note: these are my affiliate links if you make a purchase by using a link from the item below I'll receive a small commission at no charge to you! Thank you! :) AN = Altenew and EH = Ellen Hutson.