Hey hey and welcome to my stop on the Mama Elephant 6th birthday Stampede!! I'm so happy you're here! Cannot believe it's been SIX years!!! Yeah!!! Hooray for Mama E!!!
Now on to my cards! Both of my cards feature the new Kitty Tree stamp set and matching dies — SO CUTE! Check it out: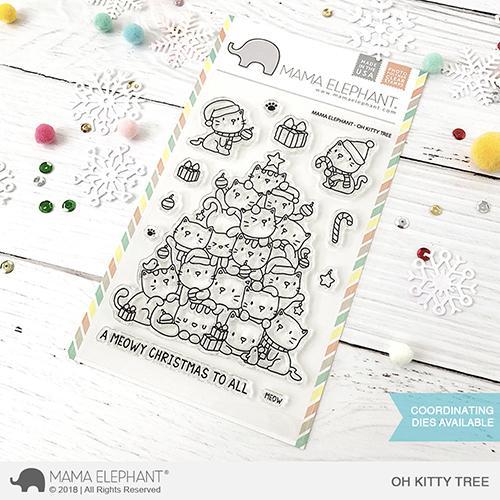 So. Many. Ideas. I just couldn't stop playing!
Bring on the Merry!
As soon as I saw those lil paw print stamps this idea for an inside/outside card popped in my mind!
Here's the outside…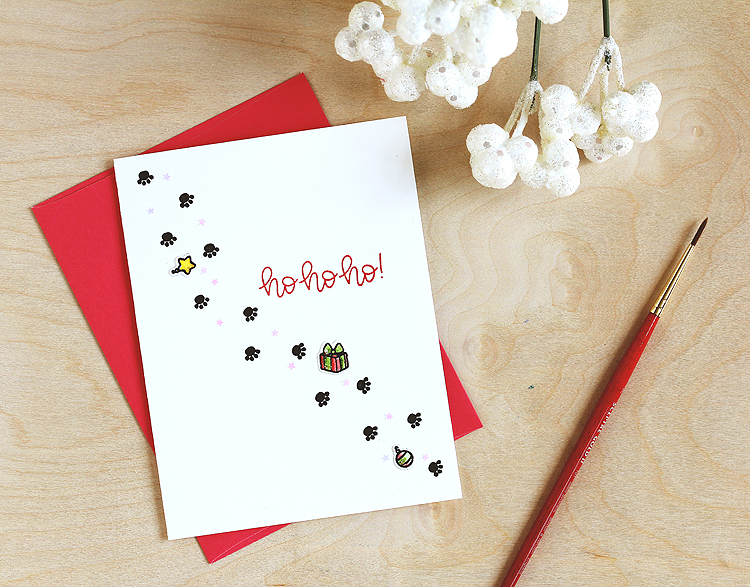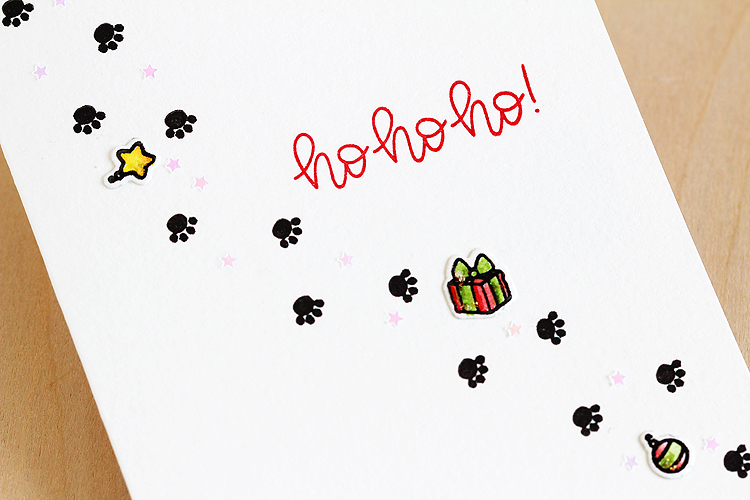 And here's the inside!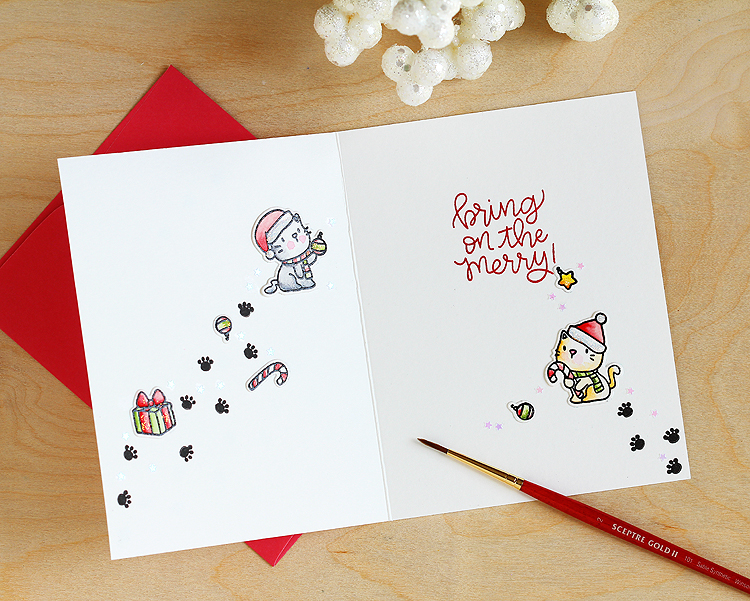 Can you tell I was giggling the whole time I was making this? :)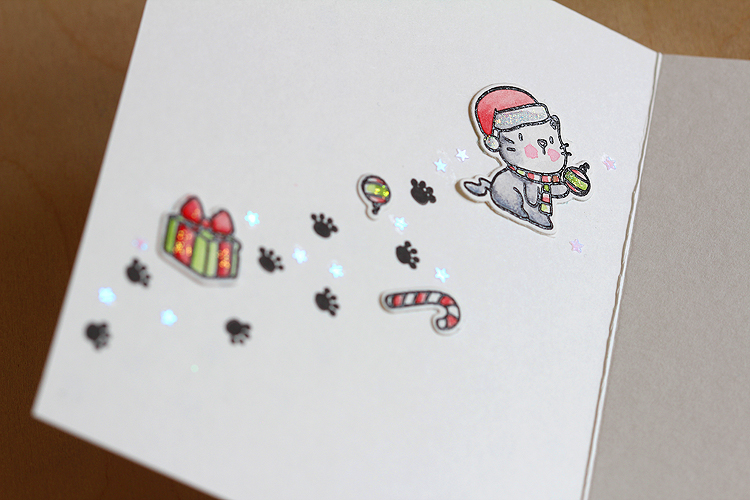 It's pretty straightforward, just stamped the paw prints and then added some little star sequins here and there! I think the combo of the sequins and the kitty's faces make the magic — well that and all the little die cuts, like the kitties dropped them on their way to the tree :)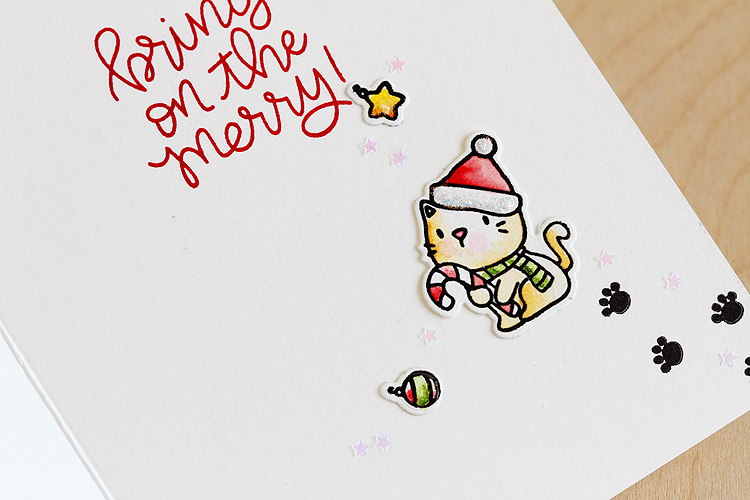 I don't know how they do it, but Mama E's tiny little dies are just the best!
Pro tip: when working with teeny tiny die cuts and sequins I HAVE to have this "jewel picker" tool and this adhesive! The adhesive has a super fine tip annnnnd there's a pin in the lid so the glue doesn't dry in the point and clog it up — happy dance!
Now on to my next card…
Oh Kitty Tree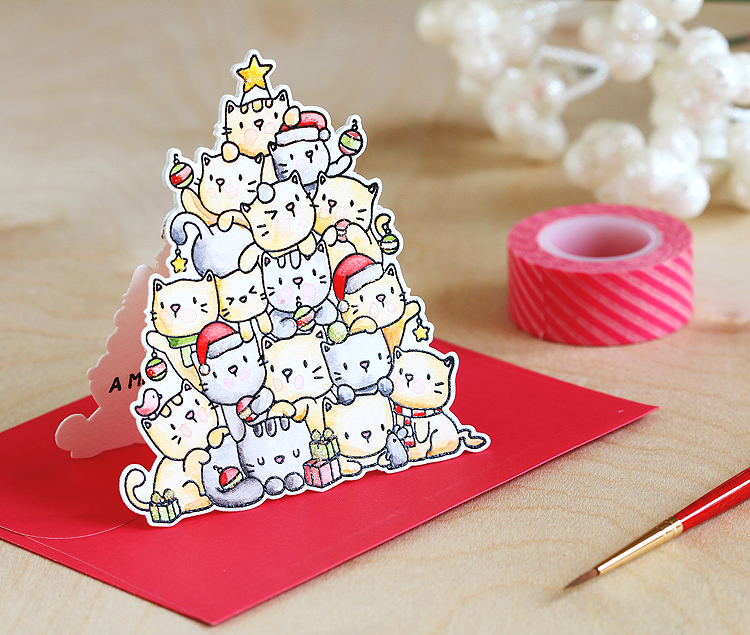 As soon as I saw the Kitty Tree die cut set the first thing I thought was: YOU GOTTA MAKE A SHAPED CARD! :)
Ahhhhh love how it turned out!!!
I just stamped the tree and watercolored it — yeah I was giggling the whole time on this one, too! :)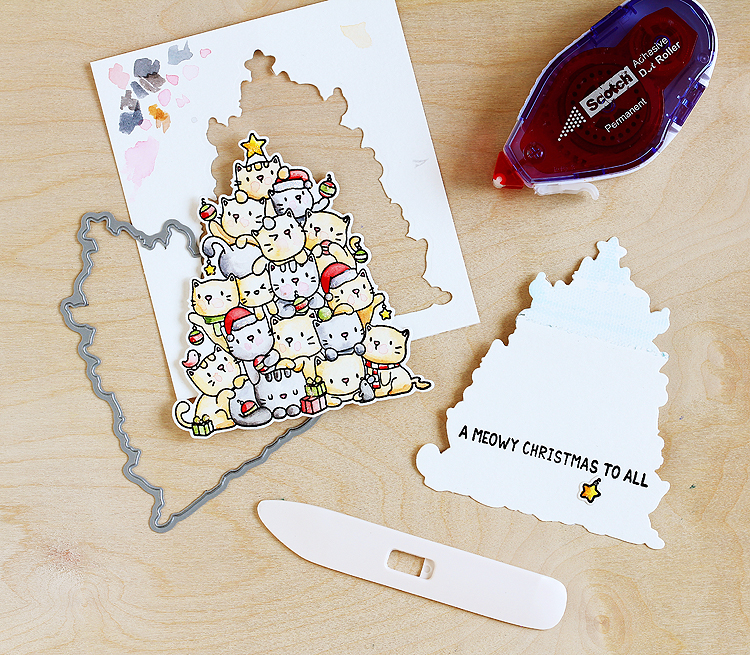 Then just die cut another piece for the back of the card, score it where ya want, and add adhesive…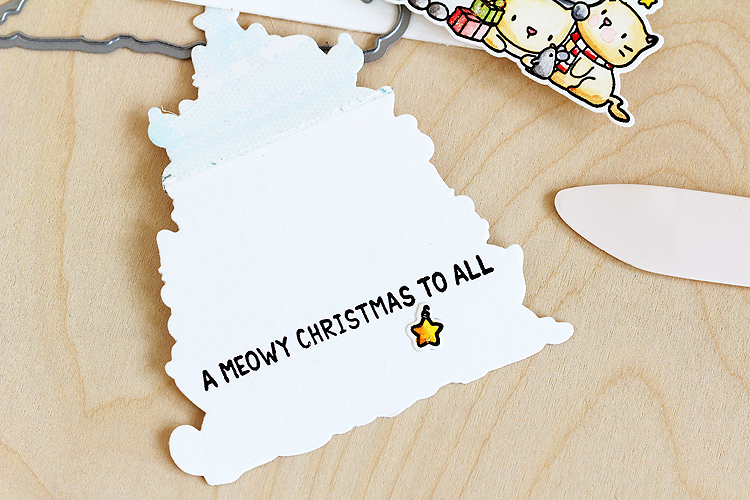 Pro tip: be sure to stamp sentiment before assembling! (Yeah, can't tell ya how many times I've gotten too excited and assembled the card first, lol!)
Oh and I added a little die cut star ornament on there too!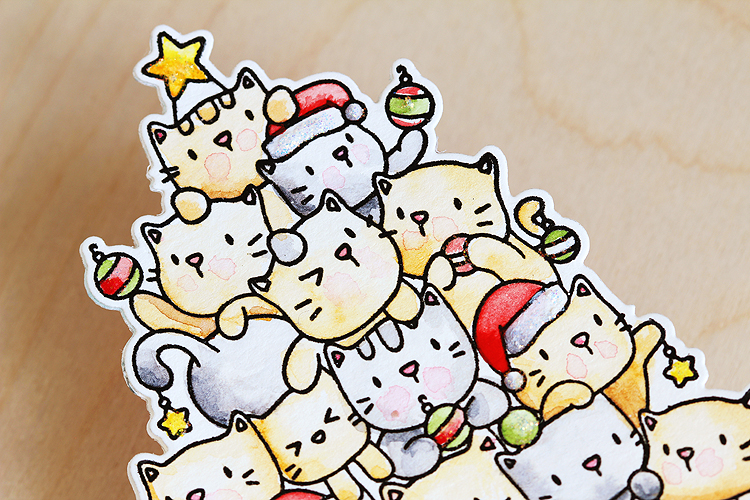 One last closeup for ya!
Special Offers & Giveaways!
To celebrate with you, we have this amazing sale and promotion and giveaway! Keep reading to the end!
10% off entire store! No code required!
Spend $100* – receive 1 free 'Color Me Letters' 4×6 stamp set.
Spend $150* – receive 1 free 'Color Me Letters' 4×6 stamp set and 'Hilly THANKS' dies.
Spend $200* – receive 1 free 'Color Me Letters' 4×6 stamp set, 'Hilly THANKS' dies, and 'Hilly HELLO' dies.
Please read all the fine print carefully! :)
*Subtotal amount must be met before any shipping fees/tax/customs.
Free item(s) valid only a single order/transaction.
Limit one of each free offer per order.
Orders cannot be combined. New orders only.
Limit one free offer per customer/order.
We reserve the right to cancel/modify orders.
Free offer valid 9/15-9/30 or while supplies last!
To celebrate this mega anniversary release, we are giving away of ten $25 ME gift certificates throughout the 3 day stampede! Winners will be chosen at random from the collective blogs in the Stampede. Winners will be announced on the last day of Stamp Highlights. You have up to 4 chances to qualify to win!
» 1. Leave a comment on this blog post «
Each action qualifies for one entry, max 4 entries per stampeder please!
Hop On
Joining us on this wild ride of a stampede are some of my favorite crafty designer friends!  If you've been following along with us, your next stop is Wanda Guess — just wait until you see what she's made! SO CUTE!!!
Here's the full list if you encounter any broken links or want to start at the beginning:
Supplies
Find the Oh Kitty Tree set and matching dies right here in the Mama Elephant shop and the rest of the supplies below. Note that these are my affiliate links, so if you make a purchase by clicking the link I'll receive a small commission at no charge to you — thank you! :)
A BIG happy birthday to Kryssi, Angela and the whole Mama Elephant crew!!! Love you guys!!! xoxo