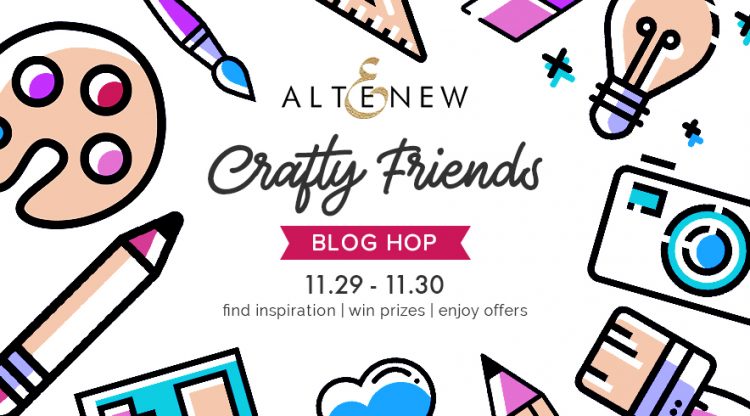 Hi there and welcome to my stop on the Altenew Crafty Friends blog hop! I'm so glad you're here!
I'm honored to be among these crafty friends and this wonderful creative community. I'll never forget when I first started stamping — I was in college and decided to hand stamp my Christmas cards. I had a snowflake stamp and clear sparkle embossing powder and I just thought it was so cool. I didn't have a heat tool, I melted the embossing powder by holding it over my toaster — one time I caught the paper on fire lol! Fast forward to today when I have an actual heat tool, along with many (many!) other crafty supplies, lol! So seriously grateful for all the amazing companies out there like Altenew who dream up these awesome bits of creative goodness for us!
Now on to my cards! Today I'm sharing THREE different ways to use Altenew Watercolor Brush Markers and I have a video for ya, too!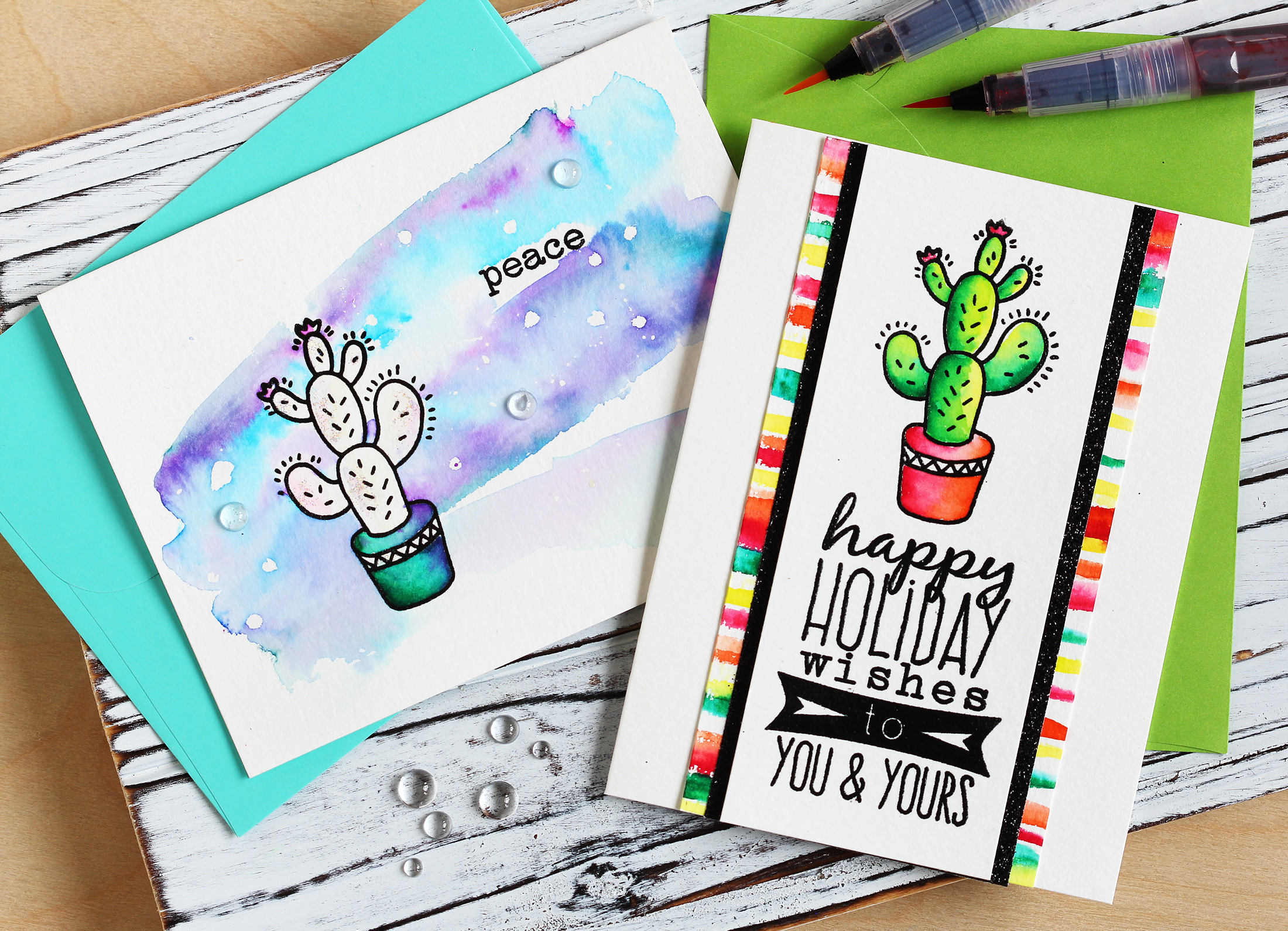 Both cards use the cacti from the Be Strong set — I love cacti and I love this set so much! I've gotten tons of use out of it and I love using cacti for Christmas, especially since it's usually still warm here in Texas. It was 75 here today!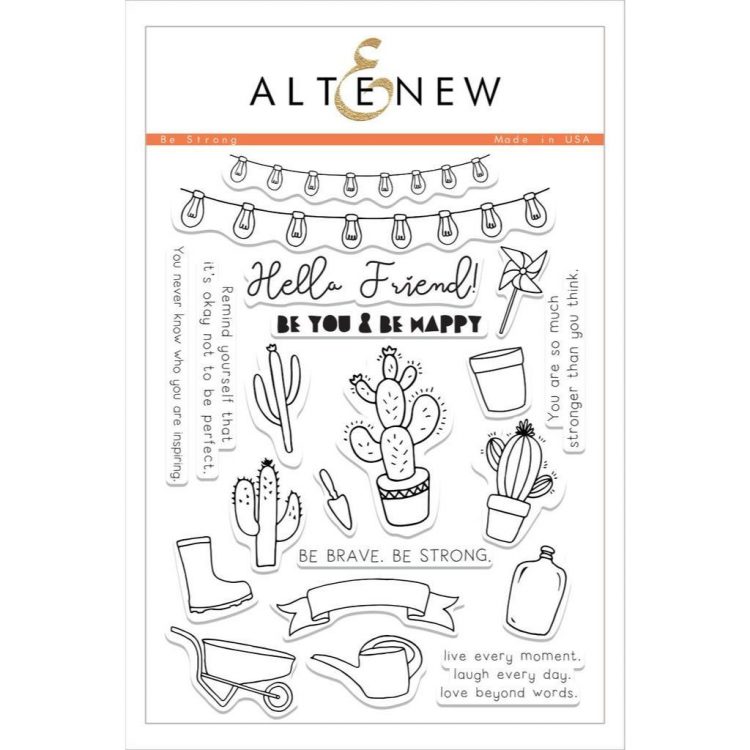 Here's a quick video with the THREE techniques! Watch below or over on Youtube:
Here are some closeups so you can see those cacti better!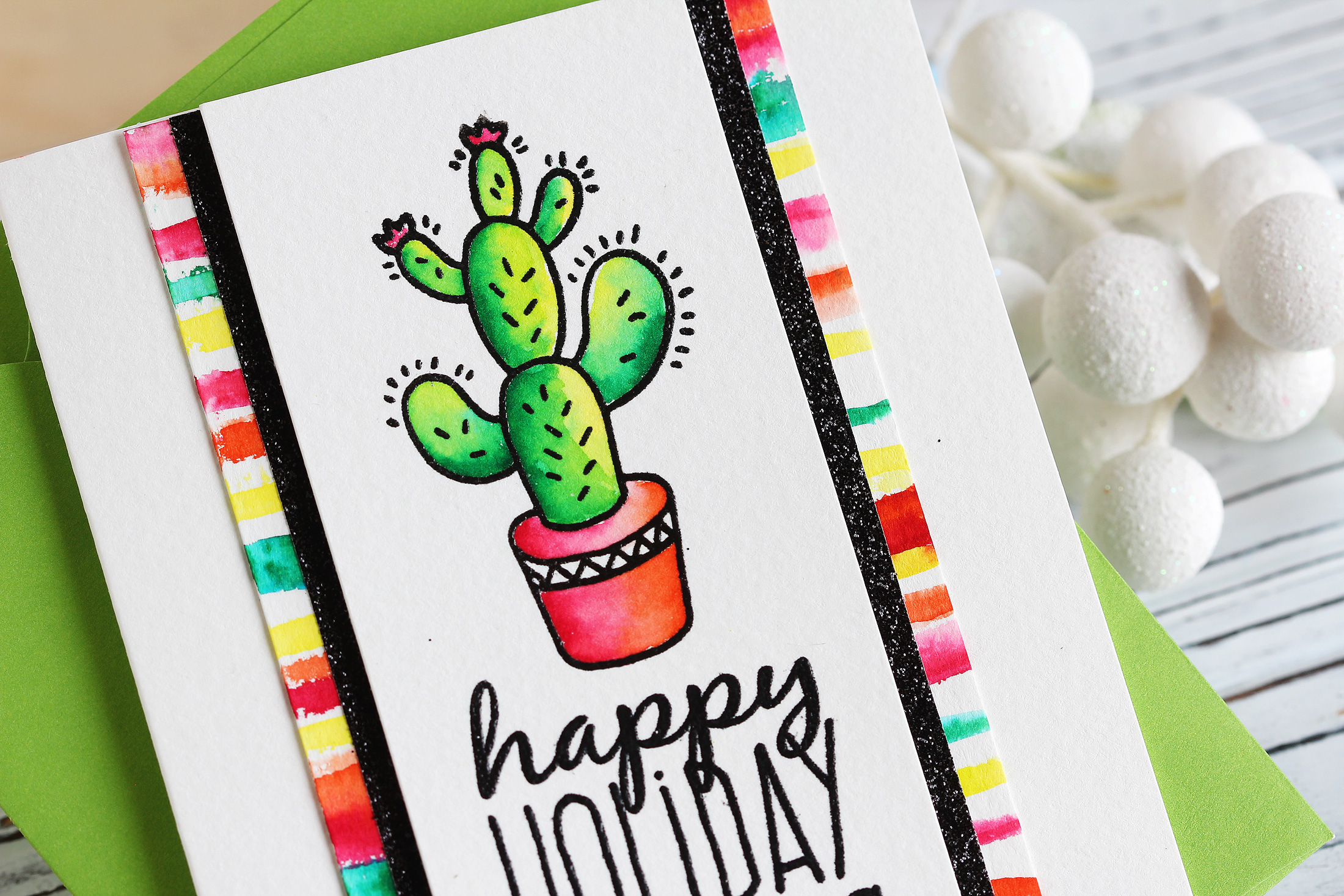 This guy just makes me happy! He feels so cheerful and festive, am I right?
Now for a closer look at the peaceful version: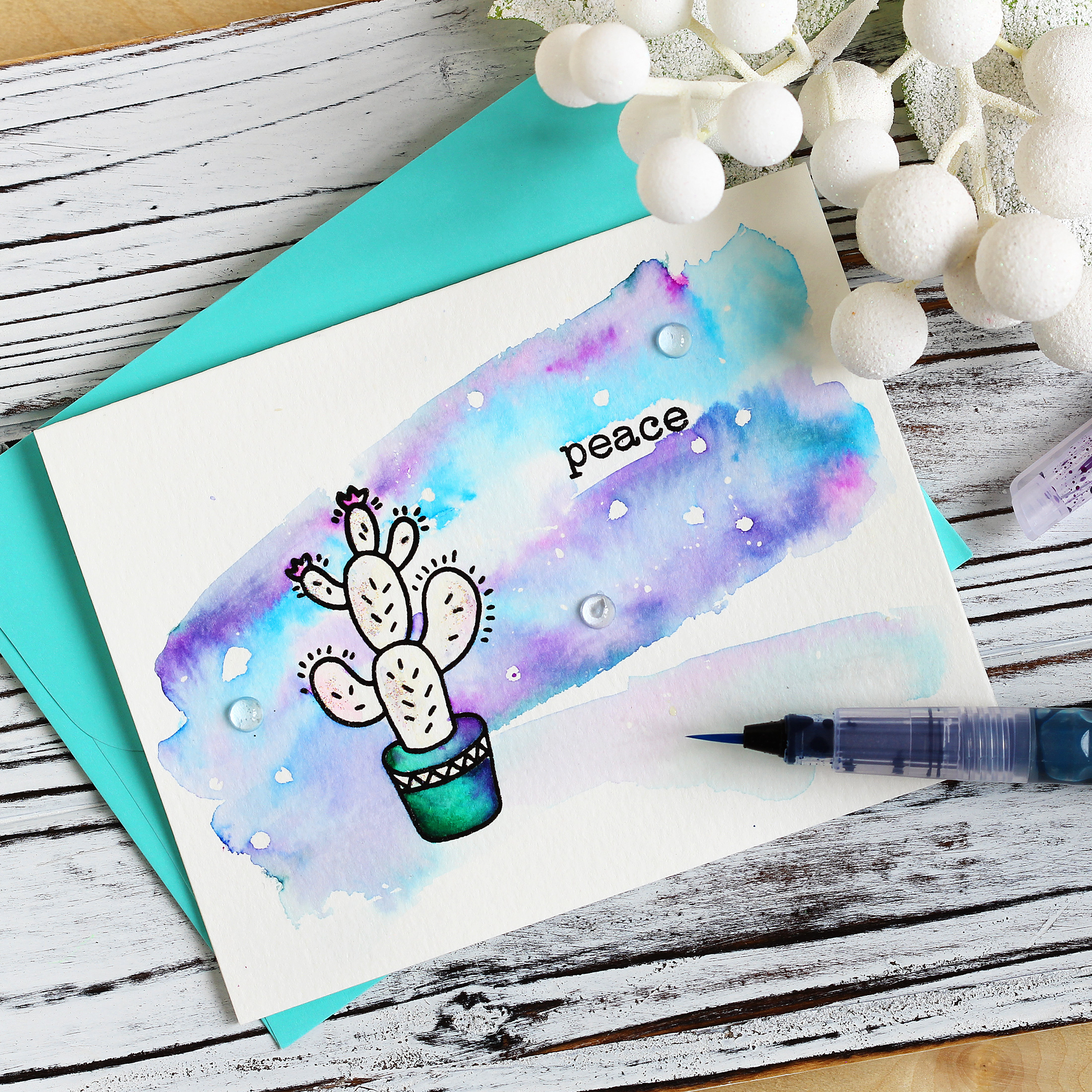 Isn't it cool how the markers blend together?
Tips and Tricks
I love working with the Spring Garden Altenew Watercolor Brush Markers — it's almost like the cards just color themselves! I find them super easy to use, and the colors are so vibrant. I used watercolor paper for both cards as I find the colors blend better on watercolor paper than they do on regular cardstock.
Here are a few tips and tricks for each card: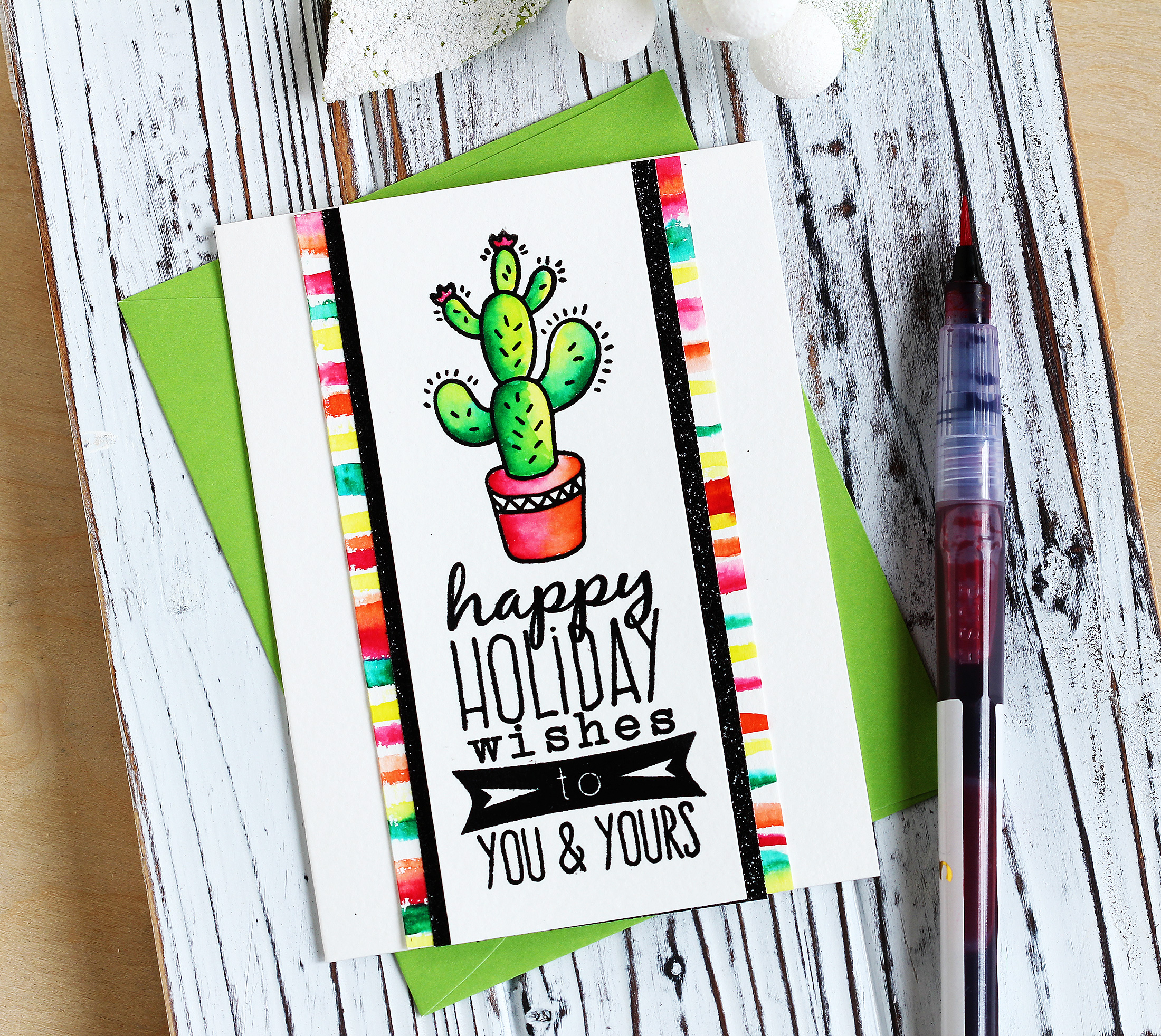 Merry Cactus
Since the colors are so vibrant, it's best to blend from your lightest color towards the darker color — otherwise the darker color will take over! You can scribble color on a plate and pick it up with a damp brush if you're working in a smaller area and the color is too intense. I just used a single dot on those flowers!
I colored the cactus pads one at a time using emerald and limeade markers.
For the pot I used autumn blaze (orange) and rubellite (red).
It's super easy to make striped paper to coordinate with your card! The big trick here is to go over each color with water, rinsing your brush between colors. So I go over all of the red first, then the light green, then the dark green and so on. Otherwise your brush will pick up some of the color and you'll muddy up your stripes!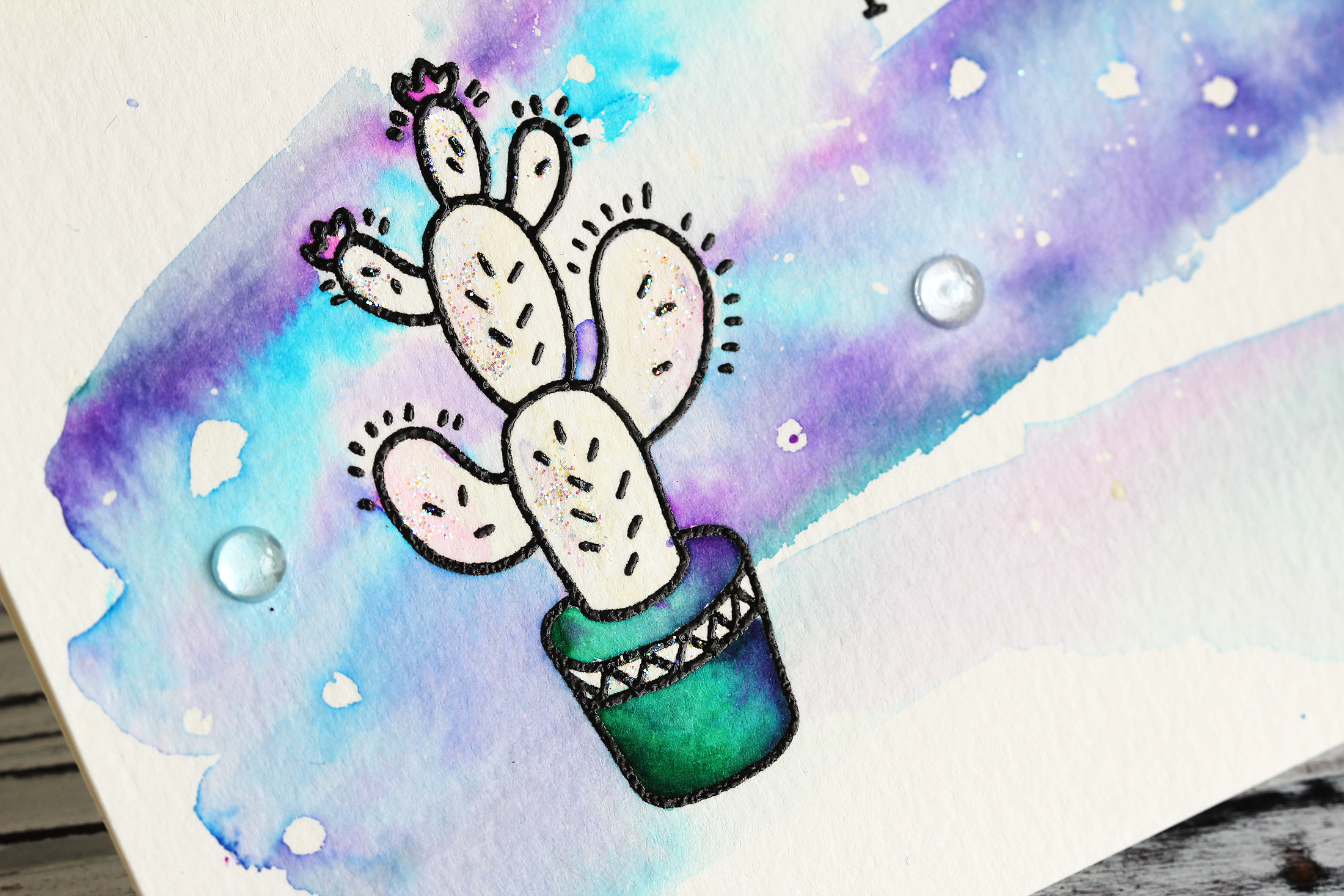 Peaceful Cactus
For the peaceful background, scribble some color off on scratch paper so that the marker is pretty dry before you use it on the card. I used dusk, midnight violet and sea breeze for the sky.
I used emerald, midnight violet and dusk for the pot.
Use masking fluid to block out areas that you want to stay white, such as the snowy cactus. Dot some here and there for snowflakes. Then the only hard part is waiting for it to dry before adding color! After your marker color has completely dried you can gently rub off the masking fluid — I find that just using my fingers works the best, or there are rubber pickup erasers specially designed for the task.
I couldn't resist adding a few of these new crystal clear droplets and glitter to this card to finish it off!
Hope you give these techniques a try! Let me know if you do — I'd love to hear!
Special Offer
FREE U.S. shipping with code CRAFTY18 or $5 OFF international shipping with code FRIENDS18 at checkout. Offer valid from 11/29/2018 at 12:01 am EST through 12/1/2018 at 11:59 pm EST. Not valid on prior purchases. Cannot be combined with other promo codes.
So. Many. Prizes!
First off, Altenew is giving away a $50 gift certificate to 5 lucky winners and one Altenew Academy class to 5 lucky winners.
Annnnd, our sponsors have some awesome prizes up for grabs as well!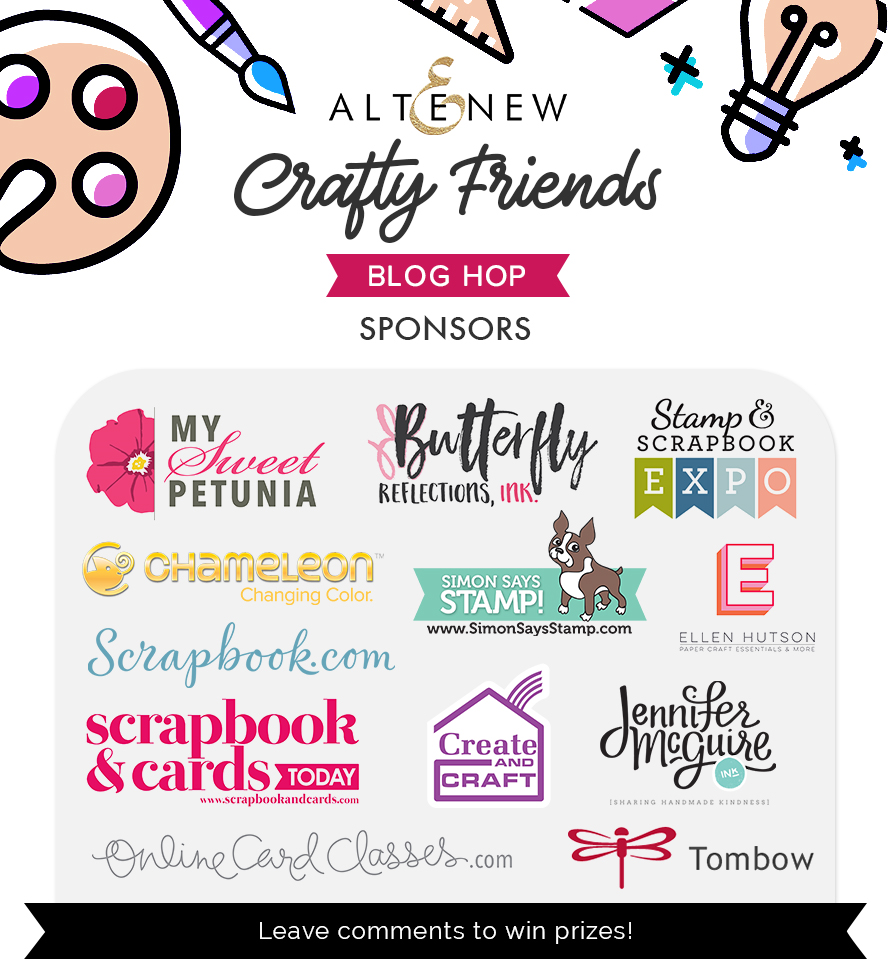 There are 12 awesome sponsors who are celebrating with us, and they are offering the following prizes — be sure to leave comments by Sunday, December 9th, 2018 for a chance to win! 35 winners will be chosen at random from the comments left on all of these blogs listed below and will be announced on the Altenew Card Blog and Altenew Scrapbook Blog on December 15th, 2018.
And that's not all!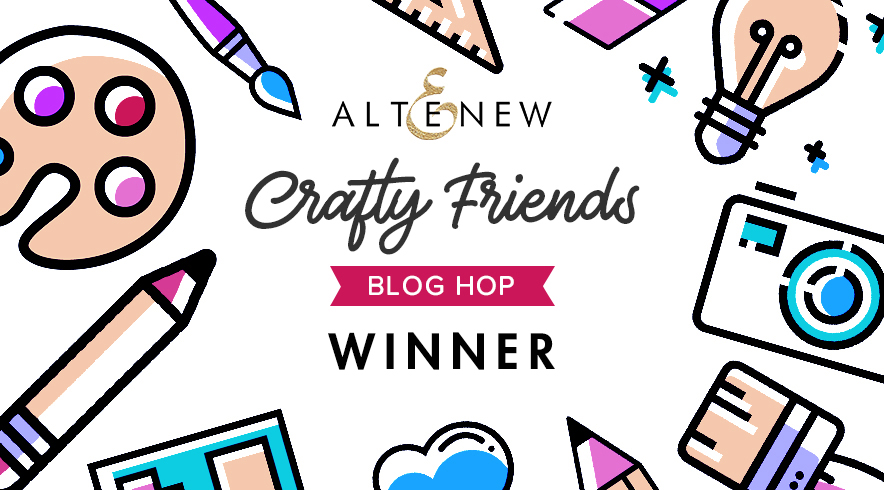 I'm giving away a $20 gift certificate! The lucky random winner is Heather Nelson! Yay, Heather! I emailed you!
Hop On
Your next stop on the hop is Anna Komenda's blog — I can't wait to see what she's made! Here's the full list in case you're just now joining us or encounter a broken link along the way:
Thanks so much for joining me! xoxo
Supplies
Note that these are my affiliate links, so if you make a purchase by clicking the link I'll receive a small commission at no charge to you — thank you so much!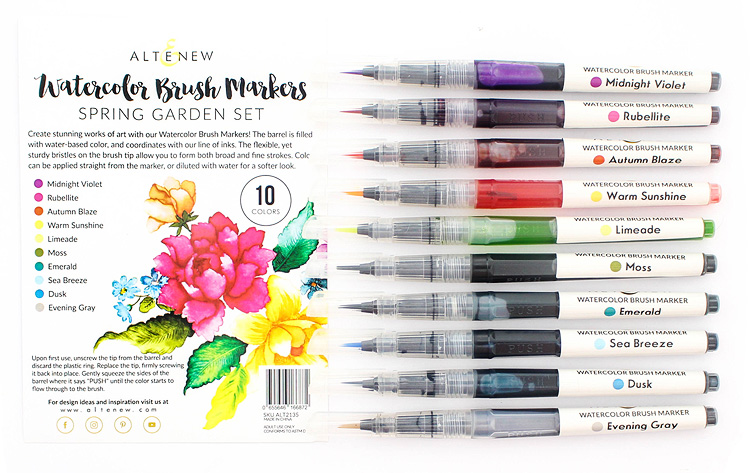 The star of the show is the Altenew Spring Garden Watercolor Brush Markers set — find them HERE at Altenew or HERE at Ellen Hutson!
Here are my links to the stamps and dies at Altenew:
Here's my full supply list at Ellen Hutson, where you can find even more Altenew goodies: