Say HELLO to two new BIG beautiful scripty dies in the Essentials by Ellen lineup: Big Scripty Thank You and Big Scripty Hello! (Pick them both up in a bundle and save!)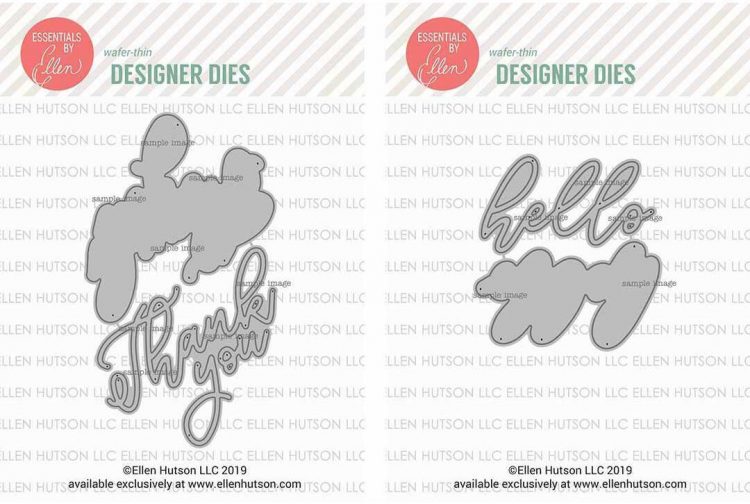 I got a little carried away as usual and made waaaaaaay too many cards with these! I was just having too much fun. But that's a good problem to have, right? So I thought I'd walk ya through my process!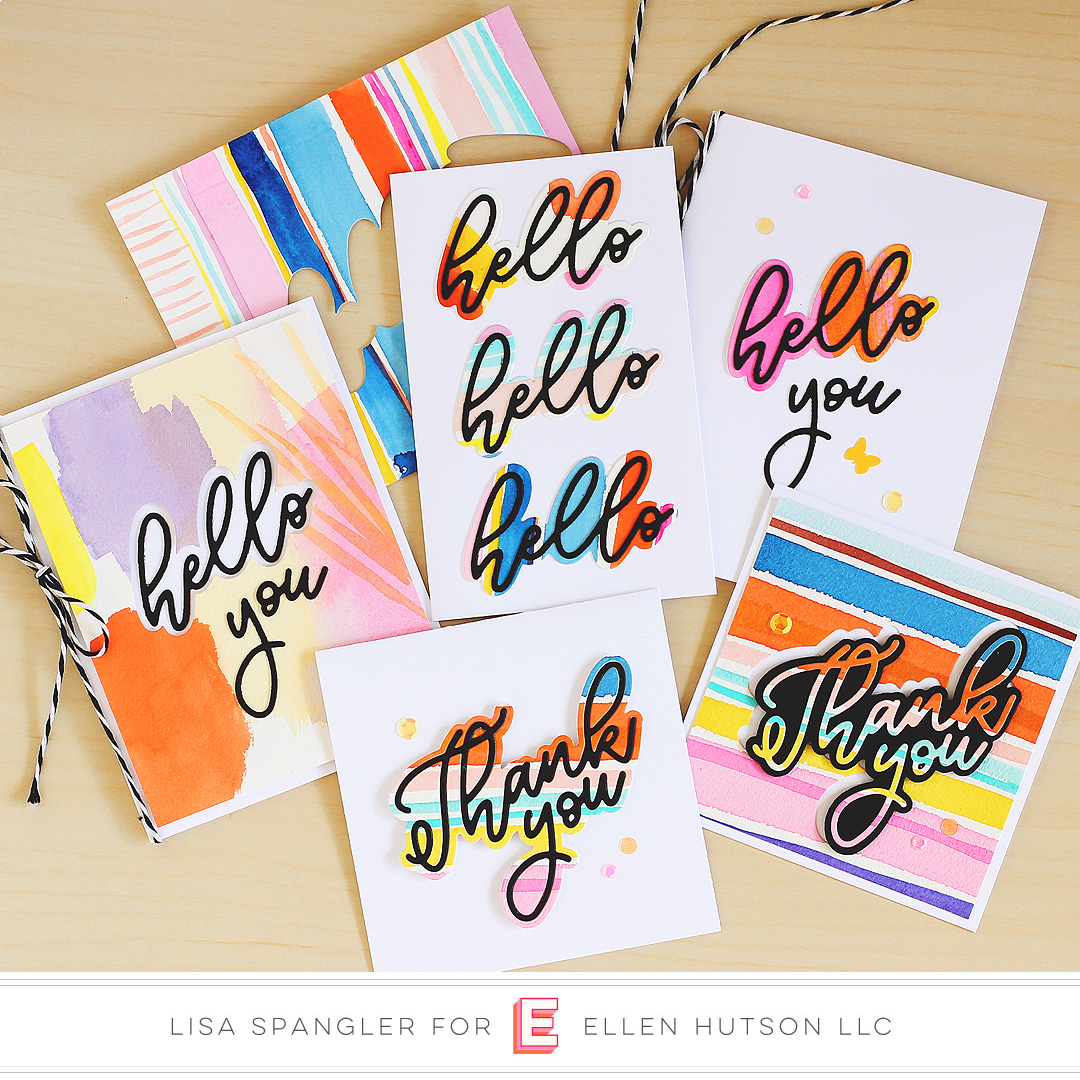 I started out by choosing the colors — that's actually always the hardest part for me! For these I decided on lemon yellow, lavender, opera pink, vermillion orange (since I had it them on my desk for the Mondo gerbera daisies) and blue. These colors make me so happy!
Then I sat down and made some backgrounds on good quality watercolor paper — love doing this part! I had a coupla requests on instagram for a video on how I make these — anyone else interested? Leave a comment and let me know!
Then after the backgrounds were completely dry I put together my cards.
Thank You
I wanted to really emphasize the outline die and the "thank you" for this first card! So I started off with a striped background and die cut the outline part.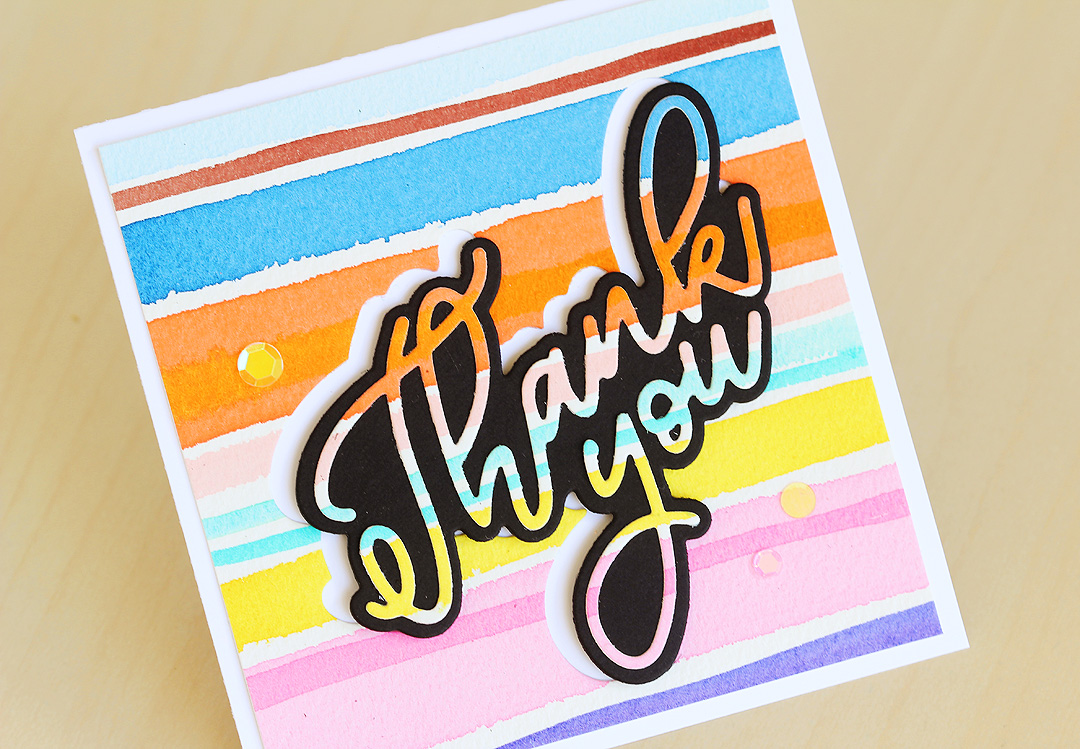 Then I die cut outline part outta that and saved all the pieces for my next card — you'll find that below!
I die cut another outline from black cardstock, added the words to it and then offset it from the background. Some foam tape and more of those new sequins — (love the flat ones!!) — and that was that!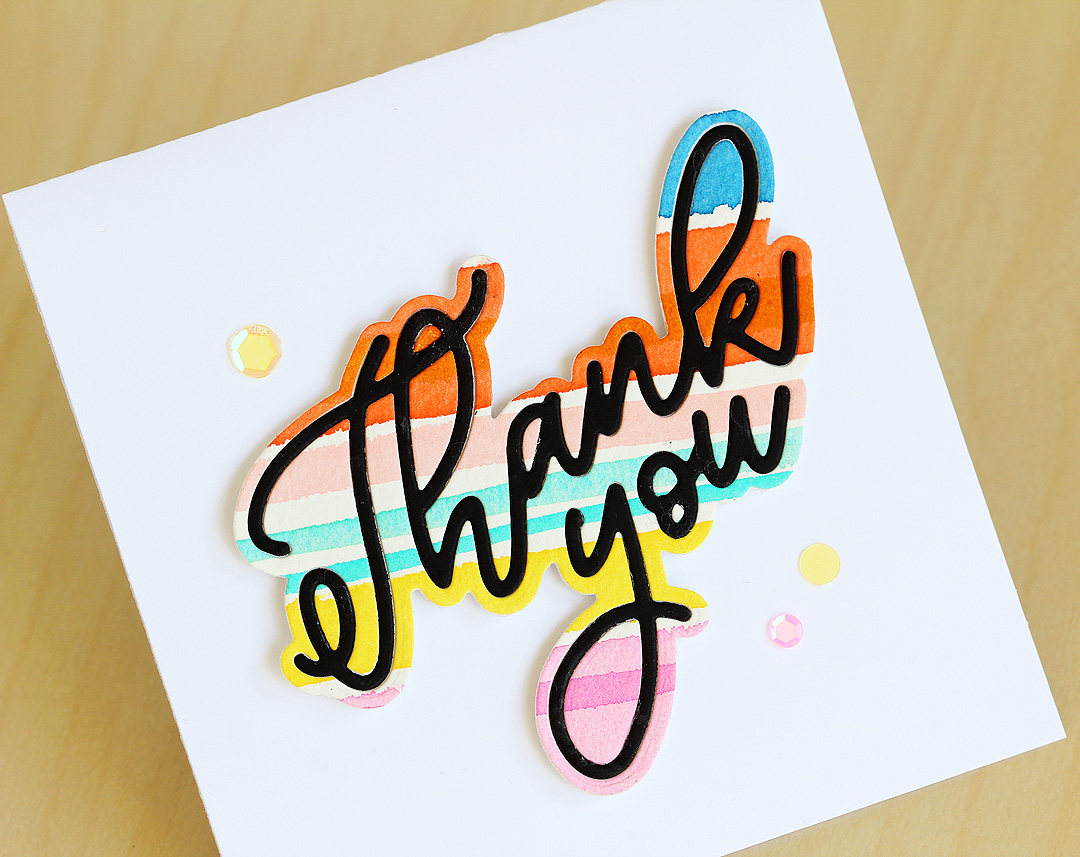 Here's the card made from the outline background — it has a little inlay action going on! It was super easy to put together — I just cut another outline thank you out of white cardstock, put adhesive all over it, and popped the pieces in place.
Then I added some more of those new sequins and that was that! Love making two cards at once like this!
Hello Hello Hello!
Now for the Big Scripty Hello!
I made a bunch o' cards with this one and saved my outline pieces, then cut 3 hellos out of black cardstock and put 'em all together.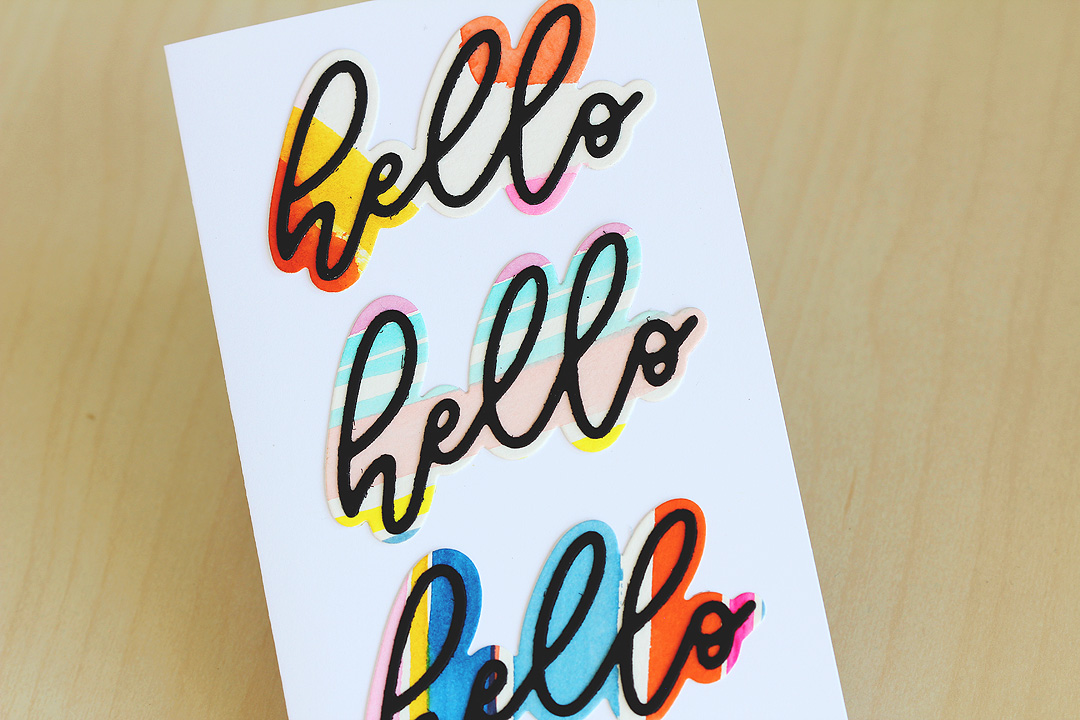 Doesn't it look cool? Like a card you'd find at a fancy schmancy stationery shop!
Hello, YOU!
And then!
While I had these all out on my desk it hit me that you could combine the "you" from the Thank You die with the Hello!
OH YEAH!!!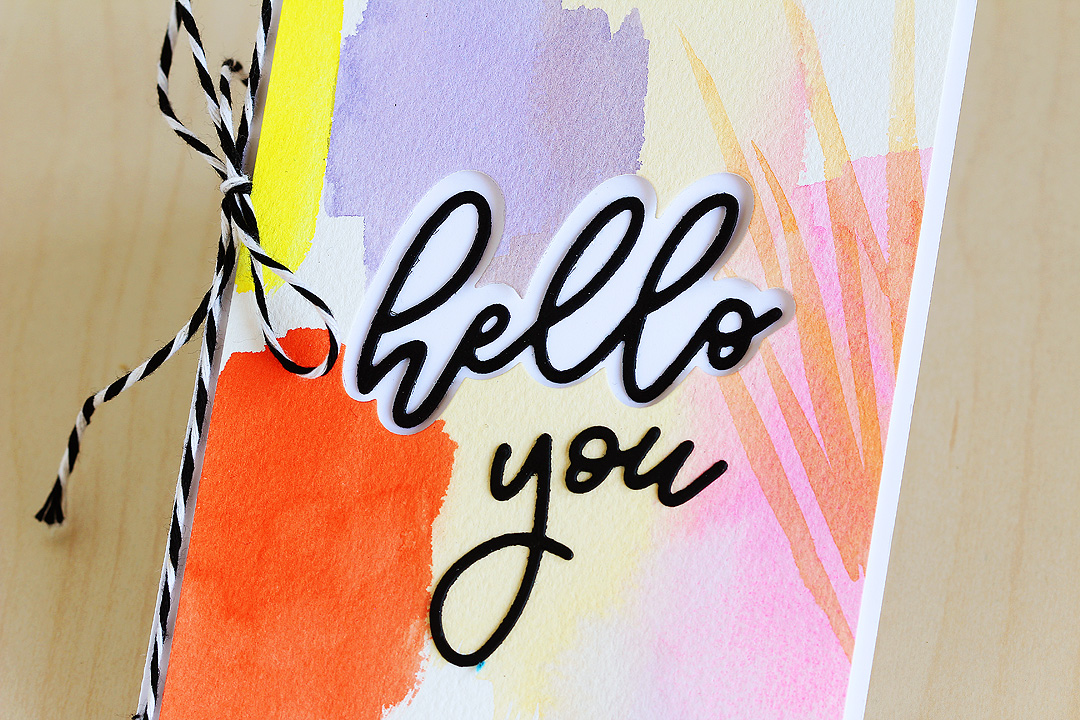 So of course I had to make MOAR cards!!!
Had to add some of the new butterfly sequins — they just make the card!
Oh and! I used regular black cardstock on these cards, but while I was putting together the supply list for ya I stumbled on this glossy black — gotta get me some of that, I think it would look fab!
GIVEAWAY!
Now how about a giveaway! I have an extra Big Scripty Hello up for grabs, yeah!!!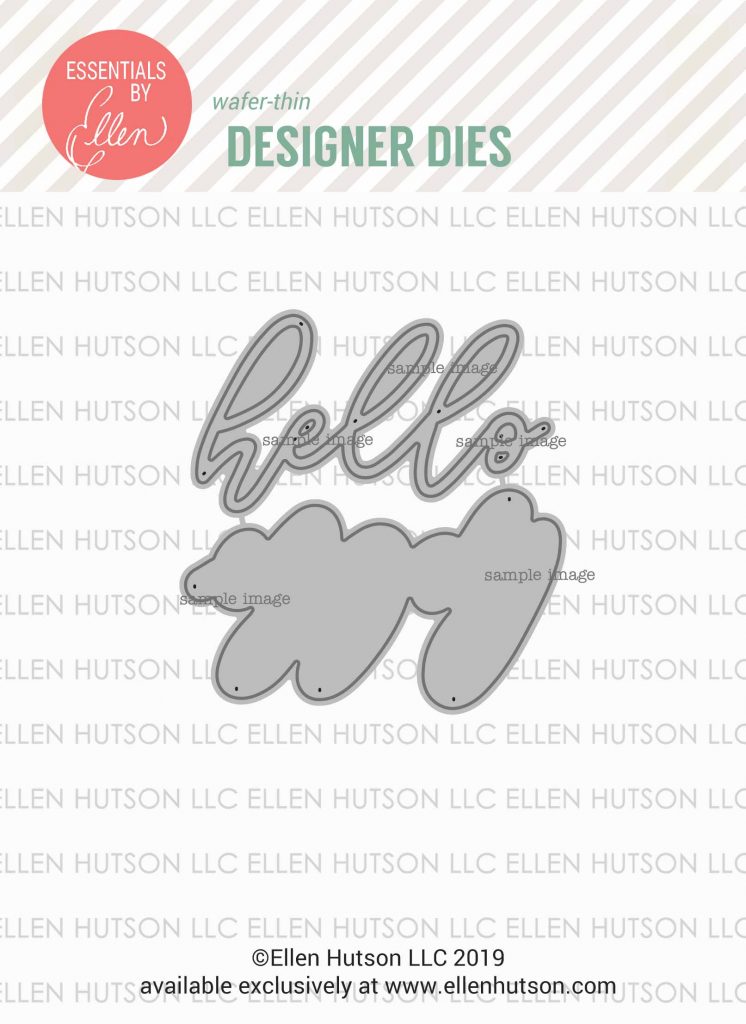 To enter, just leave a comment on this post by Wednesday, February 13th and I'll announce the lucky random winner on Valentine's Day! Please note that the giveaway is open to US mailing addresses only — so sorry! Hope you all understand xoxo!
More From the February Release!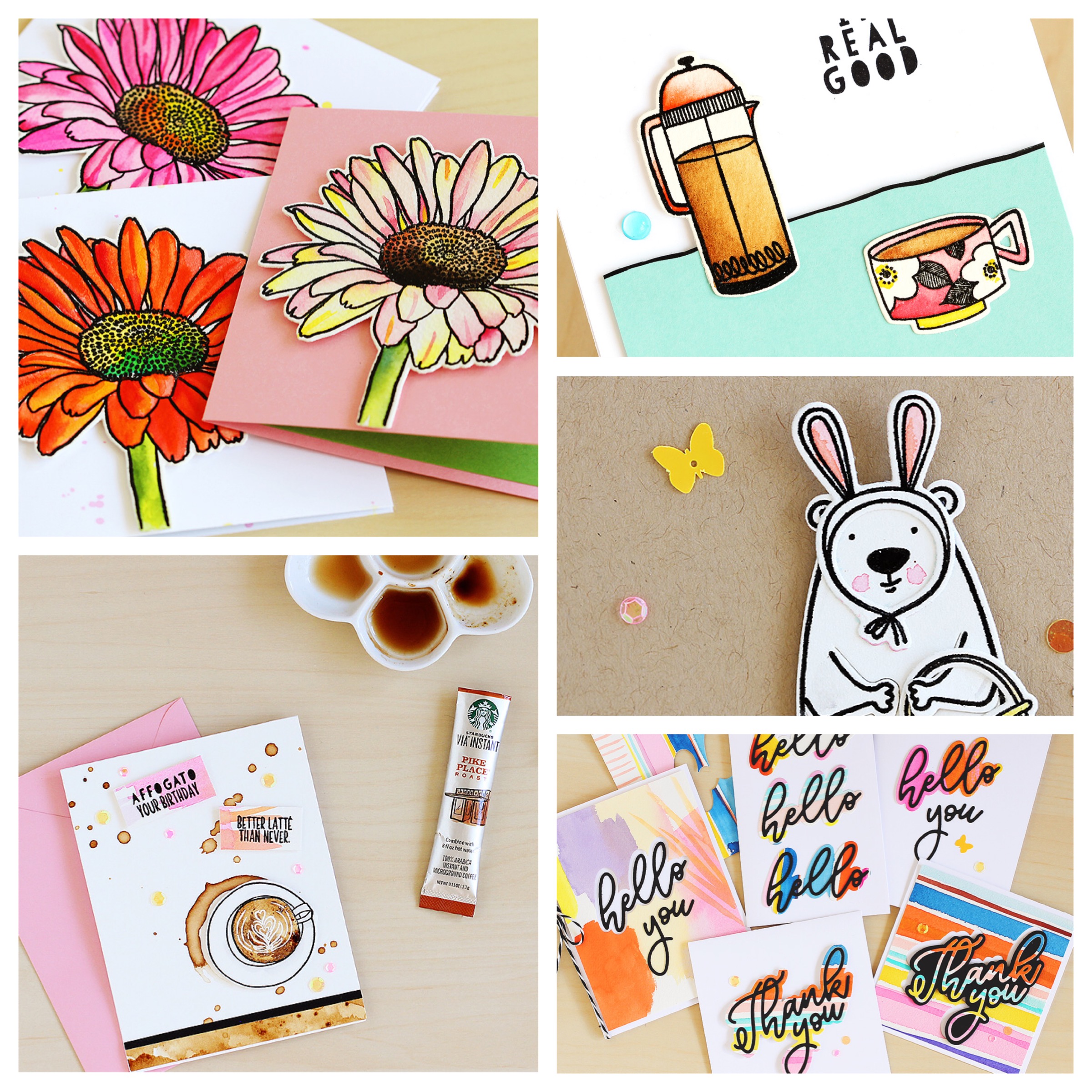 This is the last of my release day posts — see the full release roundup post right here.
Here are the other posts — PS there's one more giveway…!
Supplies
Note that these are my affiliate links so if you make a purchase by clicking the link below I'll receive a small commission at no charge to you — thank you!
First up, the stars of the show: Big Scripty Thank You and Big Scripty Hello! (Pick them both up in a bundle and save!)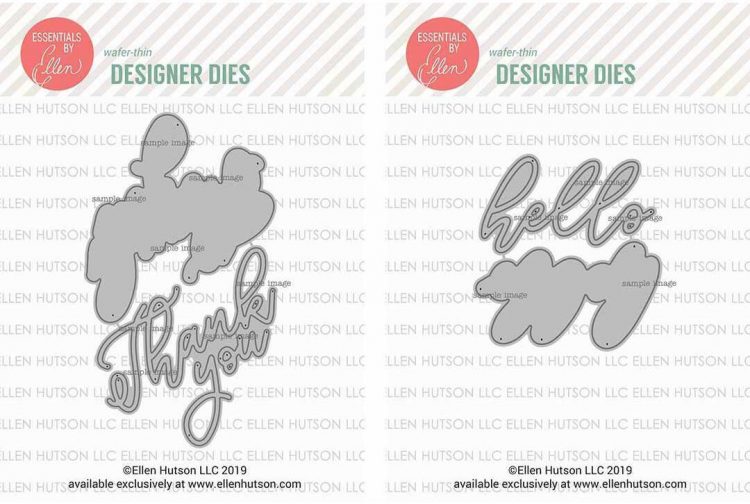 Now for the rest:
Thanks so much for joining me and let me know if you have any Q's!