Hi all! In case ya hadn't heard, the May Essentials by Ellen release went LIVE on Friday — yay! This release is so good — I know, I know, I say that every month lol! But seriously, it has something for everyone — from gorgeous flowers to cute critters — like this Backyard Party set combo!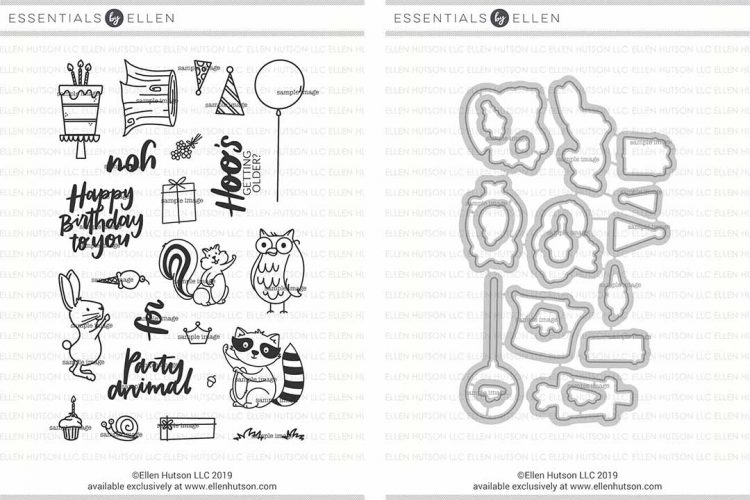 So , I decided that a gatefold card was in order! I haven't made one of these in years, but they're so easy to do — just score at 2 1/8″ from each side of a piece of 5.5 x 8.5″ cardstock and you're done. I used recycled cardstock for this one, love how it looks like bits of confetti!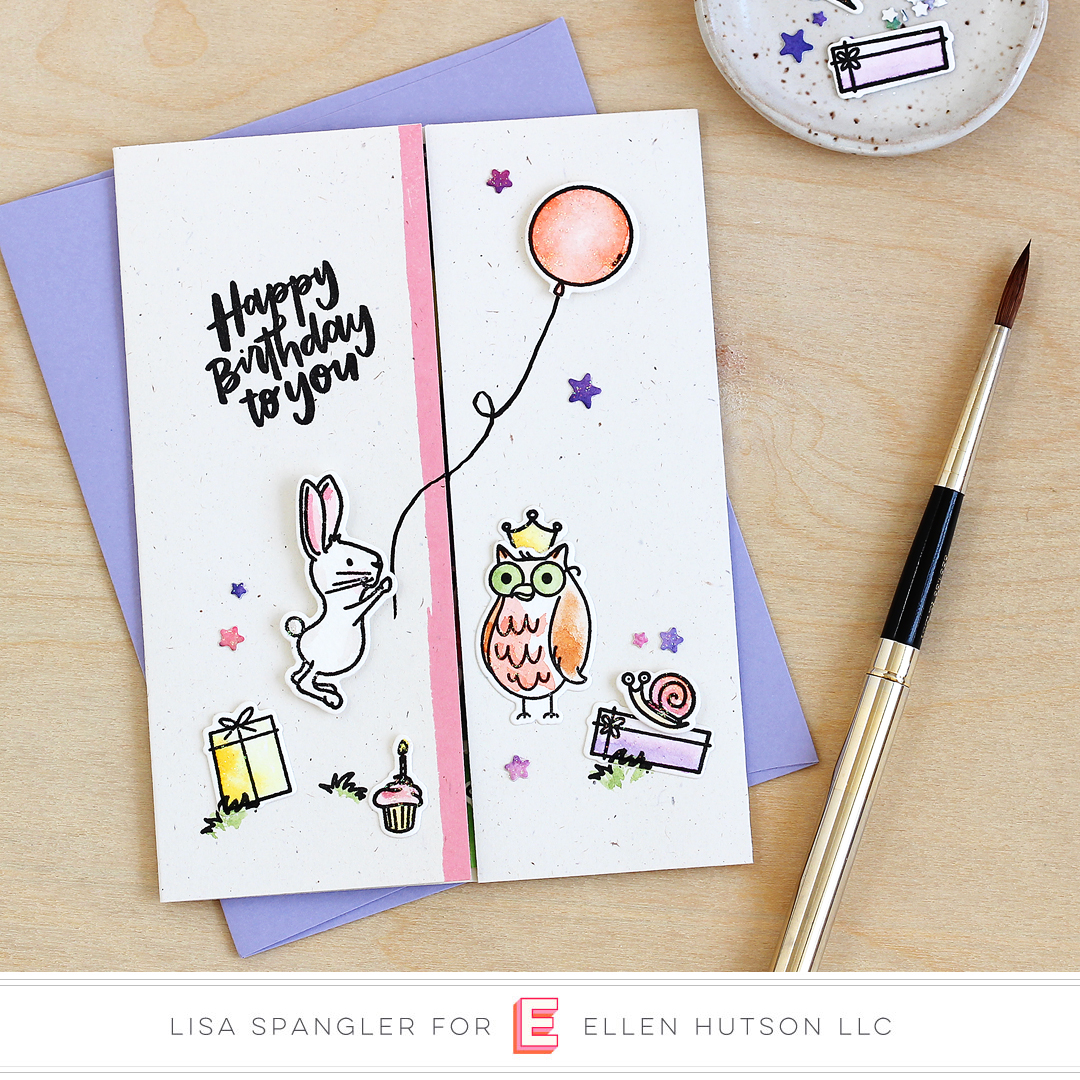 I stamped along the left edge in it's a girl ink with the thin border from the EBE Painted Stripes set for a little extra something. I keep finding more and more ways to use this set! It's so good.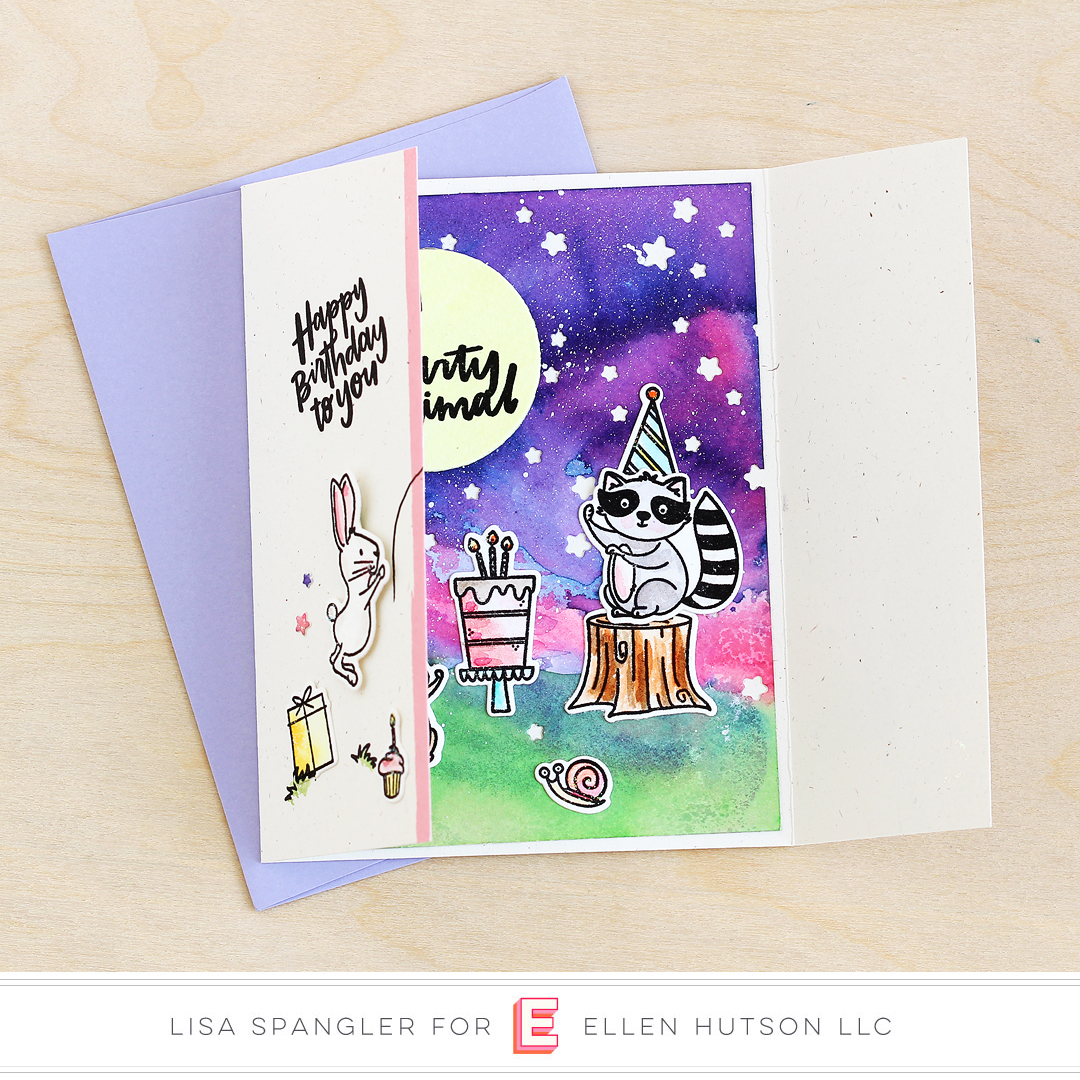 Now for the inside! I used my new Waffle Flower water media mat to create this fun background. I just made splotches of juniper mist, party dress, and grass skirt inks on the media mat, misted them with water, and then dragged a piece of watercolor paper trimmed to 4 x 5 1/4″ through it. I love how the party dress and juniper mist inks blend together to make a purple!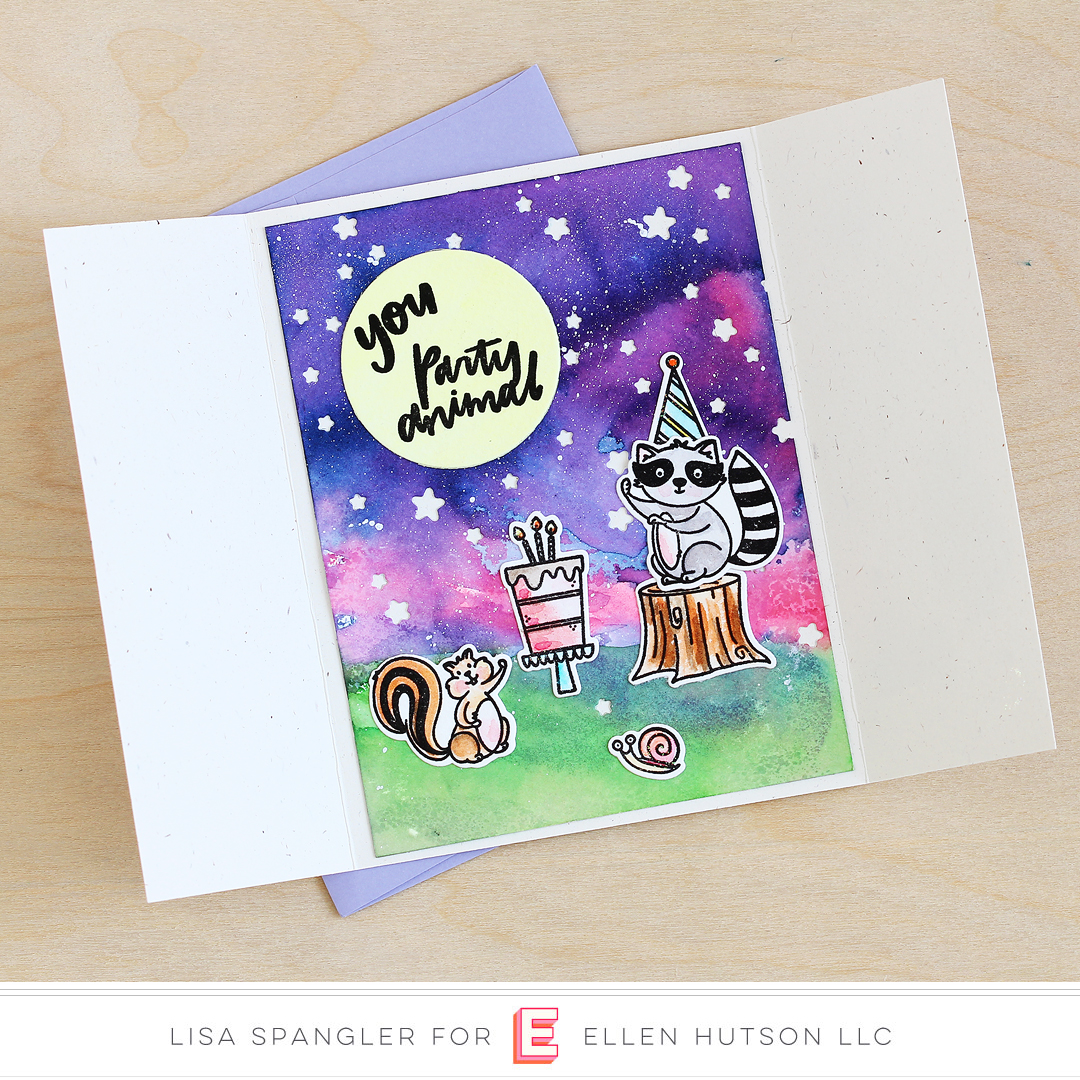 Then I had the idea to die cut the dried piece with the Starry Night die! I was trying to figure out how to get the inside sentiment in place and it hit me to make a MOON as place to stamp the "you party animal"! Can you tell that I was giggling the whole time I was working on this card?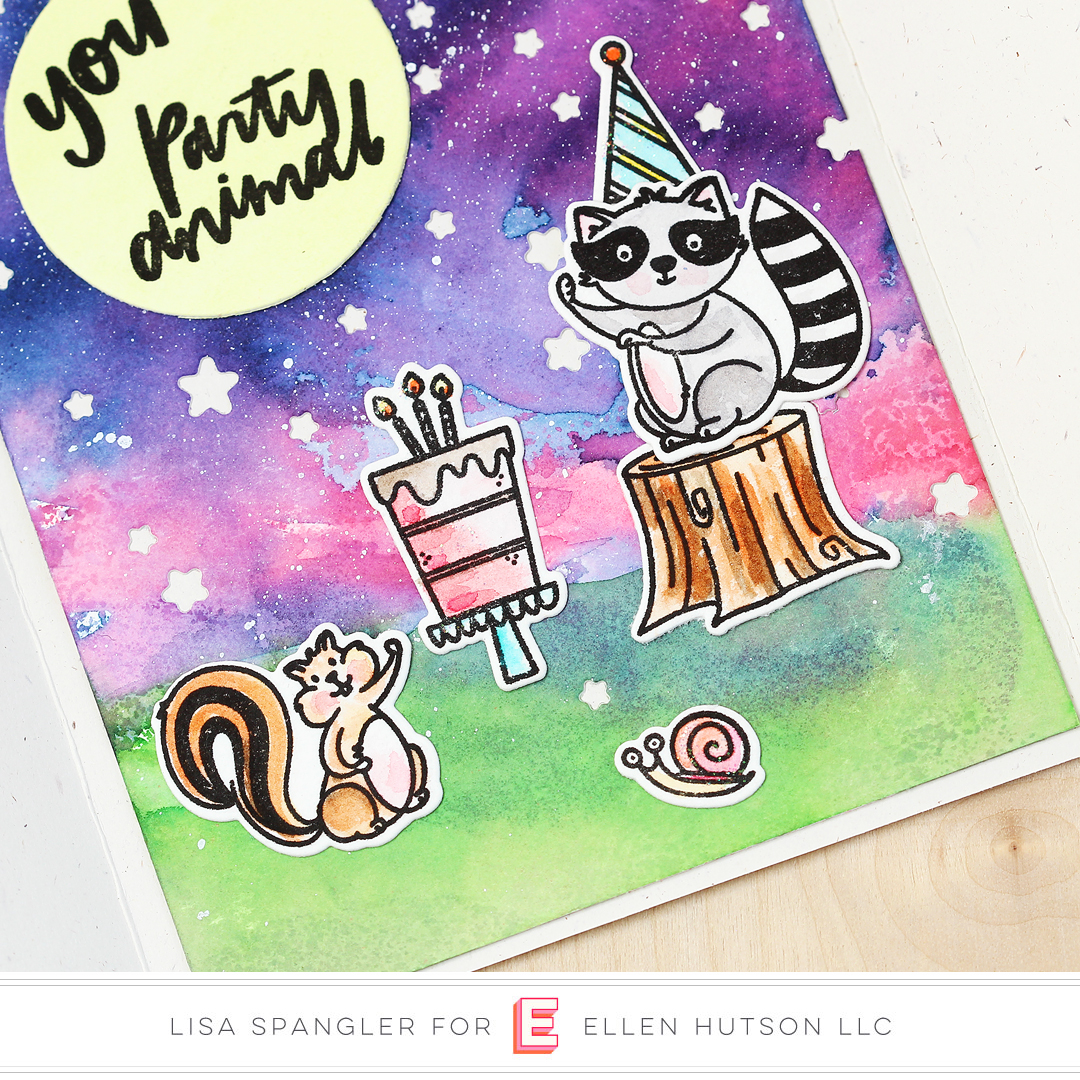 That chipmunk just cracks me!! And the snail!
Annnnd, I saved some of the die cut stars and put some on the front for a lil embellishment to tie it all together!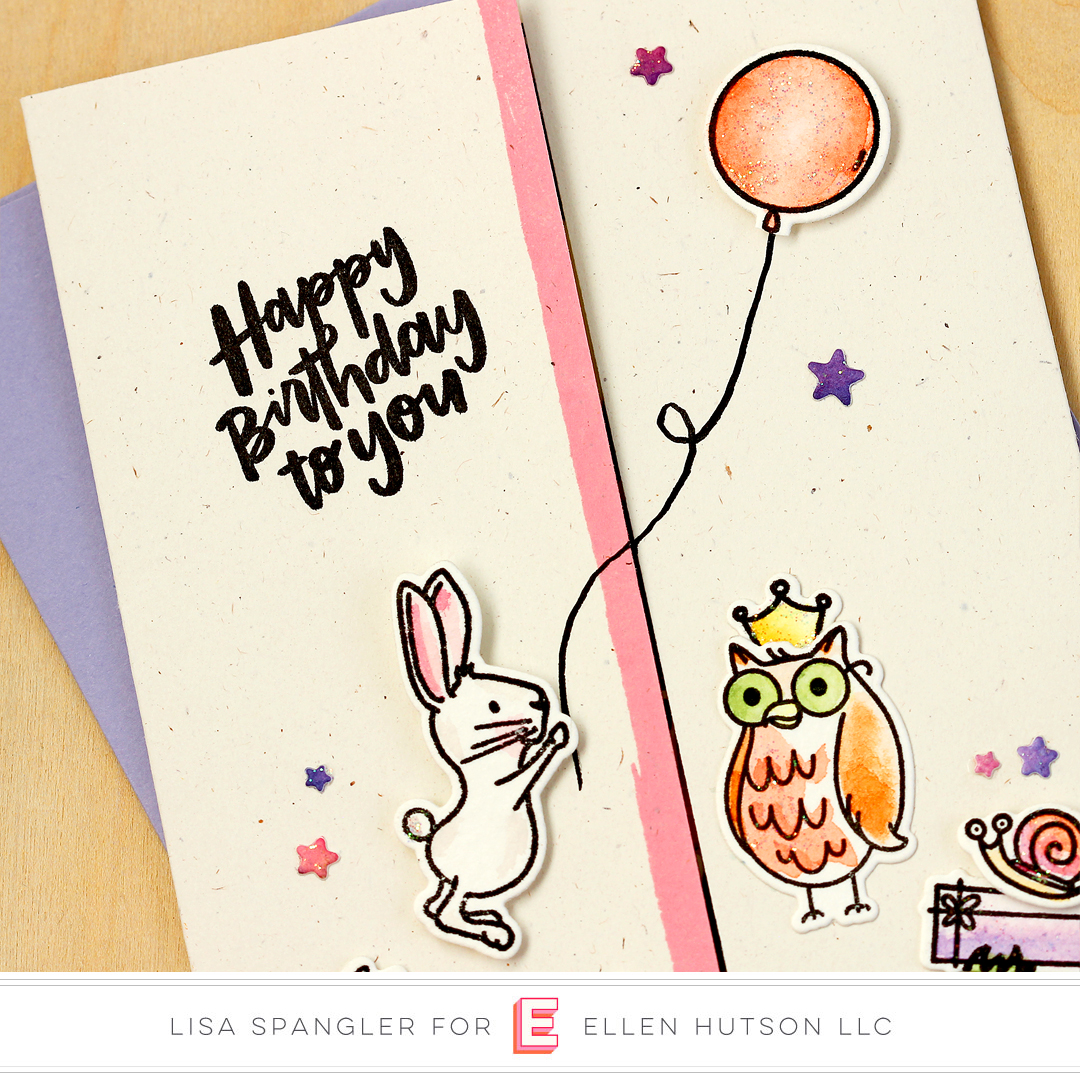 One last little touch! I decided to hand draw the string for the balloon across the fold of the card!
Before I go, just had to add that I colored the critters with watercolors in what I think of as a "storybook" style. It's just kinda loose and fun. And I've mentioned it before, but I used my trusty burnt sienna + ultramarine blue for the grays on the raccoon, the chipmunk and the owl, just varying the amount of burnt sienna vs ultramarine blue to get it to go more brown or gray. Love that!
Supplies
Note that these are my affiliate links so if you make a purchase by clicking the link below I'll receive a small commission at no charge to you — thank you!
Thanks so much for joining me! xo