Hi there, and welcome to my stop on Day 2 of the Hero Arts 45th Anniversary blog hop! I'm so glad you're here! We're having a THREE day blog hop to celebrate this milestone and plenty of prizes, too!
I can't believe Hero has been in business for 45 years! That's just so amazing. Happy, happy anniversary, Hero Arts — and many more!
A Walk Down Memory Lane
I have a bunch of cards to share, but first I thought I'd take a little stroll down memory lane, so here goes — you can skip over this part if ya like :)
As you probably know, Jackie Leventhal, founder of Hero Arts, started the company from her home in Berkeley, California. Here's something I bet you haven't heard tho — I'll never forget her telling me about how one time she was working on stamps late at night and the police showed up due to a noise complaint! She worked at a high school woodshop classroom in the evenings after that. :)
Jackie is an amazing woman and I'm so glad to know her and call her friend. She founded the company back when there were few women starting businesses and I really admire her for that. Just think of how hard it is for women even today. I've learned so much from her.

As for me, I first found out about Hero Arts in the late 1990's. I was working as a software engineer and I'd make cards in the evenings to relax. It's always been big stress reliever to me to play with paper — and still is! There's something so satisfying about it — and if you mess up it's only paper — just stamp some more.
I started entering Hero Arts contests (back when you had to physically mail your entries in) and to my utter astonishment I started winning! I couldn't believe it…
Then in late 2004 I got a call from Louise Burns, the Hero Arts marketing director, asking me if I'd like to make cards for them. I remember my jaw dropped open and I couldn't speak! Yep, speechless. I was that excited! Louise said something like "If you need some time to think about it that's fine…" and I was like "no no no I'd love to! I'm just so excited I can't talk!"
I worked for Hero full-time from April 2006-November 2015 — that's almost 10 years! I'll never forget my first day there, I flew to Hero from here in Austin for a sales rep show. The sales manager and I then drove from the Hero warehouse to Sacramento, about a 2 hour drive. We stopped at Starbucks and the barista didn't put the lid on my coffee right and when I went to take a sip and the lid came off and I spilled coffee alllllllll over my shirt! I had to keep my jacket on for the whole show. So embarrassing! How's that for a first day?!
While at Hero my official title was Designer and CTO but I got to do so many things — no two days where ever quite the same. Loved that.
I primarily worked on the Hero websites (wholesale and retail) from the ground up — both the hardware and software sides. The website was hosted here in Austin at that time and I could ride my bike over to the data center to swap out backup drives.
I also did the photography for many catalogs, taught classes/did make and takes and took orders at trade shows, did some marketing and I got to do product development, too! I have a little page about a few of the products I worked on here if you'd like to see more.
In 2015 I decided to take a break to travel and I've been self-employed since. What a journey — and it's not done yet!
The very best part of working for Hero? The lasting friendships that I made. I've been sitting here struggling trying to come up with the words to describe what these friendships mean to me, but all I can say is that it makes my heart happy to be a part of this tribe and to have found these wonderful humans. I feel so very fortunate.
Alrighty then — hope you enjoyed my stroll down memory lane — now let's get on to the cards!
Howdy, Happy Happy Anniversary!
Of course I had to make an anniversary card, right? Right! As soon as I saw the new anniversary die I thought of the "I'm stuck on you" sentiment in the Stamp Your Own Cactus set – and the rest of the card just took off from there!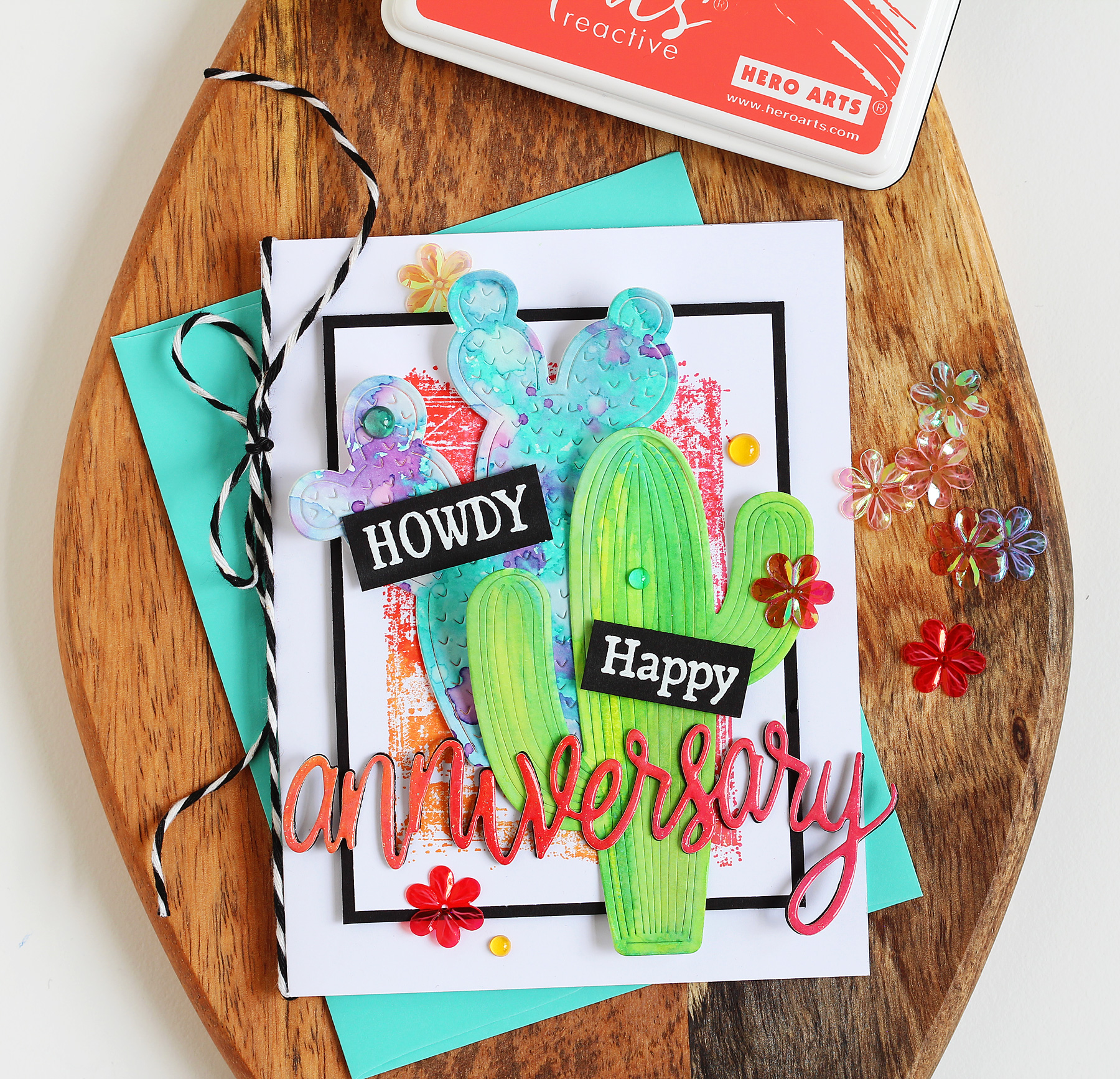 The "Howdy" is also from the Stamp Your Own Cactus set, and I asked Libby for ideas to use for the "Happy" and she thought of the Hero Greetings Occasions set — perfect. Thanks, Libby!
This card features the newly released reactive inks — I've had so much fun playing with them! The colors are so rich and vibrant. Find a helpful video all about the new inks HERE on the Hero Blog.
I started off by doing a little direct-to-paper action with taffy, fruit punch and creamsicle inks.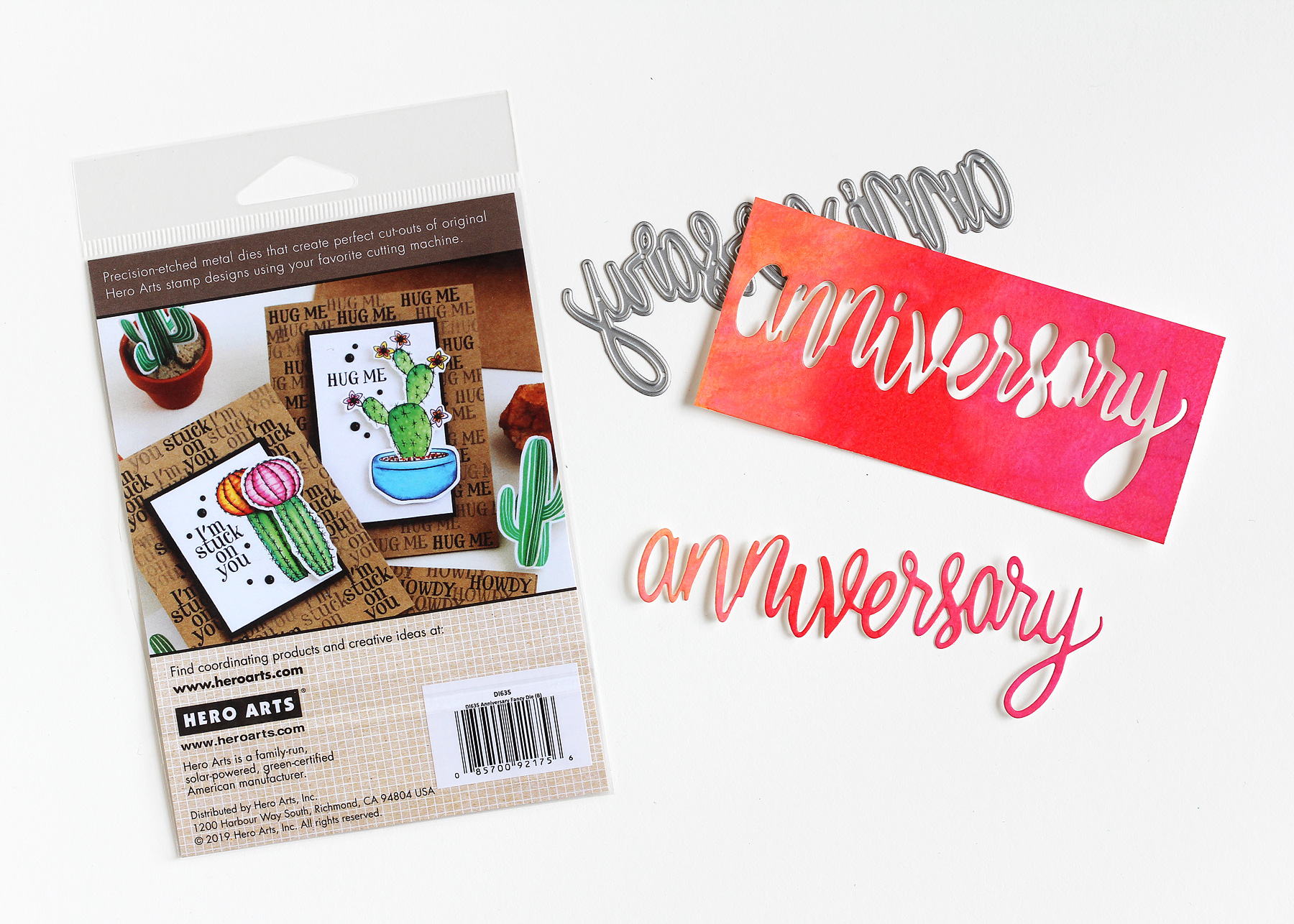 Then I die cut it and heat embossed it with sparkle powder — because yeah, sparkle!
Side note: I was super surprised to see that the backer card for the new anniversary die has a photo I took of some cards I made, also featuring that Stamp Your Own Cactus set — great minds think alike! :)
Then for the saguaro cactus I used key lime fizz and green apple — these look so good together. I just swiped some ink on my water media mat, spritzed it with water, and then dragged a piece of watercolor paper through it.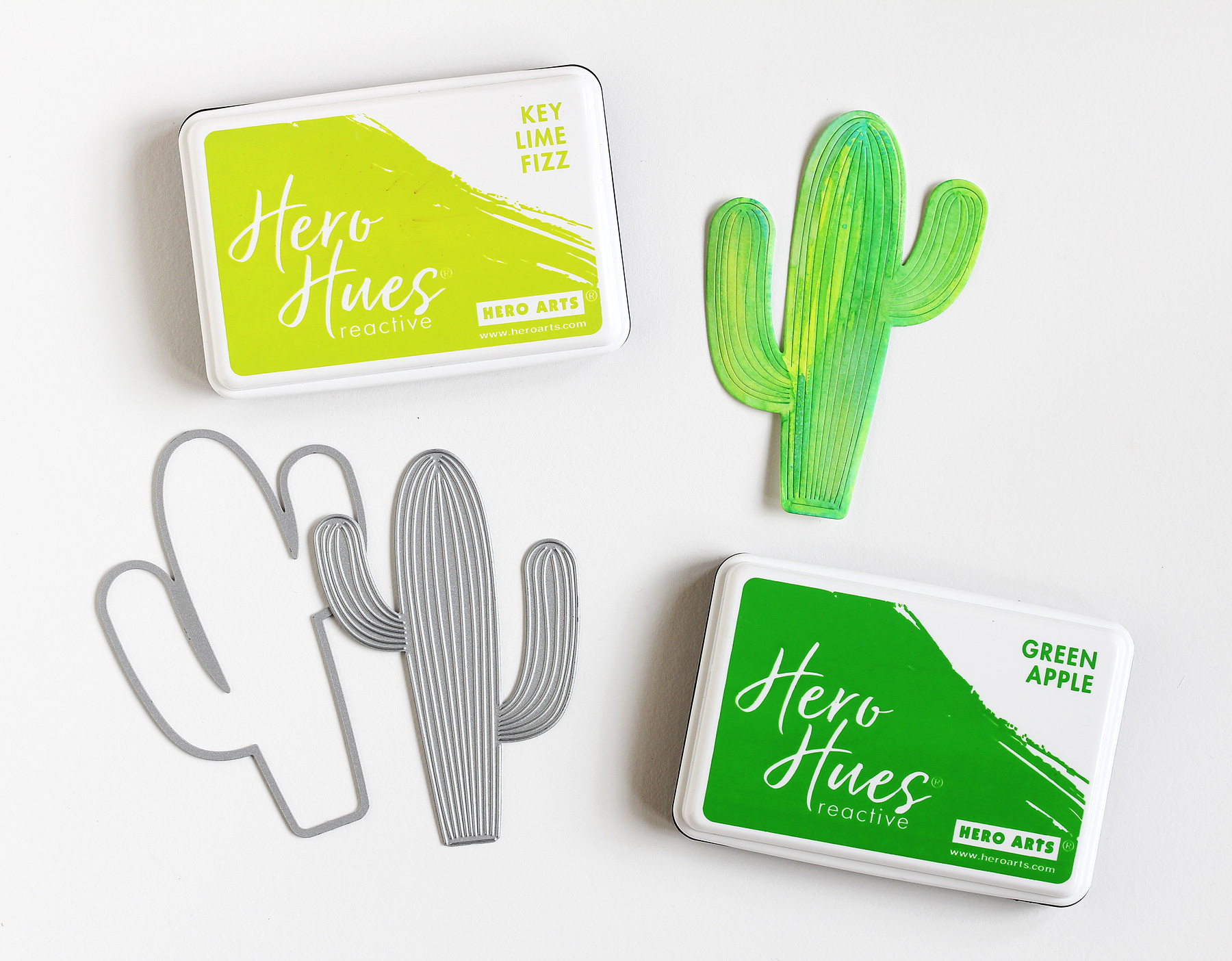 Then it was on to the prickly pear. We have some purple pears here in Texas so I thought it would be fun to try out the new grape slush and pool party.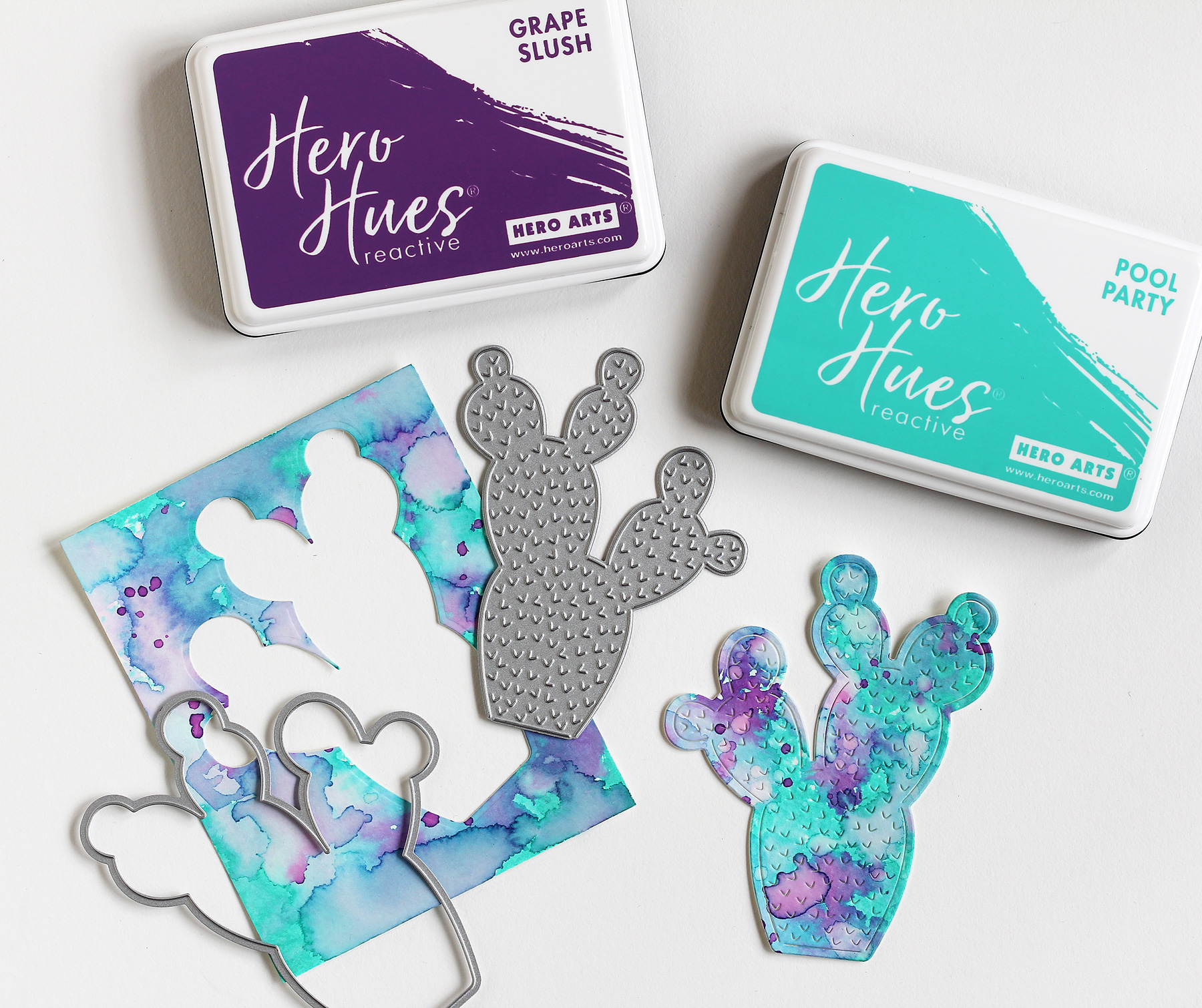 Once again I swiped some ink on my trusty water media mat, misted it with water and then swiped some watercolor paper through it, but this time I loaded up a brush with some of the leftover grape slush ink and dropped it here and there on the paper. Love how this turned out!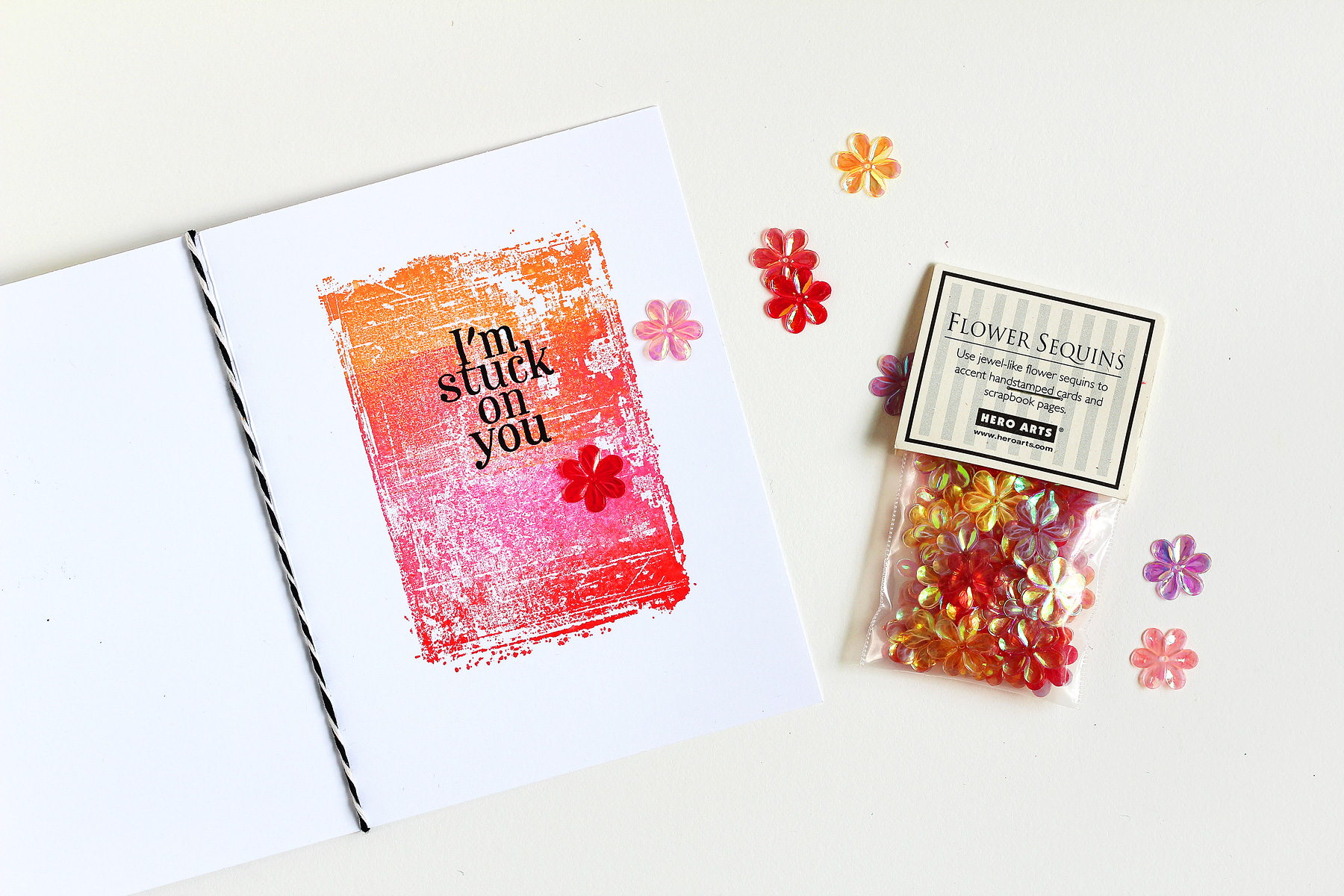 I used the From the Vault Aged shadow stamp to create a background on both the front + the inside.
And then! I just had to add a little bling with these old Hero Arts flower sequins. I found them one time when I was visiting Hero — they were gathering dust in the warehouse and they had to come home with me lol! The date on the package is 2006, but I think they fit right in! (Similar sequins here.)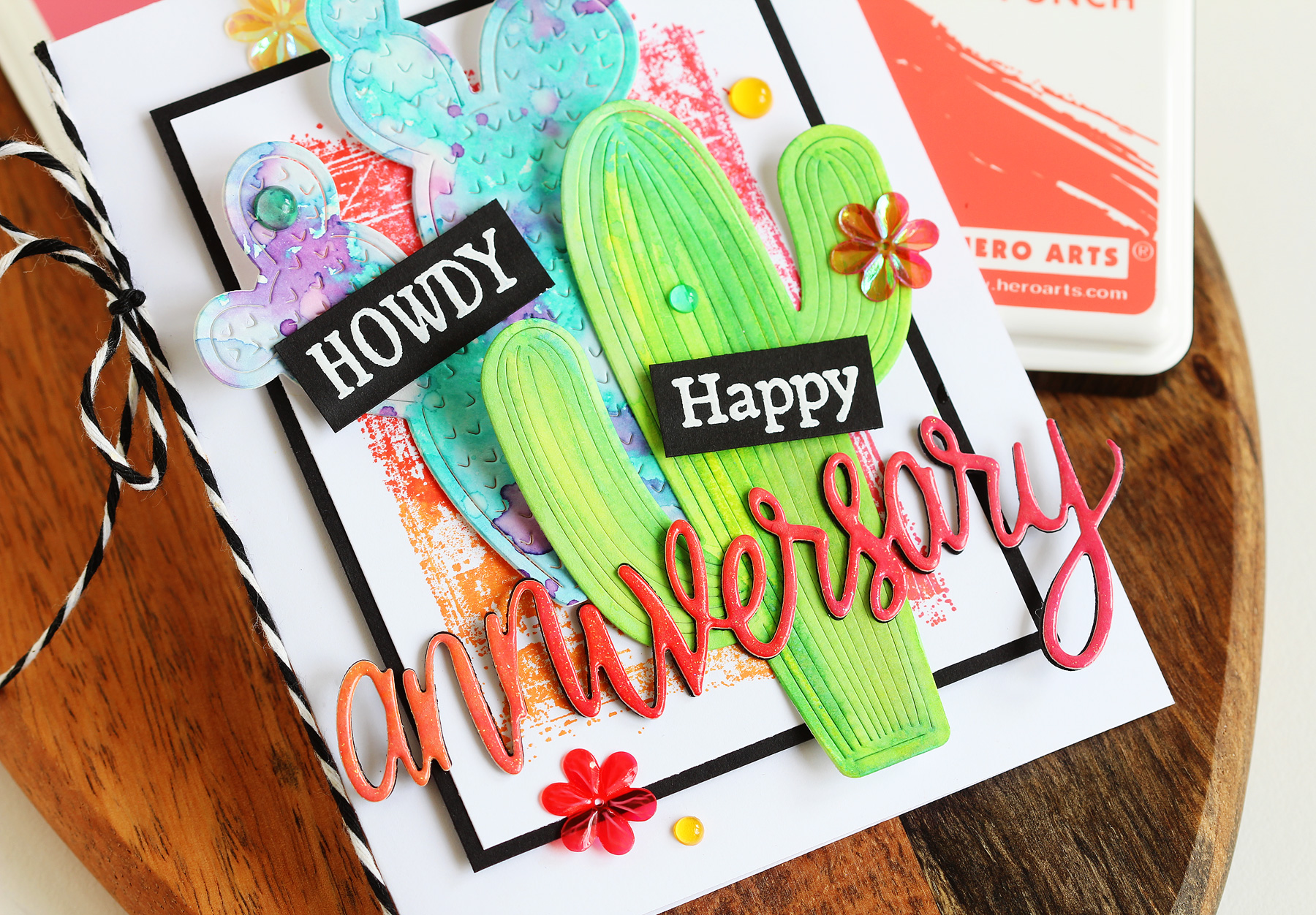 And that's it for this card!
Bullsh!t!
As soon as I saw the From the Vault Bullsh!t stamp I just had to have it!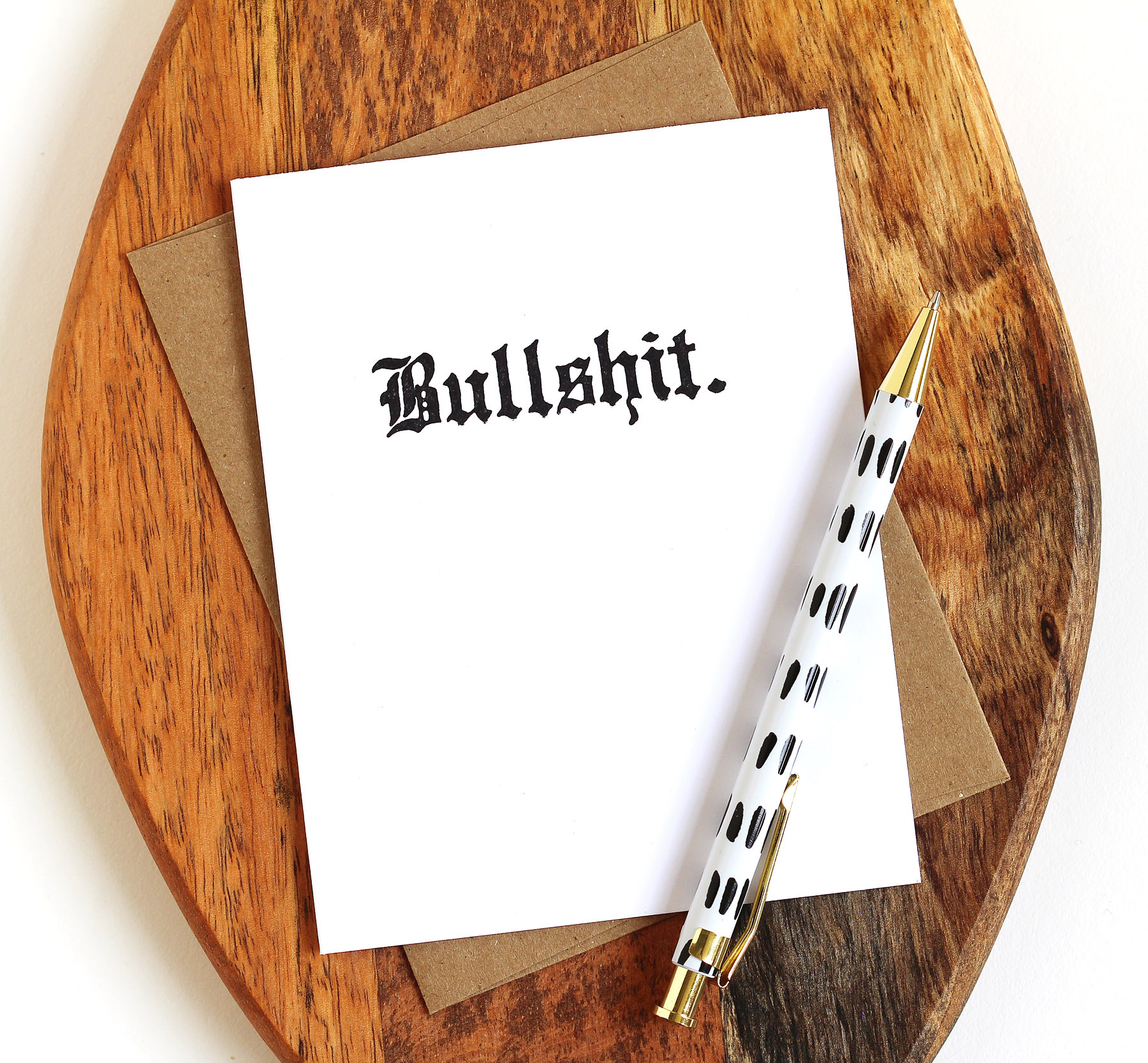 This has gotta be the most clean and simple card I've ever made. And I like it, just like this. :)
I think the key is to use heavy white cardstock, and you can't go wrong with a kraft envelope. I'm gonna make a stack of these to have on hand — I can think of so many ways to use this stamp:
Cancer is bullsh!t
Got laid off? That's bullsh!t
Broken leg? Bullsh!t
I could go on and on…and I did with this next card! :)
More Bullsh!t!
First up, an apology — this card features the poppy from an old Poetic Prints set that I have in my collection — I saw the poppy image in the summer catalog and thought it had been re-released, but here it's only the daisy, doh. Anyhow, you get the idea and can swap 'em in and out! I think this poppy would be great for this card + technique too.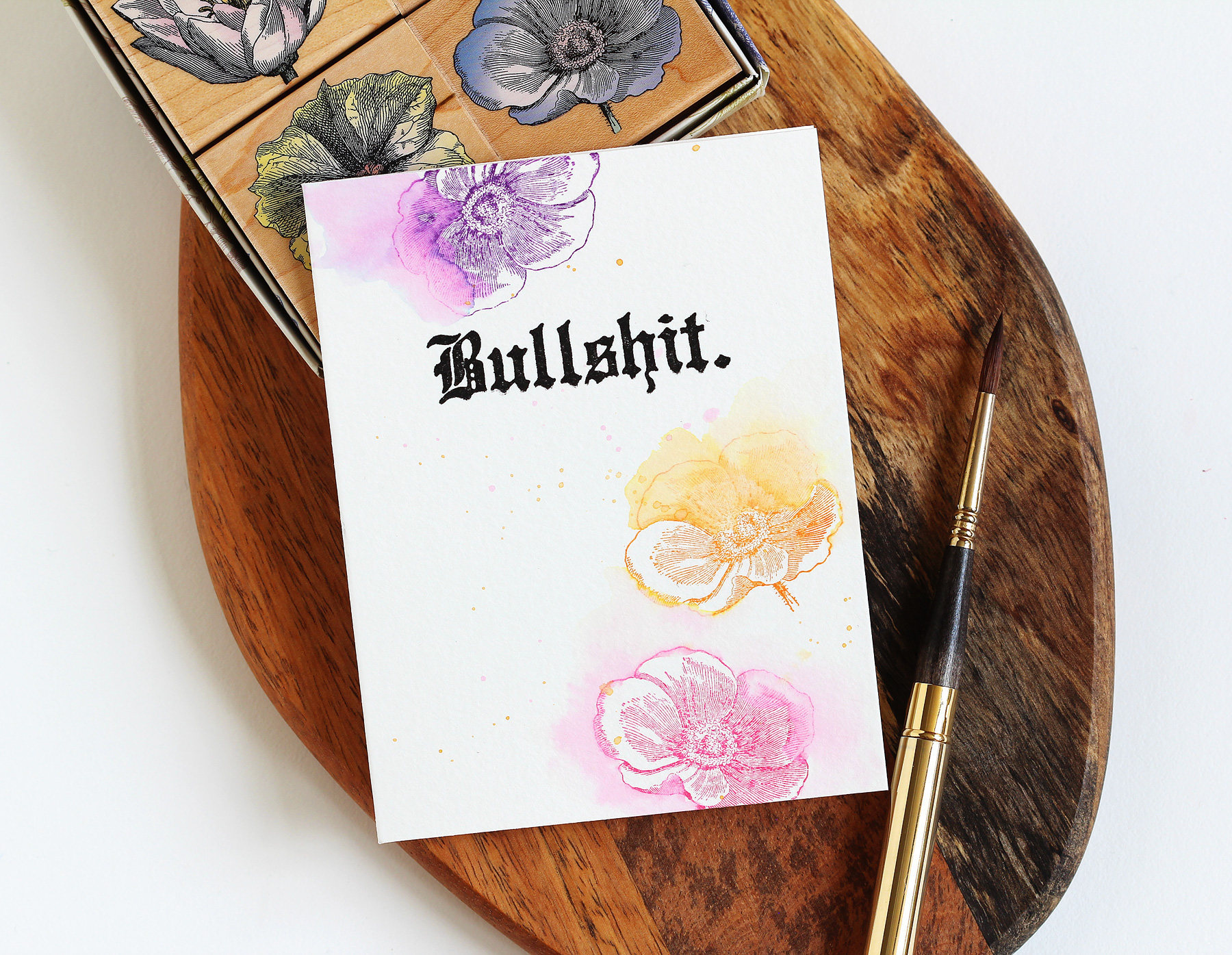 To get this look, stamp your image with reactive inks and then use a wet brush to pull color away from the select areas.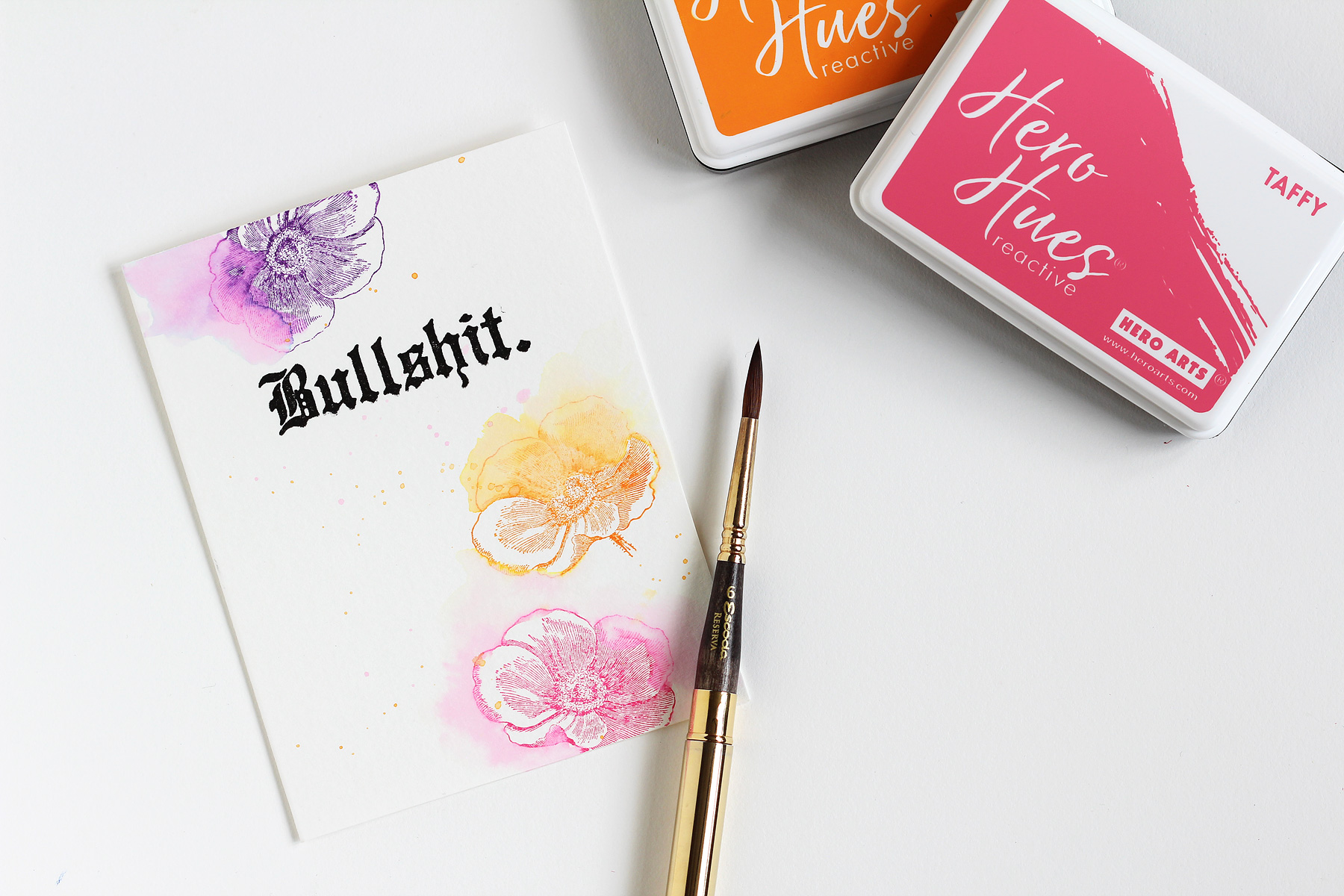 It's as easy as pie — no bull! :)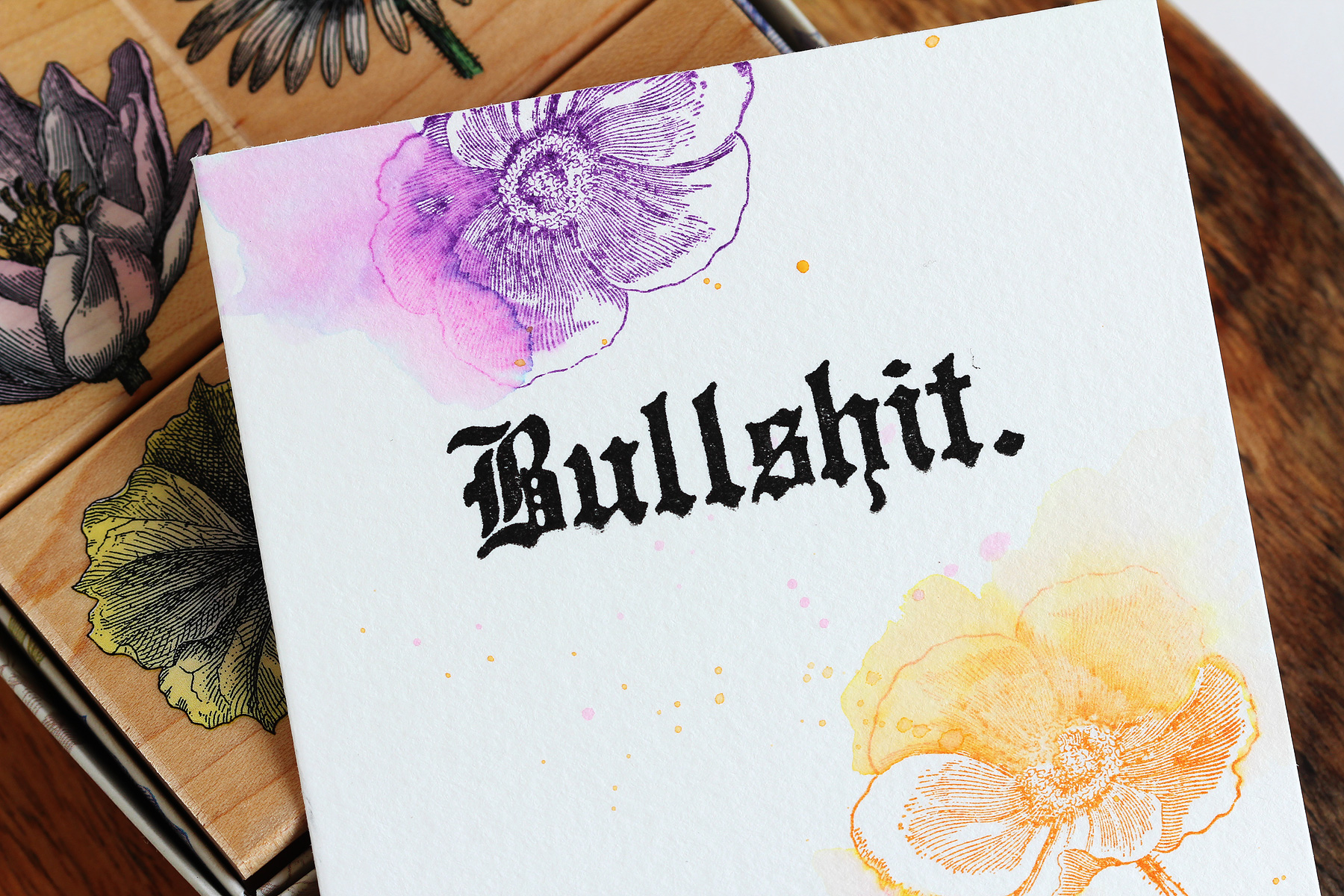 I decided to keep this card on the simple side and finished it off with some splatters of ink. I love how the delicate poppies contrast with that bold sentiment. :)
Prizes
Hero Arts is so generous — they're giving away 3 $145 Gift Certificates and 3 $45 Gift Certificates to 6 lucky winners. There are also 13 awesome companies/friends who are celebrating with Hero Arts, and they are offering the following prizes:
Winners will be drawn from people who leave comments along the blog hop over all three days – so the more comments you leave, the more chances you have to WIN! Comment by Sunday, June 2 at 11:59 pm PST, and Hero Arts will announce the winners on the Hero Arts blog the following week.
Hop On!
Your next stop on the hop is my friend and fellow Austinite, Lydia Fiedler! I can't wait to see what she's made!
Here's the full list in case you're just now joining us or encounter any broken links:
Supplies
First off, some links for items that are harder to come by these days! Full disclosure, if you make a purchase by clicking the links to Ellen Hutson or Amazon I'll receive a small commission at no charge to you — thank you!
Stamp Your Own Cactus from Hero
Now for the rest of the supplies:
Happy, happy anniversary to Jackie, Aaron, Laura and everyone at Hero Arts! Here's to many (many!) more! Thank you so much for asking me to be a part of the celebration, and thanks to YOU for stopping by my blog! Hugs all around! xoxo