It's here! It's here! The June Essentials by Ellen release is HERE! Yeah! I know I seem to say it every month, but this release is so good you all!
Today I'm going to be working with the new Squeeze the Day stamps and coordinating dies — check 'em out: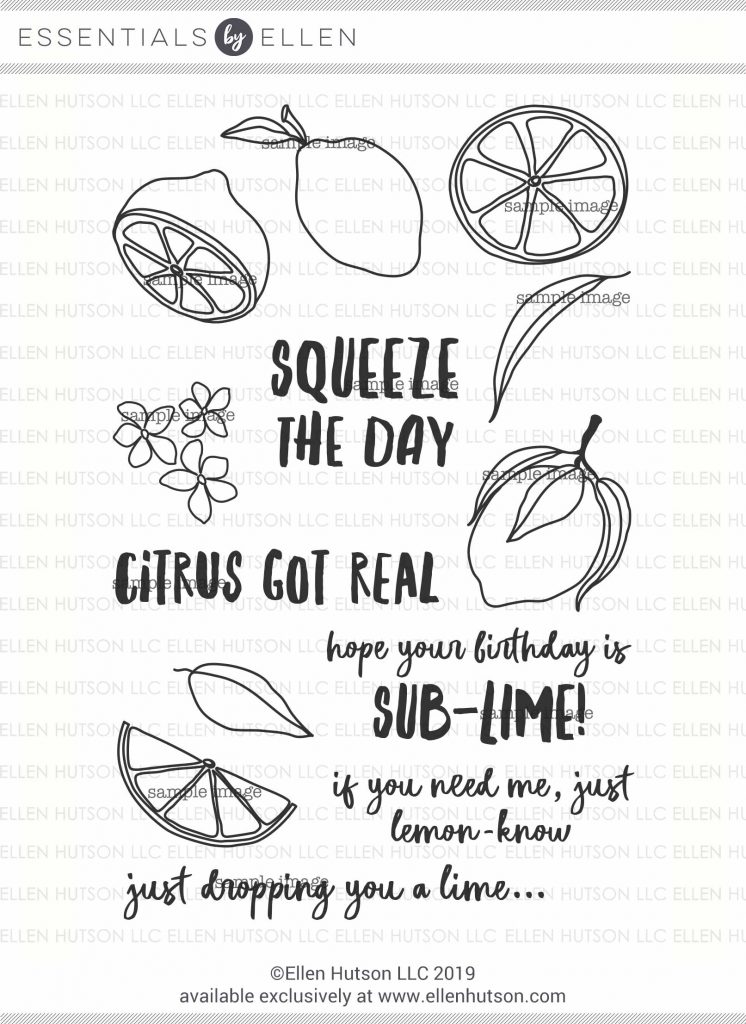 These are so fun to color — and the sentiments totally crack me!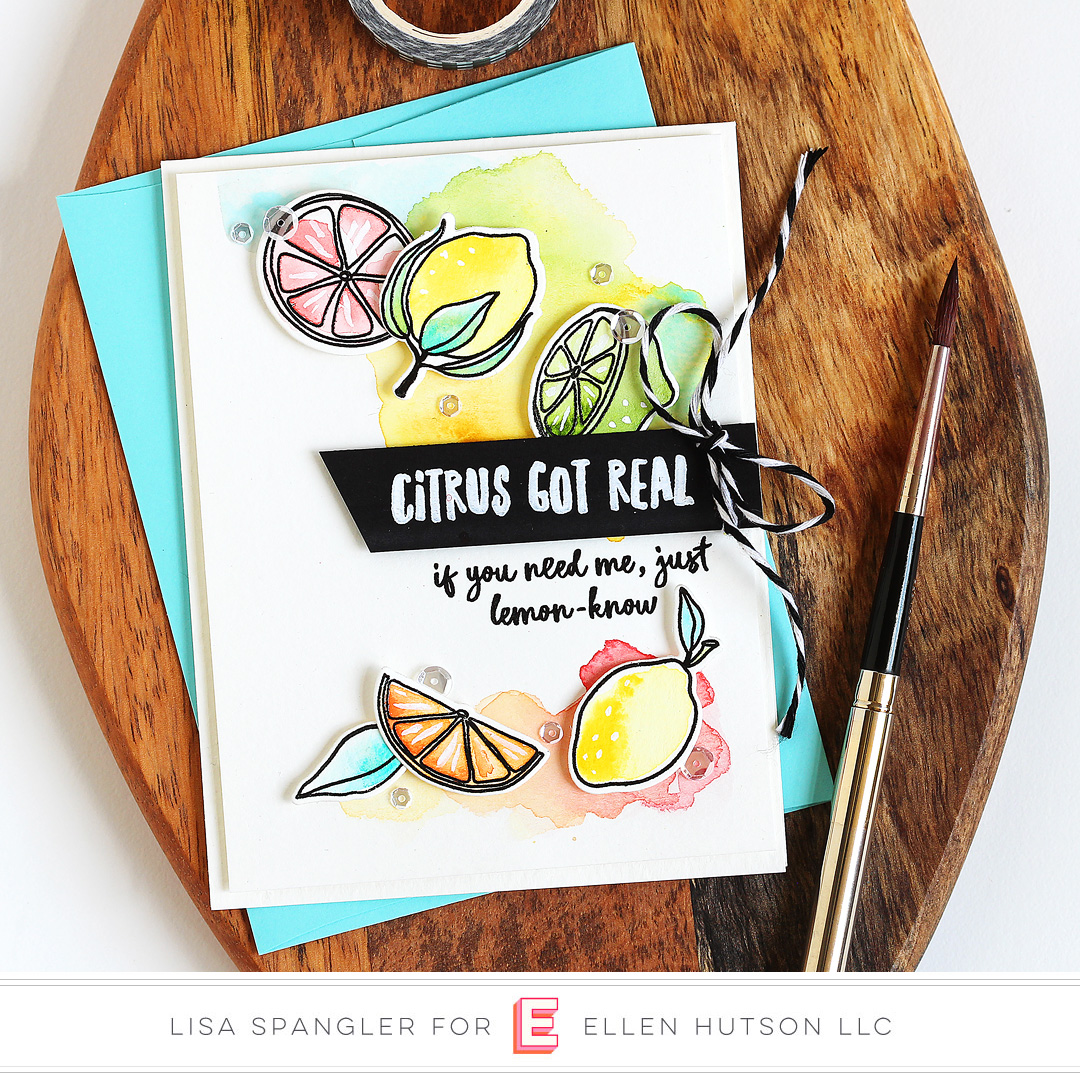 Of course I had to use watercolors on this card! Yep, had to be done!
Color Guide
I like to make some test swatches before I commit to coloring my stamped images — it helps me see that everything will go together. See my instagram stories for a super quick coloring video! We're talking fast! :)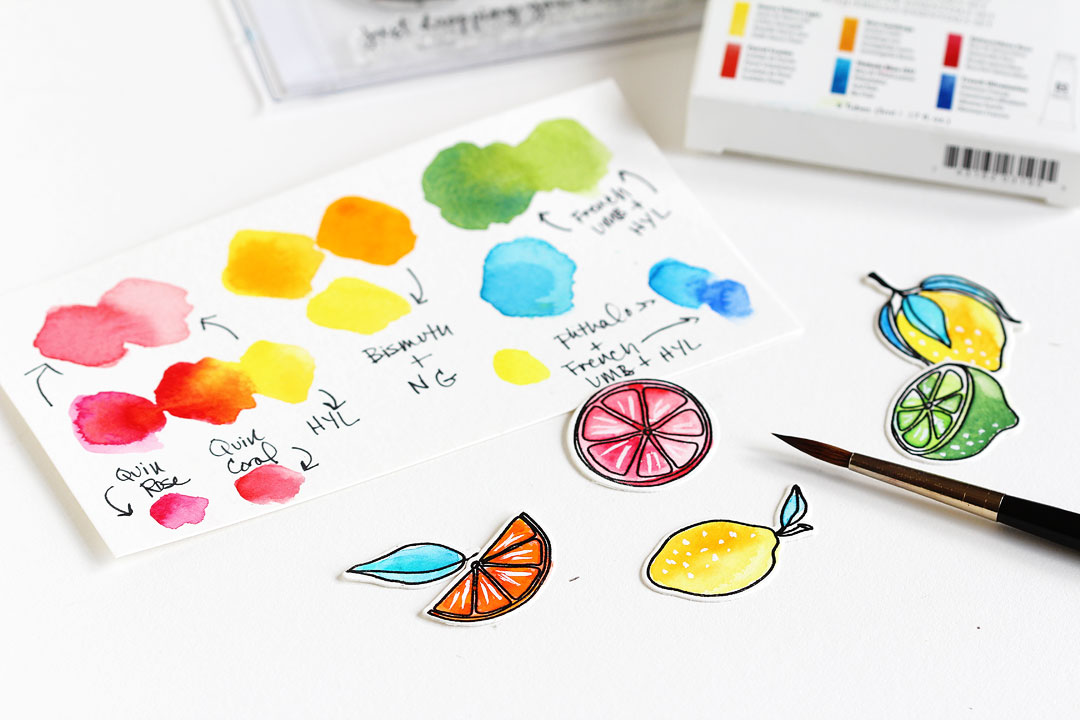 Here's the rundown on the watercolors that I used:
Lemon: This was done with a warm and cool yellow. You could use Hansa yellow light (HYL) for the cool yellow and New Gamboge (NG) for the warm, both from the trusty Essentials set, or if you want to try a new cool yellow, go for Bismuth like I did here. I'm really loving this yellow and it's become my cool yellow in my main palette. Start out by painting the lemon with a watery mix of the cool yellow, then drop in some of the warm yellow where you'd like it to be darkest.
Grapefruit: This one uses quinacridone coral with a tiny touch of New Gamboge and quinacridone rose. (The last 2 are in the Essentials set.) I used a really watery mix for this, thinking of doing it again only darker!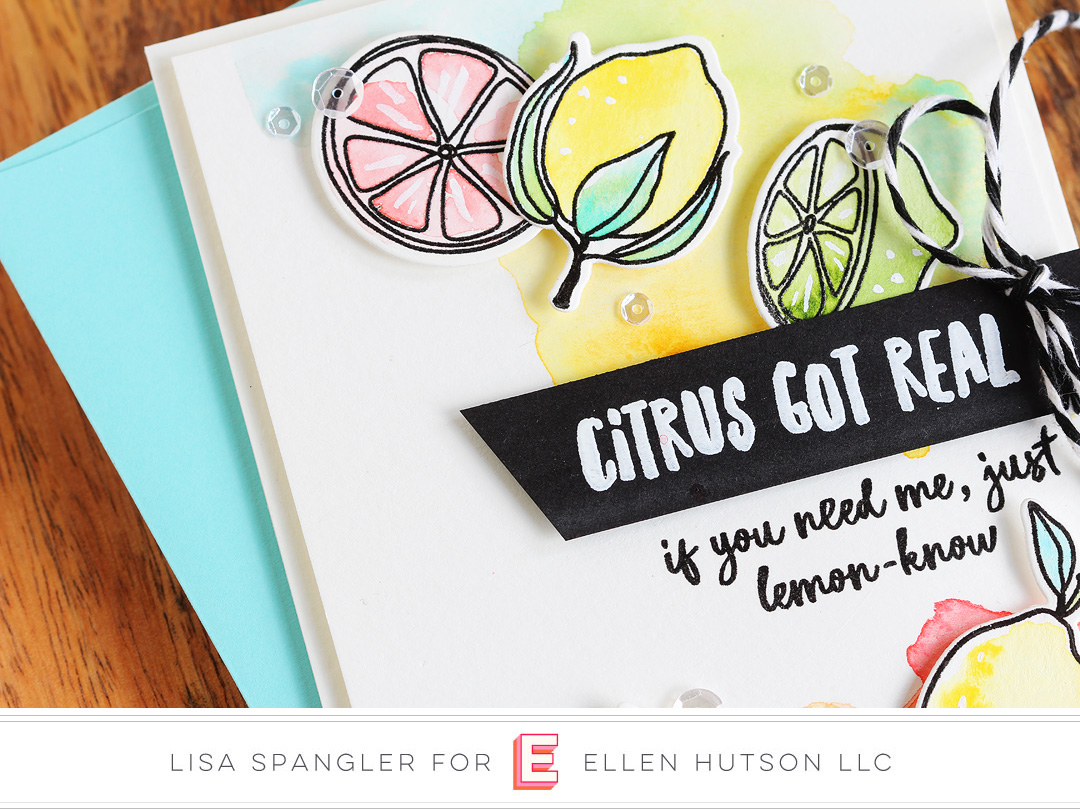 Lime: you can easily mix a lime green from the Essentials set using Hansa yellow light + French ultramarine like I did here but if you want a pre-mixed green I love the look of deep sap green :) Just have to say that I LOVE the granulation in French ultramarine! I made the base of the lime darker, then watered down the paint to use for the inside.
Orange: this is another case where you can easily mix an orange from the Essentials set — I'd go for pyrrol scarlet (a little goes a long way!) + New Gamboge — but I have this orange on my palette so I used it instead. It's so handy to have a true orange on my palette!
Then for the leaves I wanted to do a little something unexpected so I went with a cyan color made from French ultramarine, phthalo blue and a touch of Hansa yellow light, all from the Essentials set. Can you tell I love this set? LOL!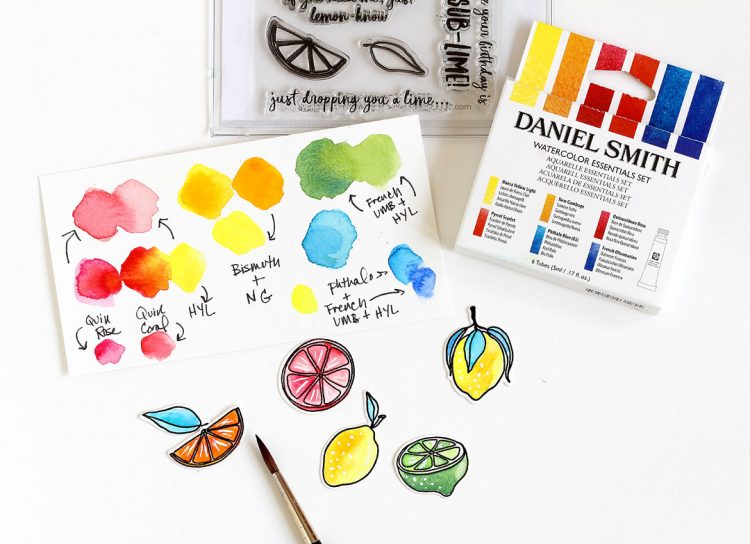 Then after everything was dry I die cut 'em out!
I added the little white highlights with Dr. Ph. Martin's bleedproof white — I gotta tell ya, I love this stuff! No more having to worry about gel pens clogging up or drying out. Yes! Plus a jar seems to last forever!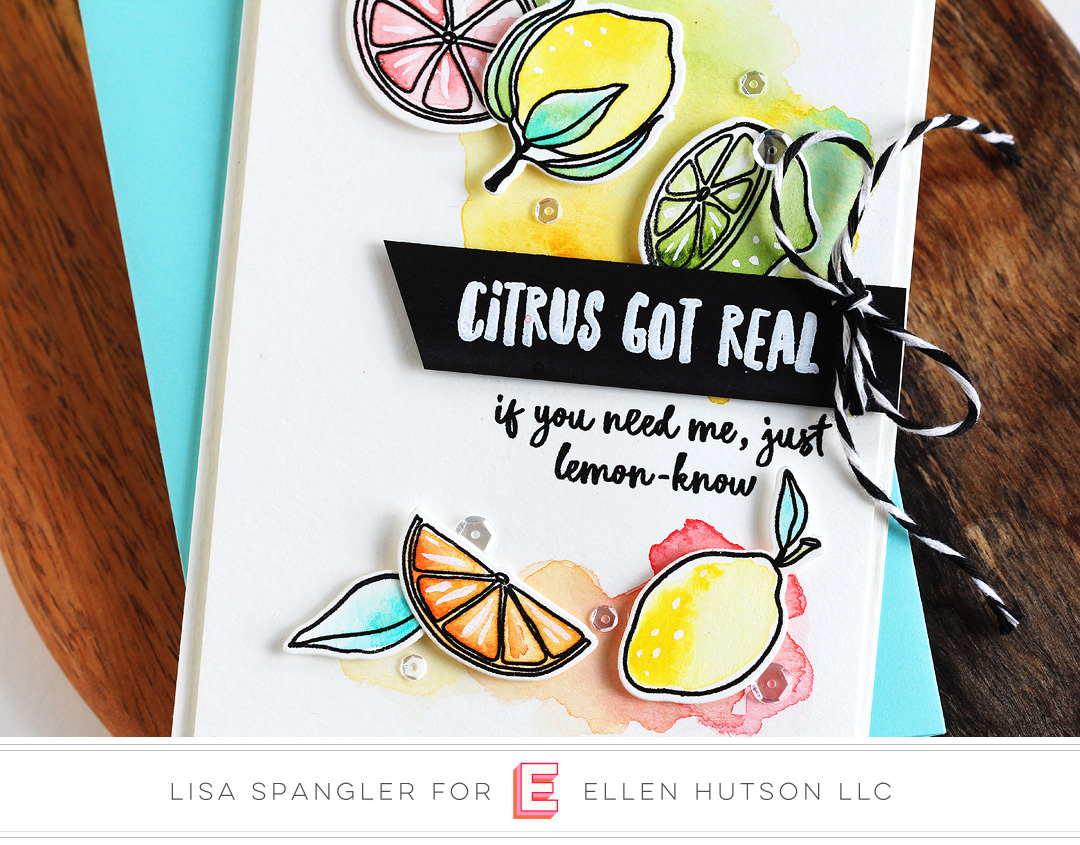 I white heat embossed the "citrus got real" with my new favorite white embossing powder — it really is white!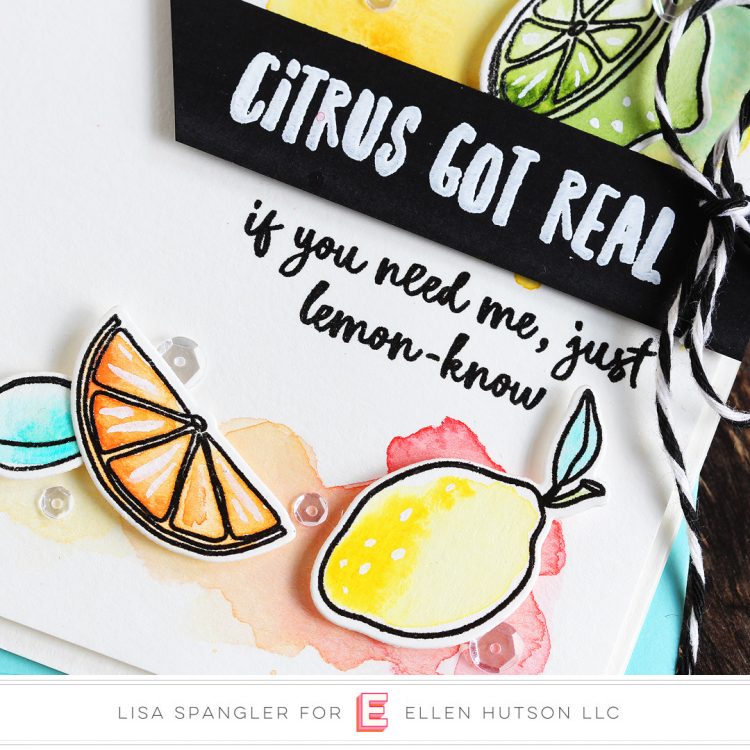 The background is just blobs of leftover color — so fun!
To finish off the card I tied on some twine, added some sequins and that was that!
Supplies
Note that these are my affiliate links so if you make a purchase by clicking the link below I'll receive a small commission at no charge to you — thank you!
If you have any questions just lemon-know! LOL! But seriously, please do let me know!
I'll back tomorrow with another post full of tips and tricks for the Voices in My Head set — see ya then! xoxo