If you know me, you'll know that once I have my supplies out I just can't seem to stop! So while I had everything out to work on THIS card using the newly released Concord & 9th Beautiful Butterfly stamps and dies I just had to make two more!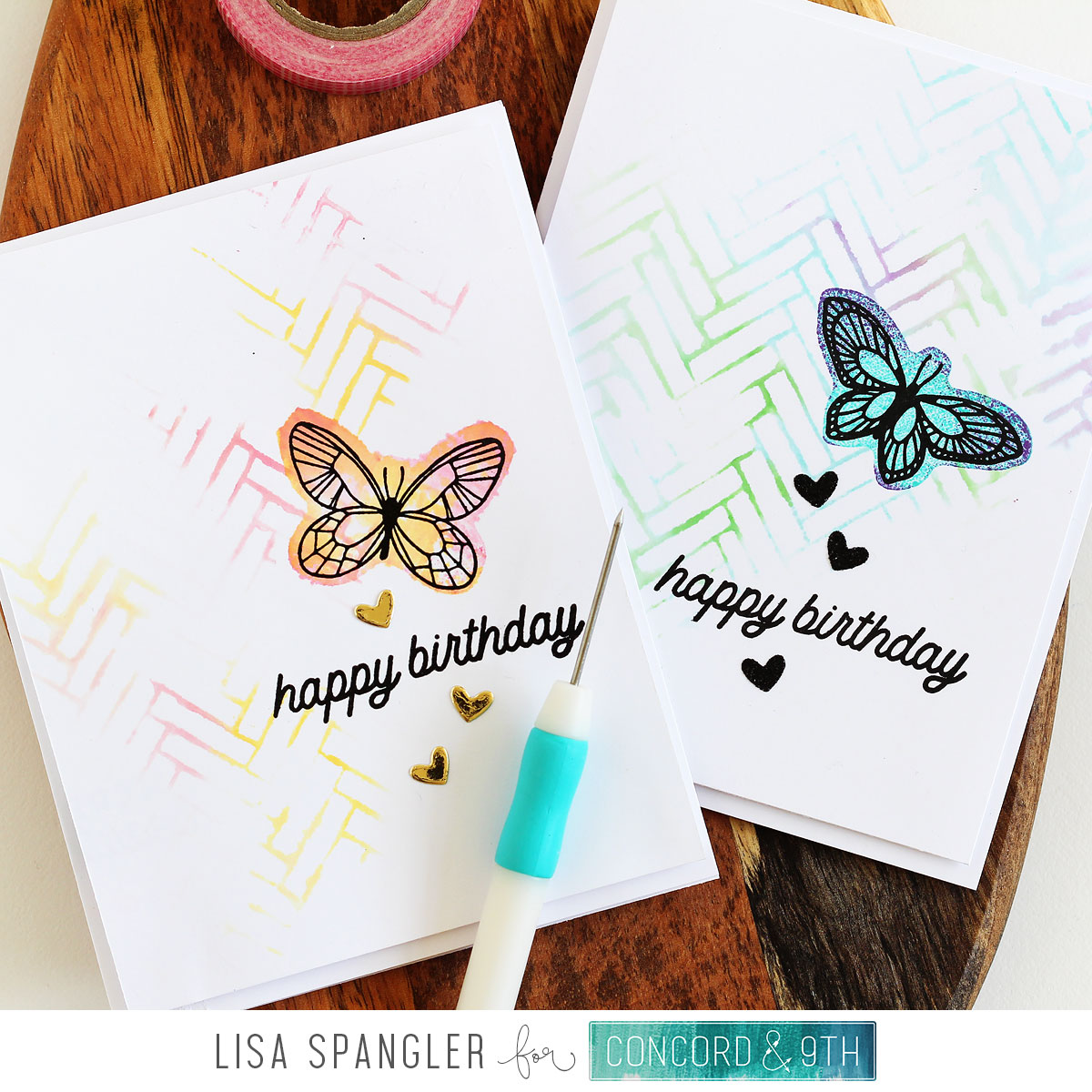 I used the same Herringbone Background stamp and partial inking technique on the fronts of the cards. To get this look, I just inked up little parts of the new Herringbone stamp with various inks, misted it lightly with water, and then wiped away some more of the ink and stamped it.
Then I switched it up and did some reverse stamping for the butterflies. This is where you first mount the butterfly so that the solid "back" of the stamp is inked and stamped, and then you stamp it over top in black like you normally would. Love doing that — it's such a simple way to get more from your supplies.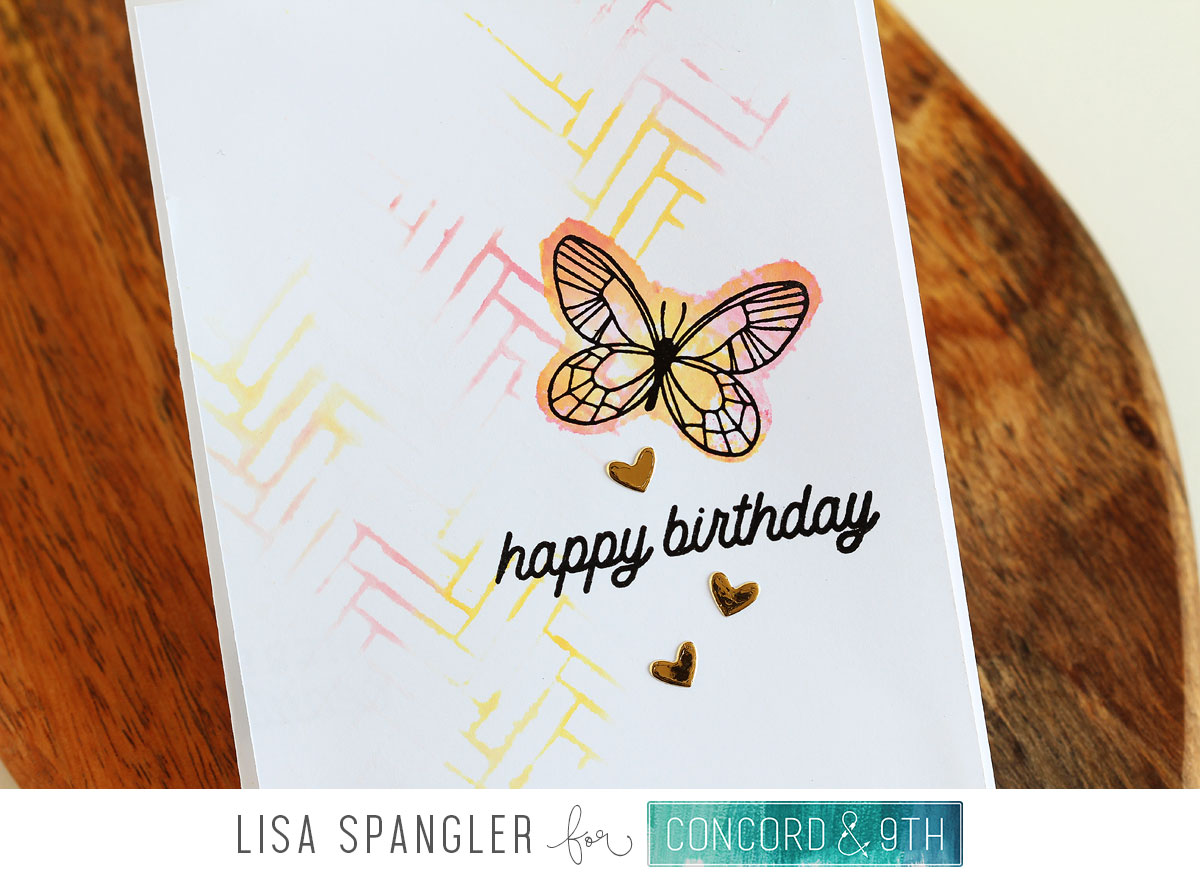 Then for the pop-up butterflies I just had to get out my watercolors and play! Let me walk — no make that fly — you through them!
Take 1: With Black Glitter
For this card I die cut the base of the butterfly out of watercolor paper, then I splashed around some phthalo blue (from the Daniel Smith Essentials set) and phthalo green watercolors — love playing around with paint like this!
Next I die cut the body and the wing details out of black glitter paper — just had to be done! I've linked you up with the Concord & 9th paper here, although I used a piece in my stash for this.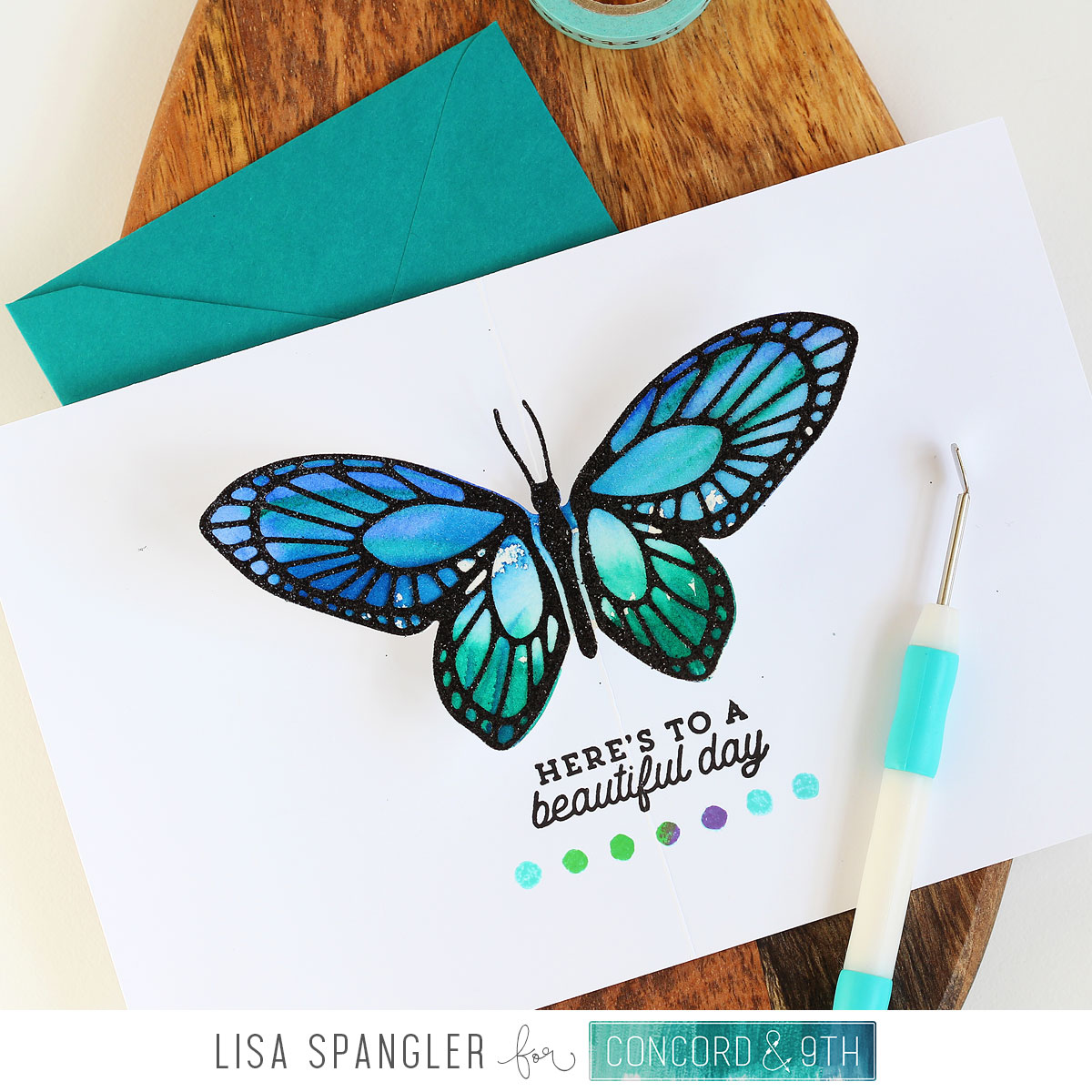 Look how pretty and sparkly that black glitter is!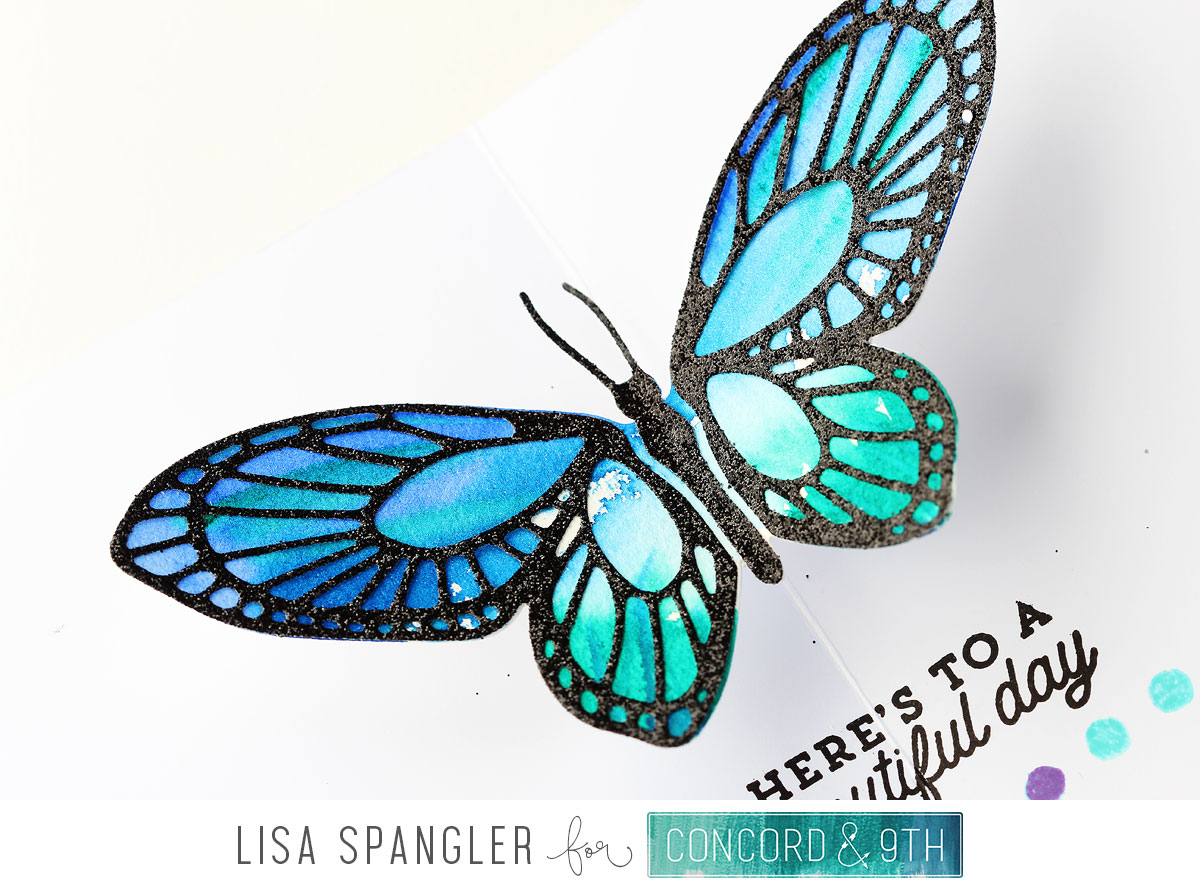 Pro tip: I trimmed the "antlers" from the base of the butterfly before adding the body — this makes it easier to line up and easier to fold as well!
Next up, I went for the gold!
Take 2: With Gold Foil
For this take I busted out my gold metallic paper — ahhh love how this looks: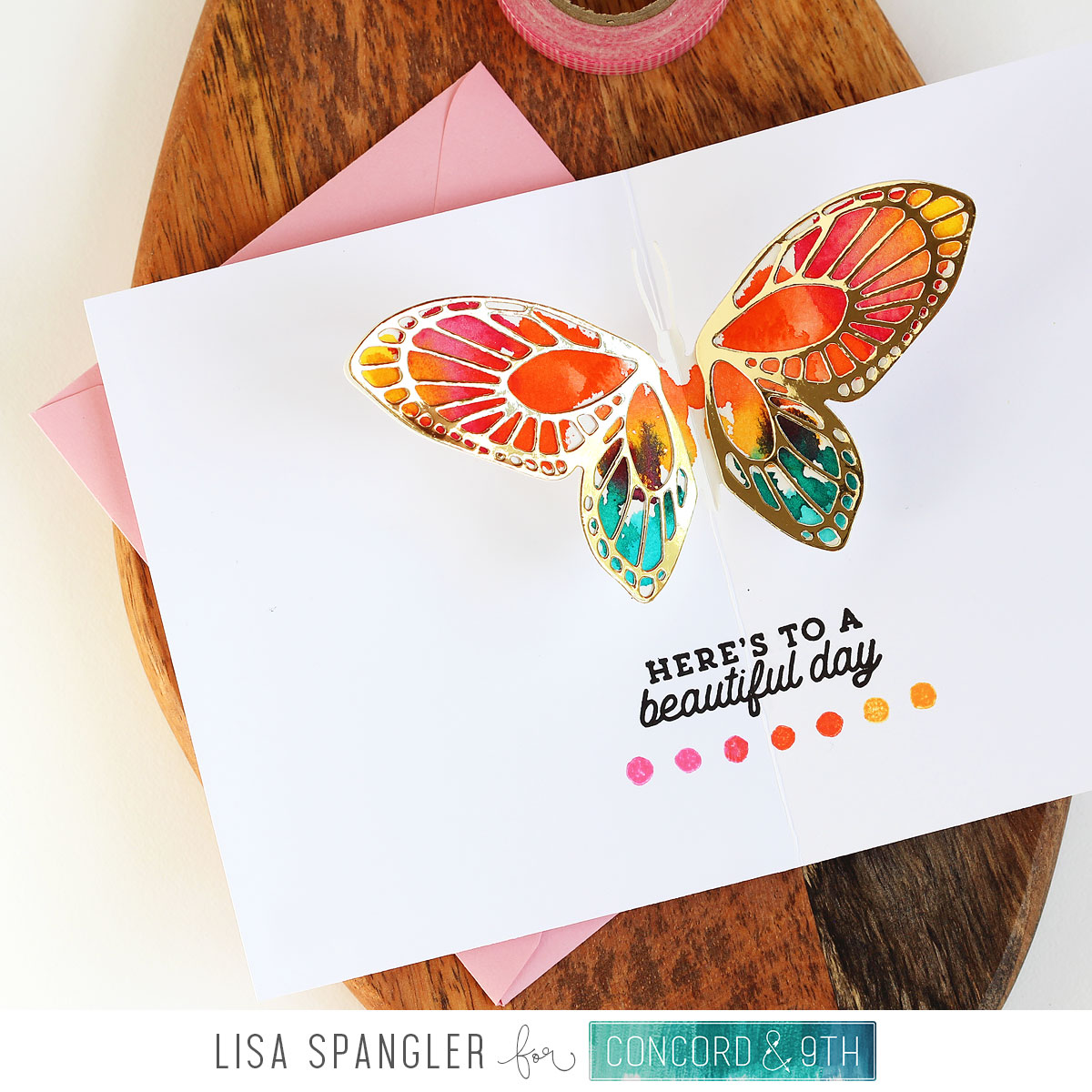 My gold foil paper is super thick, so I decided that it would be next impossible to try and fold the body — so I just left it off! I Really like the look this gives. I used the Ellen Hutson brand of gold foil paper but it looks like it's no longer being carried, so I linked you up with others below. :)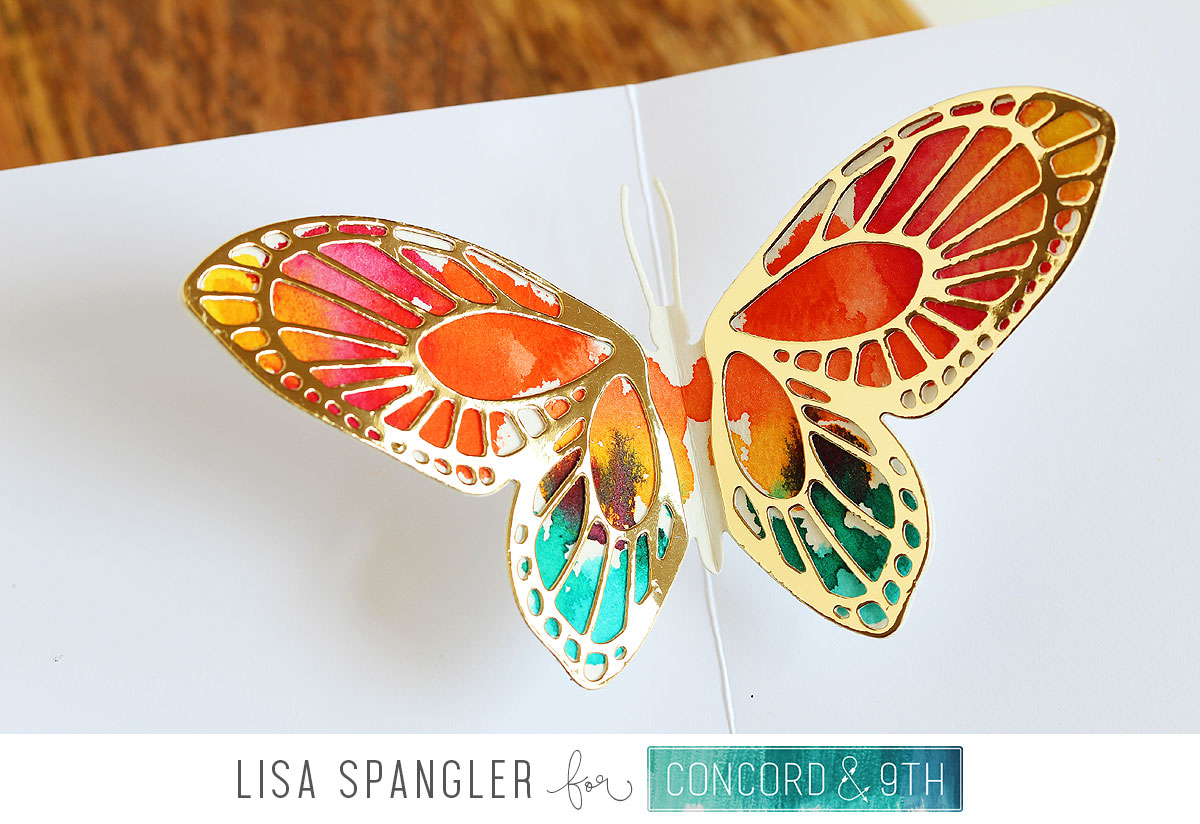 I love how all the colors mingled around on here too! Once again I used the colors in the Daniel Smith Essentials set plus phthalo green — can't get enough of that watercolor set. (Find a full review right here.)
I can't wait to make some more of these — I'm thinking of trying different colors of glitter paper next, or maybe cutting out the wing details and then using them as a stencil along with embossing paste. Hmmmmm…the wheels are a-turnin'!
Supplies
Note that these are my affiliate links so if you make a purchase by clicking the link below I'll receive a small commission at no charge to you — thank you!
First up, the NEW Concord & 9th supplies!
Thanks so much for joining me and hope you have a beautiful day! xo